Jaipur is truly the food capital that represents the state as it offers all types of cuisine here. The people of Jaipur are absolute foodies and the city is a paradise for the true food lover. Masala Chowk Jaipur explains the love for food very well. You must be familiar with this favorite food destination of Jaipurites. If not! Let us take you on a tour to Masala Chowk where you will find your appetite increasing by garnishing the gravy of memories.
Things to Discover in Masala Chowk
You may have been to the famous food stalls in Jaipur which are known for their own specialty. Some are located in the walled city, while the new joints and cafes are placed in different locations. Nowadays, with more traffic and limited time span, it becomes difficult for a person to spend a whole day to experience the street food in Jaipur in different corners of the city. Masala Chowk Jaipur here brings utmost joy to the foodies as they can enjoy all the popular dishes and street food in one place.
Since its foundation in the Pink City, Masala Chowk has successfully ruled over every Jaipurite heart. Masala Chowk in Jaipur started with the aim of bringing all of Jaipur's famous street food in just one place. It is an open air food court with great seating which has made it a top destination for all those people who love to enjoy delicious treats.
You will find a variety of kiosks serving the best street food options in Masala Chowk without wandering the nooks and crannies of Jaipur. Initially the place was intended to attract tourists, but now it has also become a success among the locals. It has become an immensely popular place for families, friends and tourists in Jaipur. Masala Chowk is also loved for its entertainment factor. There are lush green gardens attached to it and this park hosts various music and entertainment programs for the public. Plus, it's affordable too!
Location Masala Chowk
Locating Masala Chowk is very easy. It is located in Ram Niwas Garden, just behind the very famous monument, Albert Hall.
How Masala Chowk . reach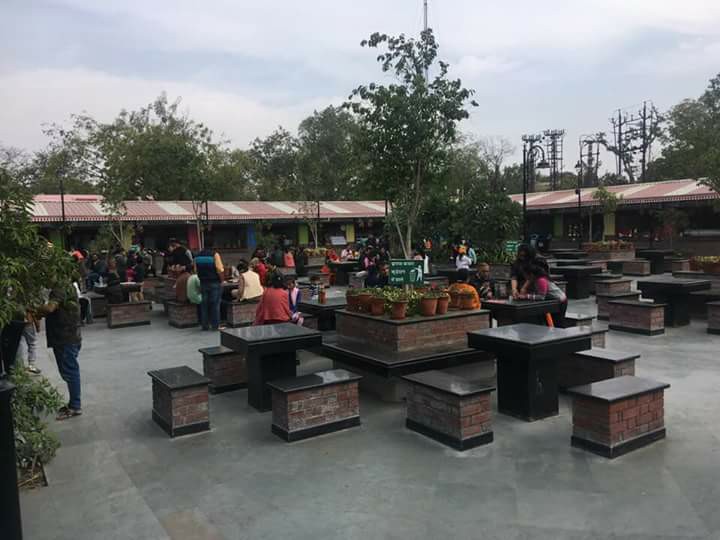 It is 1.5 km away from the famous Albert Hall Museum. You can reach the Albert Hall Museum using Google Maps. From the Albert Hall ticket office, head a little further south, Masala Chowk will be on your left. You may also prefer a taxi or choose to walk the distance.
Masala Chowk Timings
The times of this famous meeting place in Jaipur are from 10:00 AM to 10:30 PM. The best time to visit Masala Chowk is during the day or early evening to avoid the crowds.
Entrance fees to Masala Chowk
They charge Rs 10 as entrance fee per person.
Masala Chowk Menu
There are 21 renowned stands here serving the best of street food in the city.
samrat
Ramakrishna Kalkatti Chaat
Somilal Rawat Misthan Bhandar
Gopal Singh Patasi Bhandar
Shankar Samosa
Sethani Ka Dhaba
Indian ice cream Faluda
Raman Dosawala
Shri Jharkhand Nath Poha and Chaato
Gulabji Chaiwala
Delhi Chaat and Cafe
Prem Prakash Samosa
Wow Banana!
Bhagat Misthaan Bhandar
Brijwasi Falooda Kesar Kulfi
Pawanaa Rajasthani Vyanjan
Jaipuri Chatkaraa
House on fire
Andewalaz
Mahaveer Rabdi Bhandar
Ice cream and shakes
The eateries here offer an assortment of food items such as Chaats, Ice Cream, Falooda, Kulfi, Samosa, Kachori, Poha, Tea, Rajasthani cuisine, Pani Puri, Sweets, South Indian dishes, non-veg delicacies, egg dishes and many more.