Today, the only thing people are paying attention to is to be in shape. Well, dreaming of a gorgeous and fit body isn't a sin. It's a need of the hour and thus this growing concern has given rise to some of the best fitness centers in the city. So, whether it's about getting into shape or losing weight, with the fitness centers mushrooming all around, maintaining your health has become a lot easier. People of Pink city commonly seek the best gyms in Jaipur for staying fit. With so many fitness centers in Jaipur, you might find it difficult at first to find the right gym for you. If you haven't decided yet on what gym to choose, here is a list of ultimate gym centers in Jaipur to stay fit.
Best Gyms in Jaipur
Gold's Gym Jaipur
Founded in 2002, Gold Gym has established itself as a leader of the pack. It is the world's largest fitness chain having 120 centers all over India. If you are looking for a gym in Malviya nagar Jaipur, the Gold gym is among the oldest gyms in Pink city. It is immensely popular for its finest equipment, infrastructure and well-knowledgeable fitness trainers. They provide a tranquil and yet state of the art facility for its members to work out and exercise. Be it losing or gaining weight, toning muscles, increasing flexibility, or be it building strength or improving cardiovascular health, the Gold gym Jaipur is the best in the fitness world. 
Highlight: From Gyming, Bodybuilding, Yoga, Zumba, to Martial Arts, Aerobics and Weight loss programs, they provide many fitness courses. With expert trainers and proper guidance you surely achieve your goals easily. 
Gold's gym fee structure: Their fee structure depends on the package you choose. They offer different packages like monthly, quarterly, half-yearly and yearly membership packages as well as couple membership packages. With each package, you get different facilities. To know more about Gold gym membership prices and packages you can checkout http://goldsgymjaipur.com/plan 
Location: SDC Building, 4th and 5th Floor, 40-41 Calgiri Marg, Mauji Colony, Near Cafe Coffee Day, Malviya Nagar;
E1, E45, UDB Hallmark Building, Gautam Marg, Vaishali Nagar
Contact: 08306944668
Talwalkars Gym Jaipur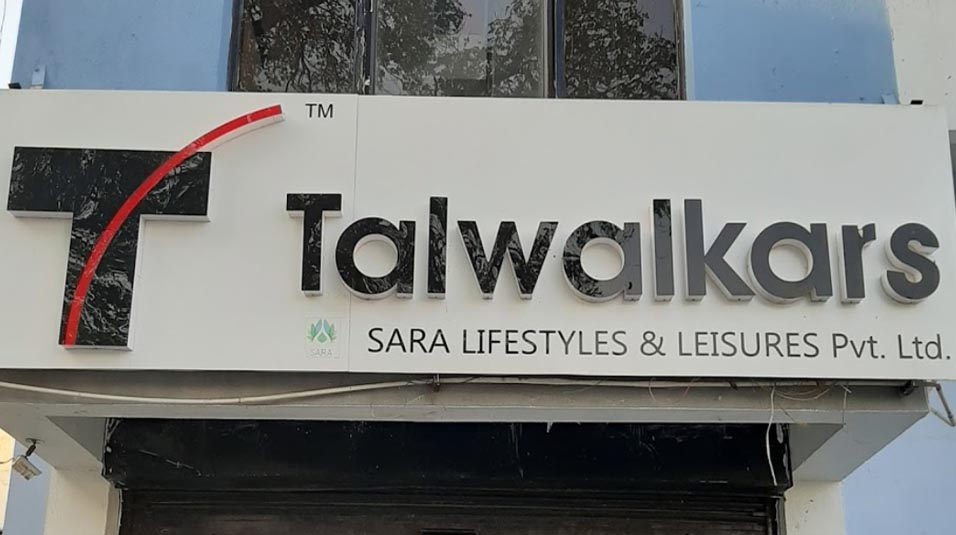 When it comes to the best gyms in Jaipur, undoubtedly Talwalkars stands out as a top-notch brand in the minds of consumers. It is one of the most renowned fitness chains in the city offering a complete health care facility that makes it the ideal gym in Jaipur. If you are finding Talwalkars gym near you, Talwalkars Jaipur has multiple branches providing easy access to every fitness crazy person. They appoint highly passionate trainers to train and encourage the members to stay fit and get them the best body. The world-class facilities, hospitality, and skilled trainers lead to its immense popularity among fitness lovers. Undoubtedly, this is a one-stop place to keep your physical fitness assured, leaving you influenced
Highlight: They provide a gym, along with nutrition, health counseling services and an array of lifestyle programs.
Talwalkar's membership plan: They even offer a single-day plan along with monthly, quarterly, half yearly and monthly plans. They also offer several weightloss and fitness plans with different time durations. Their plans start from INR 400. To know more about the membership plan prices feel free to contact them. 
Location: Raja Park, C-Scheme, Bani Park, Malviya Nagar, Nirman Nagar, Vaishali Nagar
Contact: 0141-2720449
klean fit gym jaipur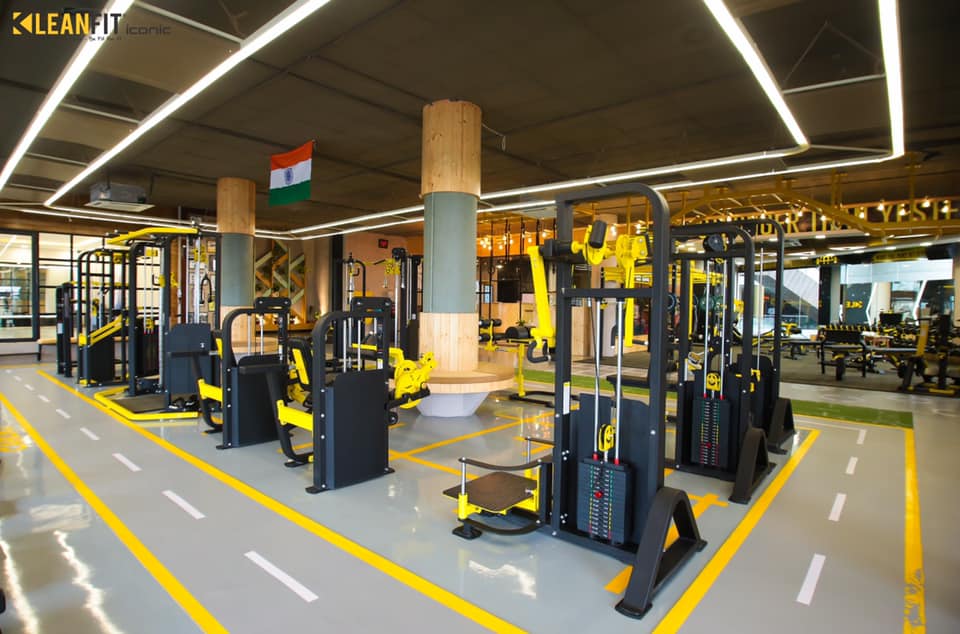 KleanFit is one of the best gyms in Jaipur that provides functional training, spinning, TRX, Crossfit, group fitness classes, and other gym luxuries at a reasonable cost. Their staff help you to boost your strength in a positive direction with their knowledge. Their yoga sessions help restore mental fitness and maintain peace of mind. The gym in Malviya nagar Jaipur features awesome music, steam bath, spa, and locker facilities. KleanFit has an eveready staff to guide you and create a perfect workout setting. They offer flexible membership options as well. 
Highlight: 
Battle Ropes, Kettlebells, Zumba, Medicine Balls, Power Yoga, Aerobics, Kickboxing, Bootcamp, SledgeHammer Workouts, Fat Loss and Muscle Gain Programs, Diet Counselling, Personal Training, Cardio and Strength Equipment, Weight Lifting, Free Weights, Dumbbells, Barbells, Bench Press, Lat-Pulldown, Treadmills, Rowers & Elliptical Cross-Trainers
Kleanfit Membership plan: They offer several plans with different time durations. Their plan ranges from INR 300 to INR 15000. 
Location: E-62, Girdhar Marg, Sector 11, Malviya Nagar, Jaipur
Contact: +91-76918-36197
NUYU Health Club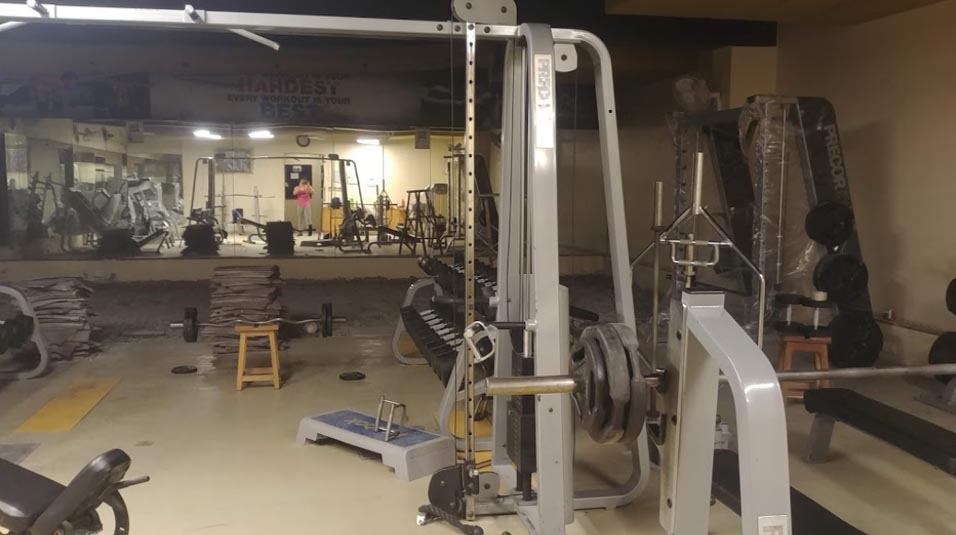 NUYU Health Club is not only among the most popular gyms in Jaipur but also one of the biggest fitness centers in India. Their range of services to keep makes the customer addicted to their fitness regime. This gym in Vaishali Nagar Jaipur provides a lot more than just the workout. Their professional dieticians help you follow a healthy diet with their customized diet plans designed exclusively for you. With some of the best equipment available and certified work trainers at NUYU, you will get complete guidance for the whole process and choosing the right fitness program. The well-trained and friendly instructors provide you with customized fitness regimes that suit your lifestyle and body type. 
Highlights: It offers fitness services like gym, spa, and yoga, along with a dance studio, kickboxing, spinning studio, TRX for extreme strength training. They also have a well-developed cafe that incorporates certified dieticians
Gym membership: They offer gym membership and group activities in a range of INR 6000 TO INR 25000. You can also book for their yoga sessions. To know about their exact prices and the plans that suit your needs, contact them. 
Location: Opp. Jharkhand Mahadev Temple, Queens Road, Vaishali Nagar
Contact: 0141-4016060
Tonique Fitness Studio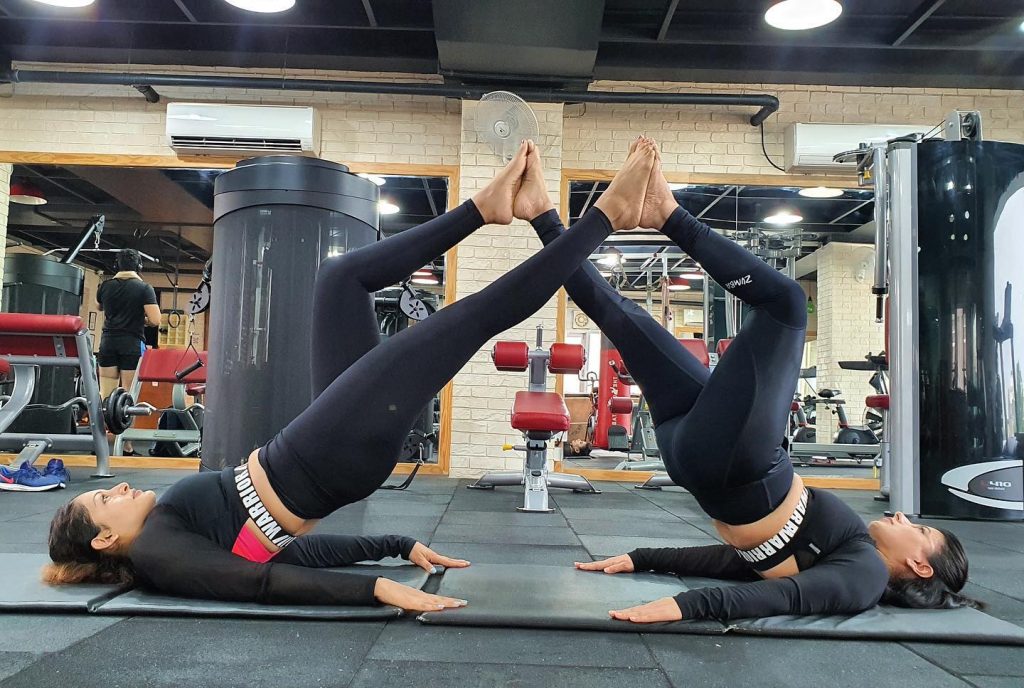 Since January 2013 Tonique Studio has been among the top gyms in Jaipur influencing people's lives physically as well as mentally and spiritually. Manisha Nowlakha, a Zumba Expert is everyone's favorite trainer at this fitness center changes people's perception towards fitness. If you live nearby Janpath and are looking for a gym near you in Jaipur, Tonique is the best. The place turns out to be the most motivating by making the workout a fun task. She provides training for Zumba, belly dancing and makes gyming fun with innovative techniques to achieve fitness. Apart from being a fitness center, TONIQUE STUDIO is also known as a dance studio. 
Highlights: Zumba, belly dance, regular gym sessions
Location:  D 122, Janpath, 2nd floor, Shyam Nagar
Contact: 9828019297, 01414919027
Big Apple Fitness Studio Jaipur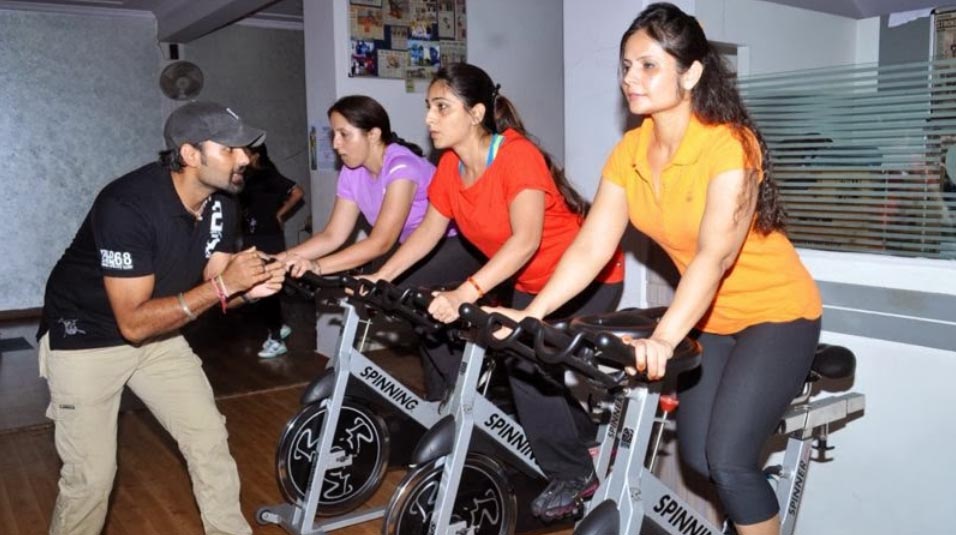 Big Apple Fitness Studio is a gym near you in Jaipur delivering world-class fitness. This fitness chain is owned by a celebrity fitness trainer, Mr. Ajay Singh. Big Apple Fitness Studio aims to provide a holistic fitness regime to its members. Having the city's best fitness programs, this gym in Bani park Jaipur has a huge fan following. They employ a dedicated group of highly qualified fitness professionals who focus on overall the fitness of their customers. Apart from regular fitness programs, they also provide specially designed Pre and Post Natal Workouts to the expecting mothers that benefit the mother and the baby physically as well as emotionally.
Highlights: Big Apple offers features like CrossFit training, Power Yoga, Cardio Kick-Boxing, Anti-Ageing Workout and many more. Along with this, they also offer diet plans and outdoor workout competitions.
Location: K-47 Lal Bahadur Nagar, SL Marg, Malviya Nagar;
1/413 Vidhyadhar Nagar;
D-232, Kalidas marg, Madho Singh, circle Bani park
Contact: +91-97721-22222
Anytime Fitness Gym Jaipur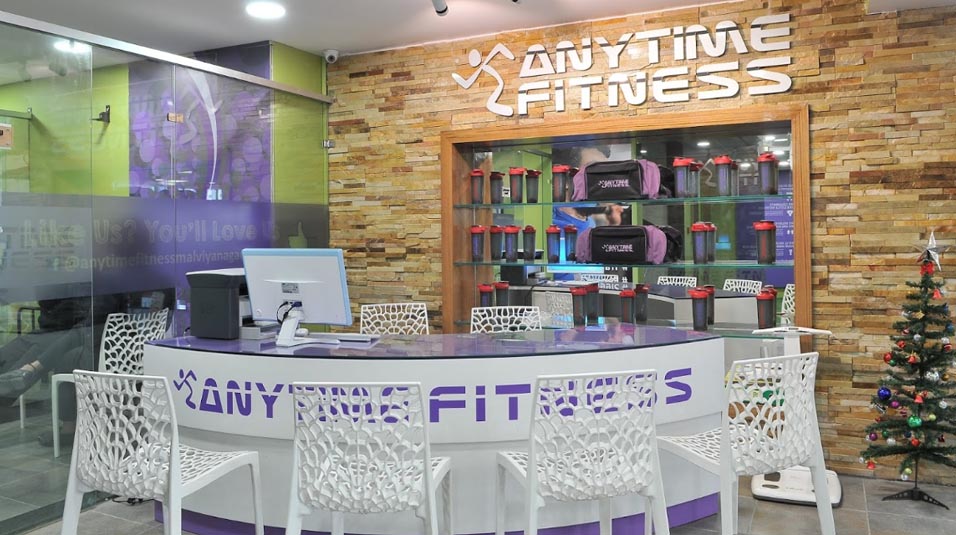 Anytime Fitness is known to attract a major fitness crowd in Jaipur with its ultra-modern facilities. This is the only fitness center in Jaipur that is open 24*7 so you won't have to rush on your routine for your workout. Anytime Fitness is the best gym in Raja Park Jaipur to opt for a healthy transformation. They offer some of the finest equipment, training programs, and certified nutrition counselors. Whether you seek fitness, health, or just lifestyle change, the expert trainers here provide a plan for each of their customers accordingly. These plans are designed based on their preferences and lifestyle habits. For those who seek fitness with affordable membership plans, Anytime fitness is definitely a perfect gym. 
Highlights: Wellness Programs, Resistance Bands, Plyometric Boxes, Battle Ropes, Bosu, Kettlebells, Medicine Balls, Multi-Functional Rack, Barbells, Dumbbells, Free Weights, Plate Loaded, Squat Racks, Elliptical Cross-Trainers, Exercise Cycles, Rowing Machines, Spin Bikes, Treadmills, Small Group and Personal Training, HIIT, Aerobic, Zumba & Yoga Classes.
Location: 2nd Floor, Landmark Building, Ahinsa Cir, Panch Batti, D-38A, Subhash Marg, C Scheme, Jaipur;
1st Floor, B-13, UDB Business Avenue, Govind Marg, Raja Park;
1-A, 2nd Floor, Naval Tower, Jawahar Lal Nehru Marg, Sector 8, Malviya Nagar
Contact:  089557 65576, 08955755575
X Core Fitness Gym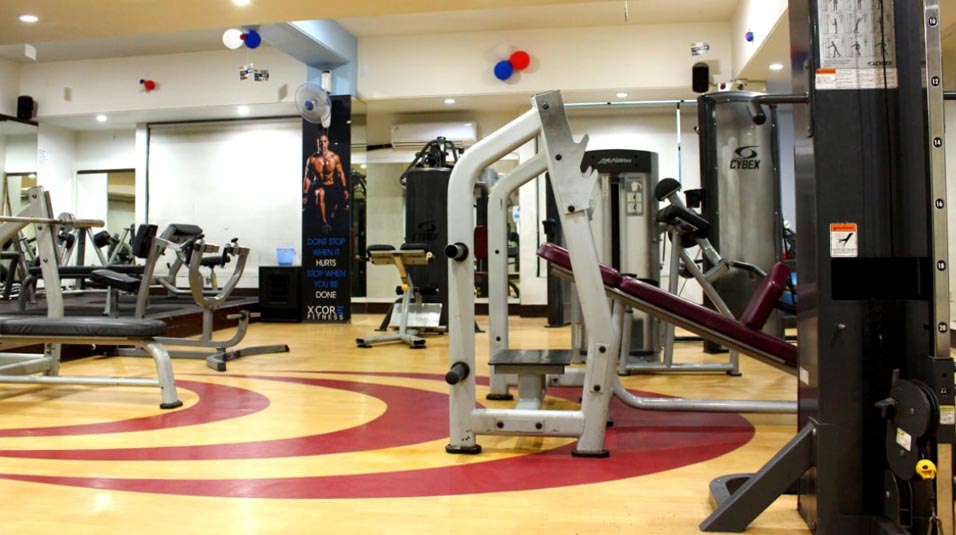 Patrons rave about the personal attention they receive from X Core Fitness Gym's trainers and its positive environment. This fitness center very well motivates the people to visit again and be regular to the gym. They have trainers from around the world and offer their services at minimal prices. This quality has earned them the spot at the top of the rankings of Jaipur. Not only this, but they also organize weight-loss competitions and bicycle races. These activities entertain their customers and maintain their interest in a workout. 
Highlights: Weight Loss competitions, bicycle races
Membership fee: To enquire about their plans and membership fee you can either call them or mail your query at [email protected] 
Location: E-145, 406 to 411, 4th Floor, Ashok Marg, City Mall, C-Scheme Opposite St. Xavier's School
Contact: 0141-4003241, 09828451232
The Fitness Pro Gym Jaipur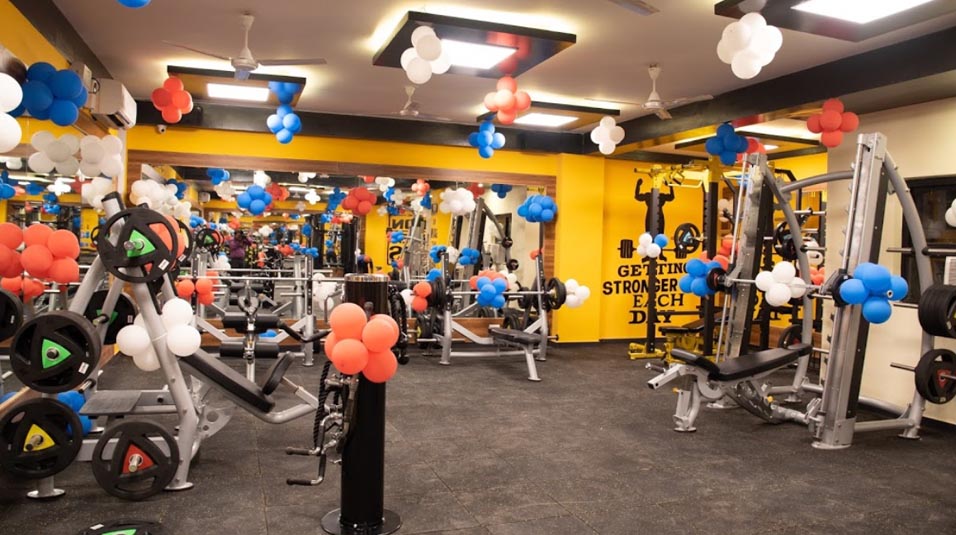 Spread over 12000 Square feet area, Fitness Pro is a well-known gym in Mansarovar Jaipur with more than 10 franchises all over the country. This fitness center carries experienced and knowledgeable trainers, fantastic facilities, and different fitness programs. Mr. Shivraj Chandel, the owner of Fitness Pro is a standout gym trainer for the improvement of muscular and physical fitness. They offer a variety of sections for different kinds of workouts just under one roof. Also, they have high-quality machines and equipment that are specially imported from outside the country.
Highlights: Cardiovascular Equipment, Treadmills, Cross-Trainer, Upright and Recumbent Bike, Strength Section Includes Roc-It Series, Free Weights, Barbells, Weight Plates, Dumbbells, Adjustable Benches, Lateral Raise and Lat Pulldown Machine, Leg Press, Arm Curl, Personal Training, Group Exercise Classes, Aerobics, Cycling, Zumba, Power Yoga & Swimming
Membership fee: Their pricing ranges from $99 to $299 per month. 
Location: The Fitness Pro, Near IPS School, Shipra Path, Shanthi Nagar B, Mansarovar, Jaipur
Contact: 09314455664
Multifit Jaipur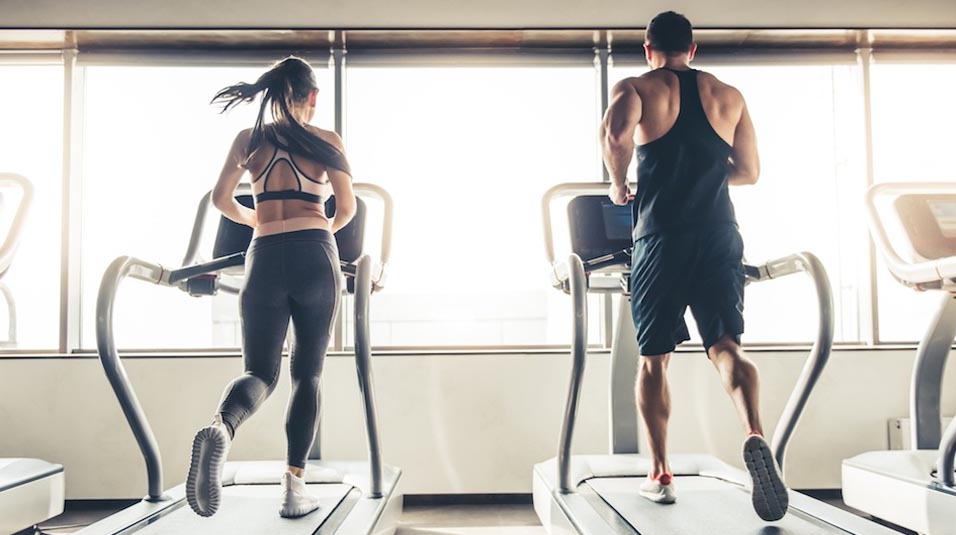 Multifit is a UK based fitness center that follows innovative and unique techniques so that their customers are keep indulged. They don't follow the tedium of repetitive workouts and are home to a lot of extraordinary things. Multifit Jaipur makes the customer happy with the positive outcome of their fitness routine. This gym in Vaishali Nagar Jaipur offers several training programs. The trainers work passionately with each trainee and accordingly give them special attention. They ensure the best results with their level of fitness knowledge and high training.
Highlights: They include cross-functional training, group sessions, HIIT, endurance training, Dance, Calisthenics and much more. Members can join these training programs to help reach their goals.
Location: J-34, Subhash Marg, C Scheme, Ashok Nagar
D-252, Amrapali Marg, D – Block, Vaishali Nagar
Contact: 074148 72872
Cult Fit Gym Jaipur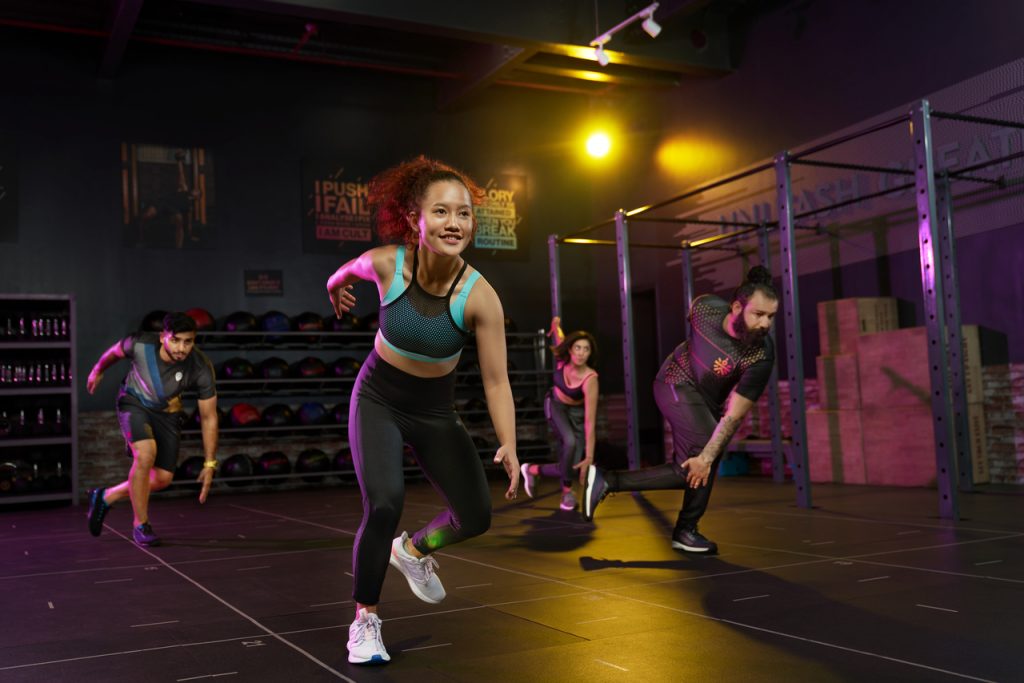 If you are searching for a gym in Malviya Nagar, Cult fit gym offers you the best of both worlds. Cult fit Jaipur is an integrated platform for all your fitness needs. It not only has excellent gym machines it also follows all the hygiene protocols so that you get maximum results from your workout sessions. It is among the best gyms for females from a safety and hygiene point of view. Their friendly trainers ensure that you achieve the best from your workouts. Not just this, you also get personalized and customized plans for your fitness and health goals.
Highlights: Yoga, Boxing, S&C, HRX workout, Dance fitness
Membership Plan: The fees for 3 Month Package Rs. 8,990, 6 Month Package Rs.13,490 and 12 Month Package Rs. 16,990 Also, you can get free trial classes before you go for any of the membership plans.
Address: 3rd Floor, GT Square, opposite Gaurav Tower, PL-43, Sector 9 Rd, Kalyan Colony, D-Block, Sector 4, Malviya Nagar, Jaipur
Contact: 
MetroFlex Gym Jaipur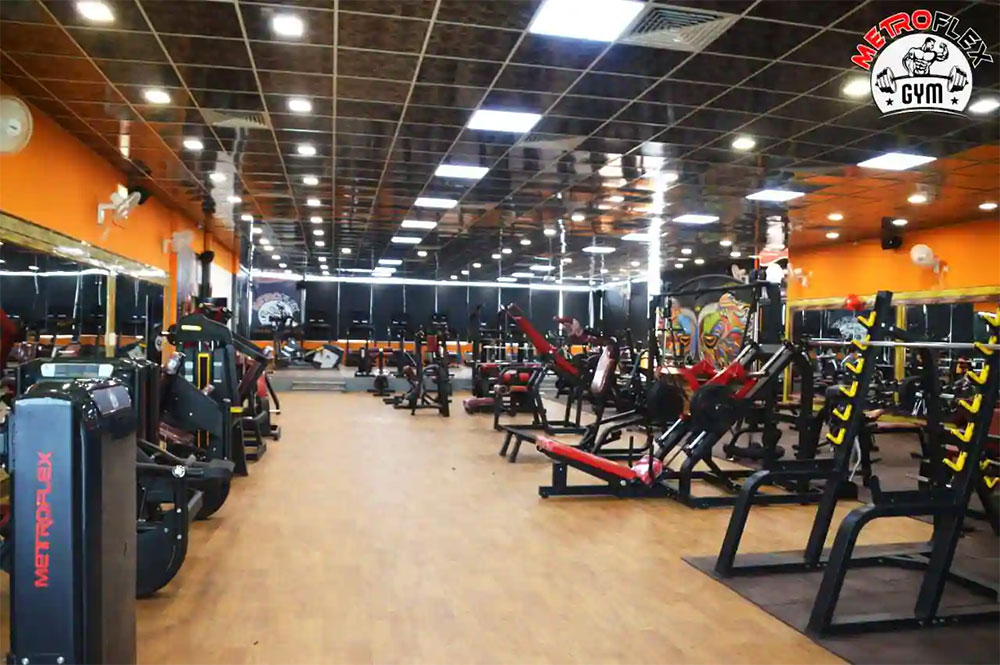 For those who are keen towards knowing the best gym in Jaipur for females, Metroflex gym Jaipur is the option. With a positive attitude and friendly team of trainers, Metroflex is a gym that ensures your complete satisfaction. They have a calm ambience that sets up the mood and vibe for workout. In addition, they have all the latests equipment and machines with numerous happy clients. With Metroflex as your fitness partner your weightloss journey becomes amazing. 
Highlights: yoga for children, yoga for pregnant women, aerobics, crossfit, gym, yoga classes, zumba classes for women, fitness classes for women, personal training
Address: Vaibhav Complex, 7th floor, Amrapali Marg, Block C, Vaishali Nagar, Jaipur
Contact: 09772914999
Lifetime fitness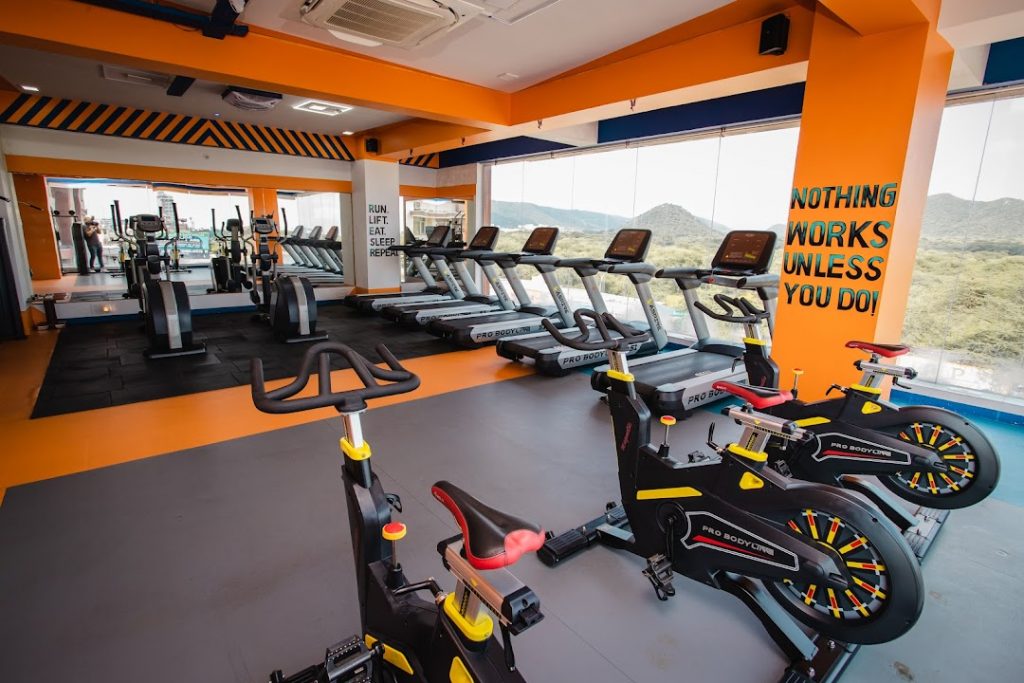 Lifetime fitness is a technically sound gym in Jaipur with all kinds of equipment and upscale workout facilities. All trainers are proficient and are available at peak hours. They also have female trainers so the atmosphere is professional as well as comfortable at the same time. Most importantly, they very well take care of the hygiene. The best feature of this gym is the beautiful view it has! It definitely charge you up to get set for the workout routine.
Highlights: aerobics, crossfit, fitness classes, gym, indoor cycling, yoga classes, zumba, fitness classes for women, free weights, nutrition consultation, personal training
Address: Plot No 5, Jagatpura Rd, Model Town – B, Krishna Puri, Model Town, Malviya Nagar
Contact: 01414038677
Seeking the best gyms in Jaipur to choose from? These are the best gyms in Jaipur with great trainers that can prove wonder in your health transformation. To conclude, weigh your options and then decide on a place to exercise in Jaipur. Be the healthiest you! Remember, it's never too late!