Weekdays are hectic for most people in Jaipur. Everyone waits for the weekdays to get over and the weekend to begin. They look forward to enjoying, chilling, socializing or just hanging out with family or friends. When it comes to relaxing and chilling out, Jaipur is hard to beat. Jaipur may come across as a huge, noisy, crowded city, but when you start to explore it you will realise that Jaipur has several hangouts places, where Jaipurites meet to enjoy themselves. These are the best hangout places in Jaipur carrying out the coolest vibe where everyone loves to chill out.
Popular hangout places in Jaipur
Let's take a look at some of the popular hangouts in Jaipur that are its greatest charms.
1. Nahargarh, Jaipur
Nahargarh, a place in Jaipur, comes first on the hit list when it comes to hangout places in the pink city. The road to Nahargarh itself refreshes you from within. The cool breeze and the picturesque view from above are simply rejuvenating. The breeze, the aura, the lighting, the sunset, everything is just superb from there making it a favourite hangout place in Jaipur.
The place flaunts an attractive restaurant named Padao that you can visit with your friends or the love of your life and enjoy exotic drinks and food. The "Padao" is a terrific place to relax and unwind during weekends or rest days. It can be a very cool and airy place that is just perfect for hanging out in the open.
Location:- Devisinghpura, Amer, Jaipur
Entry Fee:- Rs.20 per person
Good for:- History Buffs, Photo Fanatics, Experience, Seekers Wanderers, City view
Attractions:- Padao restaurant, Cafeteria, breathtaking city view. 
Timings: It opens from 10 AM to 5.30 PM.
2. Jal Mahal, Man Sagar Lake, Jaipur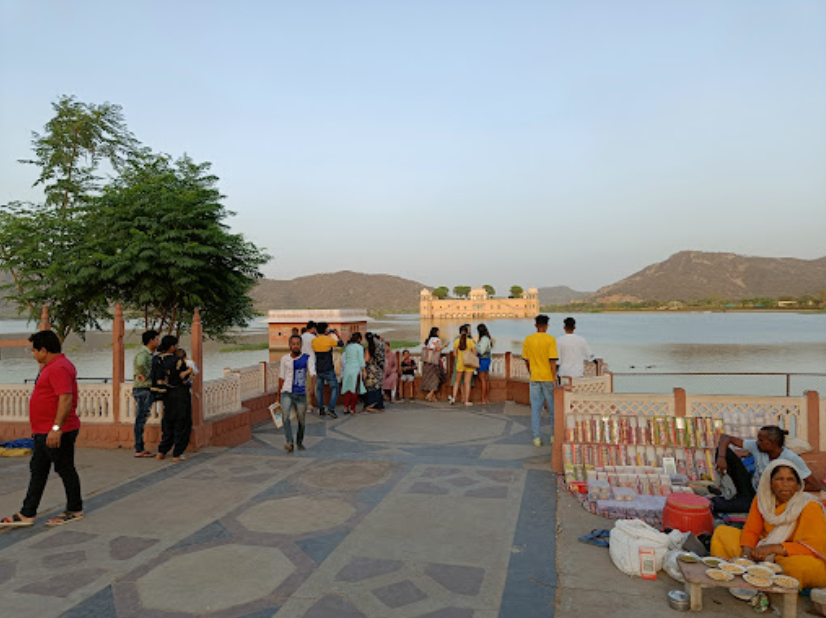 In the middle of the Maan Sagar Lake us the Jal Mahal is a famous historical palace located in Jaipur. This Jal mahal palace is also called the water palace, being built amidst the lake in an eye-catching shape. The special thing about this palace is that the four floors are always submerged in water with only one floor visible above.
Jal mahal makes for a great concept of spending your weekend in complete solitariness with a vast lake spread in front of your eyes and having your favourite food beside the lake. While having your favourite food, you can enjoy the cool breeze and the pleasant view around. You will find a variety of foods you can find selling beside the street. You will find many people having a good time here.
Location: Amer Road, Jal Mahal, Amer, Jaipur
Entry Fee: There is no entry fee here.
Good for: nature lovers, bird lovers, camel rides, photography, street shopping
Attractions: Architecture, natural beauty
Timings: It is open from 6 AM to 6 PM.
3. Tapri Central, C scheme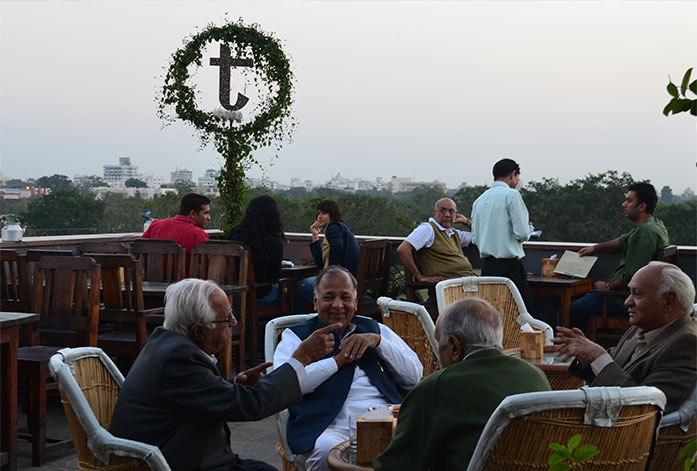 With the youngsters' vibe so strong, all the cafes and restaurants in Jaipur on one side and Tapri on one side. Even the adults are reminded of their good old days with friends. The ethnic ambience of the place is the cherry on the cake to strike back the nostalgic feelings in you. The aura and the external view of this place are something that you would not like to miss.
With walls decorated with postcards and handmade chandeliers, Tapri is undoubtedly a beautiful hangout place in Jaipur. Whether it is the food, the vibe, or the sunset scenery, everything there is just beyond awesome. Apart from this, masala Maggi, ginger tea and sandwiches are also the popular stuff there.
Location: B4 E, 3rd Floor, Surana Jewellers, C Scheme, Opposite Central Park, Jaipur
Entry Fee:– There is no entry fee here.
Good for:– Get-togethers, Gossiping and snacking, panoramic view of the city
Attractions:- tea and snacks, rooftop seating
Timings: It opens from 9 AM to 10.30 PM
4. Gaurav tower, Malviya nagar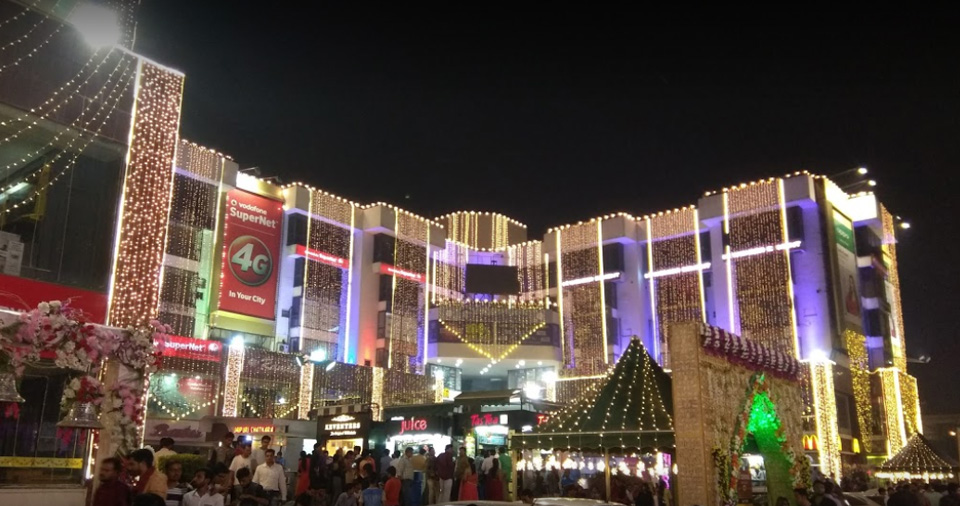 Gaurav Tower is located in Malviya Nagar of Jaipur. It is popularly known as GT among youngsters and is their favourite hangout place since its inception. This was the first construction in the city which made way for the mall culture to flourish in the city. The construction of this pioneer mall dates back to the '90s when there were not many places to hang out for youths, but soon it ruled every youth's heart and became the most happening place in Jaipur.
The popularity of the place could be understood by the fact that this place is still thronged by numerous teenagers and shopaholics. GT was the first to attract popular global brands to open their stores in Jaipur. From well-known brands to unique kiosks shops offering a variety of products like electronics, fashion, jewellery and food, GT has everything. It is a perfect place that showcases Jaipur's vibrant lifestyle.
Location: GT Rd, D-Block, Crystal Court, Malviya Nagar, Jaipur
Entry Fee:- There is no entry fee here.
Good for:- Shopping, Food lovers, entertainment 
Attractions:- street food, dinning, shopping
Timings: It opens from 9 AM to 11 PM
5. Jaipur Chaupati, Mansarovar and Paratap Nagar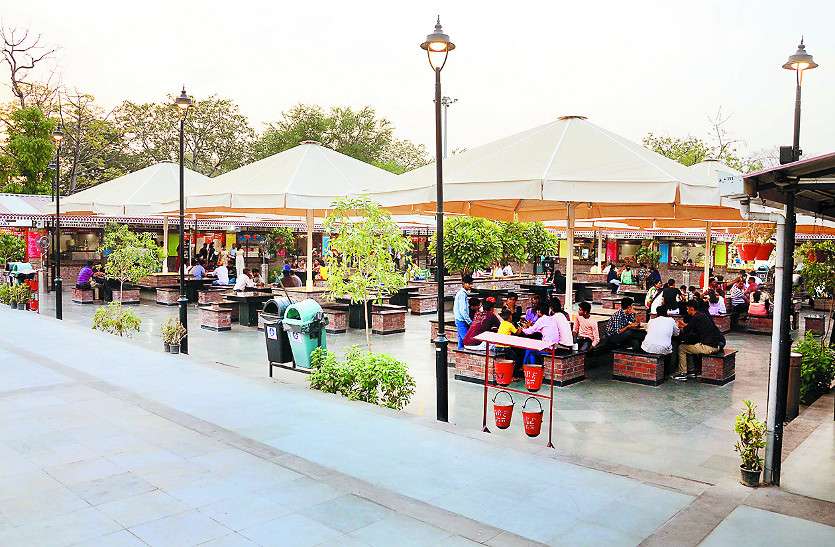 Jaipur Chaupati is a recently opened one-stop point to finish all of the street food cravings and an amazing hangout destination in Jaipur for youngsters as well as kids and adults. This unique hangout place in Jaipur is a vast food court that has two branches, in Pratap Nagar and Mansarovar. The place is apt for celebrating get-togethers, birthdays, kitty parties and drooling on some yummy Indian street foods. This is a chill-out place for having gupshup while seating, enjoying cuisines and listening to live bands.
Since the day it was inaugurated it has become a popular hangout spot for Jaipur residents. There can be no sitting and chatting without good food. And what can be a hangout place that does not have something to munch on? Well, Jaipur Chaupati has it all and never fails to attract foodies with its numerous varieties. Whether it's a sweet dish or dessert or traditional Rajasthani food, or international cuisine or refreshments, Jaipur Chaupati serves you in a distinct style.
Location:
Pratap Enclave, Pratap Nagar, Jaipur
Dwarka das marg, Mansarovar Sector 11, Mansarovar, Jaipur
Entry Fee:- The entry fee here Rs 10 per person
Good for:- Food lovers, hosting small parties, listening live music 
Attractions:- indian and international cuisines, live band
Timings: It opens from 11 AM to 11 PM
6. Saras parlour, Malviya nagar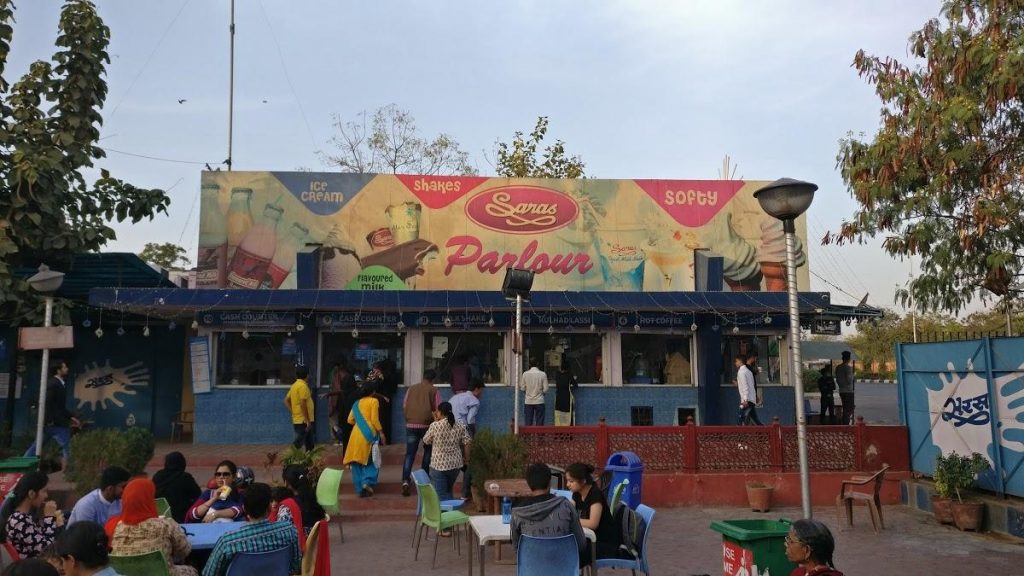 Another popular hangout place in Jaipur is the Saras parlour. The Saras parlour is a famous hotspot among friends, family and love birds. This marvelous place runs round the clock and serves delicious 'Paneer Pakoda', 'Doodh Jalebi' and softy ice cream. A plethora of people come here, especially for this fresh milk stuff. Moments spent here are pleasing and amazing. It is a well-known brand of fresh milk products that has gained popularity among people for its taste and quality. Those who wish to take a short break and look to chill out or have a craving for something delicious love to visit Saras Parlour. This dairy parlour at the JLN marg also serves great food alongside shakes and flavoured ice-creams.
Location: 1, Jagatpura Rd, Valmiki Colony, Malviya Nagar, Jaipur
Entry Fee:- There is no entry fee here.
Good for:- family time, friends meeting, fresh ice creams snd snacks
Attractions:- ice cream and snacks
Timings: It opens from 8 AM to 10PM
7. Statue circle, Jaipur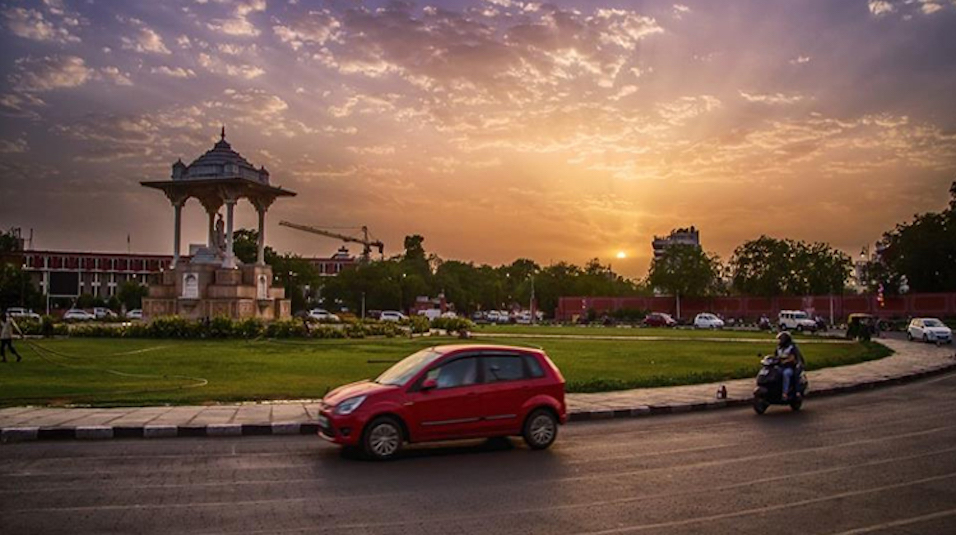 Statue circle is one of the oldest and most famous places in Jaipur for savouring cold coffee. For those who crave coffee, the statue circle is the must place to visit for a great taste of Cold coffee. This place is always found crowded by locals and is one of the happening hangout places in the city. It is situated in the posh area of Jaipur and people throng here to spend their evenings here with their friends and family. Apart from cold coffee, you may also get delicious aloo patties, masala patties and paneer patties. Savouring snacks with a mug of chilling cold coffee with choco nuts, what more one can ask for. The taste will definitely linger in your memories for a lifetime making this place your favourite too.
Location: Jai Singh Circle, Ashok Nagar, Jaipur
Entry Fee:- There is no entry fee here.
Good for:- Evening stroll, Sitting in the garden, Morning Jogging, History Buffs, Adventure Seekers, Photo Fanatics
Attractions:- Historical Landmark, Fountains, Garden
Timings: It is open all the time.
8. World Trade Park (WTP), Jaipur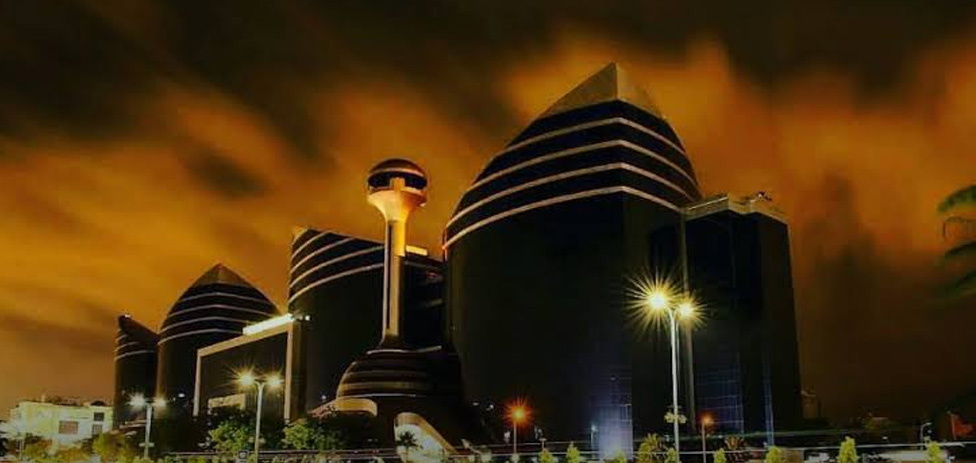 World Trade Park is the biggest mall in Jaipur that has been every jaipurites favourite hangout place. It has a huge list of entertainment options one would get tired of trying out. It houses a movie theatre, food court, game zone, shopping stores and a lot more to hangout with. You won't even realize and the time will slip off when you will visit this super cool mall in Jaipur.
This makes an excellent place to hang out not only for elders but also for kids, youngsters and family. This place is usually crowded in the evenings and during weekends. You can shop for a variety of clothes, shoes, makeup, toys, jewellery, mobile, laptop and camera etc. enjoy watching movies, have a bite of your favourite food at Cafes, restaurants here. The list is endless!
Location:- Jawahar Lal Nehru Marg, D-Block, Malviya Nagar, Jaipur, Rajasthan 302017
Entry Fee:-  There is no entry fee here.
Good For:- Shopping lovers, Photographers, Fun lovers, kids, adults, cinema lover, food lovers, fitness freaks, architect lovers.
Attractions:- Architecture, Fountain
Timings: This place opens from 11 AM to 11 PM
9. Central park, Jaipur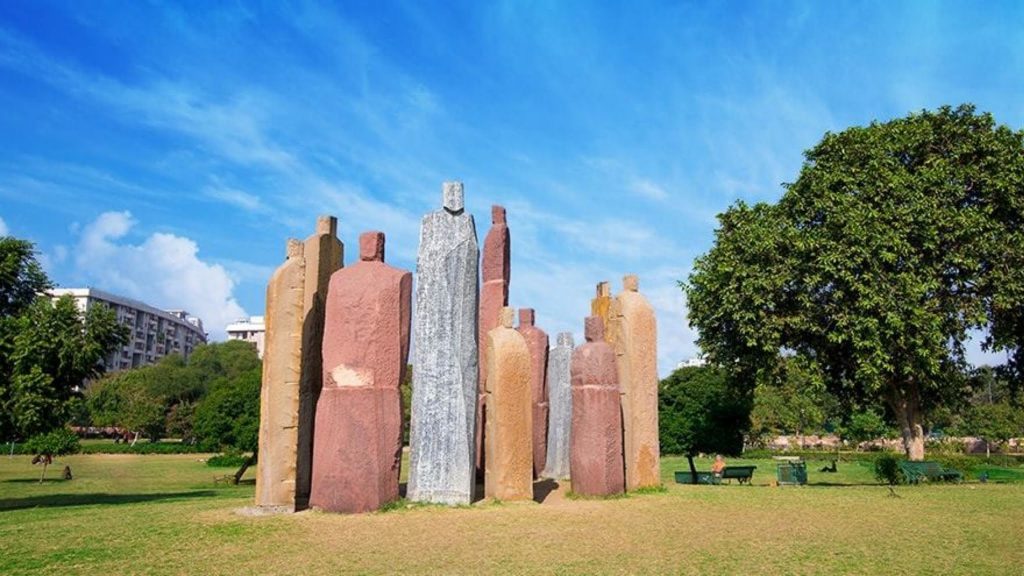 Central Park is the biggest park in Jaipur which nestles in center of the city. This place is popular for its unique sculptures, greenery and good atmosphere. There is an open gym, sports clubs and a jogging track as well. There is also a golf club and a polo ground at Rambagh. It is a perfect place to relax, appreciate the beautiful green surroundings, bird watching and enjoy the experience of sunrise and sunset. Central Park is the pride of Jaipur and has got everything that will make your evening exciting. It is indeed one of an ideal hangout places in Jaipur for family and friends.
Location:- Prithviraj Road, Rambhag, Jaipur, Rajasthan 302007
Entry fee:- There is no entry fee here.
Good for:- Photographers, Nature Lovers, Bird Lovers, Fitness enthusiastic people
Attractions:- Greenery, Musical Fountain, Temple, Stone States, National flag, sunrise
Timings:- The timings to visit this place is 5 AM to 10 PM( all days of the week).
10. Jawahar Circle Garden, Malviya Nagar, Jaipur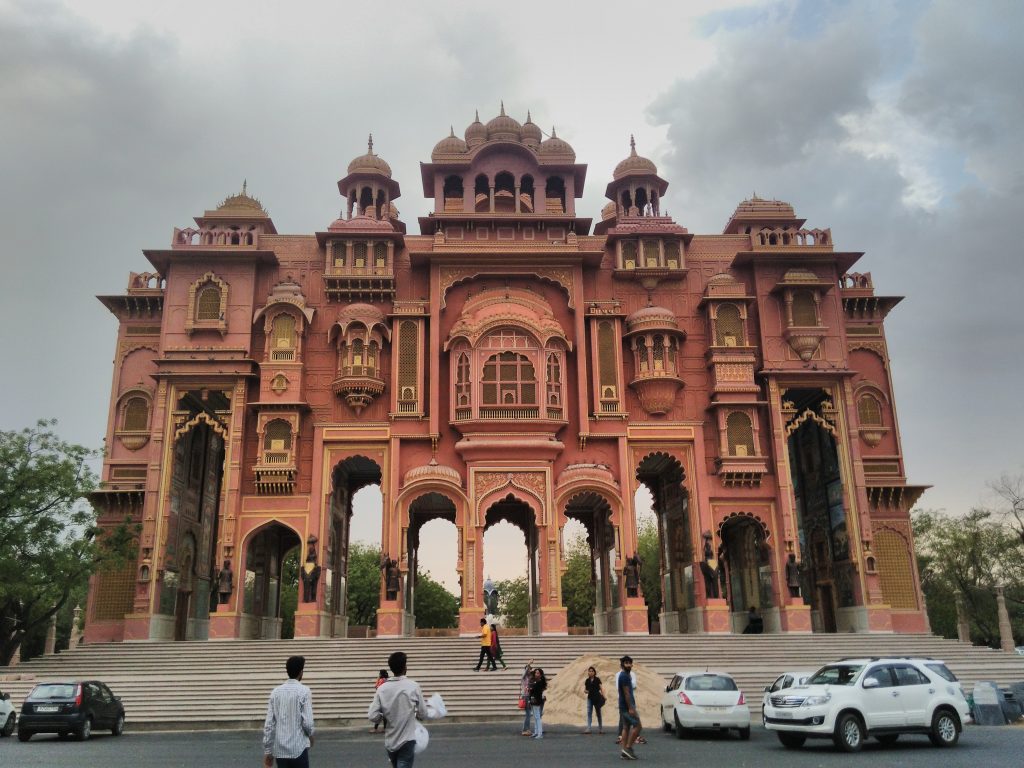 Jawahar circle is one of the famous hangout places in Jaipur. The circle has a beautiful park to enjoy greenery where numerous people come for jogging or a morning walk. There are fountains, swings, slides and a rose garden inside the park which makes the evening pleasant to spend.
Recently this park has been blessed with a new addition, Patrika gate as its entranceway. Since then it has become a hotspot among all the Instagram generation. The rainbow-coloured entrance gate melts your heart with its beauty and has made it the most loved hangout place for jaipurites.
People come here to relax in the beautiful gardens, take a walk on the foot-path or sit on the benches to view.
Location:- Near EP cinema hall, Malviya Nagar, Jaipur, Rajasthan, 302017.
Entry Fee:- There is no entry fee here.
Good For:- Photographers, Nature lovers, Fitness enthusiastic people
Attractions:- Musical Fountain, Greenery,sunrise.
Timings:- The timings to visit this place is 5 AM to 9 PM ( all days of the week)
Musical fountain show timings:- 7 PM to 8 PM.
In addition to the places mentioned, there are many more hangout places in Jaipur where people like to chill out. These include Kishan Bagh, Jhalana Safari, Anokhi Cafe, Smriti Van, etc. So, next time you visit Jaipur make sure you visit at least a few of them. You will truly have an incredible time hanging out at these places.