No matter how many big shops/malls there are, the charm of traditional markets still wins a shopaholic's heart. The thriving malls and showrooms may provide the convenience of shopping to the customers as every product is available under one roof, but there is a different satisfaction we get from stores to stores that enjoy shopping. For centuries, Jaipur has been proud of its sparkling bazaars that are known worldwide, where you can rediscover a piece of India's history in the form of handicrafts, colorful textiles, ornaments and whatever. But the desire to shop is often determined by practicalities such as money. What place could be better than shopping at the best wholesale markets in jaipur?
So, whether it's wedding prep or your regular grocery shopping, there are some wholesale markets in Jaipur who are behind you. Here are the famous wholesale bazaars in jaipur selling from cheap trinkets to high quality affordable yet credible traditional clothing.
Purohit Ji ka Katla – Jaipur Wholesale Market
Jaipur has marked its presence on the world map when it comes to wedding shopping. And when it comes to shopping for a wedding, it is clear that people are looking for things in droves and at reasonable prices at such times. One of the major wholesale wedding shops is Purohit Ji ka Katla.
Painted in pink, this time-honored wholesale market in Jaipur has a deeply rooted history. Located in the middle of the tricky streets in the walled city Purohit Ji ka Katla or commonly Katla. named by the locals, is the most amazing market that offers shoppers all the wedding stuff. While Katla is difficult to get to and an arduous task for tourists to explore, the locals and rural areas of Jaipur's nearby areas are among the crowd. You can see Jaipurites meandering passionately across this market, ignoring the stifling routes.
This market was actually a place to keep the horses and carriages of the royal family. Each converted shop is where the horses were kept. Inside each store are a few stairs that take you to a room that is now used as a store. As you enter you will find typical traditional shops with 'gadda's' and the shop owners are addressed as 'Sethjis' as all the shops you will find in this market have been in operation for over 30 years. Although this market is ten years old, there are a few shops in the Katla that have been renovated and given an exclusive modern look, but are still run by families from a bygone era.
As you enter, countless beautiful wedding fabric shops are sure to intrigue you with its glitter and pops of color. From Sherwani, Sarees, Lehengas, jewelry, varmalas, safas, torans to raw materials like borders, butis, tassels, latkans hanging in the shops, you get all the little wedding stuff here. Most of the clothing you will find here is manufactured in nearby villages and then sold to shopkeepers, customers and even exported to different parts of the country. You will find Lehariya and Bandhej with Gota Patti's work dominating the market. This market is a must visit market for all occasions where fabrics need to be bought in bulk.
If you think this market is just for wedding shoppers, it's not. People flock here to shop for everything from fabrics, raw materials, accessories to utensils, toys, stationery, decorations, plastic items, and household items. Moreover, this market is also popular for the seasonal makeshift shops that operate during the festivals.
Famous for: Some of the most famous shops here are Mukesh Tailor, Gopal Lal Radharam Safewala for hired sherwani, MB Dresses for Gota Patti work, Ramsahay Banshidhar for Barat welcome stuff etc.
times: The market is open from 11 a.m. to 11:30 a.m. and you can shop there from 8 p.m. to 8:30 p.m. except on Sundays.
How to reach: This market is located behind the Johari bazaar. There are many entrances to the market but are too inconvenient. The best way is to head towards Badi Chaupad from the Johari Bazaar and ask the passers-by to guide you to the entrance.
You can also read: Best Wedding Sari Shops in Jaipur for Brides to Shine Bright
Johari Bazaar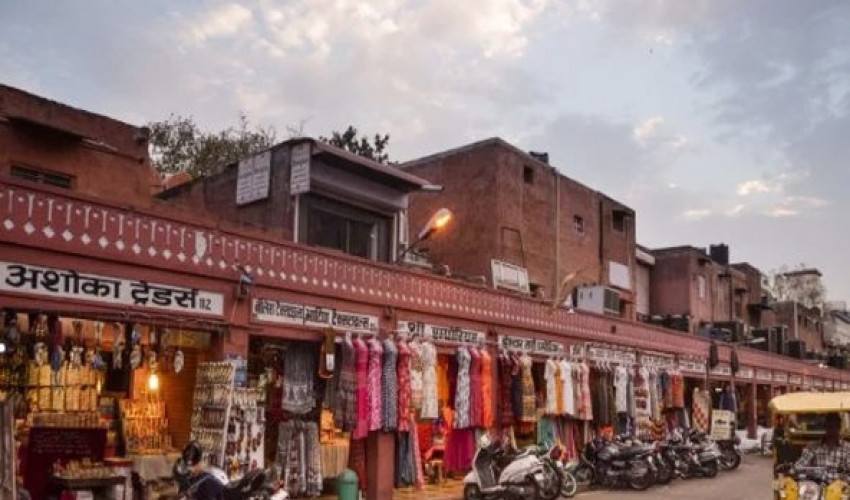 Welcome to the old town's popular shopping market, the Johari Bazaar, frequented by locals and foreign travelers alike. Located near Hawa Mahal, this market is the oldest in this city. The word 'Johari' in Hindi means 'jeweler'. Appropriately described, what draws the crowd to this place is the beautiful jewelry. The market has a great choice of shops for all shopaholics, starting with wholesale and export shops dealing with beautiful jewelry made from precious and semi-precious stones. You can not resist buying a small souvenir in the form of rings, earrings, trinkets, necklaces, neck pieces, bracelets made with Kundan and Polki.
Yes, this is a shopper's paradise for the ornaments connoisseurs but you can also get some of the best wholesale saree or lehenga or artifacts typical of Rajasthani traditions. In this place, you can also up your style quotient with a plethora of traditional garments featuring hand-embroidered Bandhani suits and tie-and-dye material. The market offers traditional Rajasthani lehengas and sarees at the best prices. Johari Bazaar is also a perfect place to shop for beautiful Mojari or Jutis.
Famous for: Jewelry and traditional clothing. There are a few famous shops in and around the Johari Bazaar that make this market known all over the place. Roop Rani Bangles, Satyam (Khadi and Mughal Bootis hand painted in real gold), Rishi Shoes, Jaipur Saree Kendra, Rooplaxmi, Rana Saree Emporium, Rattan Deep.
times: At Johari Bazaar you can shop every day from 10am to 11pm. It is best if you visit Johari Bazaar early in the evening as it is less crowded then.
How to reach: Located near Hawa Mahal, Johari Bazaar is quite easy to get to and very accessible by any means of transport.
Tripolia Bazaar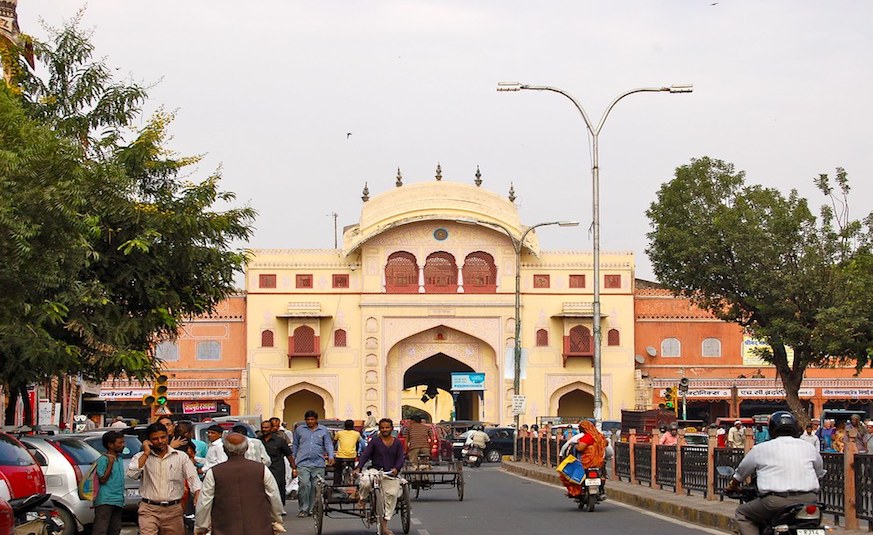 This marketplace is known for its locally made carpets and gemstones. Good quality clothing, iron and copper work, fine pieces of Jaipur handicraft history are some of the things you can find here at affordable prices. You can also indulge yourself here as the bargaining mantra works here and you can go home to buy brightly colored fabrics in bulk at the cheapest price. In addition, the cheapest accessories and decorative household items will surely make you happy. The market is considered to be one of the best wholesale markets in Jaipur for clothes.
Famous for: Known for its textiles, utensils, hardware, brassware, carpets, rugs and a variety of trinkets.
times: Tripolia Bazar is open from 11am to 8pm and is closed on Sundays.
How to reach: This market is conveniently located about 1.2 km or 5 minutes from Hawa Mahal and between Choti Chaupar and Manak Chowk
You can also read: Bazar in the small alleys of Jaipur
Hawa Mahal Bazaar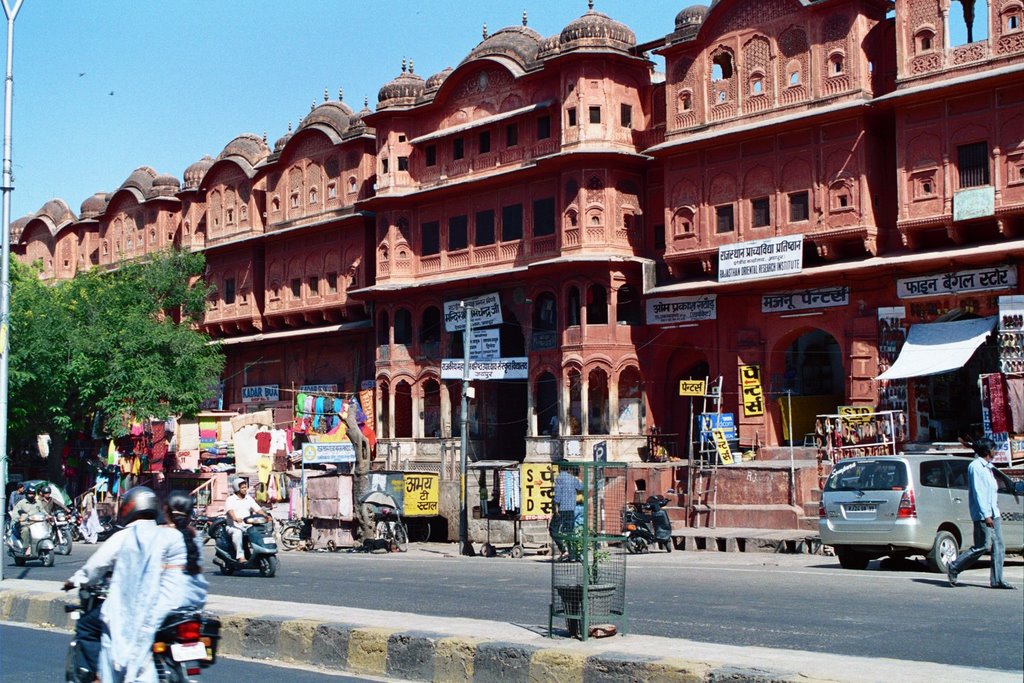 The Hawa Mahal market offers some of the best products including jewelry, wholesale sarees and other trinkets of Rajasthani culture. The most unique product you get here are the goat leather bags. From handy little slings to travel bags, there is a variety of bags in all sizes and shapes available on the market. Another special treat this market offers is hand block printing blocks. You will find several vendors with boxes full of beautifully carved blocks. You will also get your hands on the very famous Jaipuri Razaiyan. This market is the perfect place to get 250 year old Kadarbaksh Razaiyan.
Not only this, the market has many shops to offer you Kurtis, Sanganeri prints and suits with exemplary embroidery, prints and high quality textures. Amazing sets of lehenga cholis in the market that fit even little girls are also popular items in this market. This wholesale market of Jaipur is well worth a visit as all the things you get here are priced low so no need to bargain.
Known from: wholesale sarees, Jaipuri lehenga choli, Jaipuri Razai, hand printed textiles.
times: The market is open for shopping from 9 am until the evening.
How to reach: This market is located in the center of the old town around the most famous monument Hawa Mahal.
They sell amazingly attractive traditional stuff at the cheapest prices. There is no doubt about the quality and variety of products these markets possess. So what are you waiting for! Pack your bags and drive there wholesale markets in Jaipur.