Red-yellow-blue faces with wide smiles, lively markets laden with varieties of colors and sweets, the smell of gourmet food, music, dance, dhol and people splashing water on passers-by', these indicate that 'HOLI' is near. Holi, the most eagerly awaited festival, is the festival of colour, equality and crazy celebration that teaches that no matter how much the difference between our hearts, love finally wins hearts when people splash colors on each other and offer sweets as they speak, "Bura Na Mano, Holi Hai."
What's not to like about Holi when you celebrate Holi in Jaipur. You wouldn't find any excuse to miss it! Wondering where to celebrate? Listed here are the events organized for the Holi celebration 2023 in Jaipur.
Jaipur Open Air Holi Concert 2023 (DUNES 2023)
Take part in the Grand Open Air Holi Festival Concert at Naila Bagh in Jaipur, organized by Dunes entertainment. For this event, North India's leading Open Air Concerts brand "Dunes Music Festival" teamed up with your favorite multi-level state-of-the-art heritage lounge, "Club Naila, Jaipur". They are all loaded with drinks, snacks and Gulal color.
Experience a fun Holi with 7 hours of non-stop music with the longest DJ lineup of the year: AudioBat x Bassworm x Dewik x Indomafia x Jack x Neel Chhabra. They have everything to make your Holi an unforgettable event. This is a Holi subscription that you cannot cancel. From energetic music to cheerful laughter and from delicious food to delicious drinks, you will find it all at the location.
Date and time: March 8, 2023 at 10:00 a.m.
Location: Naila Bagh, Moti Doongri Road, Jaipur
Prices: Rs 999 and beyond
Holi Crazy Fest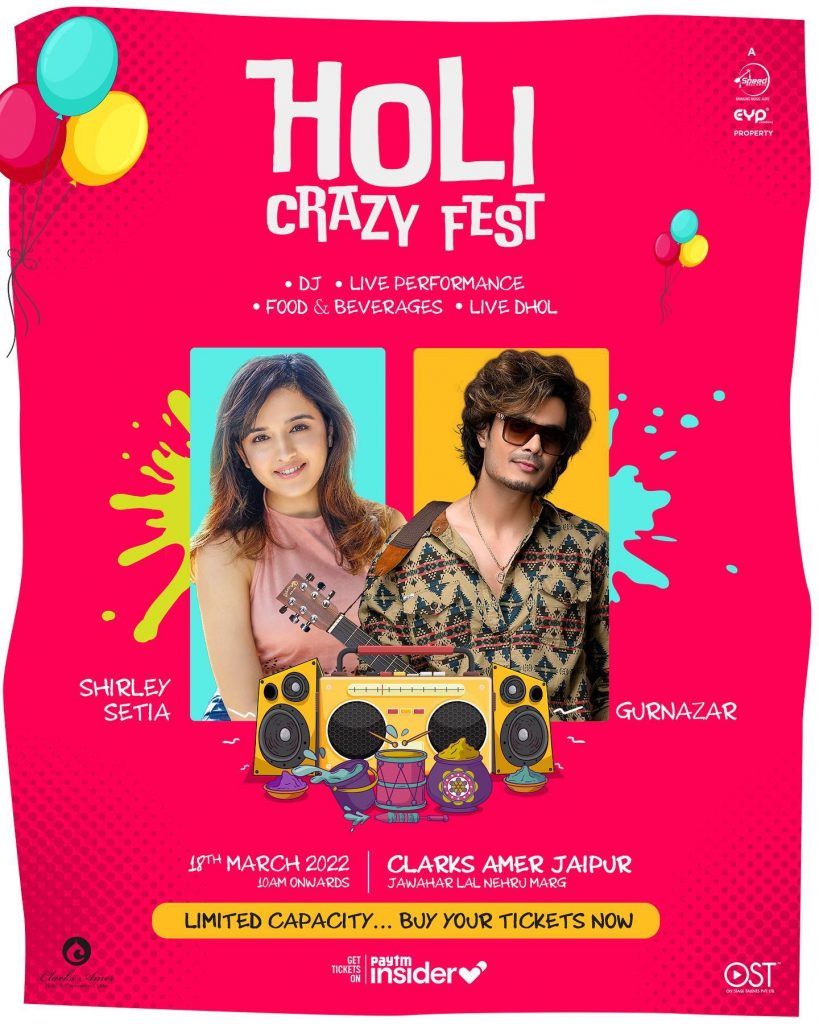 How is Jaipur! Be ready to witness an absolutely unforgettable musical performance by the super energetic duo Gurnazar Chattha and Shirley Setia at the Holi Crazy Fest event at the super premium and serene Clarks Amer! During this event, visitors will be amazed by live performances by well-known artists, DJs, Live Dhol, Food and Drink. They will offer many more crazy things, making the event a great opportunity to celebrate the Sabse Crazy Holi! So grab your tickets and don't miss this most colorful Holi Party in town! It is not allowed to go outside or eat and drink at the location.
Date and time: March 8, 2023 at 10:00 a.m.
Location: Hotel Clarks Amer, Jaipur
Prices: Rs 499 and beyond
Rangotsav The Holi Fest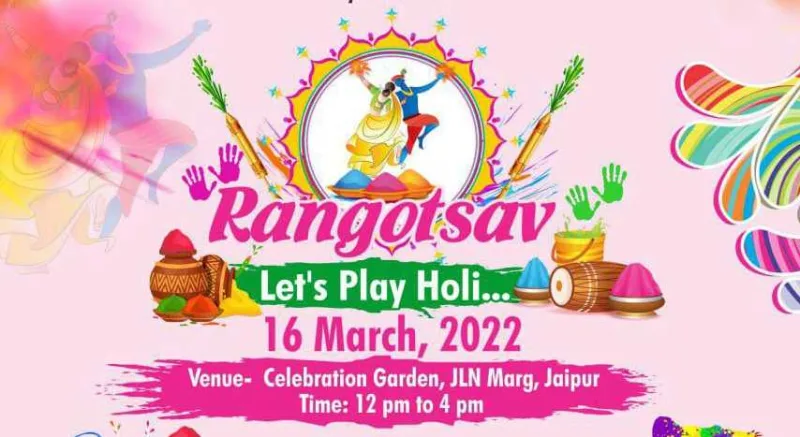 Holi is the festival of colors and joy and we want to celebrate it that way, so here we present you the best Holi festival in town. Rangotsav is an overall combination of music, dance, colors, food, memories and lots of fun. Holi is a festival known worldwide for its atmosphere and Rangotsav will be a celebration worth experiencing the atmosphere of. Live with your friends and family, you will enjoy many traditional Rajasthani dishes, desserts and drinks (non-alcoholic), along with skin-friendly colors, lots of music and dancing.
Date and time: March 8, 2023 at 12:00 pm
Location: Celebration Garden, Jawahar Lal Nehru Marg, Jaipur
Prices: Rs 109 and beyond
Contact: +91 7014321737
Rang Barse Festival 2023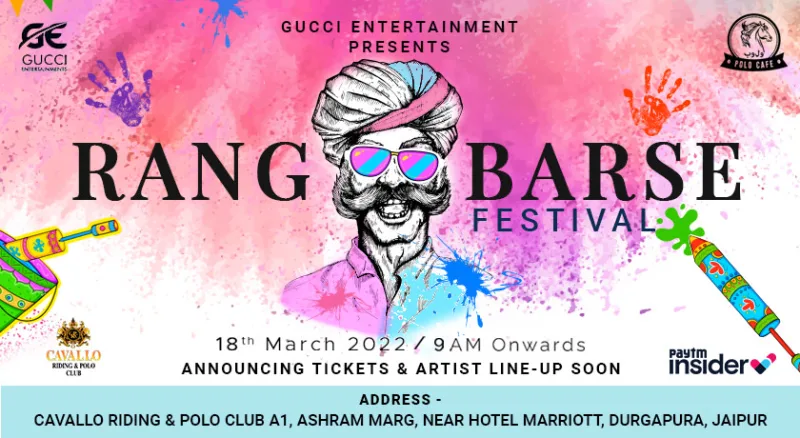 Gucci Entertainment is hosting the 'Rang Barse Festival 2023' this year. At this unique event you will experience an experience like never before. Rang Barse Festival 2023 is a unique event with plenty of fun, food, music, colors and enjoyment. Prepare to be immersed in colors of happiness and joy during this crazy and highly anticipated Holi event in Jaipur. Book your tickets quickly to enjoy this event. Please remember to carry a valid photo ID and keep your ticket with you at all times. Eating outside is also not allowed at this event.
Date and time: 8 Mar 2023, from 12:00 to 18:00
Location: Cavallo Riding & Polo Club A1, Ashram Marg, near Hotel Marriott, Durgapura, Jaipur
Prices: Rs 799 and beyond
Contact: 9887708881, 9887708882
Lunaire presents Nucleya Holi Reload 2023 largest open air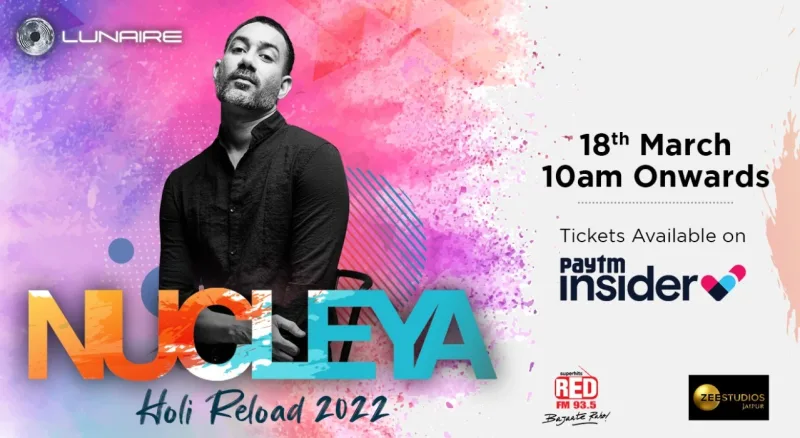 Dance, music, food, colors, Holi celebrations are all about spreading a smile and having fun. So, cheer up, it's time to bring back the festival of colors with a bang this year! Holi Reload 2023 is the biggest open air Holi celebration in Jaipur presented by Lunaire that will make all your wishes come true. Catch a live outdoor performance of the one and only Bass Raja "NUCLEYA" in Jaipur. Celebrate the festival of colors that will surely collect the best memories for life. Thoroughly enjoy! After all, Holi Hiiiiiiiiii!!!! Hurry! Join the tribe and buy your tickets now before it's too late!
Date and time: March 8 from 10 a.m. to 5 p.m.
Location: SEA STUDIOS, Tonk Road, Sitapura Industrial Area, Sitapura, behind CDOS, Jaipur
Prices: Rs 999 and beyond
IMF Holi Carnival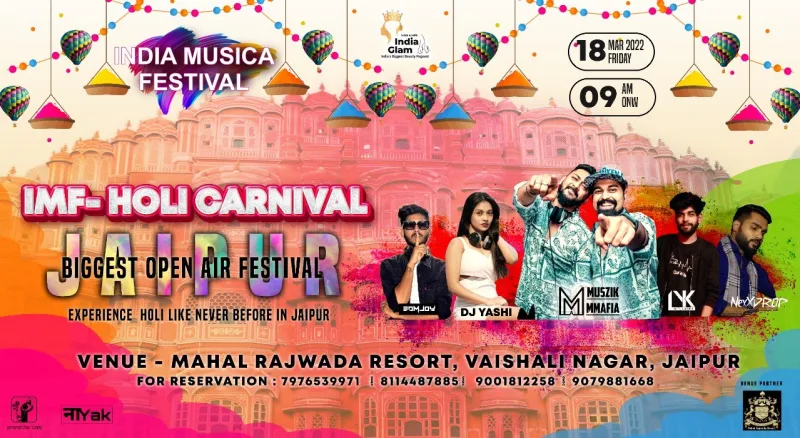 Get ready to splash in colors with lots of entertainment, dance, music, joy and much more at IMF HOLI CARNIVAL, an event full of fun and great things. This year, groove to the fine tunes of Holi by dancing and making your moves to music and live performances from a lineup of 8 famous artists. The mass celebration will make your holi celebration more happening and keep your spirit high to enjoy the festival of colors.
Date and time: March 8, 2023, from 9:00 a.m.
Location: Mahal rajwada resort, Vaishali Nagar, Jaipur
Prices: Rs 300 and beyond
Contact: 7976539971, 8114487885, 90018122581, 9079881668
Holi Open Air 2023 (by Wild Ridge Sariska Resort)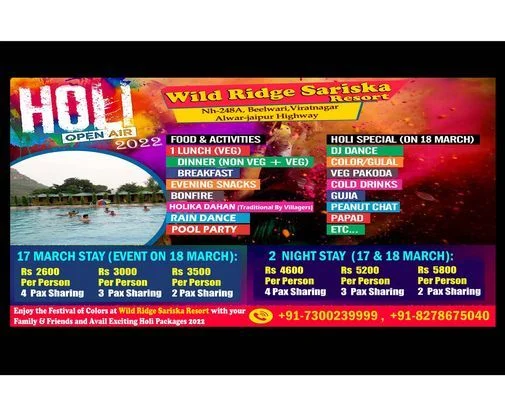 Holi is the festival of colours, equality and crazy parties!! So roll up your sleeves and get ready to dive into the world of color and fun. Holi Open Air 2023 by Wild Ridge Sariska Resort) will keep you charged and on the pulse with its crazy party. The fun is doubled when you see yourself covered from head to toe in that dazzling rainbow of colors. So book your tickets to enjoy the Festival of Colors at Wild Ridge Sariska Resort with your family and friends.
It is a two day event with food and activities including lunch (veg), dinner (non-veg + vegetarian) breakfast, evening snacks, bonfire, Holika Dahan (traditional by village), Rain Dance Pool Party, Dj Dance, Color/Gulal , Vegetarian Pakoda, Cold Drinks, Gujia, Peanut Chaat, Papad, Etc.
Date and time: March 7, 2023, from 1:00 PM to March 8, 2023 11:45 PM
Location: Wild Ridge Sariska Resort, Nh-248A, Beelwari, Viratnagar, Alwar-Jaipur Highway
Prices: Rs 2600 and beyond
MARCH 7 STAY (EVENT ON MARCH 8):
Rs 2600 per person 4 people sharing
Rs 3000 per person 3 people sharing
Rs 3500 per person 2 people sharing
2 NIGHTS (7 & 8 MARCH):
Rs 4600 per person 4 people sharing
Rs 5200 per person sharing 3 pax
Rs 5800 per person 2 people sharing
Contact: +91-7300239999, +91-8278675040
So get ready for a smashing Holi this year to make it worth remembering. We are sure that you will not forget the splash of joyful Holi celebration in Jaipur for a lifetime. Stay fresh and anxiously await the day. Play it safe! Happy Holi!