Brimming with delicious flavors, thanks to its ethnically diverse population, the capital of Rajasthan, Jaipur has been offering foodies an exceptional selection of gastronomic delights for years. Jaipur is a beautiful city that is packed with delicious places to have lunch. Gourmet experiences linger to be enjoyed in the hotels and fairytale towers. If you are in Jaipur you will no doubt be confused about where to have lunch. From the restaurants with stunning views to the gourmet dining options, Jaipur has it all. The city can easily convince any traveler to come back again. Even the menus of numerous Lunch Restaurants in Jaipur are attractive.
However, if you want to enjoy your meals at your leisure and in a good atmosphere, here are just some of the best restaurants in jaipur for lunch to go when your stomach tells you to find something flavorful and delicious! Read through!
Porch Restaurant
Jaipur is a city of gastronomic treasures. You will discover the best taste of the city at Verandah. To tell you the truth, authentic Rajasthani dishes are not for those on a diet. These dishes are piled high with aroma and an attack of spice. However, the flavorful food and rich texture at Verandah will compensate you for the slightly excessive calorie intake. The charm of the atmosphere calms you from the inside to make you enjoy your food even more. The place gives you the feeling of a palace and the whole atmosphere creates a perfect environment for lunch. This place is perfect for a lunch outing. Here you will get every good dish that covers the grand taste of Rajasthani cuisine.
Location: Lobby Level, Bhawani Singh Road, near Ashok Nagar
Price: INR 2600 for two
Peacock Rooftop Restaurant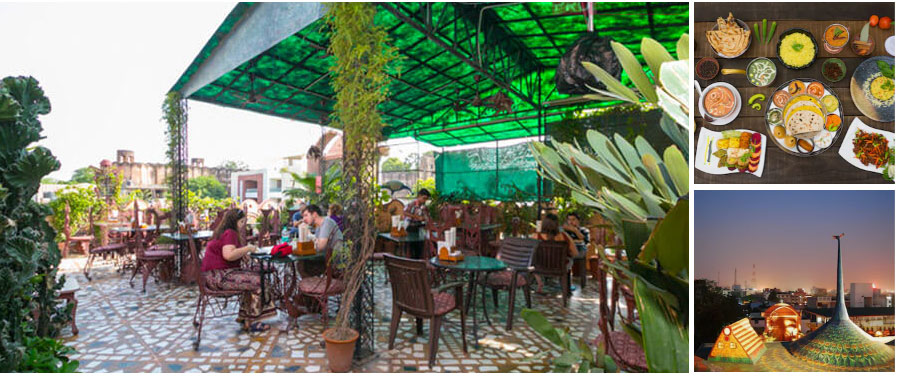 The beautiful look of the Peacock Rooftop Restaurant and the great North Indian menu is served with a picturesque view of the Pink City and the ancient ramparts of nearby Hathroi Fort. You will certainly be enchanted by the colorful decor, the sparkling atmosphere and the tasteful food. You can get any food in your head from burgers and pizzas to royal thalis and full breakfast. Enjoy the delicious Indian dishes with garden seating at this best restaurant in Jaipur for lunch. Their service is equally impressive and fast. The best thing about the restaurant is the fact that one can have any specific cuisine and be sure that the taste and quality will be perfect!
Location: Hotel Pearl Palace, 51, Hari Kishan Somani Marg, near Vidhayakpuri Police Station, Gopal bari, Jaipur
Price: INR 900 for two
Kalyan Rooftop and Indoor restaurant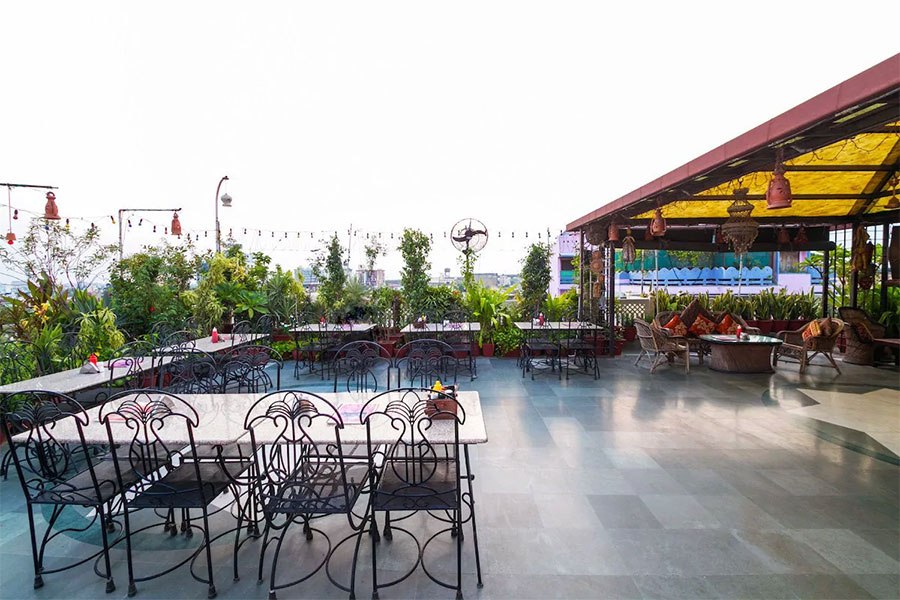 This is one of the most loved restaurants for serving lunch and welcoming anyone in the mood for a relaxed dinner with beautiful views all around. Let yourself be enchanted by the view of the pink city! The restaurant is popular for pleasing its guests with a wide variety of dishes and their heart-warming service. The beautiful ambiance with comfortable furnishings ensures that you have come to the right place to satisfy your hunger. With one of the most pleasant setups of the pink city, this place is an ideal restaurant for a Sunday lunch with your family or friends.
Location: 59 Hathroi Fort Hari Kishan Somani Marg, Ajmer Rd, near Vidhayakpuri Police Station, Jaipur
Price: INR 1100 for two
The great Indian buffet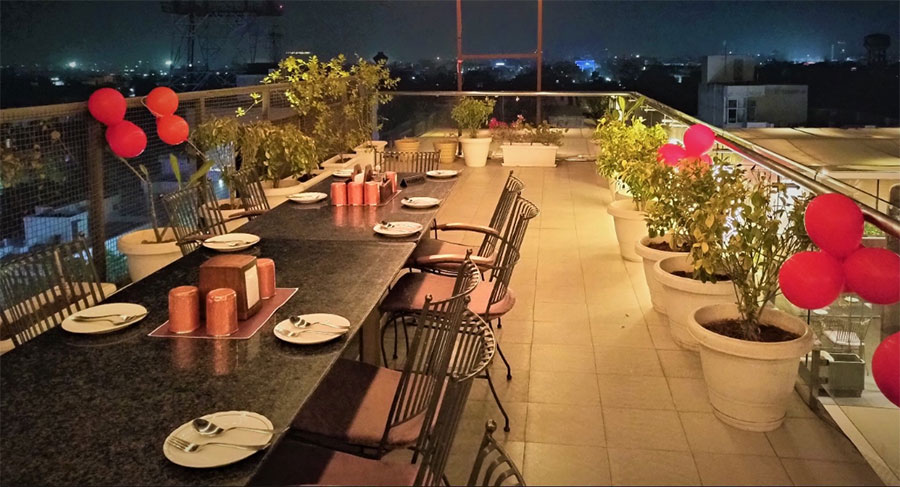 No overview of Jaipur's best restaurants would be complete without mentioning The Grand Indian Buffet. It is a place where you have to eat your heart out. If you're in the mood for something royal and delectable, the gastronomic experience here will leave you craving for more. The beautiful starry interior this restaurant has will leave your soul heartily intrigued. It is best known for its hearty lunch buffets, which are served with a variety of dishes. The tasty food served by the courteous staff at this restaurant always impresses you. Whether you're looking for a delicious Sunday lunch or a satiating buffet, TGIB with its diverse cuisine is a hit in many ways for foodies in Jaipur.
Location: D 245-246, 5th Floor, Omkaram Tower, Amrapali Marg Hanuman Nagar, D – Block, Vaishali Nagar, Jaipur
Price: INR 1000 for two
Verano restaurant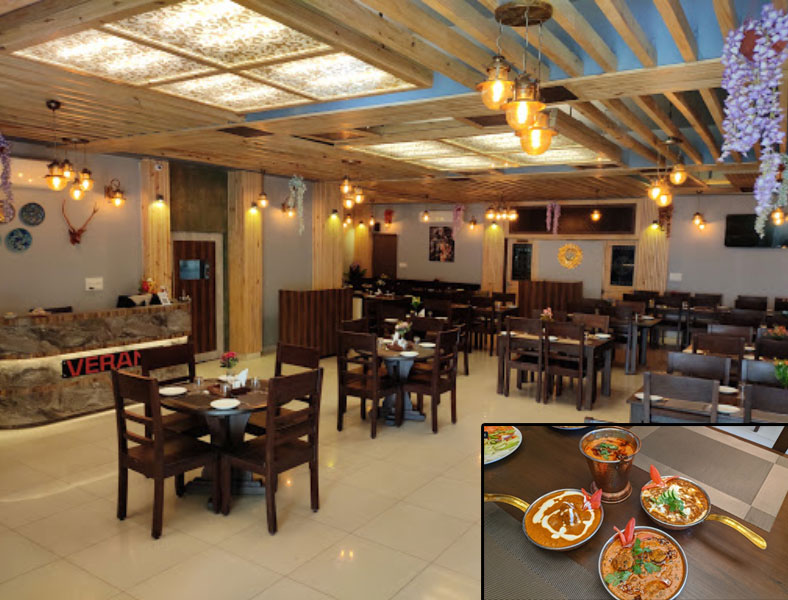 Verano is a gourmet restaurant that offers an incredible dining experience. Here you will find an abundance of savory dishes with the widest choice in all of Jaipur. Verano is the best restaurant in Jaipur for lunch that tops the list. This place has solidified itself as one of the decent restaurants not only in Mansarover but all over Jaipur serving a variety of delicious dishes. The fusion food, wide menu and first class service with 100% customer satisfaction make it the best restaurant in Jaipur for lunch. Verano has a delicious menu where you can always find something to please their taste buds. It offers soulful dishes with an enticing aroma at prices that won't burn a hole in your pocket.
Location: 114 Sumer Nagar, near Sumer Paradise, Iskcon Rd, Mansarovar, Jaipur
Price: INR 700 for two
Rajput room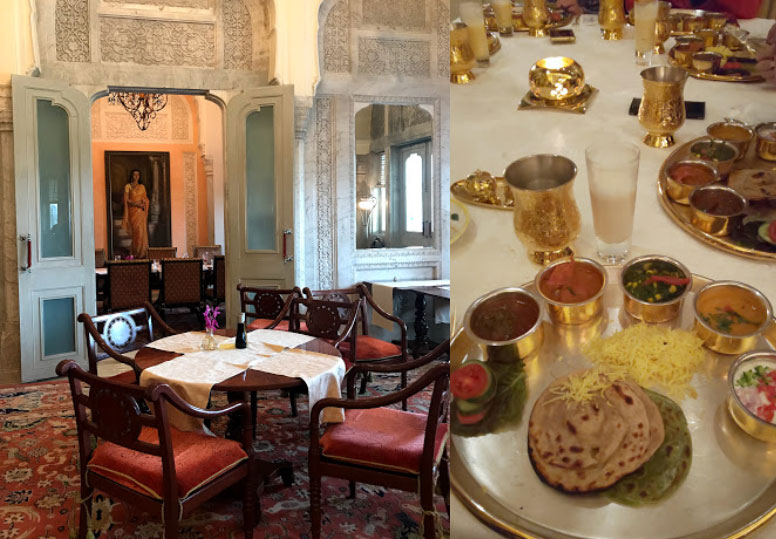 Rajput Room nestled in the Rambagh Palace serves delicious dishes. It is one of the best restaurants in Jaipur for lunch for those who don't mind expensive dinner. One should visit this place if they want to try an authentic Rajasthani meal along with elegantly fine dining. The royal architecture sprawls all over the location along with the gourmet food, which is listed as one of the best restaurants in Jaipur. The service here is impeccable as the staff make sure every customer is treated like royalty. The premium menu of multi-cuisine meals caters to the varied tastes and preferences of the people. If you prefer fine dining, but in a relaxed and casual atmosphere, head to this heritage hotel.
Location: Bhawani Singh Rd, Rambagh, Jaipur
Price: INR 3800 for two
Monarch Restaurant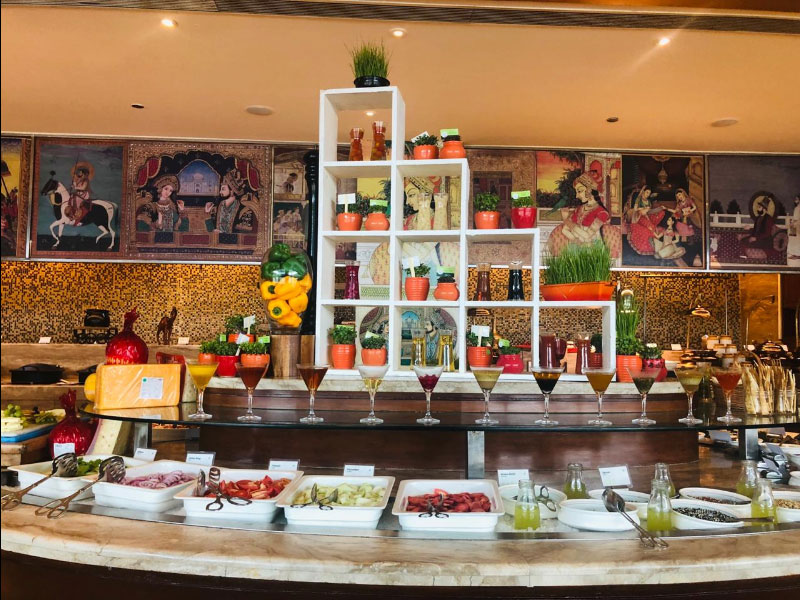 Monarch restaurant is one of the few with a very strong testimonial. They are known for the trail of success they have left behind and have received so many great reviews from locals and tourists alike. Their food is first class with special attention to hygiene. They have the best of all chefs who create magic in the kitchen and serve it on a plate. The staff is very precise and attentive about their menus. The atmosphere and food served here make Monarch the best restaurants in Jaipur for lunch. The place makes you feel like you want to come back again and again. The wood color with yellow lights in the decor gives us a classy feeling.
Location: Holiday Inn, Jaipur City Centre, Commercial Lot 1, Sardar Patel Road, Bais Godam
Price: INR 1900 for two
Govindam Retreat Multi Cuisine Veg. Restaurant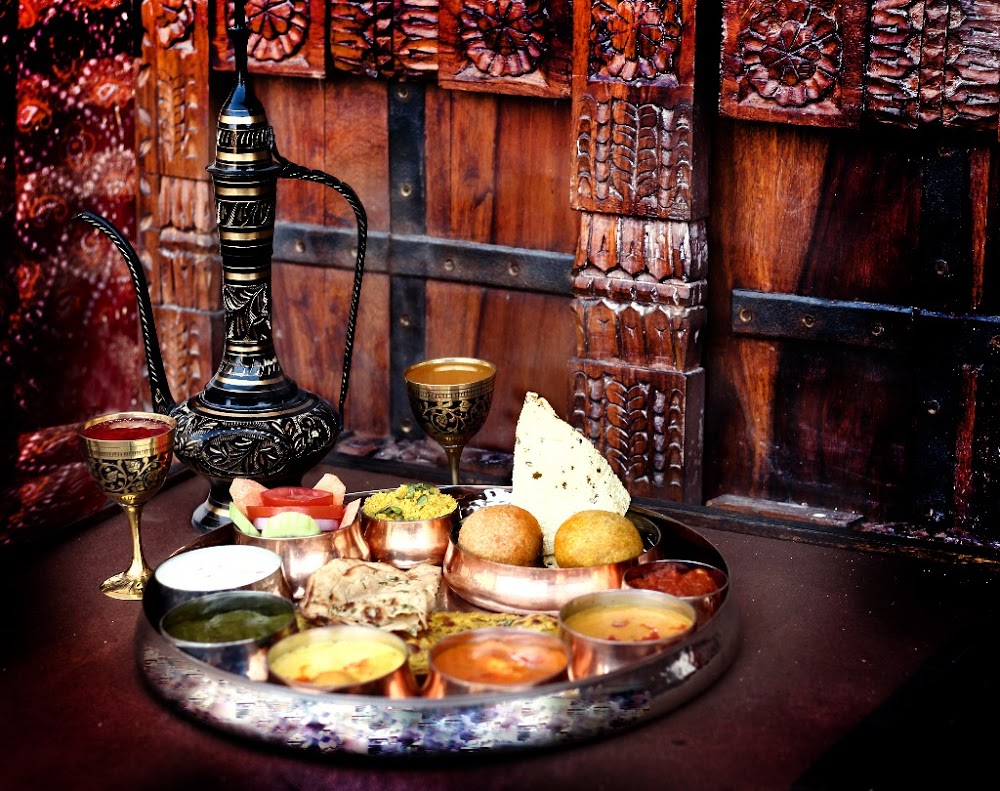 With the sole purpose of preserving the culture and heritage of Rajasthan and making sure it is displayed perfectly to their tourists and people from foreign country. It is a traditional place that offers a unique experience and hospitality to the foodies. They have many Indian and continental dishes on their menu to ensure that they don't discourage anyone from the choices. When Govindam Retreat is chosen, it is no longer necessary to decipher the perfect lunch spot. They eagerly wait to serve your hungry bellies with the spicy and spicy flavors of their cuisine. Register here for the memorable lunch of all time.
Location: Kanwar Nagar, near Govind Devji Temple
Price: INR 1000 for two
Socorro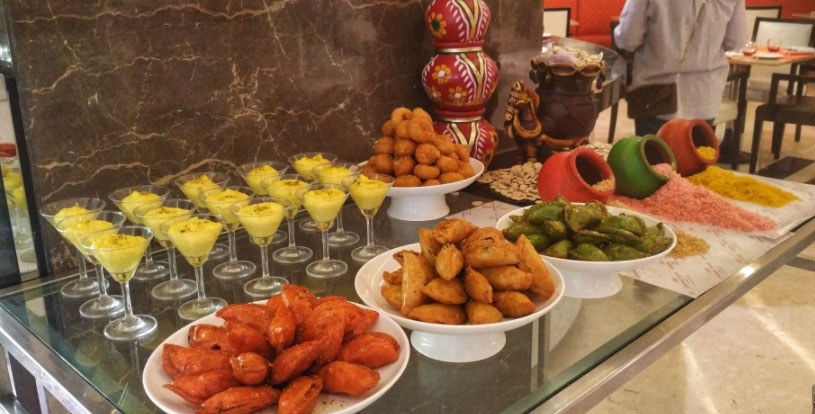 The Crowne Plaza hotel is a very famous place and has some incredible on-site restaurants. Of them, Sorocco is one of the best. It is mainly because of the huge menu that it offers its foodies. The atmosphere is classy. Treat yourself to a delicious feast at Socorro. They bring you a lip-smacking spread of food that is sure to leave you wanting more. You will get hungry from what you see, for example the food decorated on your table. The mouth-watering menu has tasty vegetarian delights, you'll end up licking the plates. Are you hungry yet? So go to Socorro, the best restaurant in Jaipur for lunch. And when you reserve a table by the pool, the pleasure of your lunch outing doubles.
Location: Crowne Plaza, SP 1, Sitapura, Tonk Road, Jaipur
Price: INR 1900 for two
Hotel Sweet Dream Restaurant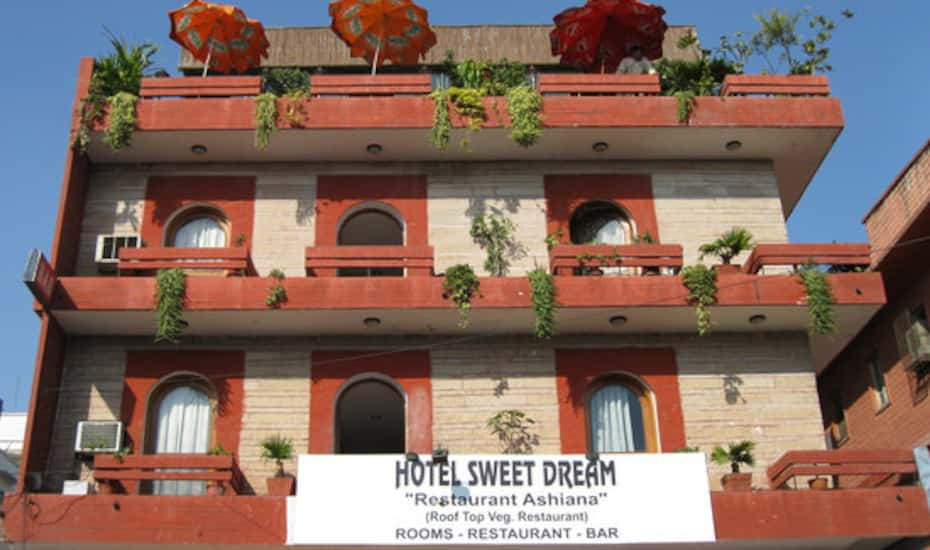 A romantic date doesn't always mean a candlelit dinner, natural light can be just as romantic when you find the best restaurant in Jaipur for lunch. Nestled in the central part of Jaipur, Hotel Sweet Dream Restaurant is an awe-inspiring open-air restaurant. Being close to many shopping markets, this restaurant is on everyone's favorites list. Being among the markets of Jaipur makes it easy for people to stop by for lunch while wandering the markets. This place is alive with the decor of plants and Christmas lights. Tourists from everywhere are well acquainted with this place and pay a visit. The restaurant perfectly taps an unforgettable experience within the first seconds.
Location: Nehru Bazar, Near New Gate, MI Road.
Price: INR 800 for two
Winters are especially good for families to enjoy time together if you don't have to worry about the spiky heat. This pleasant season lets you enjoy a gourmet meal at the best restaurants in Jaipur for lunch. In Jaipur, one of the many best lunch restaurants in Jaipur listed above stands out among the rest.