The erstwhile substantial state of royalty, Jaipur is the magnificent city of Rajasthan. For all those who had a held belief that Jaipur is better at mesmerizing culture and heritage, to your surprise, Jaipur has much more to offer and explore. Another facet about Jaipur that is worth mentioning is its vivid and brilliant nightlife. As dusk settles, this alluring city elucidates with bright lights that give one a clear picture of the active and colorful nightlife in Jaipur. Jaipur nightlife has given rise to some of the best discs and bars in Jaipur.
If you are exploring the architecture and monuments, nights in Jaipur are all set to bring you out from the bygone era to witness the livelier Jaipur with its upscale lounge and the seediest discos. Though it doesn't match up to the metros standards, one can be sure of being satisfied with the incredible nightlife options this city has to offer. From plush bars to rooftop venues, exotic pubs to themed interiors of lounges, head for a night out in the city of Jaipur and be sure of having real fun. 
Jaipur has plenty of bars, discs and entertainment venues to satisfy both the visitors and residents. Listed are a few that buoys up the nightlife of Jaipur where you can dance your night away.
House of People, best disc and bar in Jaipur
Are you looking for a perfect sassy place to chill out? A place filled with a mob of youngsters and live DJ music? Look no other way, head straight to the House of People nestled in Hotel Las Vegas. Here, you can try out from the myriad of cocktails and alcoholic drinks and a delectable continental meal that sets the right mood. The view becomes mesmerizing as the music floods the floor. You will find it hard to stop your feet from dancing. They promise you a fun-filled night with attractive offers, especially on Tuesdays and Thursdays. This finest pub also organizes a special ladies' night. They offer a cozy setting of the rooftop lounge with Hookah set up along with the screening of live sports as well as live music performances to make your night the perfect one.
Location: Hotel Las Vegas, A1, Sehkar Marg, Bais Godam, Jaipur
Cost for Two: INR 1,500 inclusive of alcohol
Zomato rating: 4.5/5
Timings: 11:00 AM – 1:00 AM
Blackout, best disc and bar in Jaipur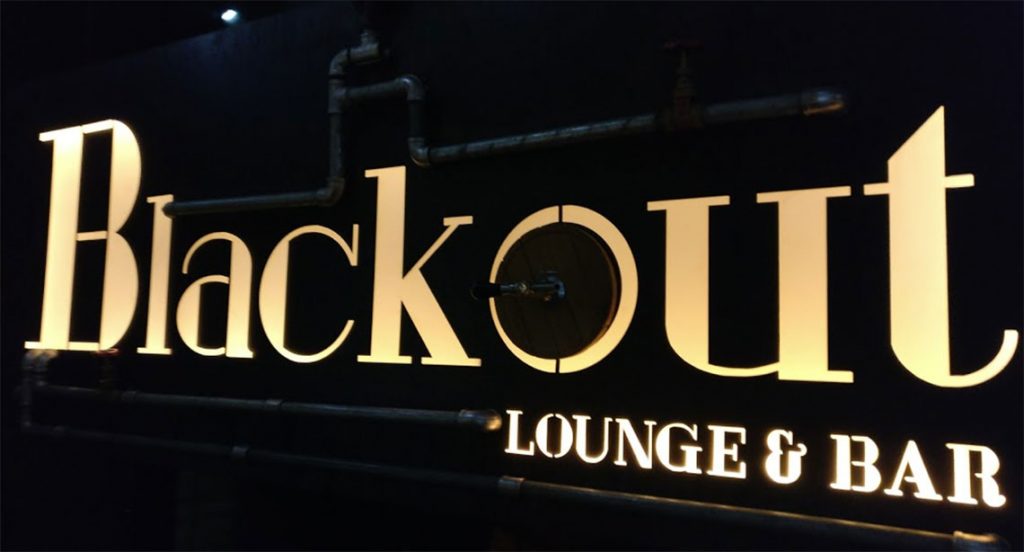 Speaking of the best discs and bars in Jaipur, there are a few of them that are worth mentioning. One of those nightclub is Blackout. This is another upbeat venue brimming with the throbbing crowd and vibrant nightlife. Since it started it has become the most preferred and popular destination for the younger crowd. An assortment of choices in drinks and dishes will make you get lost in the vibes of this place. Revel in this rocking venue with a pulsating dance floor to dance your heart out. The rooftop lounge and terrace with excellent continental and north Indian cuisine offers a relaxing atmosphere to those who want to sit back and enjoy the night. Delve into the beauty of Jaipur with food, drink, music, dance, and an astonishing view! What more one can ask for!
Location: Hotel Golden Oak, 9th Floor, Ahinsa Circle, Landmark Building, C Scheme, Jaipur
Cost for two: INR 1650 with alcohol
Zomato rating: 3.9/5
Timings: 2:00 PM – 12:00 AM
100% Rock bar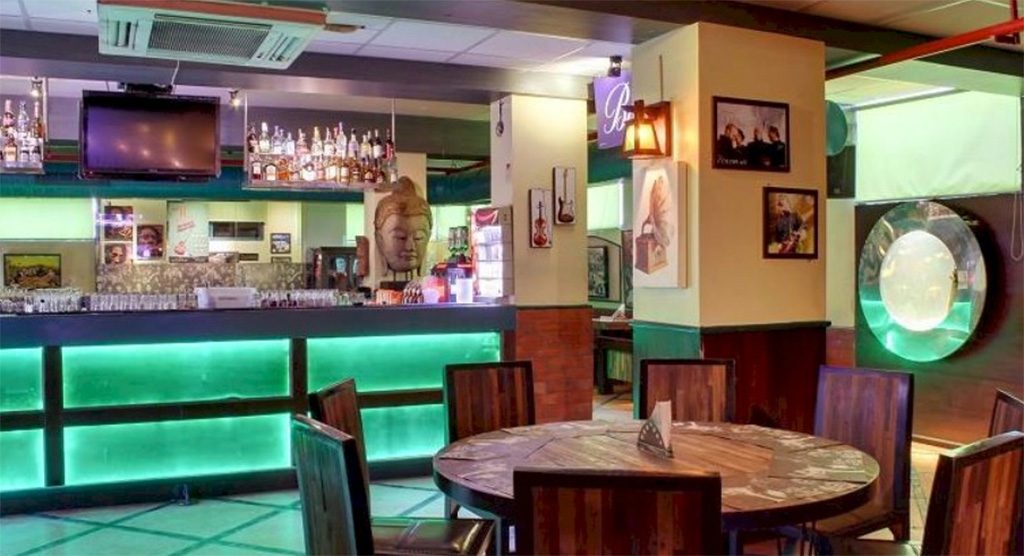 With the passing time, Jaipur's nightlife has slowly started to gain attention with its discs and bars. Of them, 100% Rock is the hottest venue in Jaipur to witness the everyday rush of Jaipurites as well as tourists from all across the world. Known for a cheerful crowd who don't need any occasion to party, 100 % Rock has a really active nightlife. Nightlife in Jaipur becomes so pumping and absorbing with this nightclub cum pub taking the center stage.
The night turns energetic with themed parties such as Bollywood night, DJ night, Karaoke night, Video night, etc. Thursdays are for girls out there who are willing to get on the dance floor to dance to the groove. The stocked up bar with continental, north Indian and Chinese cuisines is all that makes it a perfect venue to rock on. So now you know where to step on when in the mood of enjoying a fun nightlife best discs and bars in Jaipur.
Location: Hotel Shikha, R 14, Yudhishthir Marg, Opposite Deer Park, C Scheme, Jaipur
Cost for two:  INR 1300 with alcohol
Zomato Rating: 4/5
Timings: 11:00 AM – 12:00 AM
Bar Palladio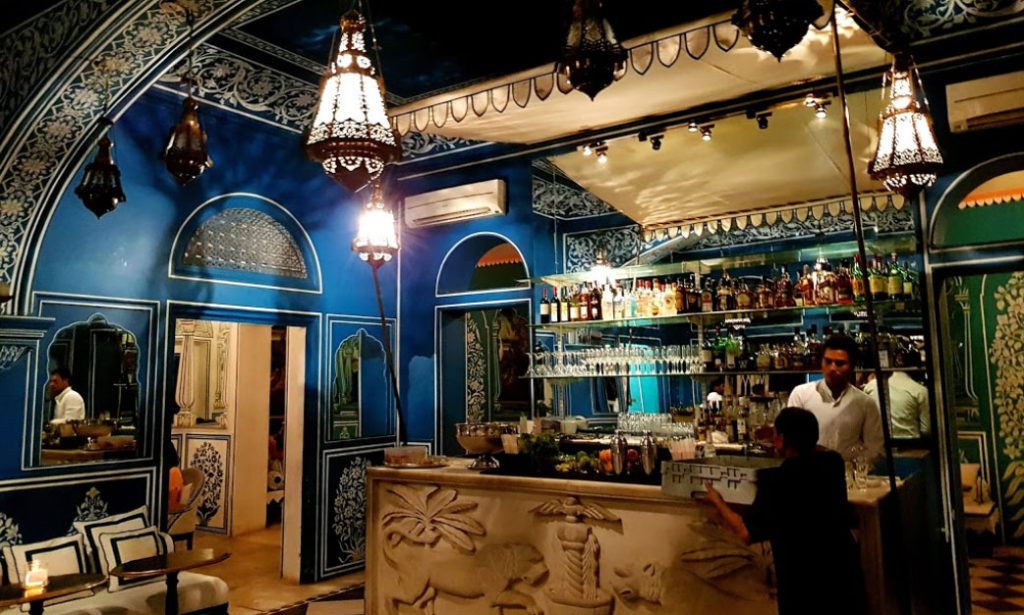 Nightlife in Jaipur is incomplete without a visit to the Bar Palladio, the best discs and bars in Jaipur. Quite worthy of your expectations Bar Palladio amaze you with its breathtaking blue color royal interior. They offer a divine tasting Italian menu, a well-stocked bar, soothing music that is perfect for spending a laid back evening in a regal atmosphere. As the evening draws, immersing in its globally inspired menu added with a combination of the finest wine and cocktails is the perfect setting for a night out. This place is indeed a treat for your eyes as well as the taste buds. Make your evenings special and memorable on cold nights with heating up against bonfires that make you feel cozier and warmer. This place gives you enough reasons to visit and splurge because of its wall to wall opulence.
Location: Hotel Narain Niwas, Kanota Bagh, Narayan Singh Circle, Jaipur
Cost for two:  INR 1800 with alcohol
Zomato Rating: 4/5
Timings: 6:00 PM – 11:00 AM
F Bar and Lounge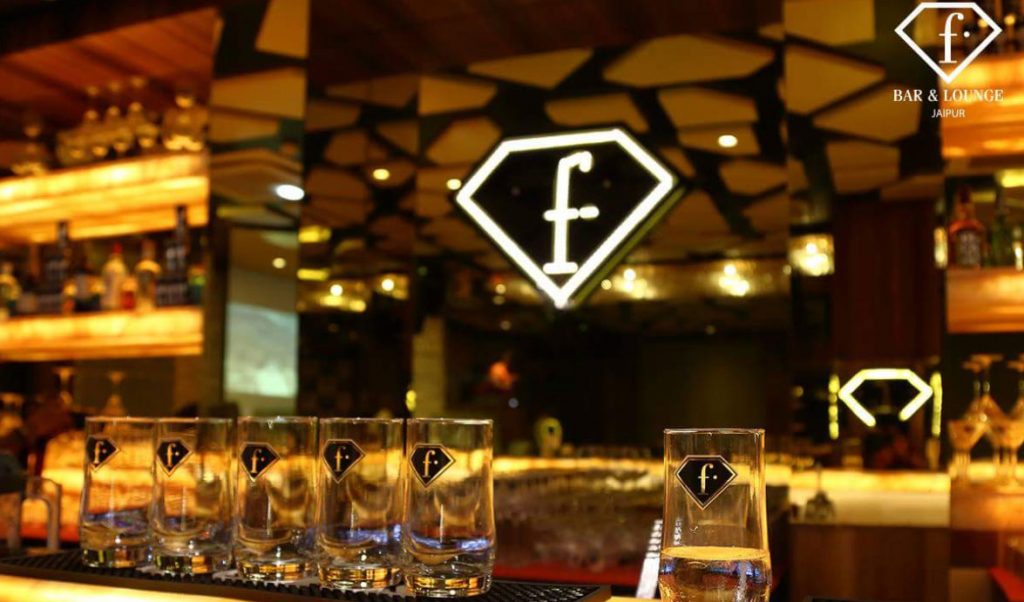 F Bar is the most happening place in Jaipur if you are looking for a perfect nightlife venue. The heat picks up in F bar when all party animals hang out with their cronies. It has everything to keep you entertained, lively music, sophisticated cuisine, awesome interior, rooftop setting, and poolside. They keep the night alive with exclusive events such as Sufi bands, Rajasthani folk singer's performance, and belly dancing. Refuel yourself with the delicious dishes and refreshing drinks to spend quality time you will love to remember for long. It is considered as the best discs and bars in Jaipur where one can reach out for experiencing a stunningly fabulous nightlife. A night spent at F bar and lounge is a night well-spent.
Location: 5th floor, Hotel Golden Tulip, MI Road, Opposite GPO, Jaipur
Cost for two: INR 1900 approx
Zomato rating: 4.1/5
Timings: 2:00 PM to 3:00 AM
Ta Blu, best disc and bar in Jaipur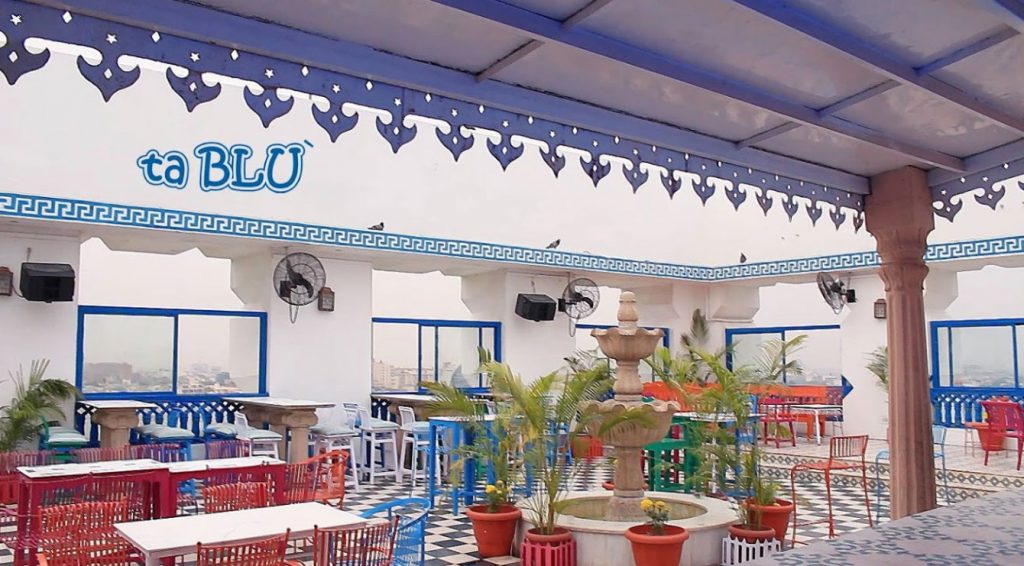 Ta Blu is one of the most sought after the bar and a trending hotspot among all party lovers. One of the best areas to begin exploring Jaipur's nightlife is at Ta Blu. This area comes alive around 7 pm gets busy until 1 am. Ta Blu has a mix of spacious bars and live music bands to keep all the night owls busy all night long. You will definitely fall in love with this happening bar as it has awe-inspiring décor and eclectic ambiance lit up with mesmerizing neon blue lights. Having dinner around the pretty candle holders and from the many choices of late-night menu, it makes up a perfect romantic date with your deary one. Go! Visit here for an unparalleled experience.
Location: Hotel Clarks Amer, Jawaharlal Nehru Marg, Near Malviya Nagar, Malviya Nagar, Jaipur
Cost for two: INR 1800 with alcohol
Zomato rating: 4.7/5
Timings: 7:00 PM – 1:00 AM
Grunge lounge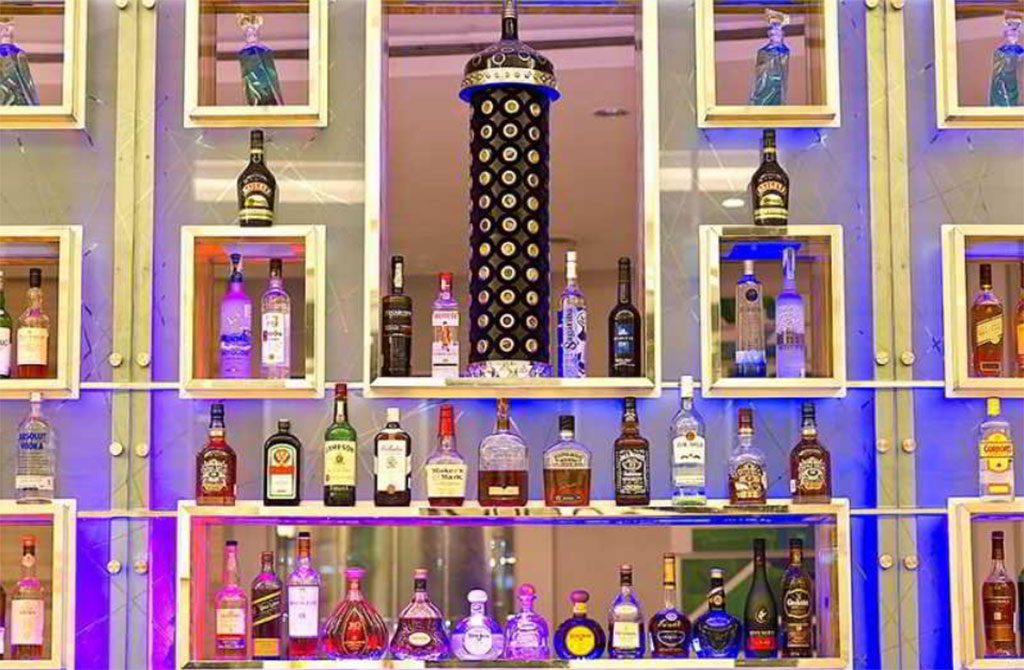 Grunge lounge has captured the attention of anyone looking for a good time in Jaipur. This is the place to go for a more active night out and is the only reason it has been listed as the 'Best Bar and lounge' in Jaipur. Located on the outskirts of Jaipur this place is a relaxing venue with a vibrant interior and excellent ambiance. Everything from a live band to guests DJ and live sports are showcased here. If you fancy a free lesson in break-dancing, then go along on a Wednesday and Friday evenings.
It is one of Jaipur's best live music venues, catering to a wide spectrum of tastes with its variety of Indian cuisine. Grunge has also been nominated in the 2014 Times food Awards and was awarded as the best in town in 2015. It has all that a good bar and lounge needs, discs, indoor seating, music, food, ambiance.
Location: Plot No. 3, Airport Plaza, Tonk Rd, Chandrakala Colony, Mata colony, Jaipur
Cost for two: Approx. INR 2800
Zomato rating: 3.4/5
Timings: 3:00 PM to 11:00 PM
WTF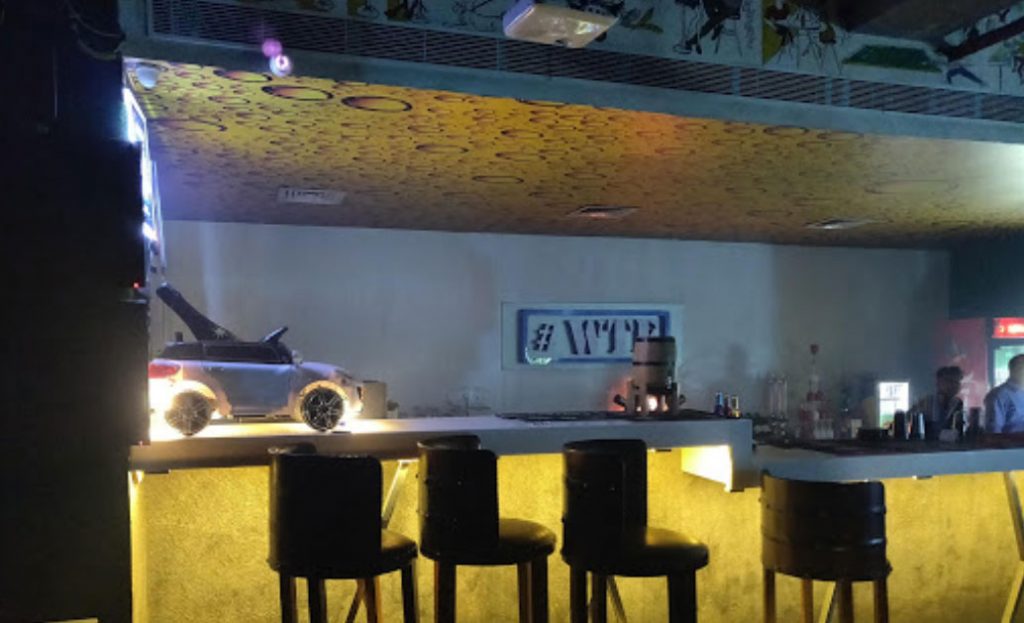 When it comes to the trendiest pubs in Jaipur, the name pops up in every Jaipurite's mind is WTF or Watch Treat Freak. Popular with expats and locals alike, it serves excellent cocktails and cuisines to dance the night away. The place will make you fall in love with it every time you step in. They offer a very cool and sporty atmosphere with free WIFI, snooker table and ice hockey tables that ensures you won't feel bored a bit. Grab a beer or sip wine and blend them with a wide food range that makes your night amazingly fun.
They offer a unique set up throughout the week. Be it the weekdays or weekends they plan every day, especially keeping the level of craziness high with organizing special theme nights on each day differently. Hands down, it is one of the best fun filled partying destination in Jaipur which engages all the party lovers till midnight
Location: 301, Man Upasana Mall, Chomu House, C Scheme
Cost for two:  INR 1500 with alcohol
Zomato rating: 4.2/5
Timings: 11:00 AM – 1:30 AM
 Amigos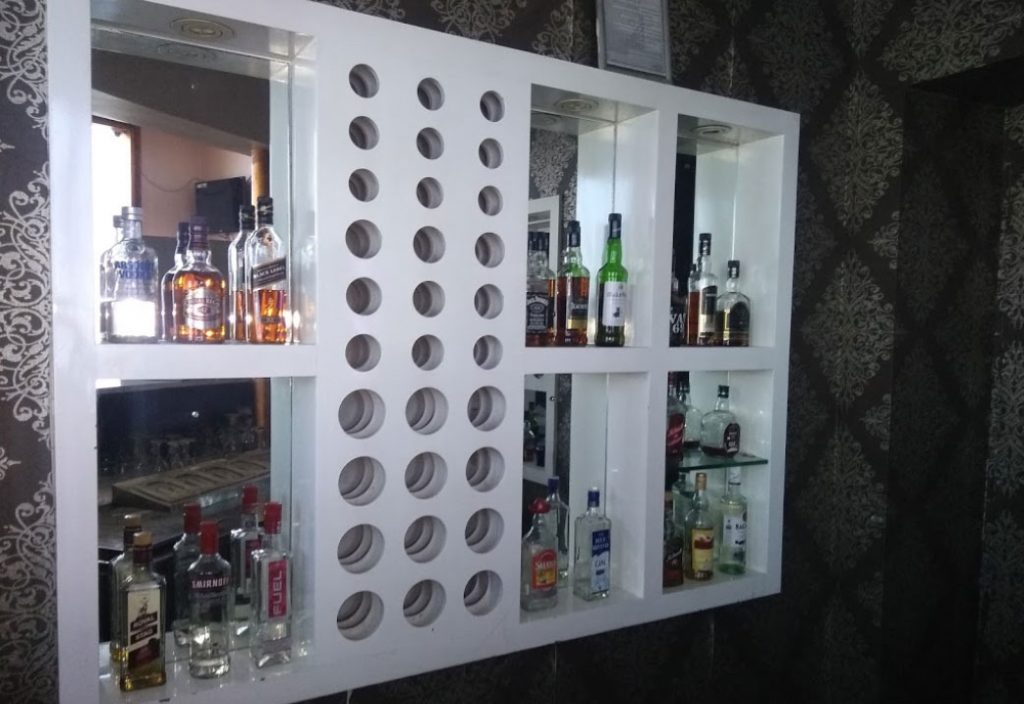 Want to have a great night out with your friends at a jaw-dropping venue? Known for its enticing Mexican decor and Mexican cuisine, the place is Amigos Bar and Disco. Well lit, well-stocked and delectable cuisines are the specialties that make Amigos one of the top nightlife destinations in Jaipur. You will keep on admiring its beautiful interior as well as the view from the venue. It provides a scenic view of the city from the ninth floor of the Hotel Om Tower. Listen to good music and grab the best brands of whiskeys, wine and beers. It is indeed a happening place for a great party or youngsters' night out as it is not too pricey and more on the medium scale. The bar does have a high level of energy and everyone has fun. A night at Amigos with partying and dancing will be fun-filled and memorable.
Location: Hotel Om Tower, Church Road, MI Road, Jaipur
Cost for two: 2500 INR approx
Timings: 11 am to 11 pm
Aza, best disc and bar in Jaipur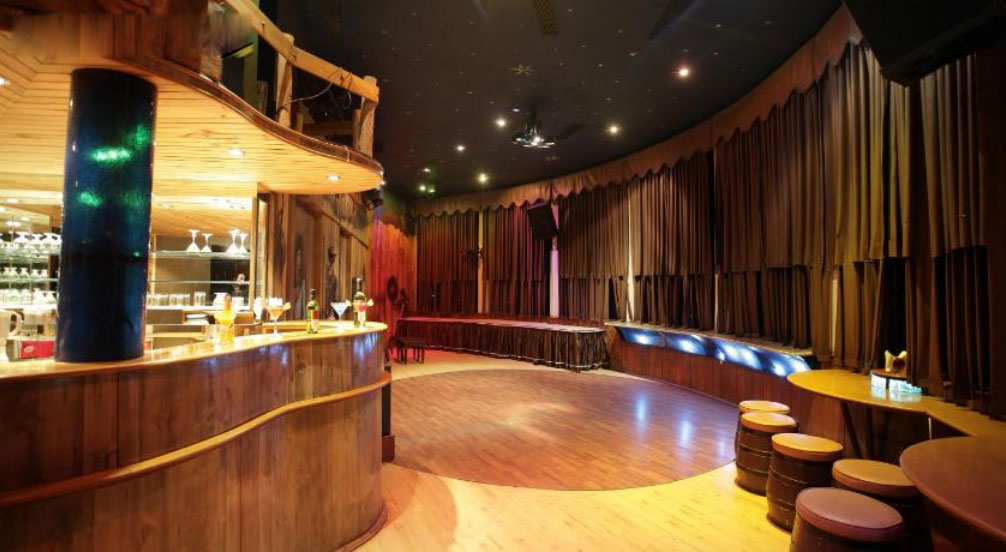 Need a break from a dull everyday routine? The thrill at Aza is something you could never imagine. What helped this place gain popularity is that there are many different things to do while enjoying a night out. This place is not just about partying, it can entertain the bibliophile along with party socialites. A blend of Mughalai and English architectural interiors of this venue will take you to the times of Maharajas. Where partygoers can dive in the soothing music with drinks and bonfire, book lovers can indulge themselves in a wide range of books.
They also offer a delicious menu with many options from Meditteranean, Balkan and Middle Eastern cuisines. The grand wine cellar is their major highlight serving local and high-end wines. They have a smoking zone with a special and royal name "Cigar Diwan". This place sets itself apart from all other discs and bars of Jaipur with its exotic environment. They offer all the basic amenities like outdoor and indoor seating, valet parking, wifi, and wheelchair accessibility.
Location: 2 Riico, Kukas, Hotel Fairmont
Cost for two: Approx. INR 3000
Zomato rating: 3.4/5
Timings: 5:00 PM to 11:00 PM, Happy hours 6:00 PM and 7:30
Replay, best disc and bar in Jaipur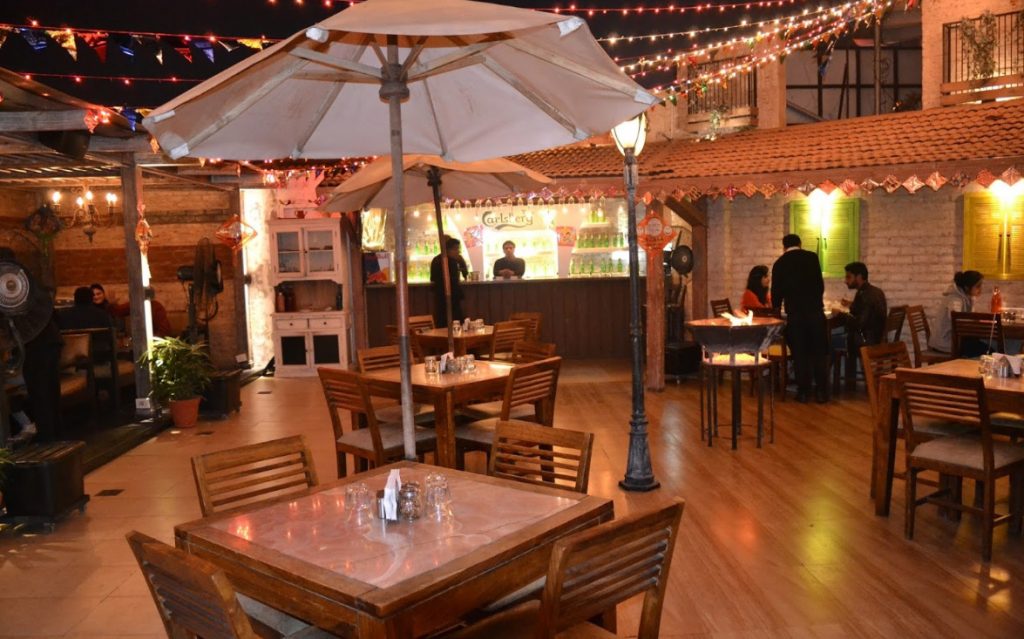 Lit out your night with the highly modern and uptown themed decor at Skyfall By Replay. It is one of the most exclusive discos found in Jaipur which lets you get drowned under the starry night. With a glint of glamour, this place keeps your spirits high as you hop on the dance floor with live music with bands from different parts of the country. With cozy couches, dim-lit chandeliers, cool music, and an exclusive bar, its rooftop lounge is bound to attract you every night. They serve outstanding food and drinks served in the bar are also of high quality. This place carries a great local following. Whatever you want, they've got it, as well as unbeatable hospitality. So what are you waiting for! Get ready to hit the floor, socialize, and not stop till the night surrenders.
Location: SB 57, 5th Floor, Ridhi Tower, Opposite SMS Stadium, Tonk Road, Jaipur
Cost for two:  INR 1500 with alcohol
Zomato rating: 4.6/5
Timings: 12:00 PM – 1:30 AM
The Extreme discotheque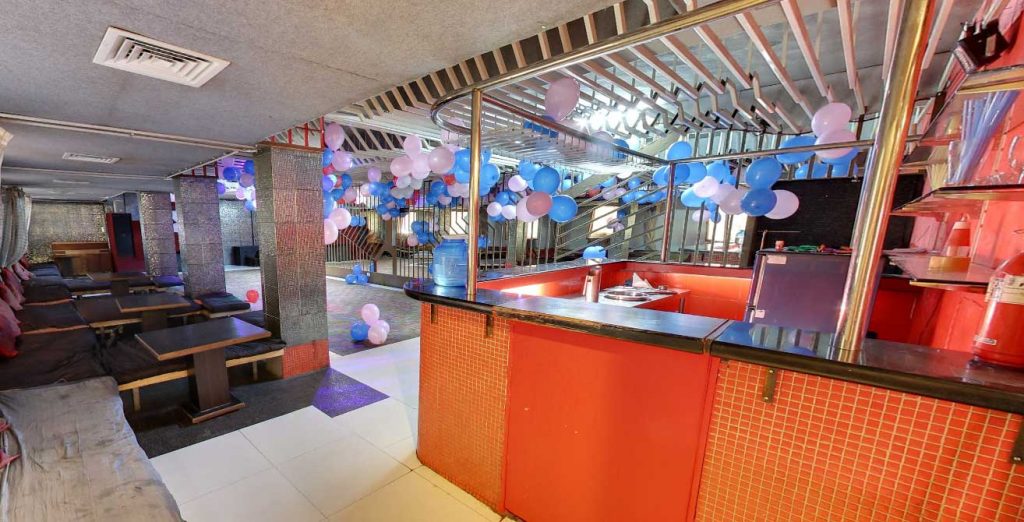 This is another top-class disco located in Subhalakshmi Tower in Vidhyadhar Nagar. Lives up to its name, and is one of the most cheerful discos with neon lights spreading the cool vibes. A hardcore venue with an electrifying atmosphere makes it the most favorite disco in Jaipur among the hip hop youngsters. Some of the exclusive features of this multi-level club include multi-cuisine dishes, bars, and a dance floor. Every now and then live bands take place in this club. The superior quality of sound and above average seating capacity makes it a great place for enjoying live music. This a hot and the best discs and bars in Jaipur makes younger go crazy during the night. The prices also do not hit hard on your pocket, it's a budget-friendly option! Unwind with your friends at this energetic venue to get a real feel of fun.
Location: B- 4, Subhalakshmi Tower, Vidhyadhar Nagar, Central Spine, Jaipur
Cost for two: Approx. INR 1200
Timings: 9:00 AM to 11:00 PM
Jaipur Bar Stock Exchange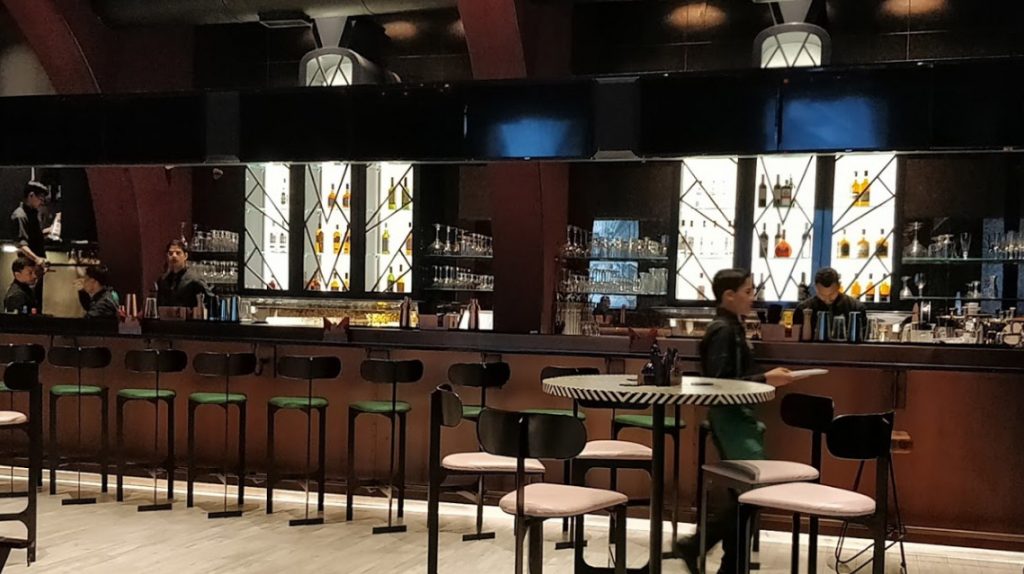 Unlike the others, this bar has a very unique concept where you can see a screen flashing the fluctuating prices of the drinks. You will spot a very fresh list of rate cards as per the demand and supply of the drink. This stock exchange pub chain atmosphere gives you a feel of a real stock exchange, in place of stocks, there are drinks. Don't give this superb place a miss if you want to have a distinguished clubbing experience. This technology advanced bar has interesting concepts like the biggest market crash on Fridays, ladies night on Thursdays and many more.
You can also spot special music performances by leading bands and Resident DJs of the city. Besides the party, fun, and alcohol, the food here is scrumptious with ample of options for starters and handcrafted desserts. Are you all set to trade in cocktails and mocktails? Grab a glass of your favorite drink and refuel yourself to show your spirit on the dance floor.
Location: Grand Uniara, Jawaharlal Nehru Marg, Near Trimurti Circle
Cost for two:  INR 2000 with alcohol
Zomato rating: 4.2/5
Timings: 12:00 PM – 1:00 AM
3D restro lounge, best pub in Jaipur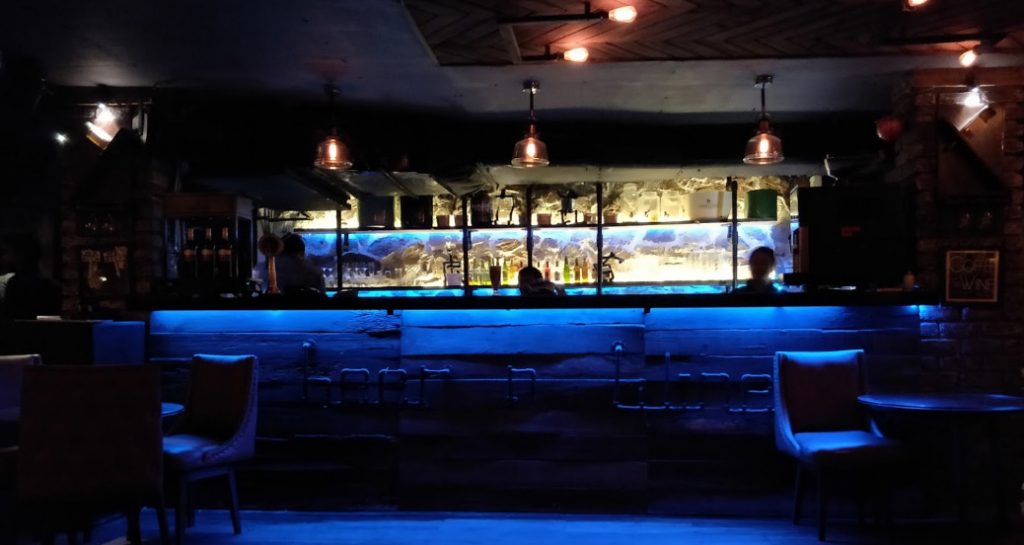 The 3Ds Restro Lounge is popular for its rooftop view and lively atmosphere. They host a series of happening events that can be enjoyed by both family and the youth. The bar has a hookah zone as well. Drink down a couple of beers munch on some wonderful delicacies watching the live sports screening. Order some lip-smacking sizzlers like Peanut Chaat, Paneer Tikka Pudina, Pasta, Honey Chili Potatoes that will no doubt tempt you for your next visit. This serves diverse eating options that truly impress every foodie. From Jain dishes, vegetarian as well as vegan platters of Indian, Continental, Italian and Chinese cuisines it serves a delicious menu.
Rooftop seating added with a soothing ambiance promises you a delightful partying experience. This place has its own charm to keep you engrossed if you need to take a break from Jaipur. The bar also offers upmarket facilities like outdoor, indoor and rooftop seating, valet parking, wifi, wheelchair accessibility, noise-level control.
Location: UDB Corporate Towers, A2, 8th & 9th Floor, Jawahar Circle, Near, Malviya Nagar, Jaipur
Cost for two: INR 1700
Zomato rating: 3.4/5
Timings: 11:30 AM to 3:00 AM
Steam, best bar in Jaipur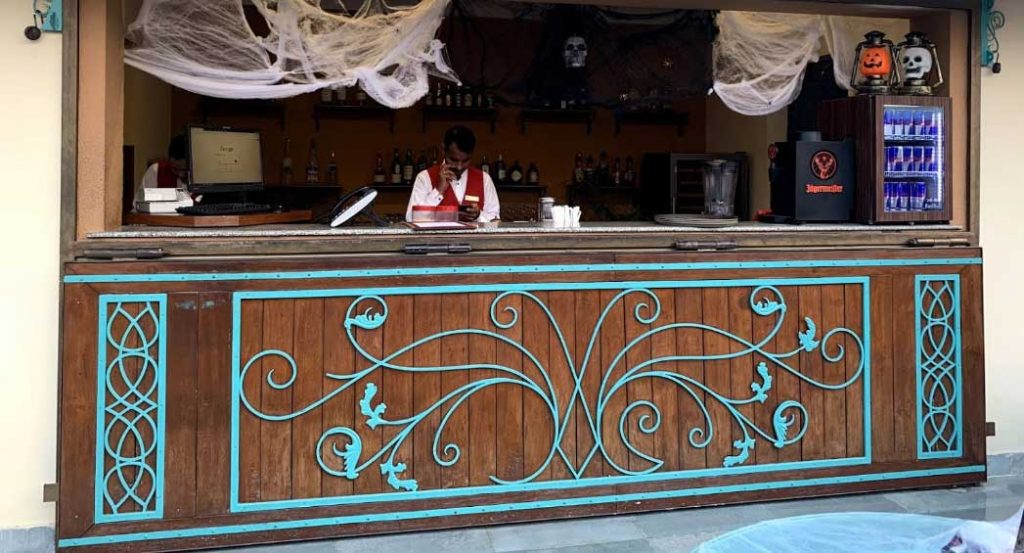 Steam is a distinct bar and restaurant situated amidst Taj Rambagh palace and is considered as one of the finest bars in Jaipur. It is the envy of the city due to its regal train themed design matching an equally royal looking restaurant. This bar on wheels is located inside a steam engine with a Victorian-style station by side. The whole decor gives a hint of royal design with low floored couches or can be said as a divan seating system. It also has a seating arrangement on a platform near the engine bar.
You can sip on a variety of cocktails, liquors, wines, mocktails, single malts an array of dishes and desserts to go with them. This is an incredible place to check out with your friends and family if you are looking for perfect dining out experience.  Relish the wonderful gourmet menu for one of its kind experiences. Their wood-fired Italian pizza is the specialty you must taste once.
Location: Bhawani Singh Rd, Rambagh, Jaipur
Cost for two: INR 2800, with alcohol
Zomato rating: 4.1
Timings: 6:00 PM to 12:00 AM
These best discs and bars in Jaipur cater to every whim and preferences, making it a perfect place to let your exotic spirits rise. To enjoy the ambiance of such a place, just take a glass of drink, keep aside all your tensions, and dance to your favorite music. We are sure you won't mind missing daytime sightseeing in exchange for a slice of true nightlife in Jaipur.