When it comes to photogenic cities in Rajasthan, the Pink City is king. There are no end of Instagram spots in Jaipur and you'll feel inspired by the colours, culture, food, markets and design. All perfect muses for a photoshoot.
Jaipur is an historic city with a diverse legacy that spans the ages. So, you'll find a great mix of Mughal architecture, Hindu culture, religious temples and rose coloured buildings all in the sunshine desert state.
Having lived in India for over a year, I've learned to love the country beyond its photo opportunities and learned a lot of lessons along the way. So, I'll also give you some handy tips for safety, remaining respectful of the culture and some top tips for visiting attractions too.
So, grab your camera and let's get capturing, these are the most Instagrammable Places in Jaipur.
How to reach to Jaipur
Jaipur is easy to reach from the capital of Delhi andmost traveller's start their Rajasthan journey here. There are many ways that you can reach Jaipur;
Jaipur by train: the fastest and most popular choice. From Delhi, this is only four hours away. Although early, the Shatabdi Express has little stops on the way and you get food. Train journey's are a bucket list experience in India in themselves but booking tickets can be a minefield. Check out my post about how to book trains in India here.
Jaipur by bus: a cheaper option is to catch the local government buses to Jaipur but, I warn you, you're in for an adventure! Buses stop when they choose, it's hot, dusty and loud. But, there are some government air conditioned luxury buses that are better.
Jaipur by taxi: This is another option. The roads around Rajasthan are well laid and not as bumpy as other states. So, taxi driving is common but not the cheapest.
Getting around Jaipur
Uber works in Jaipur for small journeys and you can also get private taxi hire. For an 8 hour tour it will cost you around 1600 rupees.
The best way to get around Jaipur and to experience Delhi like a local is by tuk-tuk. It's a 3 wheel vehicle and it's a lot of fun.
But, make sure if you're touring for the day you agree the price before you get inside! It should cost no more than 500 rupees for a day tour. This won't include attraction prices, or a guide and you may also be asked to pay parking fees.
Better yet, why not hire a tuk-tuk company with a great cause? The Pink City Rickshaw Company is a great way to get around the city and help women who want to start a company of their own.
Not only do you get to go around in a sassy pink rickshaw, you're helping women from low income households make a living. Click here to read more!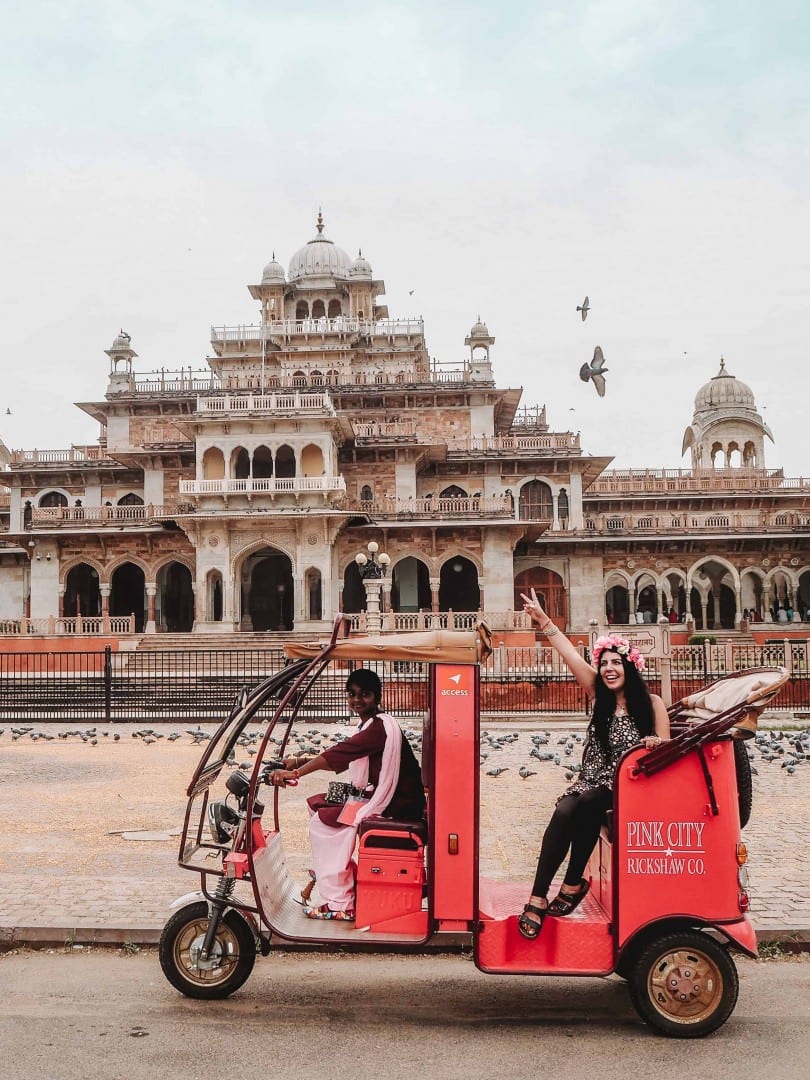 Jaipur City Attractions ticket
It's definitely worth investing in a joint museum ticket while you're here as many of the attractions are included on it. This not only saves you some serious rupees but also time, as you just show your ticket and you don't need to queue again! It costs around 1000 rupees.
Dress code for Jaipur
India is not the sort of place where you want to come dressed in a mini skirt and strappy tops. The culture is conservative and so showing off your legs, shoulders and chest can draw A LOT of attention and not in a good way.
That doesn't mean you have to go around dressed in a sari or kurta and pants, no. It just means that you need to pack some maxi dresses, jumpsuits, loose fitted trousers, t-shirts with shoulders and blouses.
A great tip I have to covering up in the heat is investing in some cute pashminas to cover your shoulders. That way you can wear a strappy top but also ensure your shoulders remain covered up. This is especially important in religious temples.
The 11 most Instagrammable Places in Jaipur
1. Amer Fort
High in the hills of the town of Amer is the Amer Fort. Amer was previously known as Dhundar and capital of the state before Jaipur from the 11th – 16th century. The fort that stands today was built by Raja Man Singh in 1592.
This palace is HUGE with many courtyards, staterooms, gardens, viewpoints, mirror walls and the famous photoworthy entrance ways like Ganesh Pol.
It stands high on a hill, so you will need to either walk or get a vehicle up here. There is parking for taxis, also shared jeeps, but tuk-tuks cannot go up. Please do not support the elephant riding trade, they are treated poorly and abused.
Top tips for a photoshoot at Amer:
Get here for opening or as early as possible, be the first in, this place seriously packs out!
Or, be here for the last hours of the day.
DON'T support the elephant riding here, it's barbaric and the animals are mistreated
There are many photo spots here including viewpoints, gardens, wall murals, windows, go wild.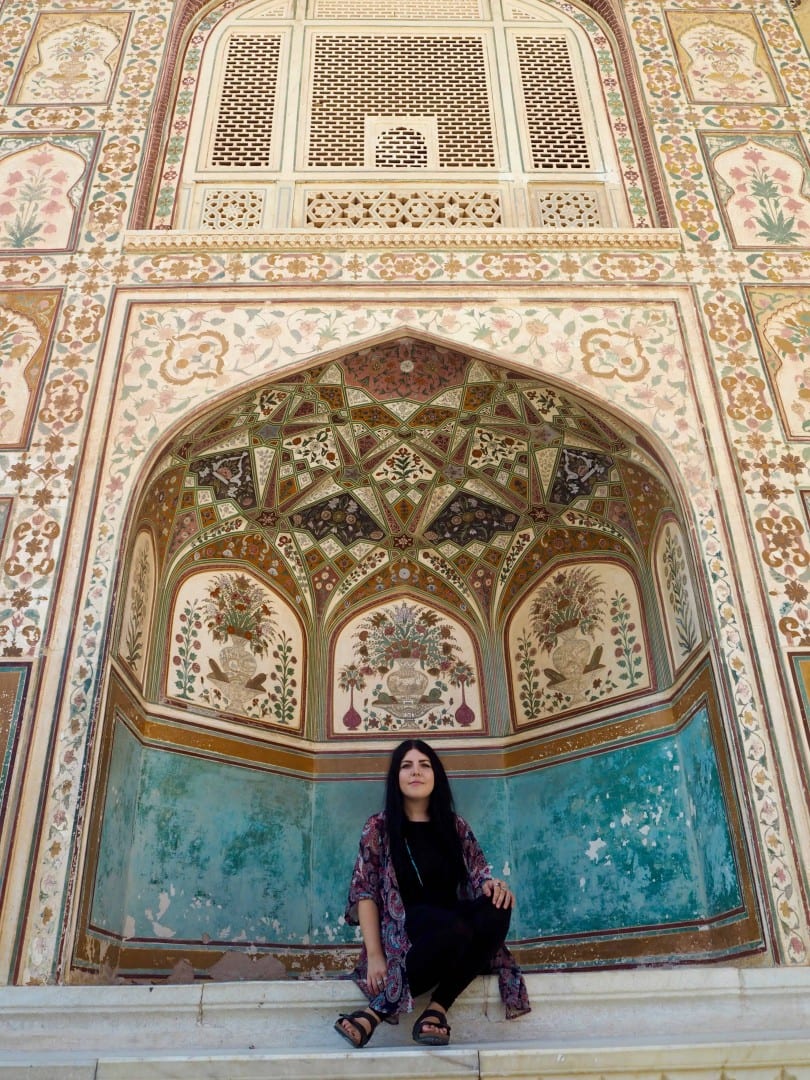 2. Hawa Mahal
Hawa Mahal means the palace of winds and its the most iconic spot in the city & the one of most Instagrammable places in Jaipur! Constructed in 1799 for Maharaja Sawai Pratap Singh for the women of his house. He was an ardent worshipper of the Hindu diety Lord Krishna and the design is meant to resemble Krishna's crown.
A colourful rose painted palace made up of 953 windows known as "Jharokaas", these windows were originally installed to keep the wind flowing through the palace and so ladies could look out at the world below without being seen.
This palace is photoworthy from the outside and from within. The best views can be found opposite the palace from the cafés that serve good chai and food.
Top tips for capturing the Hawa Mahal:
Cross the street for a different perspective, Hawa Mahal is really difficult to shoot from the bottom
The Winds Café serve some yummy chai in their café for a really good view
Always enter the shopping complex and cafés of your own accord (there are signs), many people will drag you inside to their shops expecting you to buy overpriced goods. Of course this is your choice, but know that a lot of these shops are tourist traps with high commissions.
The inside of Hawa Mahal is also really pretty and comes included in your museum ticket
3. City Palace
This place is wall to wall Instagram gold and a must visit! When the court of royalty moved from Amer Fort to Jaipur, a new city place as built by Maharaja Sawai Jai Singh II in 1727.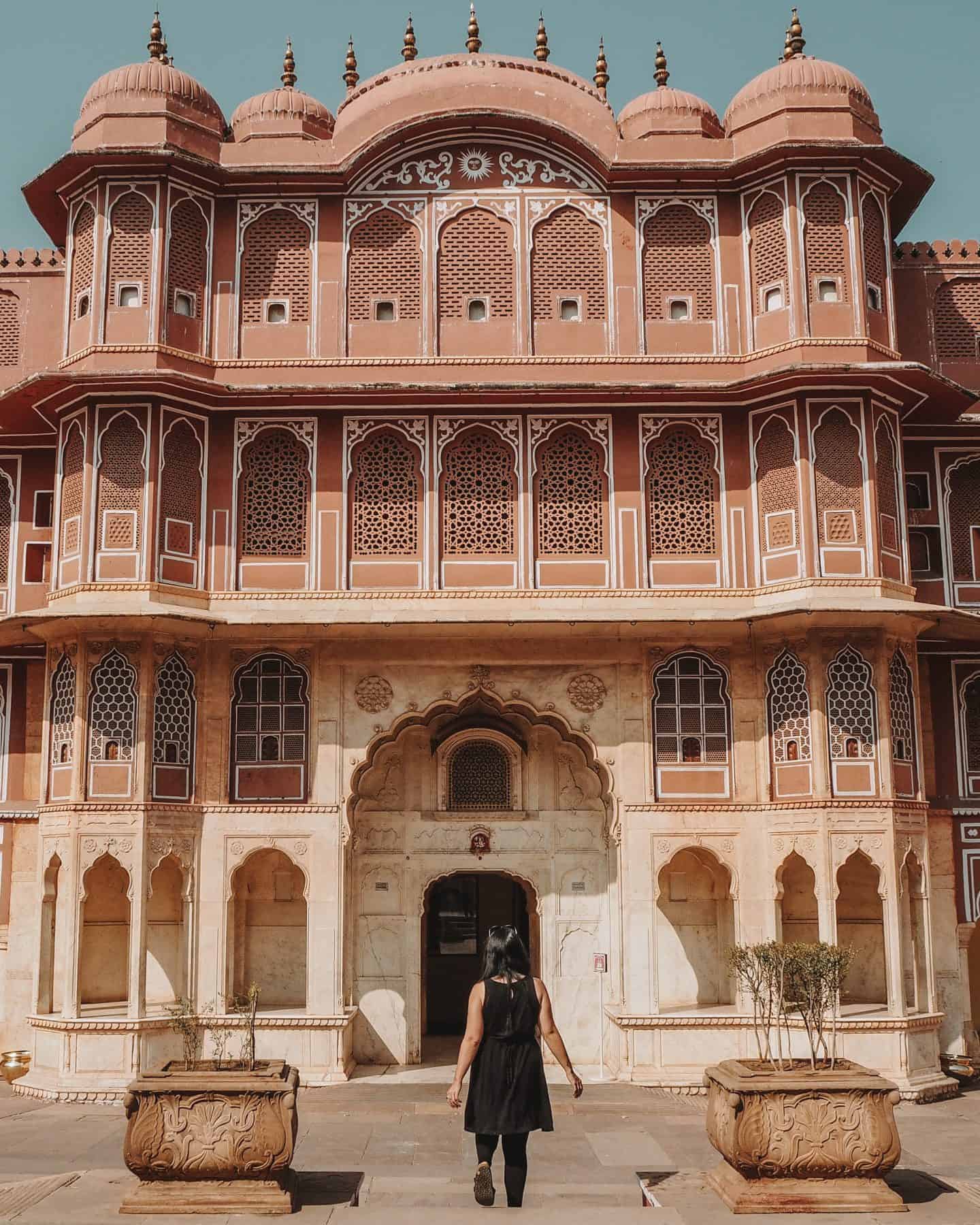 The architecture of this palace is jaw dropping and colourful inside and out! The most iconic feature of this palace are the intricate doorways in the inner courtyard or Pritam Niwas Chowk.
These four doors represent to the four seasons and different Hindu gods are honoured here. Have fun wandering around this pink palace and taking snaps everywhere you go!
As well as the photos, there are some beautiful exhibitions and displays. You can also watch a puppet show here or treat yourself at their royal café. I highly recommend their Nutella stuffed cupcakes – they seriously melt in the mouth!
Top tips for photographing the City palace:
Getting this place empty can be hit or miss. Sometimes early is good, but then other times there may be weddings or photoshoots going on too.
At peak times, you will be queueing for your door photos, it's not just Instagrammer's that want a photo here!
I didn't do it, but it's worth paying extra to enter the staterooms that are also incredibly photoworthy!
4. Jal Mahal
"Jal" means water and "Mahal" means mansion or palace, so this literally translates to water palace. It's a gorgeous building that sits in the middle of Man Sagar Lake. It was constructed by Maharaja Jai Singh II in the Rajput style in 1799.
This was the summer palace of the Royal Family as the breeze on the lake would surround the palace to cool them down. You cannot go inside Jal Mahal at the moment but there is a huge restoration project and talks of it becoming a luxury hotel.
You'll see this on the way to the Amer Fort, so stop off on the roadside for a quick photo opportunity!
Top tips for capturing Jal Mahal:
Any time of the day is good to visit as the palace is on water
The lighting is nicer at sunset to capture the palace
5. Galta Ji Temple / Hanuman Temple
The Hanuman Temple, Hanuman Mandir or Kole Ke Hanuman Ji is a temple dedicated to the Hindu monkey deity Hanuman. It's commonly known to Westerners as the "monkey temple" but was told by a local that was disrespectful.
There are actually two sides to this temple. On the one hand side is with temple with the monkey's where you can feed them. This is a wild place and the monkeys are not trained. They aren't chained, they're allowed to roam free. But, on the flip side they will bite if provoked.
The other side is the temple is the Galta Ji bathing area with two baths. One is for women where only women are allowed and the other at the top is for men.
Women are usually conservative in India so you'll hardly see any women in the pools only visiting to wash their clothes but the mens pool is always raucous and full!
Top tips for capturing at Galta Ji:
There are two baths at the temple, one for women only and one for men only – no exceptions to this rule but being honest you won't want to swim
This is not a petting zoo, the monkeys are wild and roam free here, they hang around the temple as there is food
You can buy peanuts for them at the temple and I would recommend a 'monkey walla' or guide to help you out – be sure to tip
The monkeys haven't been trained around humans, so be careful not to provoke them
Don't tease them with the food for photos, that's just cruel and a sure-fire way to get bitten or scratched
Don't even think about going here if you haven't had your rabies jabs lol, not worth the risk
6. Cafe Palladio
If you're looking for a pretty café in Jaipur, then look no other than Café Palladio. A stunning pink café with Indian and Italian influence combined.
Not only is it pleasing to the eye, you'll also have a great menu of Western dishes from Italy and Greece. Plus coffee and yummy treats like Baklava!
It's not the cheapest place in Jaipur by a mile but I think it's worth it to eat in such a stunning setting.
Warning: You're not allowed to use camera's inside here, only photos on phones.
Top tips for photos of Cafe Palladio:
You must buy food or drink to take photos inside
You cannot take photos with your camera, only phones
Come early during a weekday, not on weekends
7. Nahargarh Fort
There is nothing better than a view from the top and Jaipur has many hills to choose from. Nahargarh Fort provides the best views in the city by far. Plus, there are lots of attractions, restaurants and places to grab a drink.
When I came here for Diwali, it was incredible to see the night sky light up with all the fireworks! I would recommend The Durg Café, it has a cover charge but that includes a drink of chai, fizzy drinks and water etc.
There are lots of tigers and panthers that roam the area around here at night, be wary! I've seen one myself. It's terrifying.
Tops for capturing at Nahargarh Fort:
I would go for sunrise to get the best lighting and to avoid the heat
I personally don't recommend climbing on the walls, plus security will shoo you off anyway – safety is cooler
There are platforms that you can stand on that are so much safer and provide the same awesome view!
Another one of the most photoworthy restaurants in Jaipur is Bar Palladio. This gorgeous bar is head to toe painted in blue and has some of the most breathtaking rooms.
Not only that, their garden also has a photogenic alfresco lounge area where you can chill out and enjoy the cool breeze in the evening.
They have a varied cocktail menu including boozy and non-alcoholic beverages, plus they serve some great traditional and Western choice food options.
Again, not the cheapest place to eat or drink but it's fairly reasonable and you're paying for the spectacular setting.
No cameras are allowed to take photos, phones only. So, for lighting, I would recommend getting here before dark.
Tips for capturing at Bar Palladio:
You must buy food and drinks to take photos here
You cannot take photos with your camera only phones
It does get busy, so come early in the evening or during the week
9. Jahawar Circle
Probably THE most Instagrammable place in Jaipur is Jahawar Circle. This series of colourful archways is a fast becoming a favourite amongst photographers.
I actually feel like an idiot as I got to this place and didn't bother to investigate inside the pink building, so didn't take photos here. Having lived here for so long, I would call that an epic FAIL. But, it gives me an excuse to go back right? 😉
Beyond the circle, there is a lovely relaxing park here too with a musical fountain. So, you can make the long trip out of the old city worth it.
Top tips for capturing Jahawar Circle:
Get here early or you'll be battling with people to shoot all-day
You won't immediately see this place, but it's inside the pink building
10. Albert Hall Museum
This is showing some of the British influence in Jaipur now. The Albert Hall Museum was built in 1876 for the visit of the Prince of Wales. By 1989, there had been over three million visitors to the museum!
Now, I'm not gonna lie, if you're really not interested in history, then the outside of this museum will be your photo spot. There really isn't much worth photographing inside. But, it does have an interesting display of historical artefacts to check out!
My friend and I when we went inside as it was included in our joint ticket. But, we visited on an extremely hot day and so rushed through a little bit. There was no air con just fans which did little to cool us down!
There's lot's of pigeons that hangout the front of the museum that make for a good photo but watch out for poop haha!
Tips for photos at Albert Hall Museum:
Get here early, this place at sunset is BUSY as it's in a park
You can feed the birds here, but there are hundreds, watch out for poop!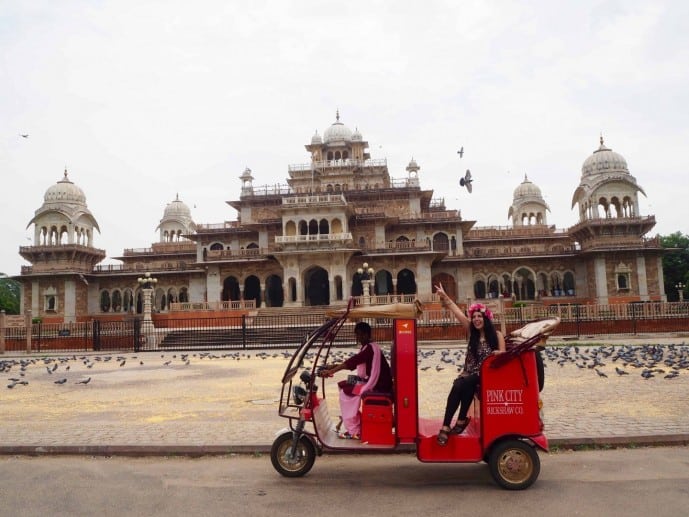 11. Panna Meen Ka Kund
I wasn't sure whether to include this one as it's come under fire recently. But, as I believe its photoworthy enough without anyone in it, I'll include it.
The stepwells of Rajasthan are famous and can be found all over the state. Panna Meen Ka Kund was designed by Brahmin in the 16th century and was designed to catch rainwater during the monsoon season, for people to take baths and for washing clothes.
This place is seriously photoworthy with gorgeous symmetrical stairways! But, despite what Instagram tells you, tourists aren't actually allowed to step on it. The people that do this, have bribed the guard.
I wouldn't recommend it as the reason why people aren't allowed to step on it is to protect this gorgeous place for others to enjoy.
But, beyond Jaipur there are tonnes of stepwells that you can walk on freely. In the city of Bundi, there is a gorgeous one that's not only FREE to enter but empty nearly all day…
Where to stay in Jaipur
There are lot's of places for every range of budget to stay in Jaipur. Here's some that I have stayed in or visited myself and would recommend. As a bonus, are also highly Instagrammable;