Food lovers may have been to Masala Chowk and Jaipur Chaupati of Pratapnagar. Another open-air public square with a variety of shops and kiosks serving street food that has won many hearts is the chaupati in Mansarovar. Yes, we are talking about Jaipur Chaupati! Curious about Jaipur Chaupati. How's the food? What are the foods available there? How's the mood? How much is the cost? Here we go!
Jaipur Chaupati, Mansarovar
Echoing the very famous Masala Chowk in Jaipur, and similar to Pratap Nagar's chaupati, the foodies in Jaipur are blessed with another food court in Mansarovar. The chaupati is located right in front of the Dwarkadas park in Mansarovar. It is a one stop destination to enjoy the local flavors of Jaipur. If you are a real foodie, this place will definitely be your favorite! Jaipur Chaupati has all the popular street food of Jaipur in one place for you to enjoy with friends, family and partners and satisfy your cravings. It makes for a great family outing as it houses several eateries so that everyone can enjoy the food of their choice in one place.
The atmosphere of Jaipur Chaupati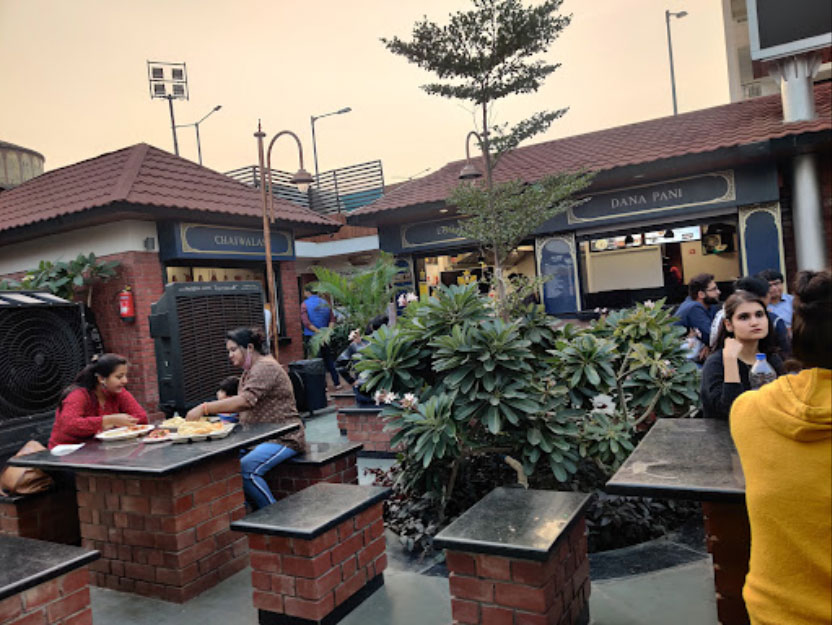 As you enter, the atmosphere of Jaipur Chaupati enchants you. It is an open air food court with a spacious setup. Although chaupati is smaller than the chaupati of pratap nagar, it can accommodate a large number of people at once. Upon entering, you will find a selfie spot on the left. This selfie spot attracts everyone with its beautifully decorated wall in white with traditional designs on it. The interior is spacious with small fountains, fans and nicely constructed seating space in the middle. There are multi-brand restaurants lined up in all three corners that serve delicious cuisines and desserts. And not only that, for public entertainment they organize various live band performances every evening from 6 to 8 pm.
Eating at Jaipur Chaupati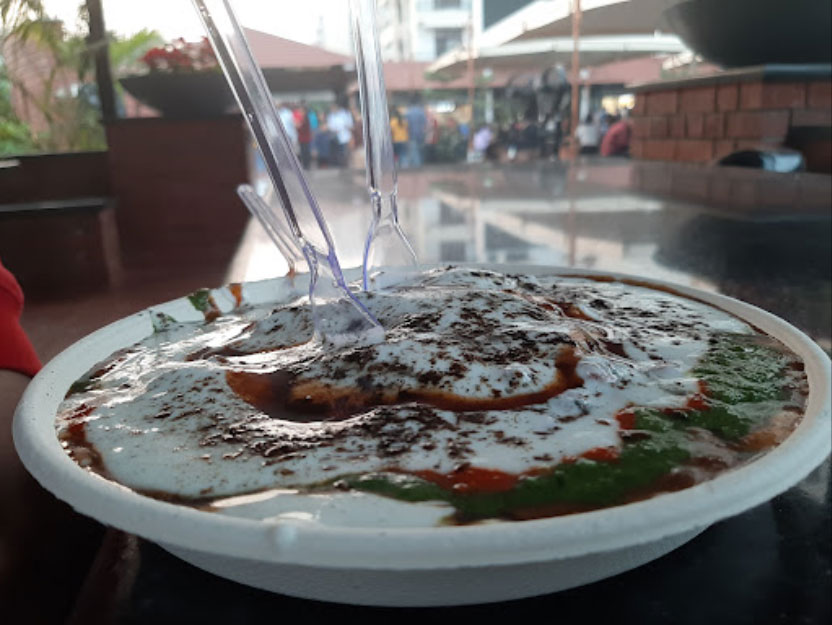 Clubd together there are a total of 22 outlets with a huge range of street food on the menu. They serve local street food and cuisines from all over the country. You get everything right from chats, Gol-Gappa, ice creams, kulfi, dosa and so on. Whether you are vegetarian, non-vegetarian or egg eater, there is something for everyone. They also have a shop that sells toys and craft supplies for children. Serving an authentic street food experience and a cozy and comfortable atmosphere, Jaipur Chaupati is worth a visit.
List of food stores in Jaipur Chaupati, Mansarovar
In this chaupati you can taste the best of street food at 22 renowned food stores. Below is the list of stores in Jaipur Chaupati.
Farm Pizza
Krishna sweets
Sunrise Bakers
Rajasthani Vyanjan
Dakshin
we desi
Pandit Kulfic
Shri Bombay Pav Bhaji
JFS Chole Bhature
Narayan ji Gazak wale
Gaurav's
The Organic Way
paparazzi
Kalkatti Chat Bhandar
Chopati king
Gopal Patashi Bhandar
Dana Panic
Egg fortress
chaiwalas
flavours
Kripa crafts and toys
Indian juice and shakes
If you want to taste the flavors of this city rich in diversity, Jaipur Chaupati is the best destination. Go experience it for yourself and treat your taste buds. We are sure you would not be disappointed. Happy food!
Cost of Foods in Jaipur Chaupati, Mansarovar
The price range of most dishes in Jaipur Chaupati's eateries is between Rs 80 and Rs 180. The food at this place not only tastes good, but is also affordable and hygienic. Jaipur Chaupati is sure to keep your wallet happy.
Entrance fees in Jaipur Chaupati, Mansarovar
The chaupati charges 10 Rs. per person for access.
Facilities of Jaipur Chaupati, Mansarovar
It has hand washing facilities maintained with cleanliness and hygiene. Most stores also accept digital payments, so don't worry if you're short on cash. There is only one minus that eating outside is not allowed in this place, so if you want to celebrate your birthday party, you can't bring a cake from outside. Otherwise, this place is a great option to treat your friends or host get-togethers.
Parking lot at Jaipur Chaupati, Mansarovar
The parking lot is built on the site itself just outside the Jaipur Chaupati. There is plenty of parking and you won't have any problems. However, you may be in a rush in Jaipur Chaupati during rush hour or on weekends.
Times to Jaipur Chaupati, Mansarovar. to visit
The opening time of Jaipur Chaupati is 11am and the closing time of all shops is 11pm.
Best time to visit Jaipur Chaupati, Mansarovar
Your timing must be right to enjoy the experience of Jaipur Chaupati. Make sure to plan your trip outside the weekend to avoid the huge crowds. We recommend visiting Jaipur Chaupati during the day or early evening.
Jaipur Chaupati, Mansarovar Address
Dwarka das marg, Mansarovar Sector 11, Mansarovar, Jaipur