Hundreds of thousands of curious travellers and visitors pour into the beautiful Pink City of India – Jaipur every day and throughout the year. Besides strolling into its royal streets to enjoy the fullest, travellers to Jaipur often dream of staying in the most comfortable accommodations of their choice. Many uniquely designed modern guest houses are available here. They are not different from the typical hotel rooms as they offer you exceptional facilities for a comfortable stay. You are assured for the feeling of a royal stay when choosing such guest houses.
If you are the one willing to experience real combination of art and accommodation along with the true feeling of 'Home away from Home' stay feeling, explore some of the best guest houses in Jaipur that are waiting for your arrival!
8 Guest Houses In Jaipur
Here we have brought a list of the most popular guest houses in Jaipur for your stunning stay!
1. Madhav Guest House
Madhav Guest House is located at just 700 meters from the Railway station in Jaipur. It is one of the cheapest guest houses in Jaipur where travellers keep flocking every now and then. It's extremely cooperative staffs remain available to serve the guests 24/7 for whatever services they seek. A shared kitchen, as well as a well-embellished terrace, is available for all the guests. Its alluring atmosphere will for sure leave an unforgettable memory on you upon your stay here.
Amenities: Rooftop Terrace, Bicycle Rental, Free Internet, Airport transportation, AC, Rooftop bar.
Price Range: INR 800
Location: S-2-C Ivory House, Kabir Marg, Jaipur.
2. Hathroi Palace
Known for providing absolute privacy to the families staying here, Hathroi Palace is one of the unique thus best guest houses in Jaipur for families to choose the accommodation that meets their requirements. Its unique artistic interiors and overall decoration bring a cheerful atmosphere to please the guests staying here. This guesthouse remains a centre of attraction especially due to evening entertainment options and bicycle tours that are being offered by Hathroi Palace for the guests to enjoy unlimited fun.
Amenities: Well-furnished rooms, Coffee shop, Airport transportation, AC, Parking, Laundry.
Price Range: INR 1700
Location: Ajmer Road Hathroi, Jaipur.
3. Ikaki Niwas
Considered as one of the most luxurious guest houses in Jaipur, Ikaki Niwas provides true 'Home away from Home' feeling to the guests staying here. This guesthouse has been channelizing the culture of India and Rajasthan for which it is most admired by the foreign tourists. By offering a double security system to guests, this guesthouse is always preferred by those travellers conscious about their safety and security during the trips. Big lush green parks with rambled lawns are located nearby this guesthouse. They are perfect for the guests for strolling and relaxation.
Amenities: Spacious rooms, pool, restaurant, bicycle ride, Free Wi-Fi, Rooftop Terrace, AC.
Price Range: INR 7000
Location: 5 Chha 2 Jawahar Nagar, Jaipur.
4. Rawla Rawatstar
Rawla Rawatstar with its proximity to the popular landmarks of Jaipur including famous Govind Devji Temple and Diwan-e- khas Hall has become one of the most visited guest houses in Jaipur. It is a perfect place to relax your weary souls. The romantic and soothing environment of this place makes it the best location thus turns this guest house in Jaipur for couples worth choosing. The Terrace at the Rawla Rawatstar is embellished beautifully for all guests so that they can sit here to enjoy the sunny weather during their stays.
Amenities: VIP Room facilities, Car rental service, Currency exchange, AC.
Price Range: INR 2300
Location: D-194-A Jagdish Marg, Banipark, Jaipur.
5. Jaipur Friendly Villa
For those people seeking a perfect guest house in Jaipur for families can choose to stay in the Jaipur Friendly Villa. It remains the best option for travellers looking for affordable yet modern accommodation options. Its exclusive, commodious and pleasant accommodation is fit for a comfortable home-like stay. Two large terraces having a lush green park and garden in front allures all guests.
Amenities: Free Internet, Airport transportation, Laundry, AC, Rooftop Terrace.
Price Range: INR 4000
Location: 27 Veer Vihar, Queens Road, Jaipur.
6. Rajputana Guest House
If you are looking for a proper traditional lodge type guesthouse that is to project the ethnic Rajasthani culture, then Rajputana Guest House can be a perfect option of you. Run by a local Rajput family, this guest house offers you all basic amenities sought as a traveller. While you are here, don't miss having a sip of coffee from the stylish coffee shop on-site this famous guest house in Jaipur.
Amenities: Clean spacious rooms, delicious cuisines, AC, Free Wi-Fi, Coffee shop, Rooftop Terrace, Spa.
Price Range: INR 1500
Location: Ganesh Colony, Jaipur.
7. Khas Bagh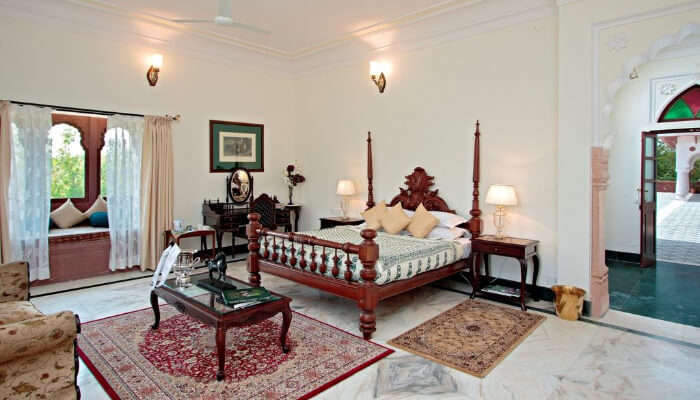 A farm retreat stuffed away in the Aravali Hills, Khas Bagh is one of the best guest houses in Jaipur. Depicting a proper traditional Haweli look, the architectural designs of this guesthouse are unique and so do they allure architecture aficionados as well as laymen during their stays. Its open courtyards, arched verandahs and convoluted carved stone pillars remind of the old Rajputana Havelis. Beautiful pools for swimming and a separate Polo lounge adds more captivity to its beauty.
Amenities: 18 luxurious rooms, Polo lounge, Pool, soundproof rooms, bicycle rentals.
Price Range: INR 10,500
Location: Natata Road, Amer, Jaipur.
8. Doongri Haweli
A great combination of art and culture, Doongri Haweli offers you an intuitive peep into the lifestyle of Jaipur and region's traditional richness. It is the best option for all those travellers looking for a purely traditional Rajasthani stay during their voyage. The on-site restaurant facilitates a variety of foods representing both regional and national cuisines. Its welcoming and extremely courteous staffs and exceptional services have made it the one that ranks amongst the top ten guest houses in Jaipur for a great stay.
Amenities: Kid-friendly, pets allowed, housekeeping, seating area, fireplace.
Price Range: INR 1400
Location: Khejhro Ka Rasta, Indira Bazar, Jaipur.