Eyes are the window to the beautiful world and the most treasured gifts that God has bestowed upon us. Of all the senses in our body, our sense of sight is the one we rely on the most as we use our sight extensively in every facet of our lives. It is our responsibility to protect them and take utmost care of them. This definitely calls for taking up regular eye examinations in order to be sure that our eyes are always in the best condition. For this, it is ideal to look for the best eye hospitals in Jaipur.
Table of Contents
Best eye hospitals in Jaipur

ASG Eye Hospital
KC Memorial Eye Hospital
Anand Hospital & Eye Centre
Centre For Sight
Sankara Eye Hospitals
Dr Agrawals eye hospital
Maya Eye hospital
Prakash Eye Hospital and Laser Center
Raghudeep Eye Hospital
Sahai Eye hospital
Dr Kabra's JP eye hospital
Best eye hospitals in Jaipur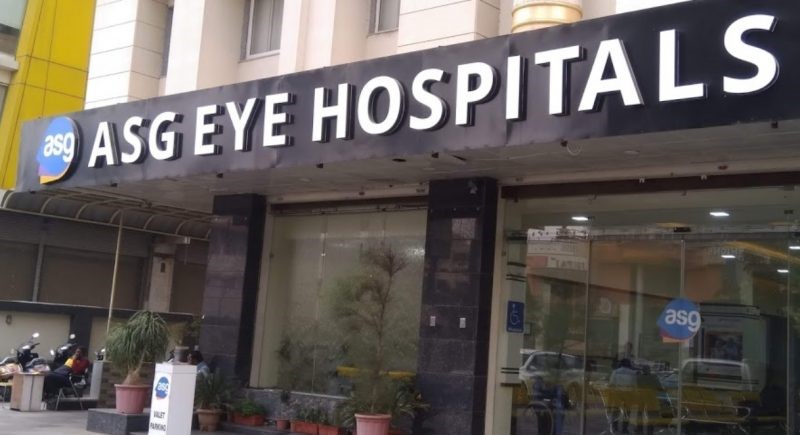 From routine eye care to treatment of complex procedures, one must ensure that the best care is obtained. Choosing a hospital that is focused on eye treatment is important and when it comes to eye treatment it is imperative that only the most advanced and safest technology is used. We have curated here a list of the best hospitals in Jaipur that are top-notch in every aspect.
ASG Eye Hospital
The ASG with its several branches in India is the best eye hospital in Jaipur that has been popular for delivering specialities in eye care. They have a great team of doctors including experts of ophthalmology with many years of experience. You can get every possible treatment at this eminent organization. They offer facilities like Q-Lasik surgery which helps you get rid of your specs. You also get medicare facilities or surgical treatment for treating cases like retinal detachments and corneal defects. Not just this you get special eye care services for problems like Lazy Eye, Glaucoma, Squint, and cataract.
Contact: +91-141-4953222
Timings: 9:00 am to 8:00 pm from Monday to Saturday and 9:00 am to 6:00 pm on Sundays
Address: JTN Anukampa Plaza, Plot no. C, 20-A, Bhagwan Das Rd, Jaipur
KC Memorial Eye Hospital
Established in 1977 over a vast area of 3000 sq feet, K.C. Memorial hospital is one of the best eye hospitals in Jaipur. It is the most recommended place for eye treatments being the biggest and oldest in the spanning locality. Suffering from any eye-related diseases? You will definitely find a cure to your problem at this eminent hospital. With an infrastructure equipped with modern technology, fully conditioned operation theatres and 10 consulting chambers, the eye care hospital offer excellent services from every major to microsurgery facility to its customers. They also provide accommodation facilities with super deluxe, deluxe, private and semi-private staying options so that the patients feel a comfort level.
Contact: 0141 237 2642
Timings: 8:30 to 11:30 am and 4:00 to 6:00 pm Monday to Saturday and Sunday closed
Address: K-20, Malviya Marg, Malan ka Chauraha, Agrasen Circle, Panch Batti, C Scheme, Jaipur
Anand Hospital & Eye Centre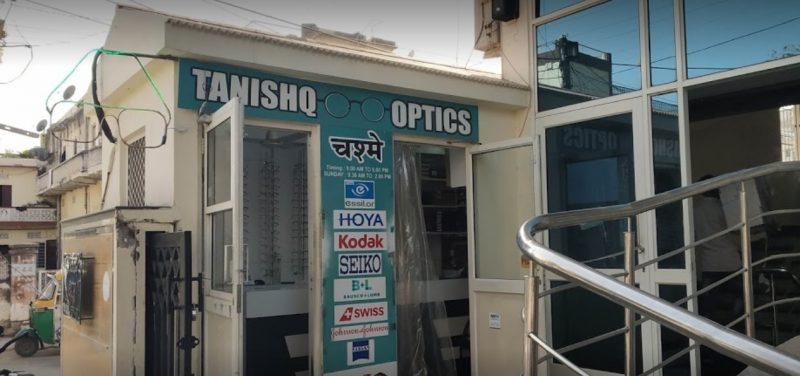 Looking for the best eye hospital in Jaipur for your eye checkup? Anand Eye Hospital has been an excellent eye care hospital since 2000 and a trusted center for providing superior service and pioneering work on treating eye diseases and surgeries. It is an ISO Certified Hospital with disciplined staff and a unique team of doctors with a blend of old morals and new technology. Their latest equipment makes sure their goals, to give patients the advanced and safest technology at an affordable price are fulfilled and they remain dedicated to offering complete and quality eye care. Not just this, this was the first hospital in North India where LASIK technology was introduced. Corneal defect, laser services, keratoconus, cataract, lenses are some of the many other illnesses treated here.
Contact: 014-12371106, 98290 51687
Timings: Open 24 hours
Address: 406, Suresh Marg, Near Bagadia Bhawan, C Scheme, Ashok Nagar, Jaipur
Centre For Sight
Searching for an eye care center where you get expert and experienced opinion with personalised care? Centre for Sight is the best eye hospital in Jaipur and a nationally recognized franchise having more than 40 centers across the country.  This hospital has ophthalmology experts delivering clinical excellence with the latest treatments and modern technology. This unique eye care destination offers treatments in several diseases and their subspecialties by their skilled and dedicated team that results in favourable patient outcomes. Their affordable treatment, great patient care services and elegant ambience make them unique from others.
In Jaipur, it has two branches in Malviya Nagar and Vaishali Nagar. The hospital is best known for services like Computer vision syndrome, Laser surgery, Robotic Blade-Free Cataract Removal, Glaucoma Treatment, Corena Services, Pediatric Ophthalmology, Keratoconus, Retina, Uvea, Ocular Surfaces, and Dry eye disorders, Neuro-Ophthalmology, Pediatric Ophthalmology, Oculoplasty, and facial aesthetics, etc.
Contact: 1800 120 0477
Timings: Monday to Saturday 9:00 am to 6:00 pm and on Sundays from 9:00 am to 12:30 pm
Address: 34,35, Mauji Colony, Moji Nagar, Malviya Nagar, Near HDFC Bank, Jaipur
Sankara Eye Hospitals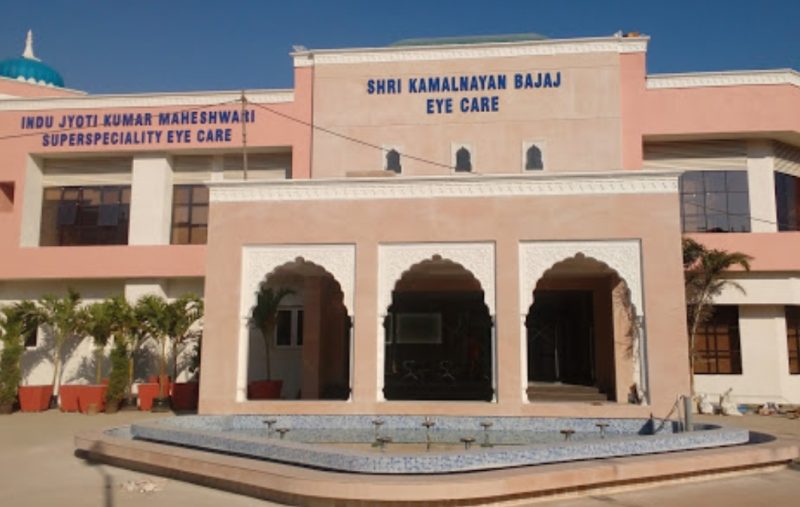 Since 2017, Sankara Eye Hospital (SEH) is one of the best eye hospitals in Jaipur having state-of-art technologies and quality eye care and treatment. It is a NABH accredited eye care center that executes refractions to advanced eye care surgeries. Treating eye ailments such as uvea, ocular oncology, glaucoma, Cataract, Cornea, Lasik, Laser Corrections, Orbit, Oculoplasty, Paediatric Ophthalmology, Strabismus, Vitreoretinal Services & Vision Therapy, the hospital has made a mark in the eye care sector. Sankara Eye Hospital has gained a lot of appreciation for its opulent touch of care and comfort which they provide to its patients.
The maker of SEH Foundation has been praised with Padma Shri Bhushan. Even the staff of the hospital has been credited for being 24/7 at your service and incorporating quality measures for eye treatments to ensure proper trouble-free vision. Their top moto is to promote health care facilities and following clean and safe eye care mechanisms. Not only the founder and staff, the architecture and functional design of the hospital are also meticulously executed around the patient's needs to enhance the quality of eye care and treatment.
Contact: 0141 225 6900
Timings: 8:00 am to 7:00 pm on Monday to Saturday and 9:00 am to 2:00 pm on Sundays
Address: 6, Central Spine Road, Sector 2, Sector 6, Vidyadhar Nagar, Jaipur
Dr Agrawals eye hospital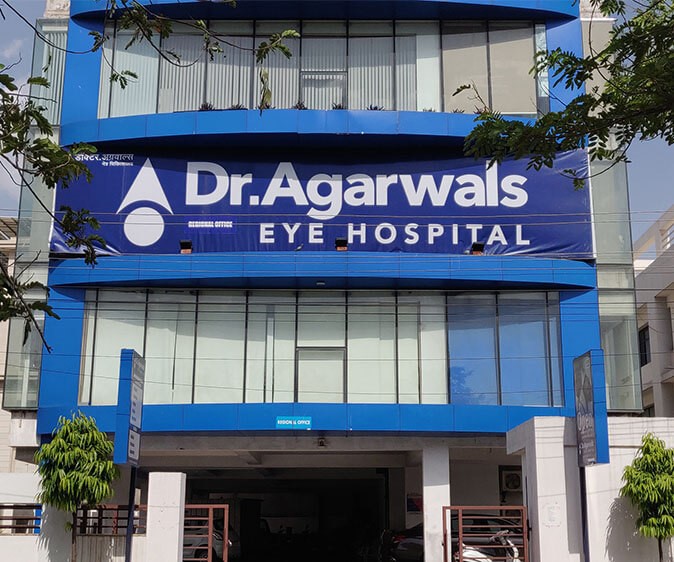 Head on to Dr.Agarwal's Eye Hospital, the best eye hospital in Jaipur if you are looking for any eye-related services including
Diabetic Retinopathy, Cataract, Glaucoma, Retina, Cornea, Paediatric Ophthalmology, Refractive Surgery, Lasik, Medical Retina, Opticals, Pharmacy, General Ophthalmology. This eye care hospital was founded by Late Dr J.Agarwal and his wife Dr. T.Agarwal in the form of an eye clinic as well as their home. This later developed into a special eye hospital in 1976. The owner also received the Padma Bhushan award for their dedication and effort. However, they got global recognition after an American franchise cited the hospital in "Ripley's Believe It or Not". They have a courteous staff that is prompt at providing any assistance and readily answering any queries a patient may have.
Contact: 098290 90916
Timings: Monday to Saturday it opens from 9:00 am to 6:00 pm and is closed on Sundays.
Address: 21, Shubham Enclave, Near Civil Lines Railway Crossing, C Scheme, Jaipur
Maya Eye hospital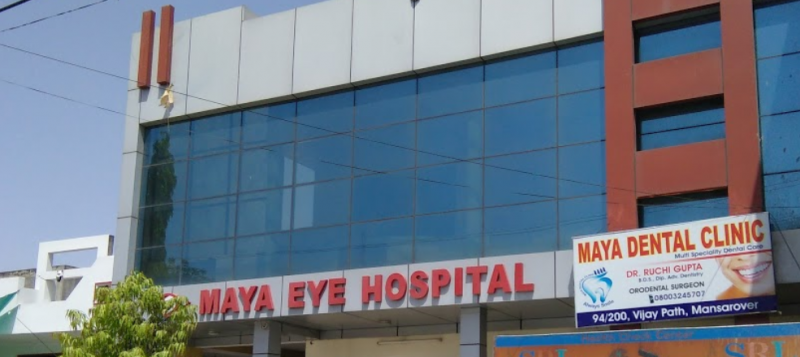 If you are seeking satisfactory and affordable treatment for your eye-related problems, Maya eye hospital is the best eye hospital in Jaipur that will meet your expectations perfectly. Founded in 2012, this eye care hospital is the most favourable due to its highly proficient and generous staff. Dr. Vikas Gupta, who is a Consultant Ophthalmologist is the person behind its popularity. The hospital's procedures are formulated in a beneficial way and protocols are followed in a disciplined manner so that the patient receives the utmost care and satisfactory solution to their problems. The eye treatment center has accentuated its existence due to the myriad services this hospital offers. You can visit the hospital for many treatments and services including refractive surgery, Oculoplastic Surgery, squint, Vitreoretinal Surgery along with routine checkups and treatments.
Contact: 095097 01200
Timings: 9:00 a.m. to 2:00 p.m and 5:00 p.m. to 8:00 p.m.
Address: 94, 200, Vijay Path, Sector 9, Mansarovar, Jaipur
Prakash Eye Hospital and Laser Center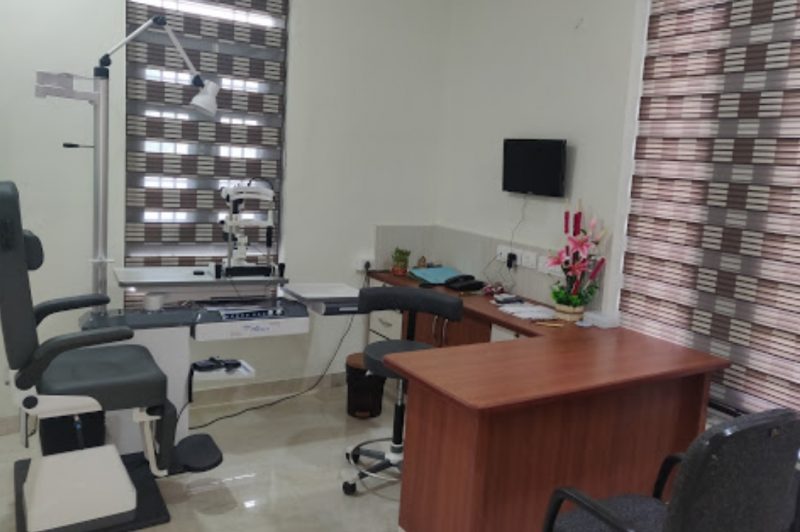 This eminent hospital is known for its Lasik treatment which has helped many to get rid of their glasses? Prakash eye hospital and laser center is the best eye hospital in Jaipur offering top-notch LASIK treatment. This newly opened hospital has soon become the best in town among the contending eye care hospitals. The credit goes to the ophthalmologist and eye surgeon, Dr. Piyush Gupta who has been working with dedication, providing constant services to the patients. You get affordable and advanced surgery options in every eye-related issue whether it is PHACO, Glaucoma, or is corneal eye transplant or a basic eye checkup. The staff here is also very friendly and helpful towards the patients.
Contact: 07947228035
Timings: Monday to Saturday 9:00 am to 1:00 pm and 4:00 pm to 7:00 pm. It is closed on Sundays.
Address: 80/57, Madhyam Marg, Near Patel Marg, Ward 27, Sector 8, Mansarovar, Jaipur
Raghudeep Eye Hospital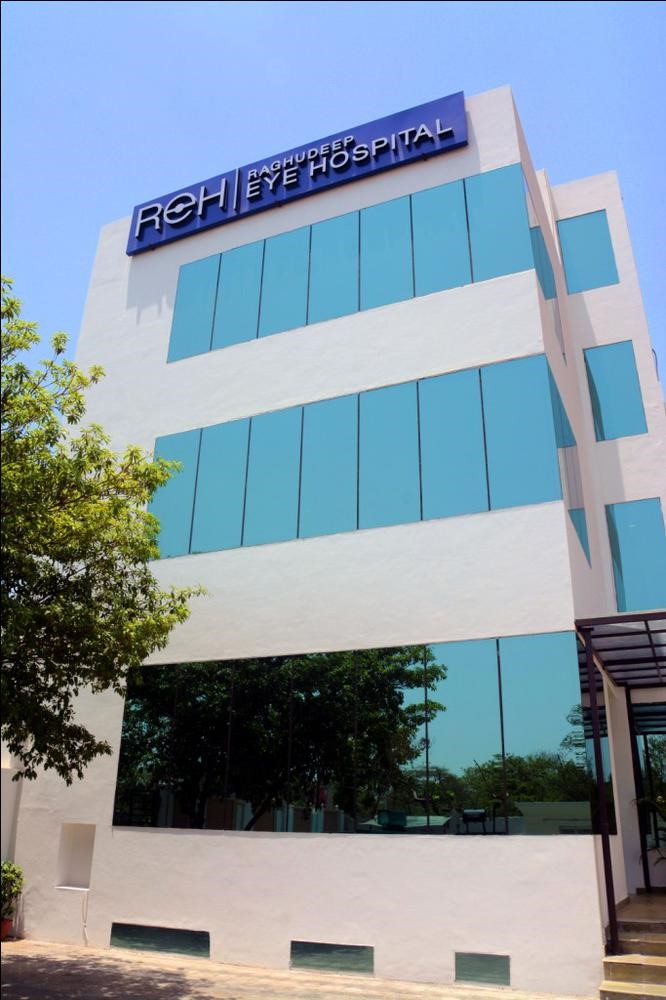 Established in 1984 by Dr. Abhay Vasavda, Raghudeep Eye Hospital is among the best eye hospitals in Jaipur known for providing its patients with the best quality of comprehensive eye care. The owner is a leading ophthalmologist having a clear aim of enriching people's lifestyles with the best treatment possible. They achieve this standard by executing an extensive diagnosis of every patient to determine the best treatment strategy for them according to their lifestyle and particular needs.
The hospital has access to the latest and best diagnostic and surgical technology which has helped them constantly raise the benchmarks in eye care. They have won several awards and accolades at the national and international level. Credit to this also goes to their team of talented and skilled doctors which has benefited them in getting unparalleled results. They have thousands of satisfied patients as their testimony because of their high quality and successful treatments.
Contact: 0141 404 3901
Timings: Opens 9:30 am to 7:30 pm from Monday to Saturday and on Sundays, it is closed
Address: Brij Vihar, A-16, Shanti Path, Tilak Nagar, Jaipur
Sahai Eye hospital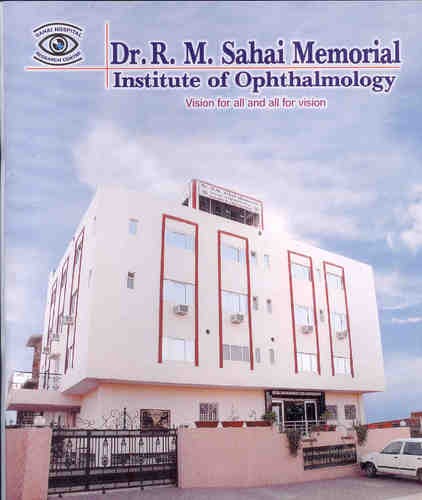 Dr. Ram Mohan Sahai (M.S. in Ophthalmology), a visionary man, established Sahai Eye hospital in 1975. Since then the hospital has gained decades of experience in curing eye-related diseases. Also known as Dr. R M Sahai Memorial Institute of Ophthalmology, it is a multi-speciality hospital providing treatments to patients in urban as well as underlying areas of Jaipur by organizing eye checkups and relief camps. This shows their generosity that the center made eye care techniques accessible to every person in need. The owner along with other qualified doctors are experts in the eye care field and make sure that patients are cured and provided top-class care. The distinguished presence of the hospital can be credited to its owner, who in his early life, always took in the lessons of patriotism and service before self.
Contact: 0141 262 1444
Timings: It opens at 9:00 am and closes at 7:30 pm daily
Address: Bhabha Marg, Vijay Path junction, Jaipur
Dr Kabra's JP eye hospital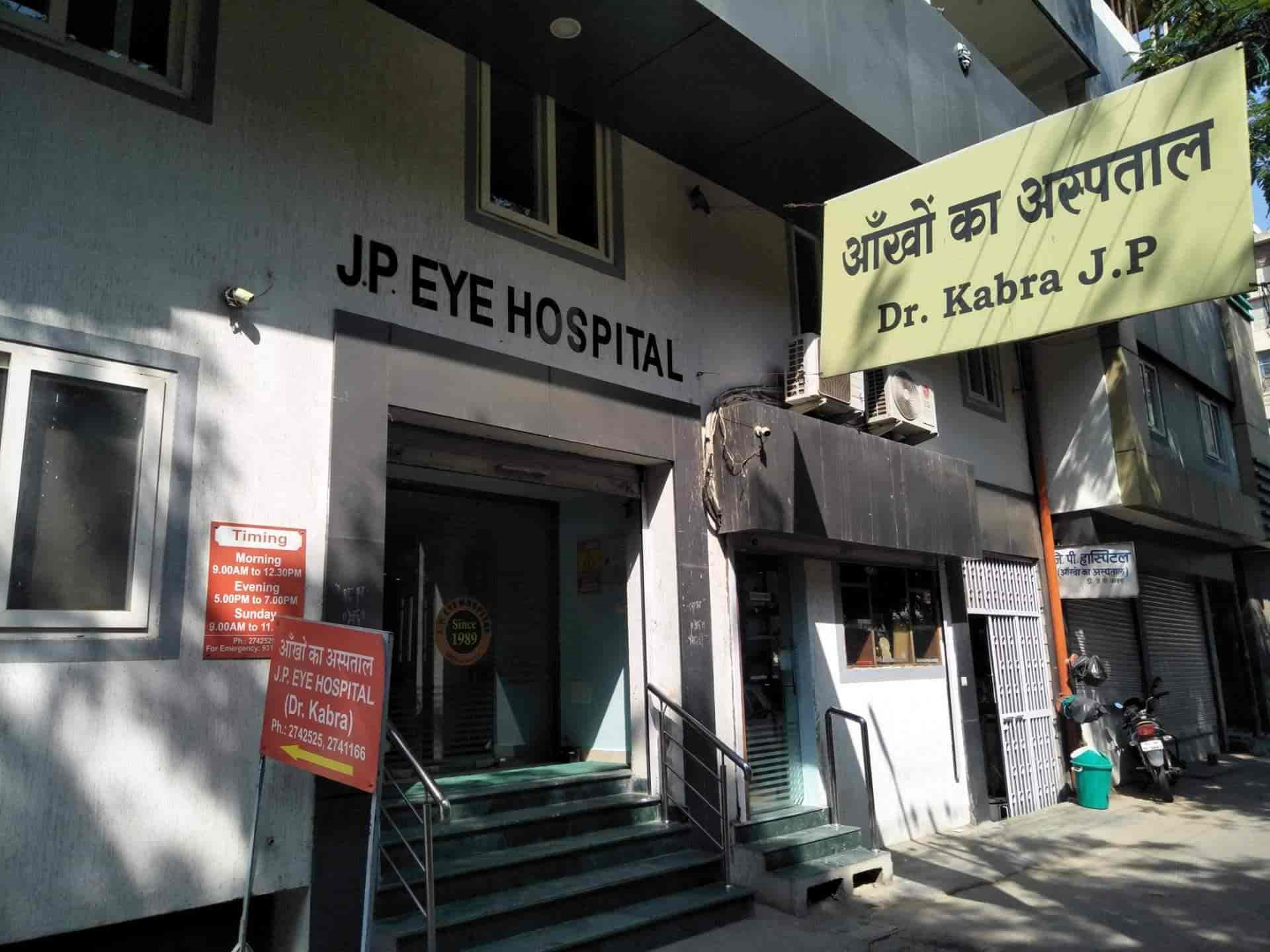 Dr. Kabra's JP Eye Hospital is a super speciality center established by DR. J. P. Kabra (M.S. Ophthalmologist) in the year 1989. He pursued his degree in 1976 from SMS Medical College, Jaipur and has worked in a Government job. He has operated more than 20000 eye operations of several eye ailments such as Cataract, Glaucoma, Squint etc. This speaks to his brilliance in eye care. This is one of the best eye hospitals in Jaipur having a motto to offer affordable and reliable quality eye care by using highly technical equipment and an efficient professional team. This outstanding hospital has given vision to lakhs of people and is recognized for its clinical expertise and usage of modern-day diagnostic and treatment procedures. They offer solutions related to Cataract, Glaucoma, LASIK, Contact Lens, Plastic Surgery, Squint, Retina, Cornea, Computerized Eye Testing, etc.
Contact: 089555 66660
Timings: It is open from 9:00 am to 12:30 pm and 5:00 to 7:00 pm from Monday to Saturday. On Sundays it operates from 9:00 am to 11:00 am
Address: B-14, Lalkothi Shopping Centre, Behind Times, Tonk Road, Jaipur