Food and architecture are the two major things that conjure up in making a top travel destination. The capital of Rajasthan, Jaipur has both these ingredients. Jaipur offers a wonderful treat to the connoisseurs of food. Be it the celebrities, famous personalities or be it the normal travellers from all over the world, they all remain spellbound with the architectural beauty and traditional Rajasthani cuisine of Jaipur. You must be curious to know about the best Rajasthani food in Jaipur! Let's get started.
Rajasthani food in Jaipur
Rajasthan has always been keen on its cuisine being an abode of Raja Maharajas. The delicious food from the royal kitchen were served to every guest. The royal kitchens had the best of cooks called khansamas, who were truly the culinary masters. Gradually, the common folk of the city also learned the skills of cooking the most delightful dishes and converted cooking into a ravishing art.
In Rajasthani cuisine, spices have a very special place. These are mostly cooked in curd, milk, buttermilk instead of water. The use of pure ghee is extensive that leaves a wonderful aroma into its recipes. Also, a wide range of chutneys and sweet dishes take the richness of flavors of Rajasthani food to a higher level. From the vegetarian gastronomic delights to the lip-smacking non-vegetarian dishes, Rajasthani Cuisine offers a lot. These are the best Rajasthani food in Jaipur which are eveyone's favourite.
Dal Bati churma
Dal Bati Churma is the signature dish of Rajasthani Cuisine. It comprises of Bati, which is a flaky round bread made up of wheat flour dough. It is either steamed or baked over a tandoor or an electronic oven. They serve Baati after dipping it in ghee. The Panchmel dal or lentil curry is a mixture of five types of pulses, cooked into desi ghee with a variety of Indian spices; and Churma, which is a sweet powdery dish. Churma is prepared by making batis out of the flour dough without putting salt in it and then, deep frying them into desi ghee. Later, these batis are crushed finely and powdered sugar is added to the crushed batis. This trio is loved by each and every traveler along with the locals.
Mirchi Bada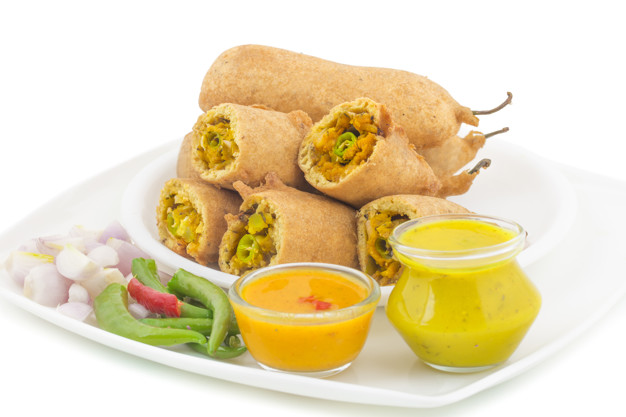 The food lover who has come for trying the best Rajasthani food in Jaipur, would never want their trip to end! As in Jaipur, a variety of snacks and dishes overwhelms them with their excellent taste. One such popular Rajasthani item is Mirchi Vada. It is chili pepper fritters with the stuffing of spicy potato filling. It is served with different types of chutneys like tamarind chutney and mint chutney. This super delectable dish has a piquant taste that is simply devouring.
Tarfini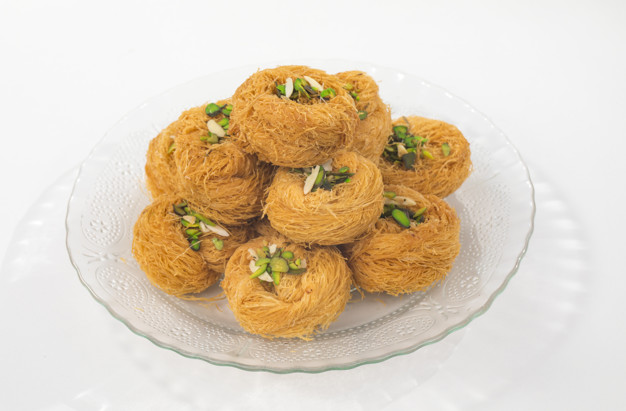 Tarfini or feeni is a threadlike Rajasthani desert which is shredded and roasted-rice-flour sweet. This shredded flour is blended with melted sugar to form a cotton candy-like texture. It is available in both sweetened and unsweetened flavor and is topped with Kesar, almonds, and pistachios. The traditional style to eat this sweet is after dipping it in a bowl of milk. Dhoodh fini is the favorite sweet dish of every Rajasthani.
Rabri ghevar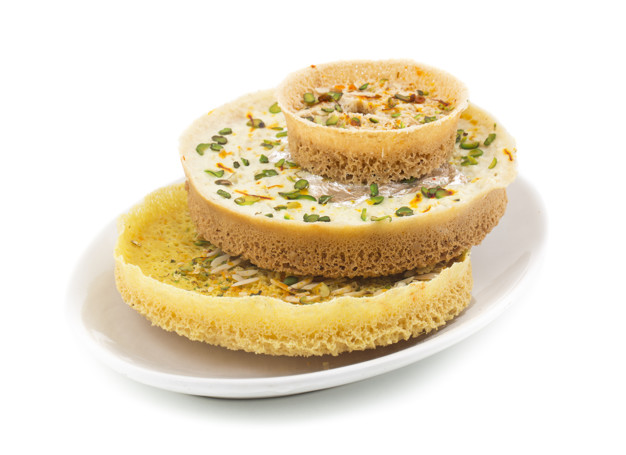 Ghevar is one of the main sweet dishes of Rajasthani Cuisine, which is usually available at times of the regional festivals of Teej and Gangaur. This disc-shaped, crispy and porous sweet dish is the quintessence of Rajasthani food in Jaipur. It is made with cornflour and ghee and kept in a mold while being cooked.It is served hot after being dipped into a sugar syrup. Another version of this ghevar that is topped with Rabdi is everyone's favorite. It rules the tongue of foodies with its out of the world taste. You can try the best Rabdi ghevar at LMB in Jaipur.
Pyaz Kachori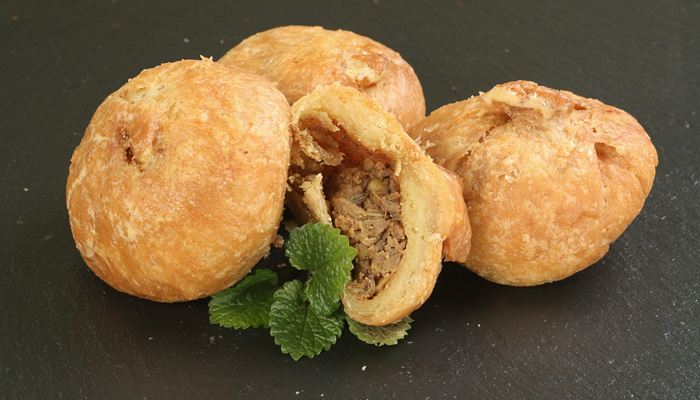 Ever tried Rajasthani pyaz kachori? Relish it in this Pink City. It is also popular street food in Jaipur. This tantalizing snack of Rajasthan is a deep-fried snack with spicy onion filling in it. It is a giant kachori that fills up all your hunger at once. You can enjoy it with a variety of dippers such as mint chutney, tamarind chutney, coriander chutney, and Rajasthani kadi. You can savor this incredibly tasting Pyaz kachori at Rawat Misthan Bhandar which serves the best Rajasthani food in Jaipur.
Gatte ki sabzi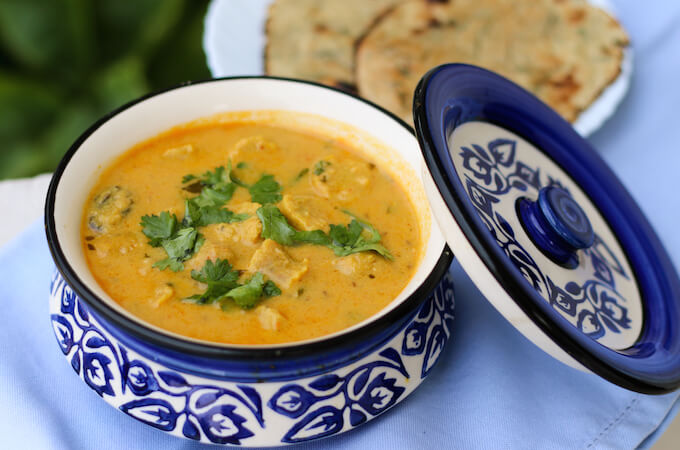 Gatte ki Sabzi is an all-time favorite of Rajasthanis. It is a combination of the savory gravy prepared with buttermilk and crushed and raw Indian spices, and dumplings made with steamed gram flour and spices into it. You can relish Gatte ki Sabzi with the Indian bread (Roti) or rice. You get to taste this special delight in most of the Rajasthani thalis.
Ker sangri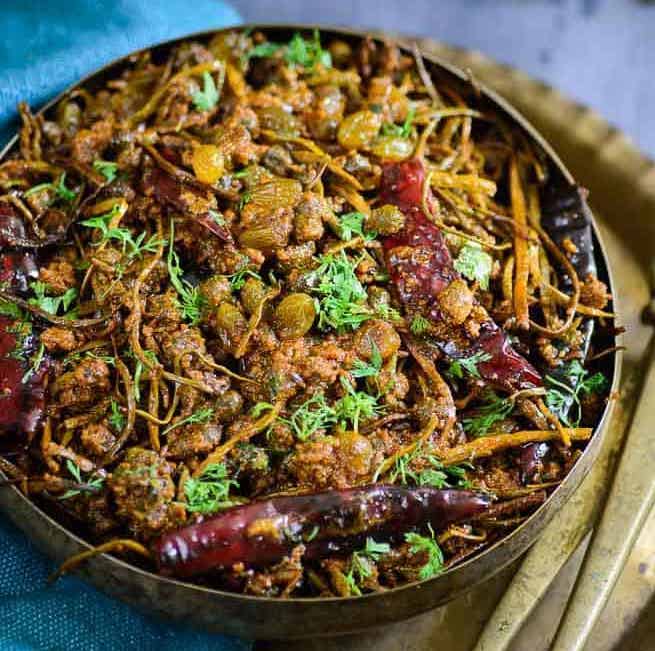 One more dish that comprises of Indian spices and is usually cooked in dry areas of Rajasthan is Kair Sangri ki Sabzi. It is mostly eaten in desert areas with Roti. Also known as Kair Sangri Kumaita, this Marwari dish is cooked in vegetable oil and raw acrid spices, reflecting the simplicity and patience of Rajasthani villagers. This is a very unique dish you won't find anywhere else outside Rajasthan. The best place to try this delicacy in Jaipur is the Rambagh Palace.
Mawa kachori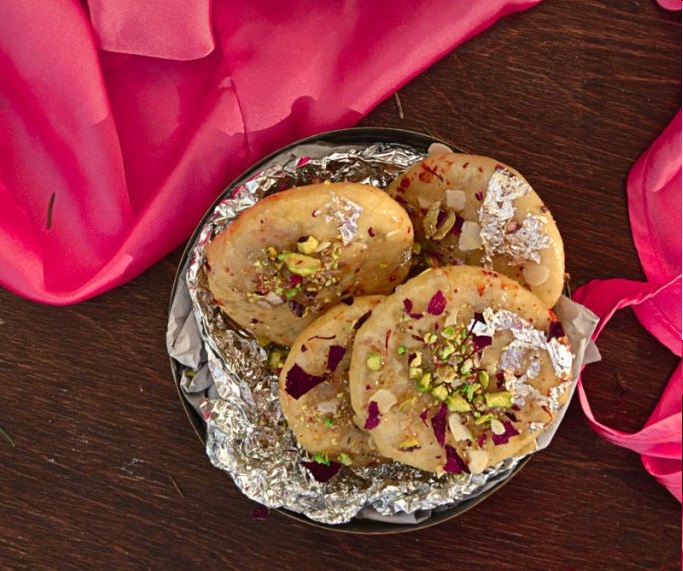 Rajasthani food you will see is mostly rich in taste with myriads of flavors in it. Mawa kachori is also one of the richest Rajasthani desserts that are a specialty of this state. It is a deep-fried pastry filled with a mixture of nuts and mawa. It is an aromatic sweet dish that satiates your sweet tooth like nothing else.
Mishri mawa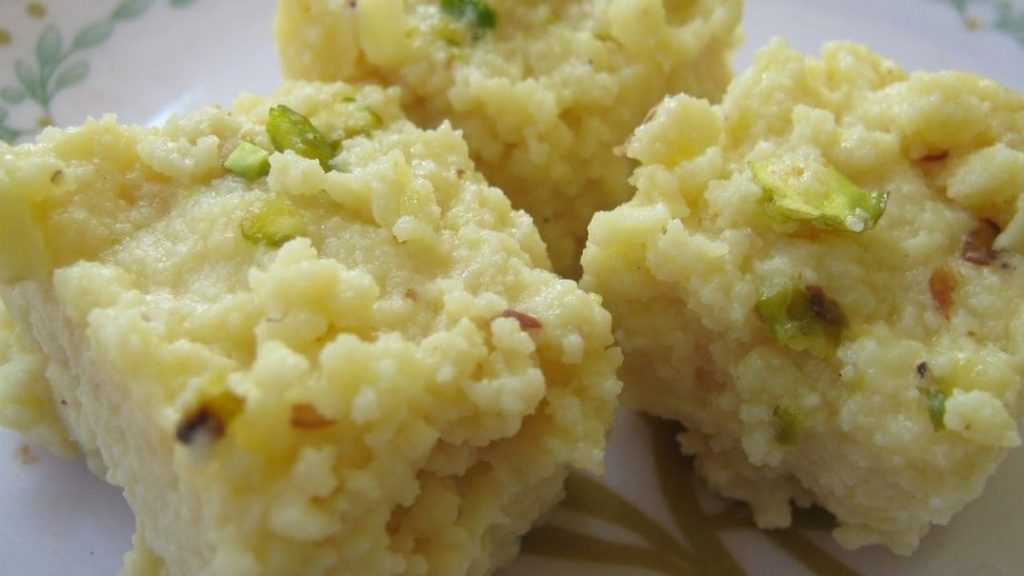 Feast on this famous speciality sweet dish of Rajasthan prepared by thickened and solidified milk and paneer recipe. This Rajasthani dessert has lots of sugar along with cardamom powder, pistachios, almonds, and ghee. This creamy and soft textured desert is simply worth relishing.
Malpua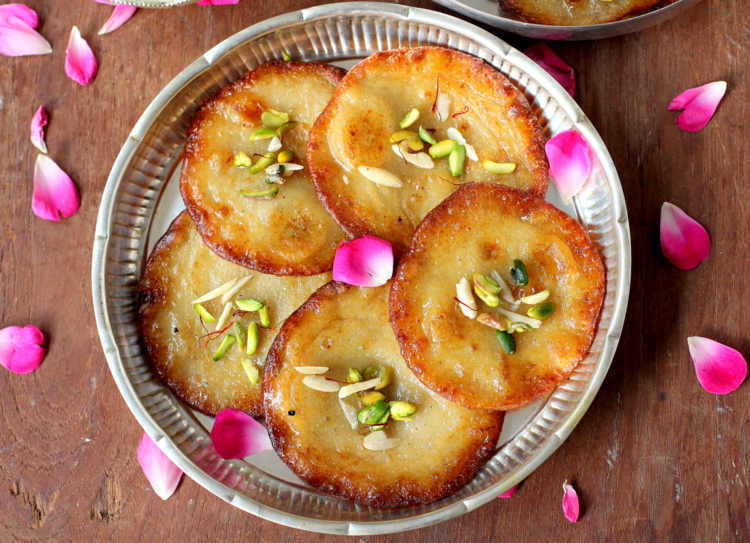 There is so much to tantalize your sweet tooth in Rajasthan. This specialty dish Malpua is another sweet delicacy to pamper the taste buds of tourists. It is a Rajasthani version of pancake with a flavor of fennel and cardamom and dipped in sugar syrup. Malpua is available during festivals here, but one can relish it throughout the year at the local shops in Jaipur. Malpua topped with Rabdi is the best of all.
Rajasthani kadhi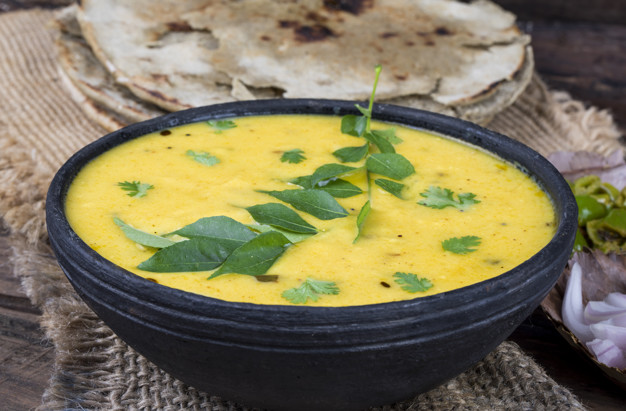 You might have eaten kadi earlier. It is usually popular in Maharashtra, Punjab including Rajasthan. The Rajasthani kadi is famous for its spicy version which involves preparation with sour curd, besan and lots of traditional spices. This is indeed a light dish as compared to other Rajasthani delicacies. Rajasthani pakoda kadhi has a red tint to it and served with Indian chapati, plain rice, khichdi or bajre ki roti.
Laal Maas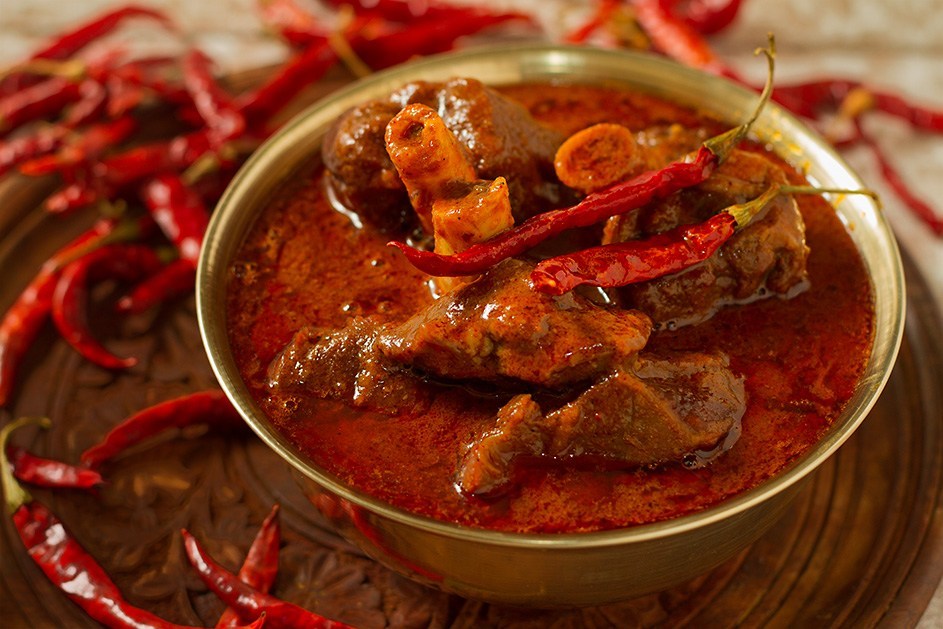 Do try the famous non-vegetarian dish Lal Maans (Red Meat curry) prepared in a gravy of yogurt with spices, nuts, and coconut. With the perfect mix of spices and nuts, the laal maas is really hot and rich in garlic. This spicy royal Rajasthani dish is unlike the usual mutton curry and is a popular dish you shouldn't miss if you ever visit Jaipur. Try the authentic deep red Laal maas at 1135 AD located at Amer.
Keema bati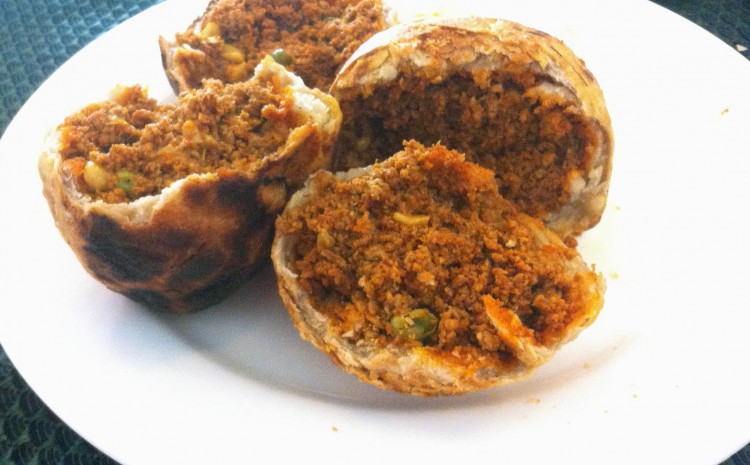 Keema bati is a unique combination of keema curry and Rajasthani Bati. This traditional dish has a unique preparation with a technique of heating minced meat in a low flame for a long time. Different flavors of dried fruits, saffron, butter oil, and spices make this dish deliocious.
Jaipur is the only place where you get to taste this traditional dish. Try at Handi at Mi Road or Vaishali Nagar for the authentic taste.
These are the delights of this state that tops the list of the best cuisines in the world. No tourist ever completes their Jaipur tour without savoring these dishes.
You can feast on most of these gastronomic delights to your heart's content, rounding off your meals with mouth-watering dishes in a Rajasthani Thali. Dig into an authentic Rajasthani thali and relish the true and diverse Rajasthani flavors in just one platter. Get the privilege to taste the Rajasthani Cuisines by dining at these best places to for Rajasthani food in Jaipur.
Shree Panch Bhog
Known for its delectable thalis, Shree Panch Bhog restaurant serves simple yet delicious food at affordable prices. You get to try the array of delights like dal, dry snacks, khichdi, rotis, rice, and traditional kadhi. The appealing presentation and the drool-worthy flavors of the food take your heart away. This is the place where you can relish royal flavors of the Pink City at budget-friendly prices.
Cost: INR 350 per person; Where: Siddharth Nagar, Jawahar Circle, Malviya Nagar
Shree Thal village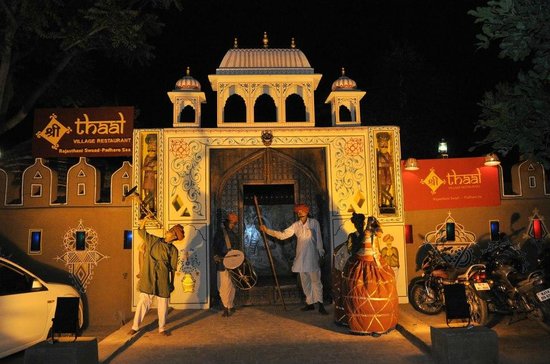 If you can't manage to go out of Jaipur to Chokhi Dhani, Shree Thal village is another option to experience mini Rajasthan. Get ready to eat more than your potential as they serve a lot of sweet and spicy dishes at this rustic restaurant. They welcome you with a note of 'Padharo Saa', which signifies a respectful welcome in Rajasthani language. The authentic village set-up with the fort backdrop enhances the joy of eating here.
Cost: INR 350 per person; Where: Rathore Nagar, Queens Road, Vaishali Nagar
Natraj Restaurant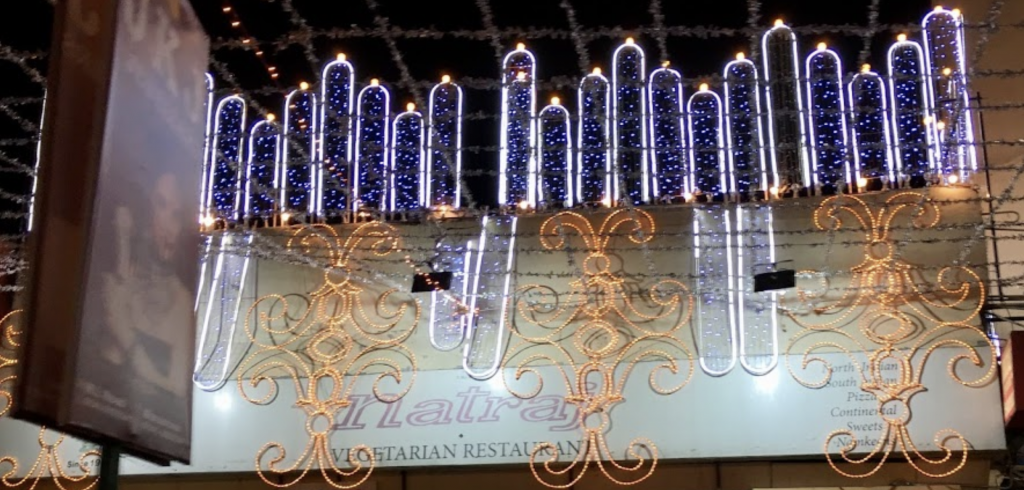 If you want some excellent dal bati churma at a reasonable rate, go to Natraj at MI road. They serve simple and inexpensive north Indian and Rajasthani thalis. They serve Rajasthani delicacies with different breads, Gatta, sangri and yogurt salads. Go empty stomach and feast on their thali that consists of multiple traditional items. Natraj Restaurant is famous for the best Rajasthani food in Jaipur.
Cost: INR 450 per person; Where: MI Road
Thali and more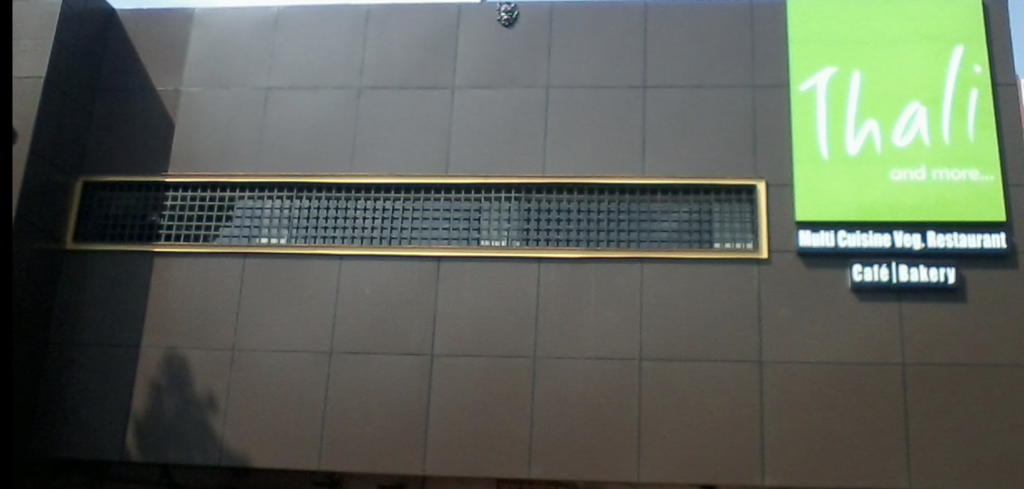 Their Rajasthani Thali is an absolute delight with items like Aloo Pyaaz, Gatta Curry, Kadhi, Lehsun ki Chutney, Mirchi Tapore, Bejad Ki Roti and Missi Roti. The 'Dal Bati Churma Thali' is another favorite among the visitors. It has Dal, Masala Bati, Sada Bati, Mirchi Tapore, Kadhi, Lehsun Chutney, Sada Churma, Besan Churma, and Papad. From mini to executive and more, they have something for all sorts of appetite.
Cost: INR 400 per person; Where: C-Scheme
1135 AD Restaurant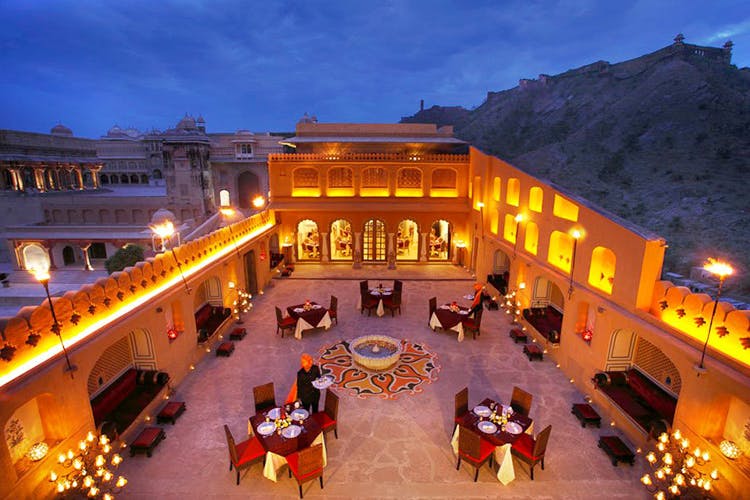 This heritage restaurant serves the secret recipes of the royal chefs like in the ancient days. 1135 Ad restaurant gives an experience that you cannot miss. Their 'Thaal e Jodha' serves up the finest selection of vegetarian Rajasthani recipes in a silver Thali. You also get a non-vegetarian thali of ten items, including lal maas, that served with flavored rice and naan bread.
Cost: INR 1400 per person; Where: Amer Fort, Amer
Laxmi mishthan bhandar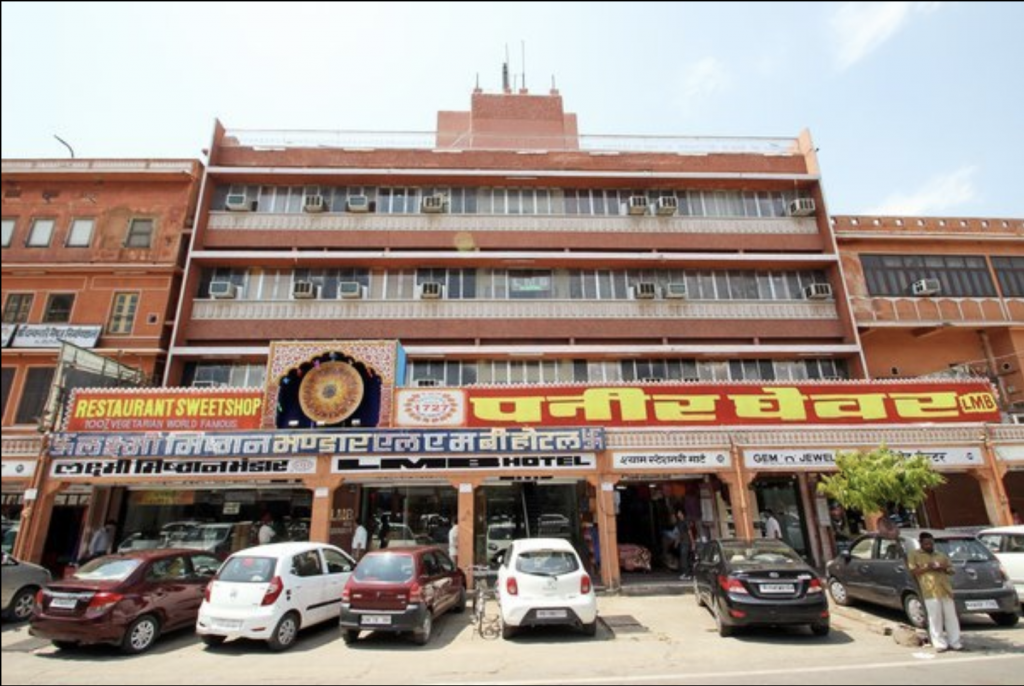 The oldest shop of the city Laxmi mishthan bhandar, popularly known as LMB, is a favorite among Jaipurites for delicious Rajasthani food. The 'Rajasthani Meal' here consists of 12 items. They offer Dal, two types of Churma, 4 Bati (Plain+Masala), Ker Sangri, Gatte, Dahi Bada, Lehsun Ki Chutney and much more! Being pocket-friendly and offering a delicious rajasthani cuisine is something that makes it our favorite.
Cost: INR 500 per person; Where: Johari Bazaar
Rawat Mishthan Bhandar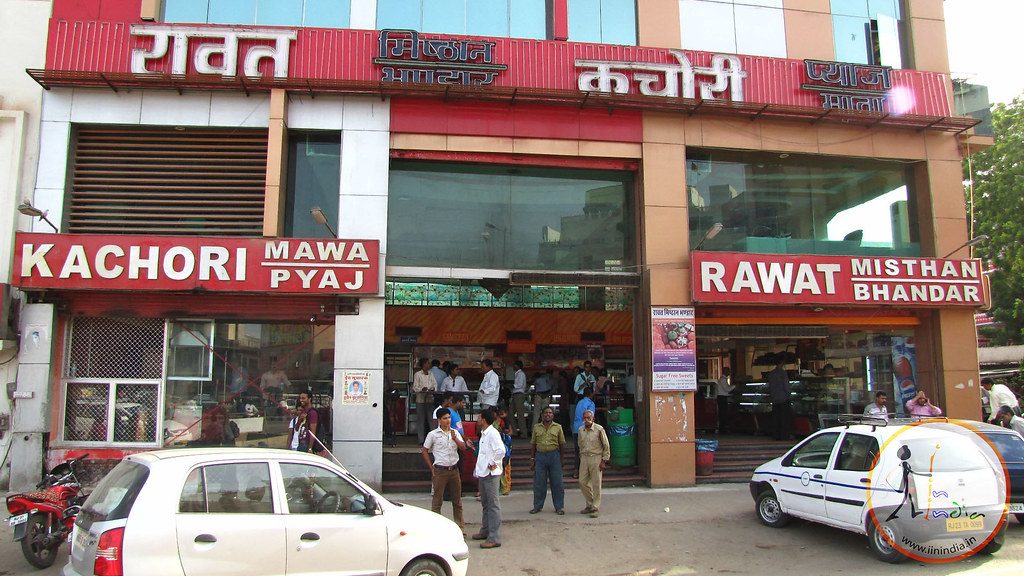 Rawat Mishthan Bhandar is the most popular destination in the city for Rajasthani snacks like Kachori and Samosa. This food joint also includes a special Rajasthani Thali named the 'Dal Bati Churma Thali'. It serves Bati, Churma, Dal, Kadi, Half Papad and Fried Green Chilly. The takeaway facility of the food is also available.
Cost: INR 250 per person; Where: Sindhi Camp
Suvarna Mahal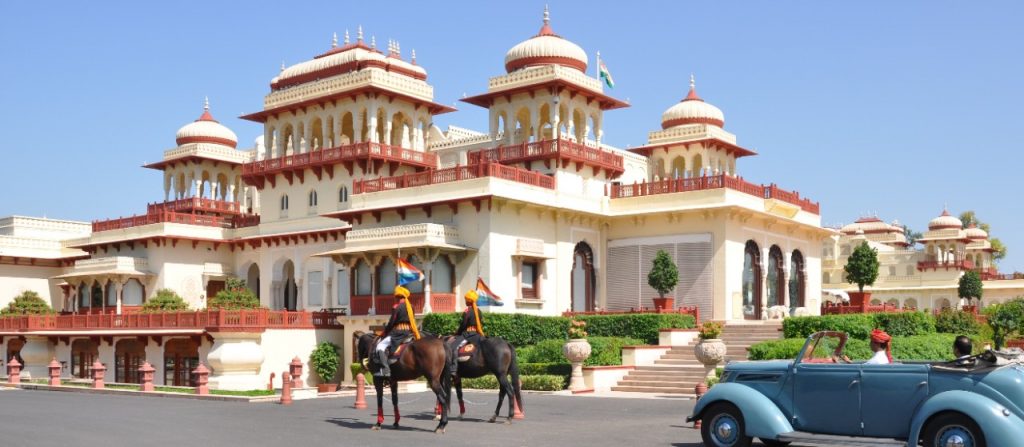 If you are looking for a regal Rajasthani dining experience, Suvarna Mahal has one of the best thali spreads of its type. They start with appetizers like vegetable kebabs and barbecued lamb. Their main course include the restaurant's signature dish, laal maas, and Gatte, Ker Sangri. For dessert, they serve the rich malpuas and ras malai. The top-class service as well as the original regal delicacies from the royal kitchen offer you a throw-back to the grandeur of the Maharajas.
Cost: INR 2500 per person; Where: Taj Rambagh Palace
Choki Dhani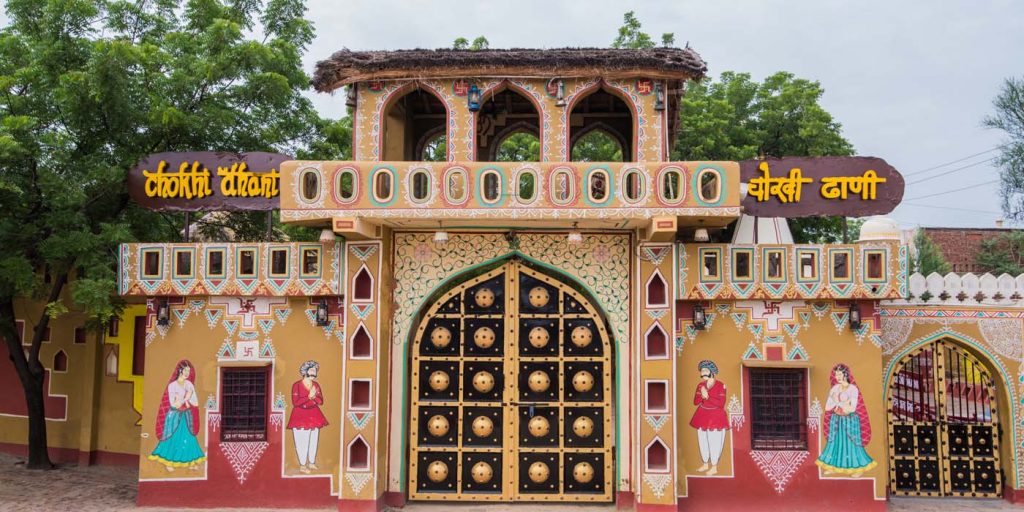 This place represents the true colours of Rajasthan with a traditional touch and Rajasthani cuisine. It is one of the best places to visit near Jaipur. Chokhi Dhani make you feel like a Rajasthani, welcoming you in a typical Rajasthani way. Firstly, they offer you a very cosy place to sit down. People come with big plates or thalis and place it in front of you. After this, countless dishes start pouring in. They serve your food with a lot of honour, respect and hospitality. Rajasthan has a concept of Manuhaar, this means they keep on serving you until your stomach is ready to overflow. In Rajasthan, food is not something that just satisfies hunger, but it is a way to sit with the family and savour the piping hot food. You can also experience the same at Chokhi Dhani.
Cost: INR 800 per person; Where: 12 Mile, Tonk road
Surya Mahal
With absolutely delicious food available for you, the Surya Mahal Restaurant is another famous place if you want to try the best Rajasthani food in Jaipur. They are famous for their Rajasthani cuisine, especially their Rajasthani thali is finger-licking good. Their thali consists of multiple things thus make for a heavy meal. You also get àla carte option if you do not want to have a full thali. Their food is extremely wonderful with some amazing flavours.
Cost: INR 500 per person; Where: MI Road
Spice Court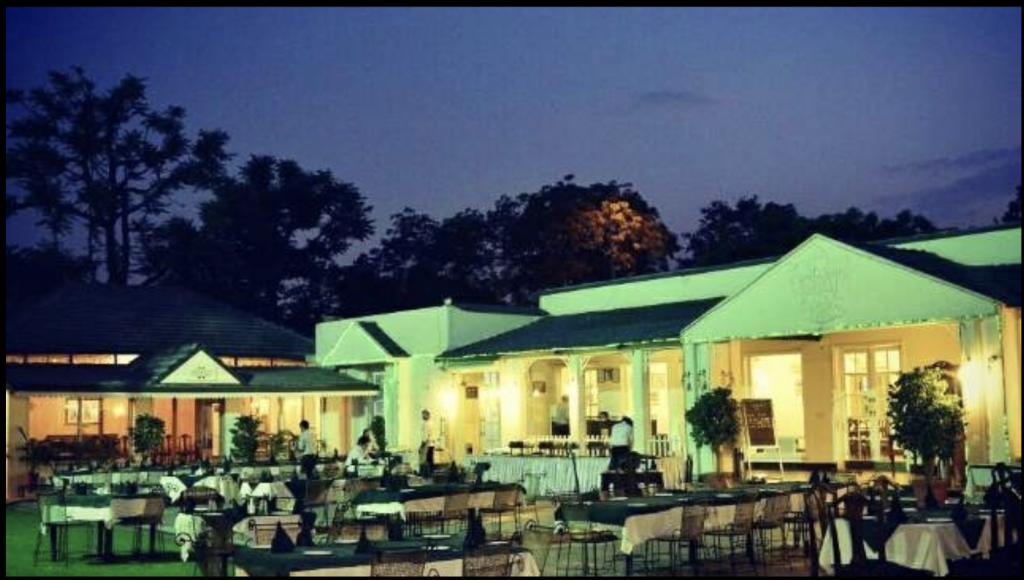 If you are a non-veg lover and want to try non-vegetarian Rajasthani Thali in Jaipur, head to spice court. This restaurant lives up to its name, it offers some of the spiciest dishes in Rajasthani cuisine. Tickle your taste buds with the hot dishes at Spice court as their every dish contains red chilli paste and dry red chillies added separately. Most of the Rajasthani dishes served here are delicious. You will definitely love Spice court for serving you the best Rajasthani food in Jaipur.
Cost: INR 500 per person; Where: Jacob Road
So, why refrain yourself from enjoying the diverse and varied varieties of the best Rajasthani food in Jaipur. We are sure that just a bite will transport you to a world of complete bliss. You will instantly place the Jaipur tourism and its delicacies in high regards!