Every health care professional wish to work in the hospitals, which are at the forefront of adapting to the new challenges while providing top-notch patient care. This article will help you discover the leading hospitals to work in Jaipur that are shaping the future of medicine.
Fortis Hospital
Spread over an area of 6.67 acres, Fortis is the first NABH accredited, multi-super specialty hospital in Rajasthan, founded on August 2, 2007. Doctors here are committed to medical excellence with compassionate patient care. They are renowned for their excellence in healthcare with the best of medical talent and technology. They provide medical services with a humane approach and offer quality medical care. Over the years, it has become a landmark hospital for many health ailments. Fortis Escorts Hospital has a global recognition for its clinical team and world-class medical amenities to match that. To gain the knowledge and skills with experienced doctors, Fortis is the best hospital to work in Jaipur.
Features: It has 250 beds, world-class dialysis facilities, two hi-end Cath labs, Electrophysiology laboratory, space suite and modular OTs, water birthing facilities, laminar airflow system, RFA, invasive and non-invasive ventilators, transport ventilators, fully equipped ICUs, level III neonatal ICUs, dedicated pediatric ICU, and kidney transplant unit.
Address: Jawaharlal Nehru Marg, Malviya Nagar, Jaipur
Phone: +91 141 254 7000
Mahatma Gandhi Hospital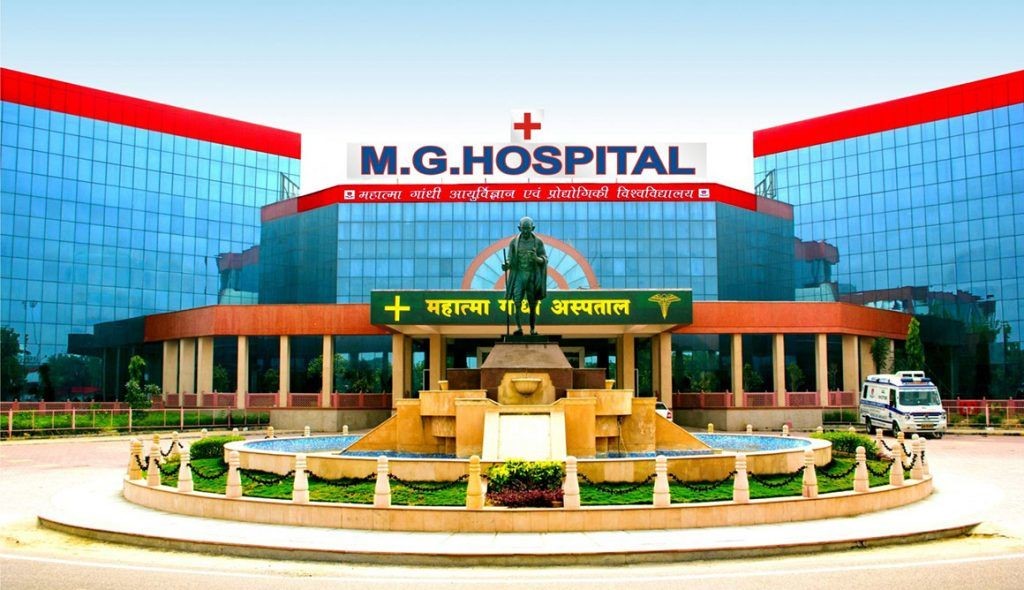 The hospital was established in 2000 and is operated by the famous India Education Trust that founded the first recognized private medical college in the state. Mahatma Gandhi Hospital in Jaipur is a renowned entity for health care globally due to their best in class facilities and hi-tech infrastructure along with esteemed doctors to serve patients. They provide treatments of the highest degree and at affordable costs to the patient. It offers the best clinical and fully developed diagnostic services in all disciplines by employing eminent physicians. The hospital has patients from all over the world, including the US, France and the UK. This is the reason it provides the best working atmosphere and is amongst the best hospitals to work in Jaipur.
Features: The surgery department has 15 spacious and hi-tech operation theaters and pre and post-operative areas. The hospital has different laboratories in pathology, microbiology, radio-diagnosis, and biochemistry as well as a very well equipped imaging unit. They have 1000 hospital beds for treatments of which general ward beds are offered free of cost. They also facilitate 24X7 trauma, emergency, and ambulance services.
Address: Riico Industrial Area, Sitapura, Jaipur
Phone: 18001806002 , 0141- 2771777
Monilek Hospital & Research Center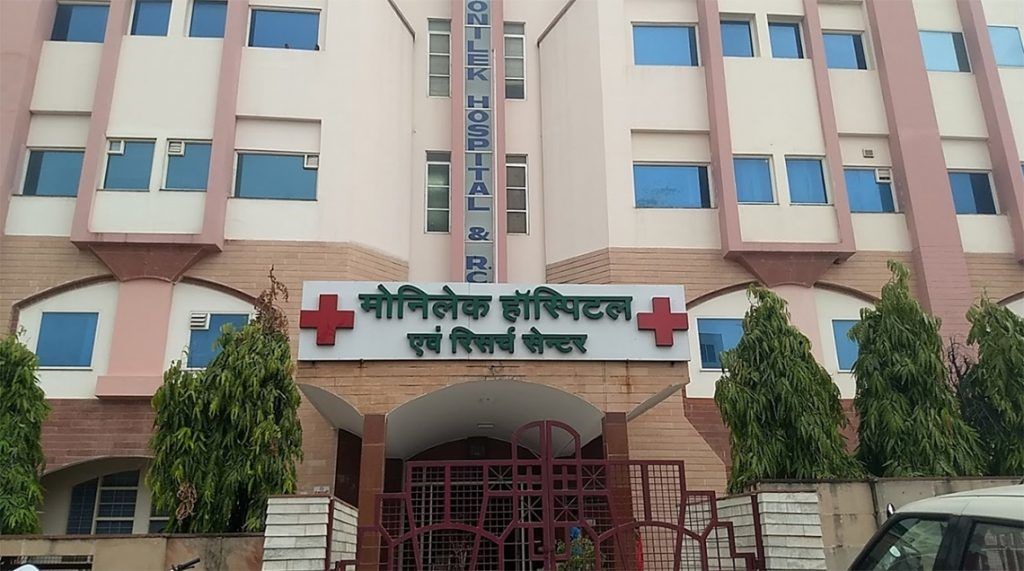 Run by able management and possessing a strong pool of employees and medical consultants, the Monilek Hospital & Research Center rank amongst the leading primary care and specialty referral center in Jaipur. With no dearth of required facilities and excellence in technology, this institution has become a preferred hospital for healthcare professionals to work in and around Jaipur. This 105-bed multidisciplinary center offers the best possible clinical service in all medical specialties including physiotherapy and traditional Indian medicine, also known as Ayurveda. The center has units in various specialties and its advanced laparoscopic center and plastic surgery departments are very famous. The hospital is a major center for total knee and hip replacements. Working here gives individual many opportunities to explore and learn.
Features: 150 hospital beds for treatments and has spacious general wards, air-conditioned deluxe, semi-deluxe and super deluxe rooms.
Fully equipped operation theaters
First to conduct kidney transplant in Rajasthan
24X7 emergency, casualty, ambulance, diagnostic Imaging Unit, pharmacy, radiology services, various laboratories, a government-approved blood bank and an endoscopy unit
An entire floor dedicated for ICUs equipped with central monitors, central oxygen and suction lines, as well as ventilators and 24-hour monitoring.
All major medical ailments provided with treatment
High-class infrastructure
Address: Sector 4, Jawahar Nagar, Jaipur
Phone: +91 141 265 3021
SMS Hospital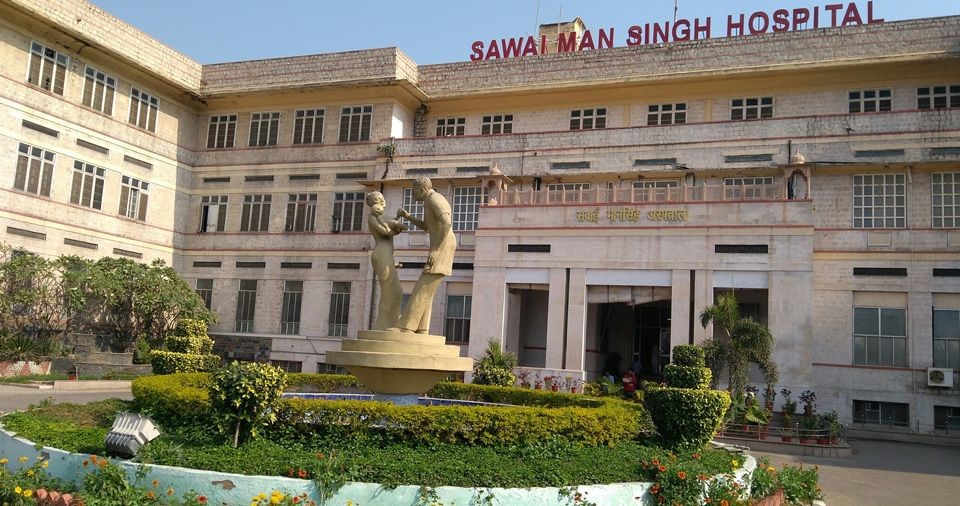 Established in 1934, Sawai Man Singh Hospital is the major hospital of the Jaipur as well as the whole state. Staffed with 1500 doctors and 4000 nurses, it is one of the best government super specialty hospitals in Jaipur. Whether it's affordable care for patients or its patient-driven clinical research SMS hospital is the one healthcare center everyone turns towards. It has been providing vital innovation for the entire medical community and provides undergraduate to postgraduate educational training for both students and medical professionals. If you are looking for the best hospitals to work in Jaipur, head on to SMS hospital.
Features: NABL accredited, 43 wards with  2250 beds, Central Laboratory within the hospital for various medical tests so that the patients can avoid going to private diagnostic centers.
Well ventilated and spacious wards, A/C room, deluxe rooms, private, semi-private rooms, general wards are provided for inpatients under the surveillance of RMO's and staff nurse.
Well-equipped OTs and ICU according to critical care standards. The fully equipped twin operating theatre facilities.
Address: 2, Sawai Mansingh Rd, Dusadon Ka Bagh, Rambagh, Jaipur
Phone: 0141-2560291, 0141-2518203, 0141-2518222
Eternal Heart care center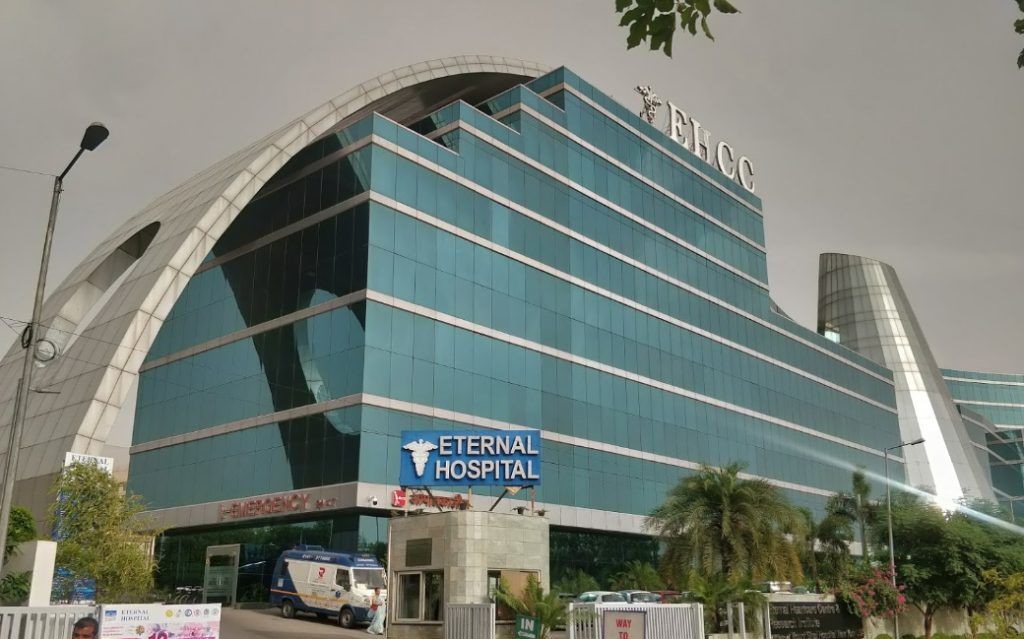 EHCC is a state-of-the-art tertiary care hospital in Jaipur city. Founded in 2013, today it is one of the most preferred hospitals not only in Jaipur but also nationally and internationally. It brings the best in multispecialty treatment. As a hospital, it works with Mount Sinai Hospital, New York, USA to educate students and advance the future of the medical profession. The Eternal hospital is the only hospital of the state with JCI accreditation (USA Based organization). The hospital is also accredited by NABH, NABL. The exclusive services and excellent medical outcomes delivered at this hospital has made it in the list of the top hospitals to work in Jaipur. Enough reasons to be in the top ten hospitals in Jaipur when looking for a job. If you are interested in becoming a part of the Eternal Hospital family please go ahead.
Features: 250-bed facility, state-of-the-art technology, focusing on the specialties like Cardiology, Cardiac Surgery, Neurology, Neuro Surgery, Orthopaedic & Joint Replacement, Spine Surgery, Nephrology, Paediatrics, Gynaecology, Critical Care, Urology, Pulmonology, Gastroenterology, Diabetes and Endocrinology and many more.
Address: 3-A, Jagatpura Road, Near Jawahar Circle, Jaipur
Phone: 0141-5174000, 1800-121-3422
Rukmani Birla hospital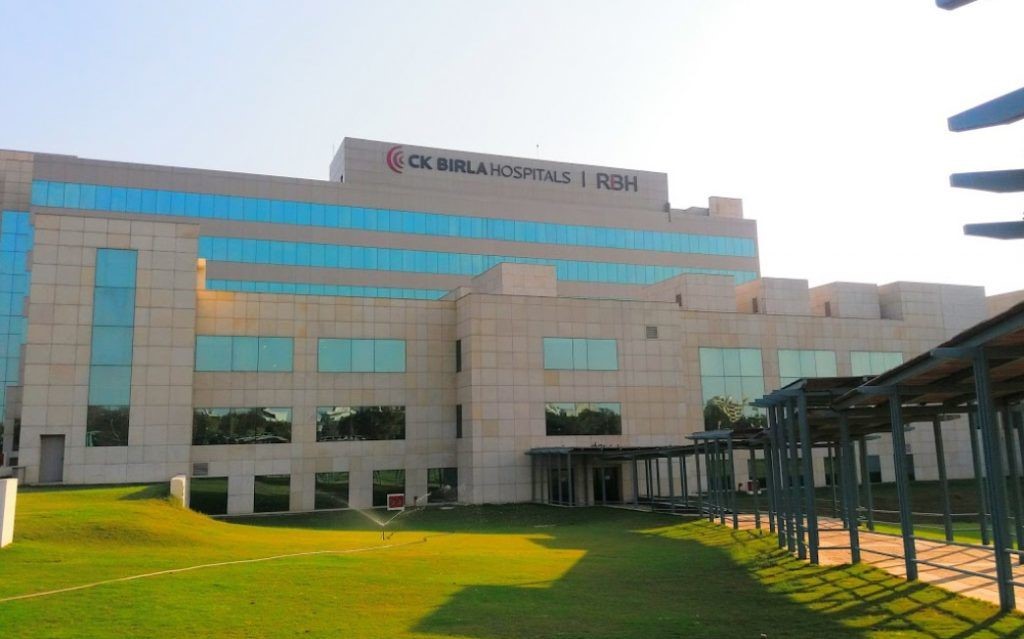 Over four decades, the Rukmani Birla Hospital has set milestones in the Healthcare Industry. The hospitals are intrinsically bound by three integrated philosophies which are Clinical Excellence, Ethical Conduct, and Patient Centricity. These operating philosophies have been pivotal in making the hospitals grow and serve people who are in need of quality healthcare. This hospital very well understands that to deliver the best care, it's the staff who should be given the utmost importance which core is in the hearts and minds of their team. Work with the best clinical and service professionals of the country at Rukmani Birla hospital. Embracing equal employment practices, they invite job seekers to visit them and to see if this is the right place for them to work.
Features: NABH accredited hospital, 230 plus beds with comprehensive outpatient and inpatient services, the latest technology and modern infrastructure. 24 fully equipped state of the art specialized healthcare departments, each with a team of highly trained doctors and nurses.
Address: Near Triveni Flyover, Gopalpura Bypass Rd, Shanthi Nagar, Jaipur
Phone: 0141-3090309
Narayana Health Multispeciality Hospital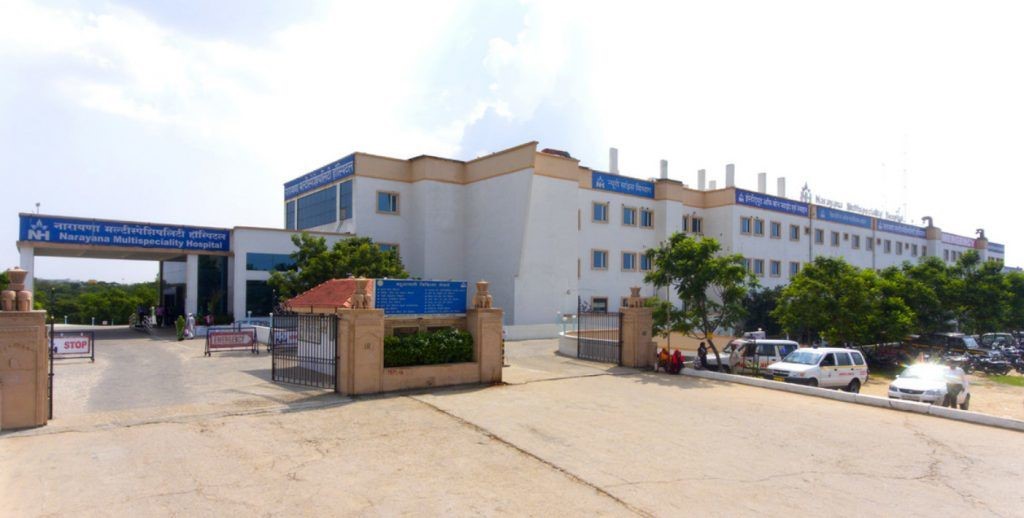 Founded in 2011 in the Jaipur NH Hospital is a tertiary care hospital with cardiology, neurosciences, orthopedics, and Nephrology its main specialties. Creating a perfect combination of excellence in technology, expert doctors, high-class infrastructure and quality health care, Narayana health Multispeciality hospital has created a niche for itself in the medical domain. They have made almost every treatment available for various medical disciplines, the hospital has gained a significant name in the healthcare domain. Their vision is to provide world-class health care to all they serve. Job seekers can contribute a lot if they decide that NH Hospital is the right place for them.
Features: Spread across a vast area of 4.7 acres,
330 hospital beds for treatments, 80 beds for CCU, 21 beds for dialysis,
24/7 Emergency Services, and services such as  Pharmacy, Blood Bank, Laboratory, Radiology, Ambulance,
11 state-of-the-art OTs with Laminar airflow,
4 Cardiac Surgery OTs,
2 Flat Panel Cath Lab,
Radiology: 128 Slice CT Scan, 1.5 Tesla MRI,
Hol YAG Laser Technique for Urology procedures,
JCI (Joint Commission International) accreditation,
Round the clock emergency service,
High-quality care at affordable costs
Address: Sector 28, Kumbha Marg, Pratap Nagar, Sanganer, Jaipur
Phone: 186 0208 0208
Surya Hospital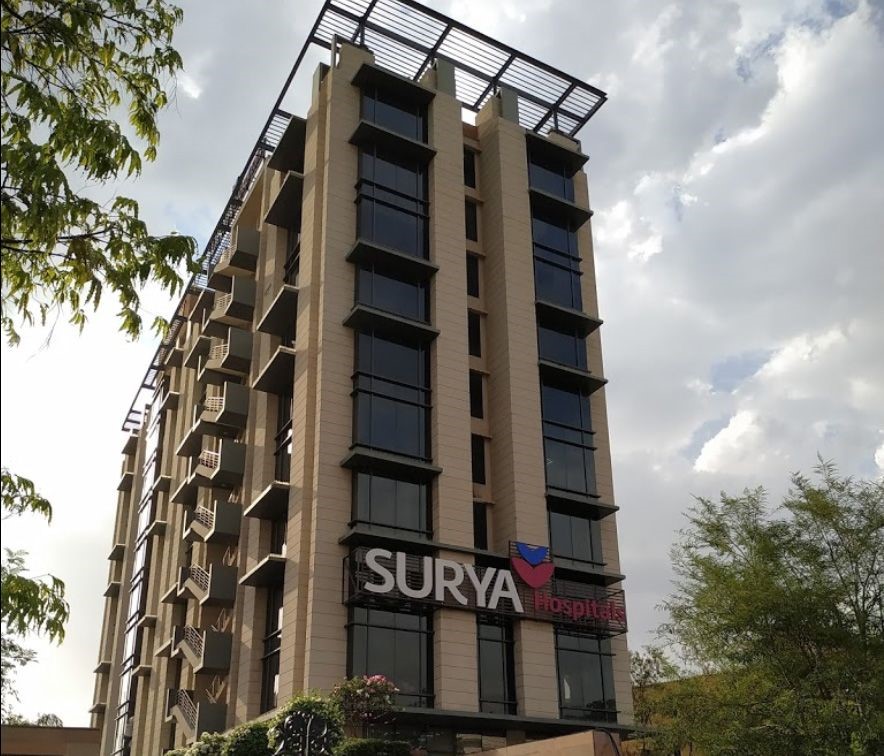 Right from its inception, Surya Hospital in Jaipur has taken large strides in the field of health care to become one of the best Paediatric health centers in the Pink city. They leave no stone unturned in providing the best care. With excellence in healthcare facilities for women and Children, this hospital offers a wide range of opportunities for future candidates. They work with a mission to create groundbreaking scientific and clinical advancements and training the next generation of experts in child health. Learn with the progress of their experienced team, get ready to join Surya hospital as the best hospital to work in Jaipur.
Features: 122 Bedded with best 42 bedded Neonatal ICU,10 Paediatric ICU, and 5 Bedded adult ICU,
3 well- equipped operation theaters ultra-modern combined with advanced laparoscopic facilities and world-class amenities
Level III NICU, PICU, IVF clinic,
24/7 dedicated emergency care, and emergency ambulance transport,
ISO 9001:2008 certified hospital
Address: Ram Singh Road, Opposite SMS Hospital, Jaipur
Phone: +91-141-4333777
Bhagwan Mahaveer Cancer Hospital & Research Centre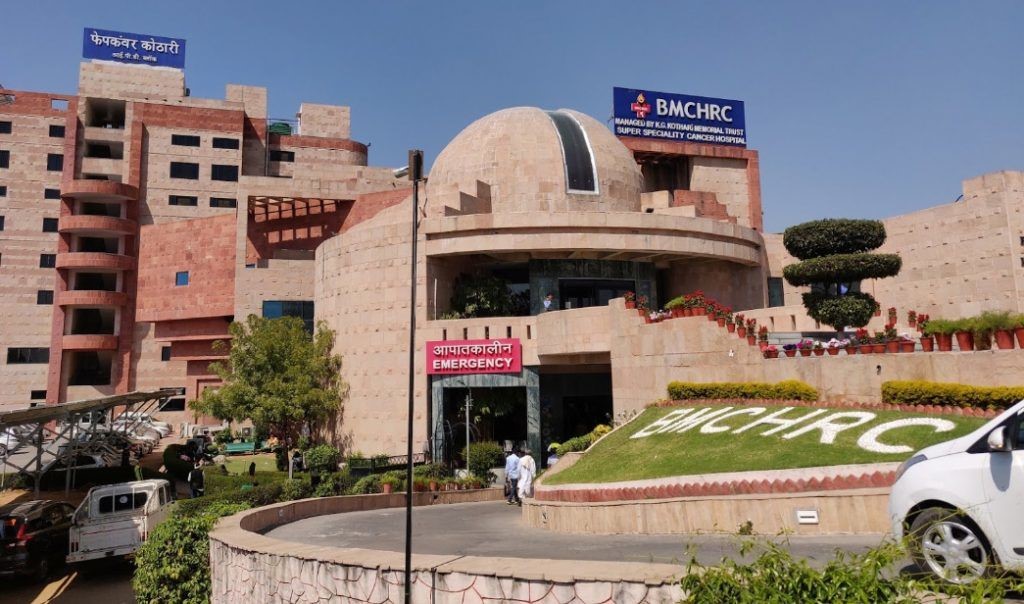 Since its establishment in 1997, Bhagwan Mahaveer Cancer Hospital most advanced medical services to Cancer Patients. Their qualified and infinitely experienced team of Medical professionals with the latest technologies in cancer treatment has achieved landmarks. They have helped many underprivileged patients, providing treatment for free up to the extent of 25%, but also offer subsidized cost of treatment. This hospital is recognized for the passion of their people who provide quality, innovative care to the patient who they serve in the community. Want to be a part of their team? Choose them as it is one of the best hospitals to work in Jaipur.
Features: NABH accredited institution,
200-bedded hospital,
Leading-edge infrastructure,
Several wards, laboratories, utility services, and specialties.
Departments like Surgical Oncology, Medical Oncology, Radiation Oncology, Radiology, Pathology, and Blood Bank.
Separate seven-storied IPD block
Address: Jawahar Lal Nehru Marg, Jaipur
Phone: 91-141-2700107, 2702106, 2702120, 2702899
Shalby Hospital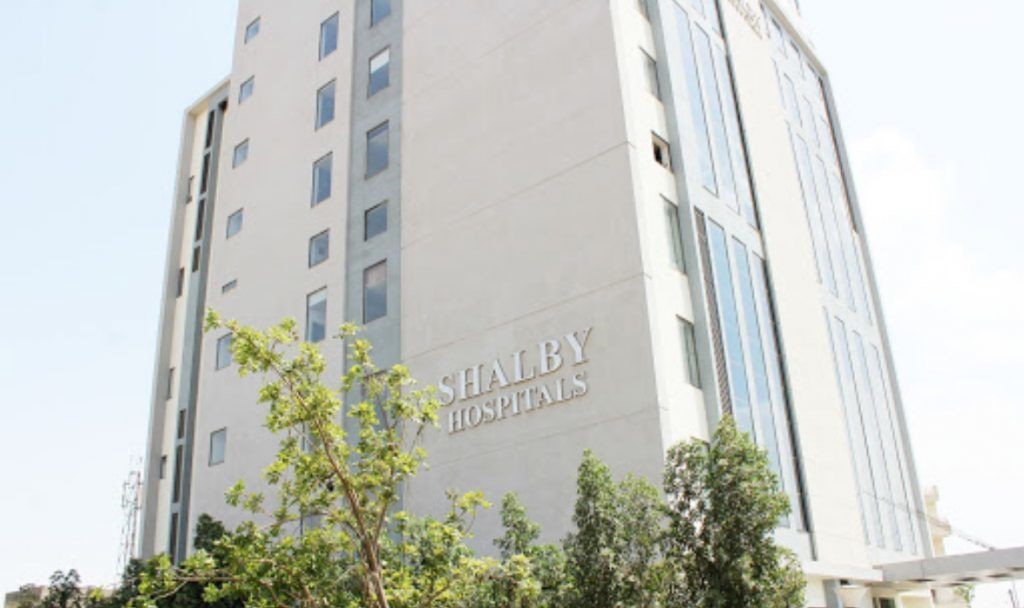 Displaying class and magnificence in every aspect of health care, the Shalby Hospital in Jaipur is an epitome of medical brilliance. With a boast of facilities and a pool of doctors acclaimed globally, this health care institution is ranked amongst the best across Jaipur. Shalby Hospital is a Leading Multi-Speciality Hospital in Jaipur providing Quality & Affordable Medical Treatment & Healthcare Services. Also, they are renowned for world-class Knee Replacement Surgery. They follow the best practices with higher ethical values for excellent outcomes. It is the best hospital to work in Jaipur as they have something for everybody interested in a healthcare career. Shalby hospital might be the right place for you leading to a successful and satisfying job.
Features: Spread over a 42,033 Sq. ft area,
NABL & NABH accreditation with CQI certified professionals,
Fully equipped multi-specialty hospitals,
237 beds, 23 operational beds for CCU, surgical & neonatal care.
Multispecialty care across various spectrum,
Advanced Radiotherapy Centre equipped with Varian Trilogy Radiotherapy machine,
The latest model of Linear Accelerator with Flattening Filter Free (FFF) beam technology,
Comprehensive Cancer unit.
Address: Chitrakoot Sector 3, Jaipur
Phone: +911417123889, +9114171240000