Ghevar is a traditional Rajasthani mithai or sweet dish that originates from the state of Rajasthan but is also popular in the surrounding states. The association of Jaipur with Ghevar is inviolable. Some candy stores are synonymous with this delicacy and specialize in the preparation techniques. If anyone is wondering which candy is famous in Jaipur, the answer is Ghevar.
Ghevar is specially made and consumed during local festivals such as Teej, Gangaur and Makar Sankranti. In some places it is associated with the Indian festival of Raksha Bandhan or Rakhi. In this region, Ghevar is synonymous with the Teej Festival which falls in the Hindu month of Savan or the monsoon season in July or August.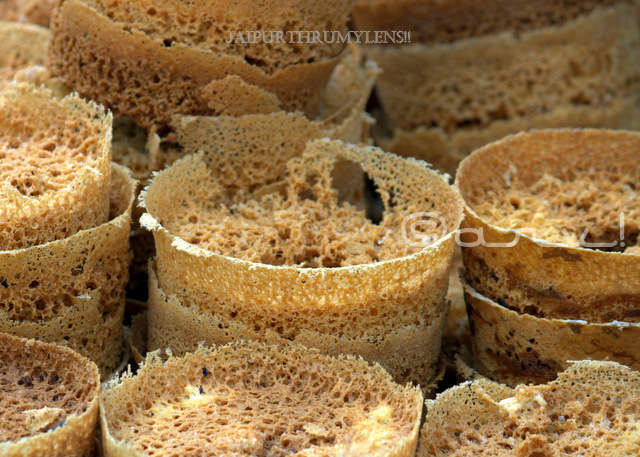 What is Ghevar?
Ghevar is a disc-shaped Indian sweet with a honeycomb pattern. It is prepared with maida (refined flour) and ghee (clarified butter). Some people mix a small amount of besan (gram flour) to enhance the taste. These ingredients make a batter that falls from a height into pipes of Ghee or hot oil (as a cheaper substitute).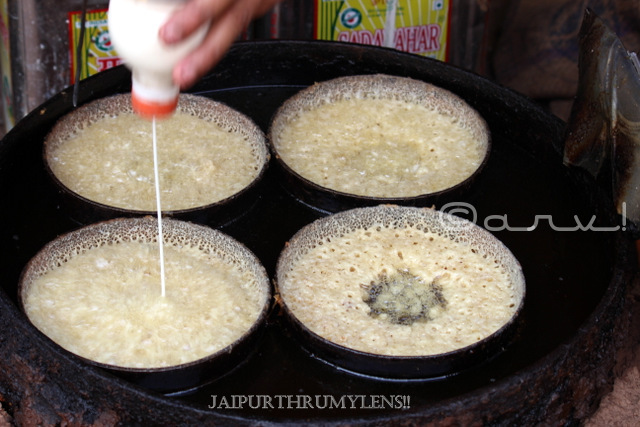 Local candy stores use a special disc-shaped metal mold during preparation to give it a round shape. While the ingredients are simple and readily available, the trick to making a good Ghevar lies in the preparation technique; timing is the most important factor.
Here is a link to a video showing how Ghevar is made in a local's workshop halwai/ candy store.
When it is ready, it is dipped in sugar syrup and sold as a sweet variety.
Ghevar is sold in two styles. Sweet and unsweetened. The first has a short life and should be consumed within 3-7 days. The latter has a shelf life of 20-30 days. There are many variants of Ghevar. The most popular of these is Paneer Ghevar. LMB candies claim to have mastered its technique.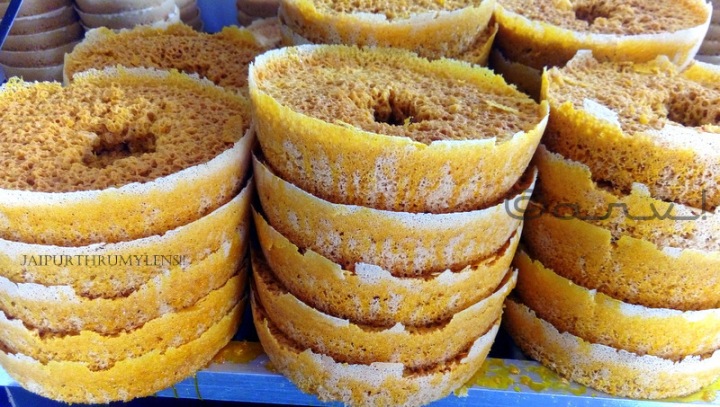 Paneer (curd cheese) Ghevar does not mean that it is prepared from the usual paneer sold in the market. To make Paneer Ghevar, thick curd or Chhena is mixed into the batter. The seller insists that this variant has a longer shelf life and is tastier than the regular one. Even milk Ghevar is also popular in Jaipur. In this case, milk is added to the batter.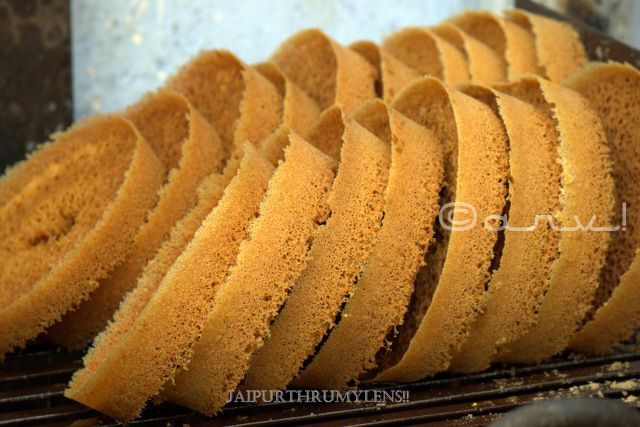 Price of Ghevar in Jaipur
Ghevar is an expensive delicacy and is sold from Rs. 660/kg to Rs. 1700/kg for the unsweetened varieties. This variation in price depends on the size and the seller/shop. The sweetened ones start from Rs 600/kg. LMB Sweet sells Ghevar per piece; a LMB Ghevar cost Rs 670!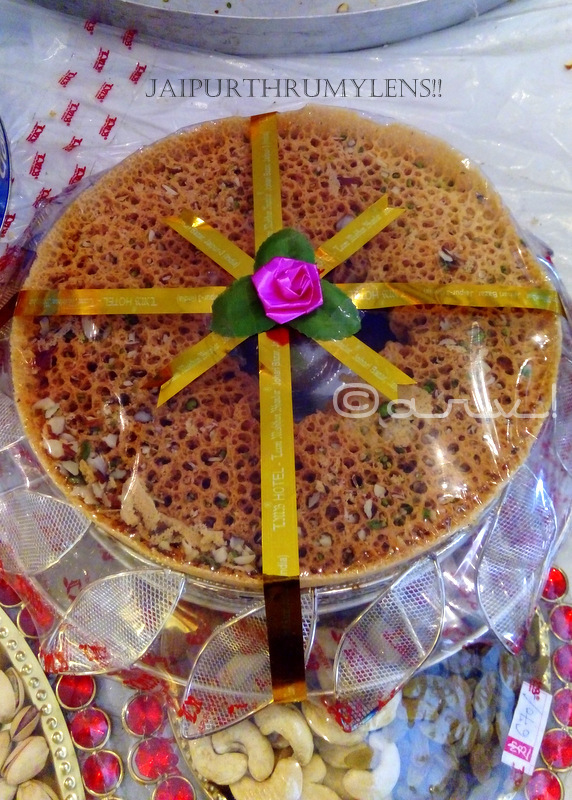 These prices are for the ones prepared by Desi Ghee. You can find that Ghevar made from hydrogenated vegetable oil is sold at a third of these prices. And this is what is sold in large numbers, especially in rural areas. It is not sold all year round in most stores except for a few. LMB Sweet is one such shop in Johari Bazar Jaipur.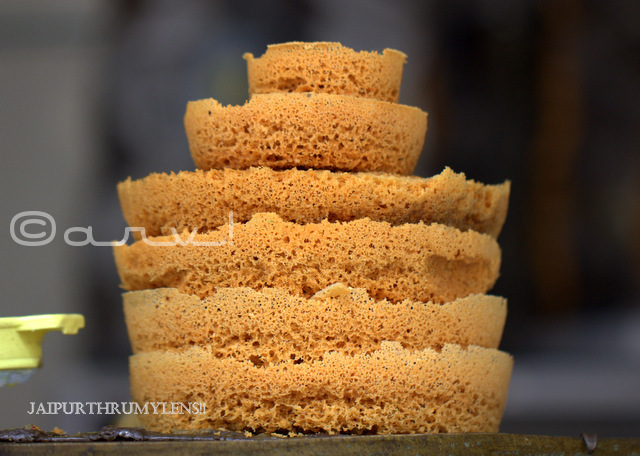 Malai Ghevar is highly sought after and is for immediate consumption. The sweet Ghevar is covered with a layer of Malai (fat obtained by heating milk) and sometimes it is sprinkled with dry fruits and nuts or Vark.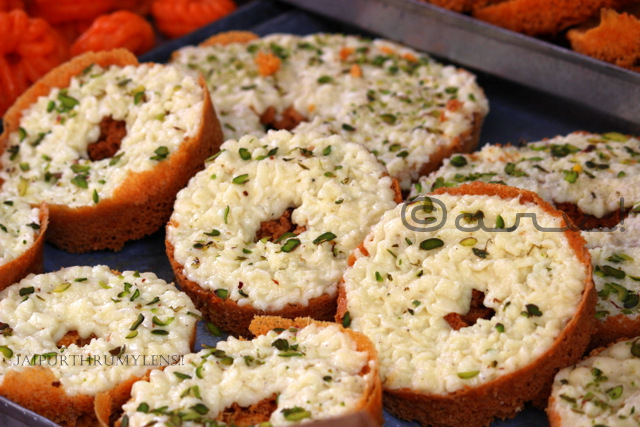 What is the history of Ghevar?
Unfortunately, there is no information about its history. Some people claim that it made its way to India many centuries ago with the Mughals or perhaps the artisans who came from the Middle East. There is no data to prove this theory. I think it is safe to assume that Ghevar owes its origin to Rajasthan, rather than all written documents. There is another group of people who believe that Ghevar has its origin in Uttar Pradesh. The popular opinion is that it is a Rajasthani Mithai.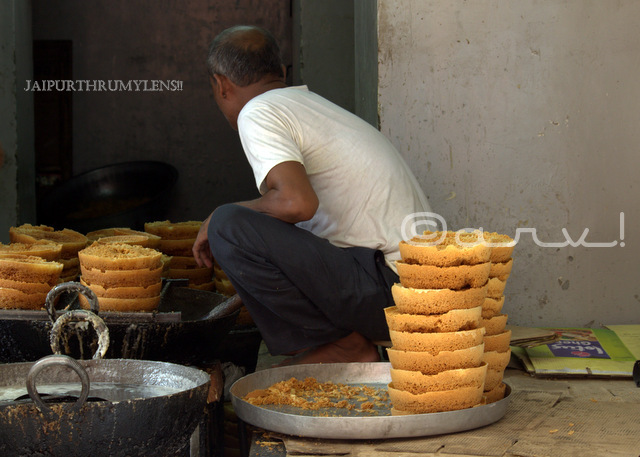 Why is Ghevar associated with Teej?
According to the customs and rituals, Ghevar is sent as a gift by the parents of the married daughters as a blessing for her happy married life.
Savannah month is associated with Lord Shiva and his union with Parvati. They are considered to be an eternal pair. Ghevar is a symbol of blessings and love showered by parents to married daughters. According to local custom, mothers-in-law shower their daughters-in-law with gifts in the first year of their marriage. After that, Ghevar and other gifts are sent by her parents every year teej. On Sinjara, women visit the parental home together with Ghevar.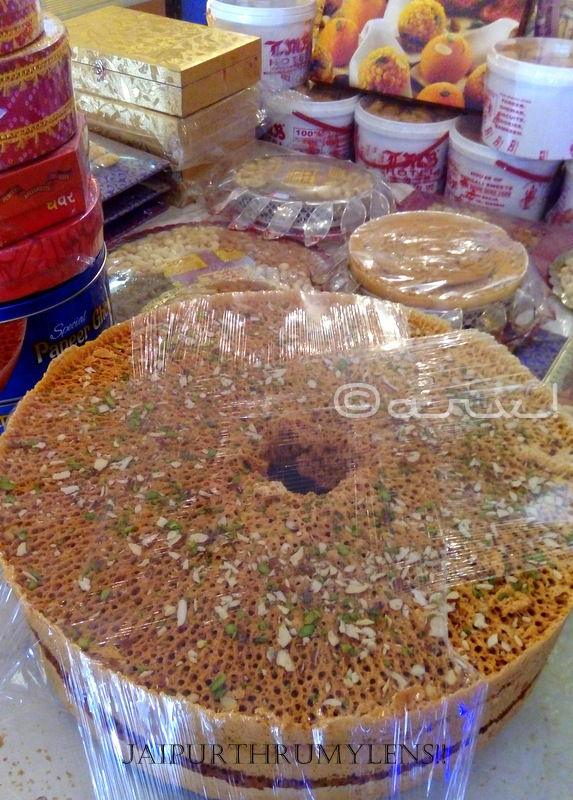 Best Places to Buy Ghevar in Jaipur
Ask anyone in Jaipur and people will suggest different shops. Regular travelers to the city recommend LMB sweets in Johari Bazar as it has been marketing Paneer Ghevar for years.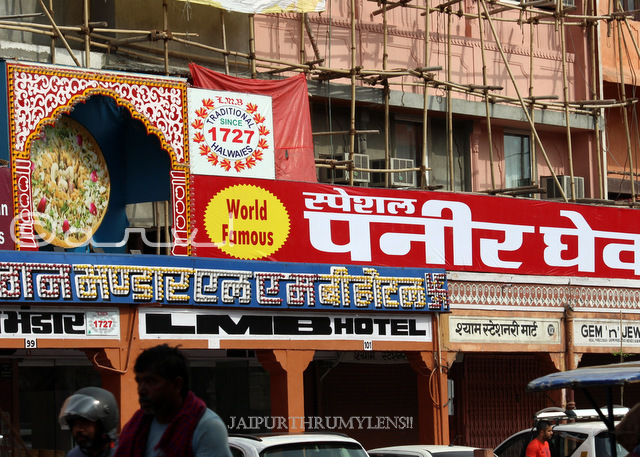 Even though the LMB candy writes "since 1727" don't be fooled. This shop only started in the 60's!
It doesn't mean that other stores don't make good Paneer Ghevar. The following are the names of sweet shops in Jaipur popular among locals for Ghevar.
Sambhar Fini in the Johari Bazaar is famous for both Ghevar and Fini, another sweet delicacy from Rajasthani. The store is located in Ghee Walon Ka Rasta, Johari Bazar.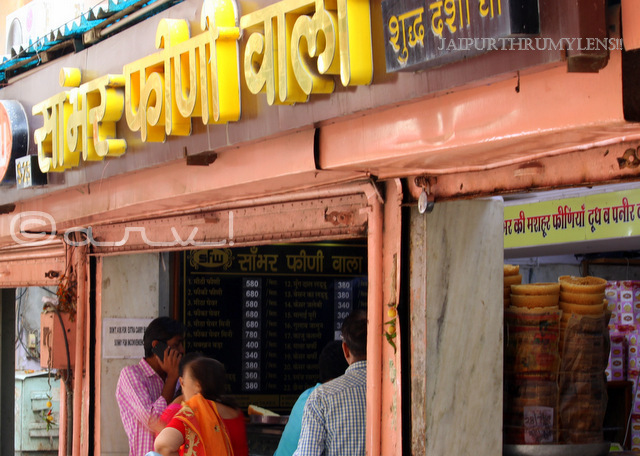 Ajeetmal Agarwal Sambharwala owes its origin to a small town near Jaipur, Sambhar. The shop looks dated and has retained its old world charm. City dwellers who grew up in the walled city vouch for its quality. Those looking for a chic and chic outlet will be disappointed. Just because this outlet looks old doesn't mean they sell at low prices. Their rates are comparable to the new age candy stores. The USP of this Ghevar store is that they only sell Ghevar and Fini. They specialize in making these two authentic Rajasthani Mithai.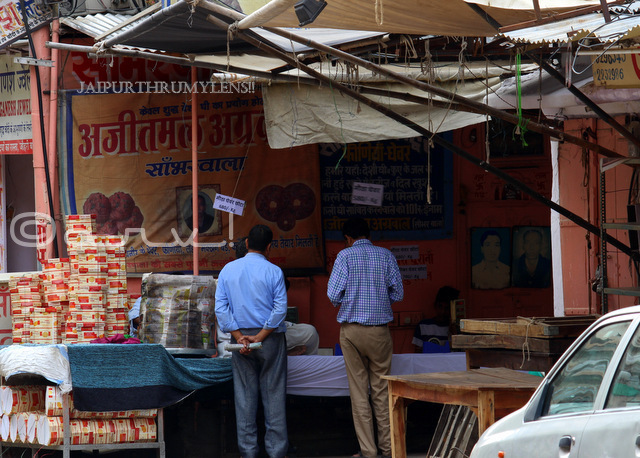 BMB candies near Sanganeri Gate (Johari Bazar) is a popular sweet shop. It is not known for its legendary taste of Ghevar; the location definitely gives them an edge. BMB also has a branch at the Tonkweg.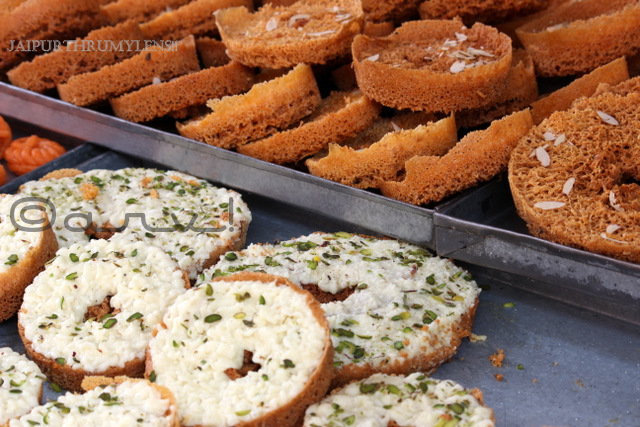 soda sweet is one of the most popular candy store chains in Jaipur. They owe their origin to a small avenue in Johari Bazar – Partanion Ka Rasta but are now present with 3 outlets in the city. While not specifically famous for Ghevar, you can't go wrong with Sodhani sweets as they are the jack of all trades! You can find them in Johari Bazar, Tonk Road and Ajmer Road.
Rawat Misthan Bhandar is popular with both locals and tourists for its famous Pyaaz kachori. They are also popular for Bengali sweets and Ghevar.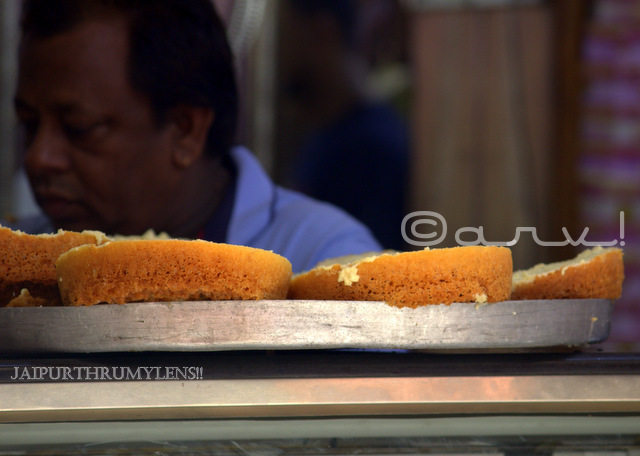 Other candy stores like Kanji, DMB, Kanha and others also sell Ghevar. In fact, it's not uncommon for it to be sold in every candy store during the season. It's hard to recommend a shop for the best Ghevar in Jaipur!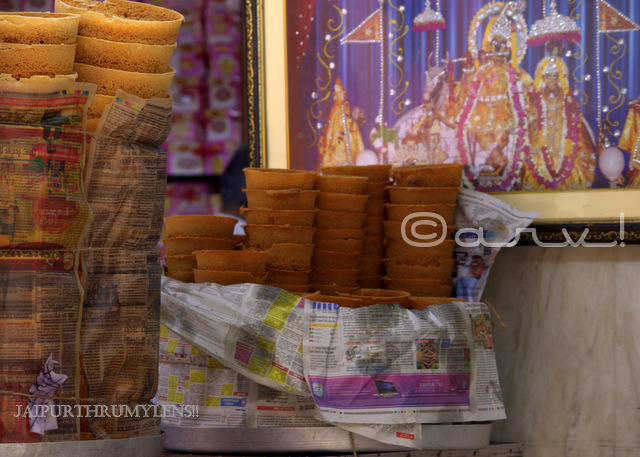 Hanuman Ji Ka Rasta used to be a popular street to buy Ghevar. An old shop owner who only makes Ghevar told me that their shop has a history of two and a half centuries. For years they have been churning out Ghevar in large numbers every day but lately they have lost it to the new stores. The current generation is not aware of the existence of such a historic Ghevar store. This shop has made a strong contribution to the history of Ghevar making in Jaipur.
How to eat Ghevar? Sweetened vs Unsweetened
What does the unsweetened taste like? People buy Ghevar for dessert and to celebrate happy occasions. Those who buy unsweetened Ghevar do so either to have a longer shelf life or prefer freshly prepared sugar syrup because the sweetened variant is soggy. The best way to eat Ghevar? If you like it crunchy, the trick is to prepare sugar syrup and pour it over the Ghevar just before eating. If you don't like or worry about the crunchy, the sweet from the store shelf is the best way to enjoy this Rajasthani delicacy.
How do you store a Ghevar & shelf life?
It is best to buy an unsweetened Ghevar, as it can easily be stored for 15 days in a dry climate. Shelf life decreases in humid conditions. One can always prepare sugar syrup when consuming it. For the sweetened version, it will keep for 3-5 days, depending on climatic conditions. Most people generally buy a sweetened version from the store and the best way to store this Ghevar is to air it once and store it in an airtight container in the refrigerator.
Check out other posts in Jaipur Food Guide
Stay tuned with Jaipurthrumylens!! through: Facebook, Twitter, Instagram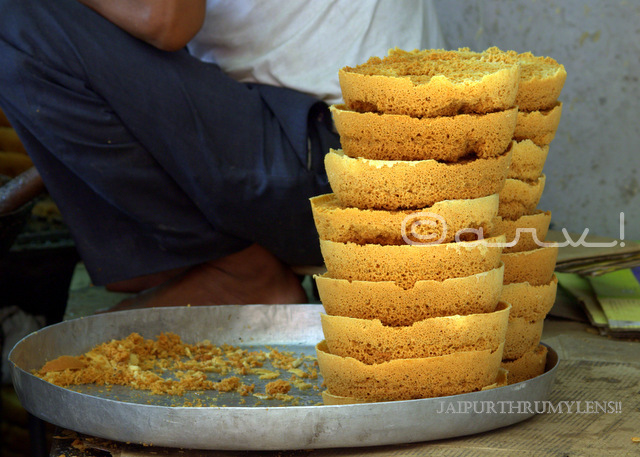 If you visit Jaipur, take a bite and enjoy this Rajasthani delicacy. It's totally worth it! If you don't, your loss!