Jaipur has a valuable legacy of heritage temples built by the royalty. The Kacchawa Rajput rulers of Jaipur were devout followers of Lord Krishna and built many temples in the city. If you are a regular reader of JaipurThruMyLens, you must have read about some of these heritage temples in Jaipur. While most of these are open to everyone, some are an exception. The Raj Rajeshwar Temple is one of them. This temple, dedicated to Lord Shiva, is part of the Jaipur City Palace. It is only open twice for "Darshan" – Maha Shivatri and Govardhan.
History
The temple was established in 1865 AD/1921 Vikram Samvat by Maharaja Sawai Ram Singh II. The rulers of Jaipur were ardent Lord Krishna followers except Maharaja Sawai Ram Singh II. He was a pious Shiva Bhakt. This humble temple is a departure from the usual palatial temples built by the Jaipur royalty such as Ramchandra Temple. The probable reason could be the lack of space, as it was built almost 125 years after the city palace was founded. The space in the palace must have been "managed" to house a temple.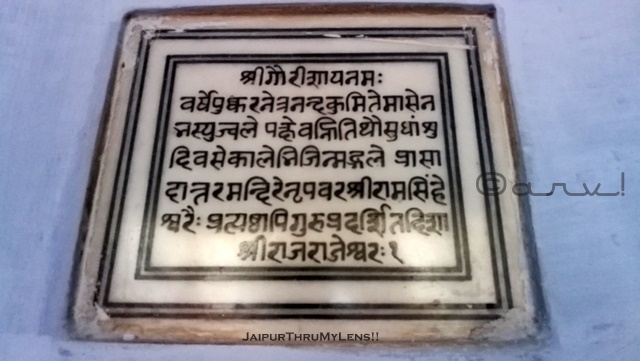 Here is a picture of the city palace as seen from the temple. Seen here are the Chandra Mahal in the background and Pritam Chowk in the foreground. Pritam Chowk is famous for the four beautiful city palace gates representing the four seasons. These gates are very popular among travelers. They are one of the best Instagram worthy spots in Jaipur, especially the Leheriya and Peacock gate.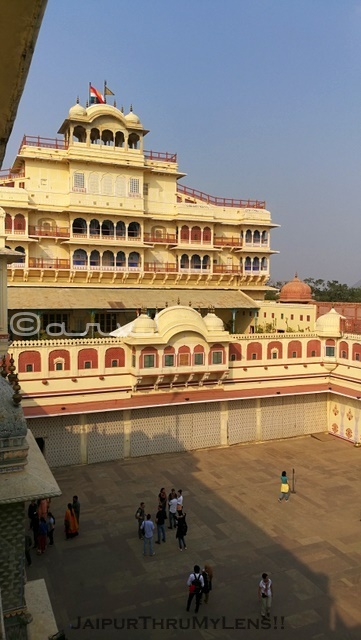 Who was Maharaja Sawai Ram Singh II?
Maharaja Sawai Ram Singh II is one of the prominent kings of Jaipur who reigned between 1835-1880 AD. As a forward-looking and development-oriented ruler, he undertook many initiatives including the construction of a modern hospital, schools and colleges in Jaipur. He is credited with, among other things, the reorganization of the police and tax authorities, the construction of gas lighting for streets and the piped water system. His rule is associated with peace and development. He was one of the first photographers in India; probably the only photographer king of his time.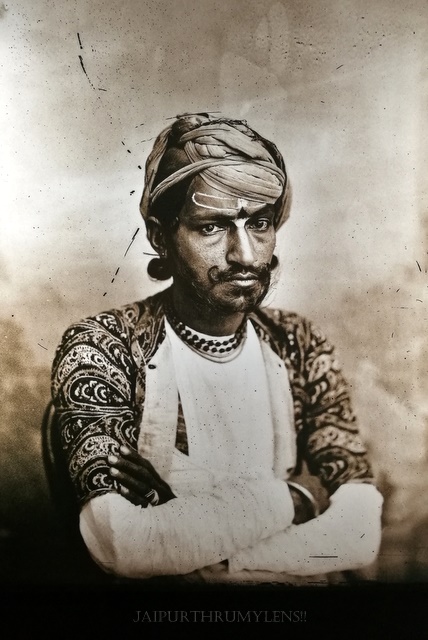 The visit to Raj Rajeshwar Temple
The entrance to the temple is through Chandni Chowk. Here is a picture of the same from the previous post Rang Malhaar | Welcoming the monsoon in Jaipur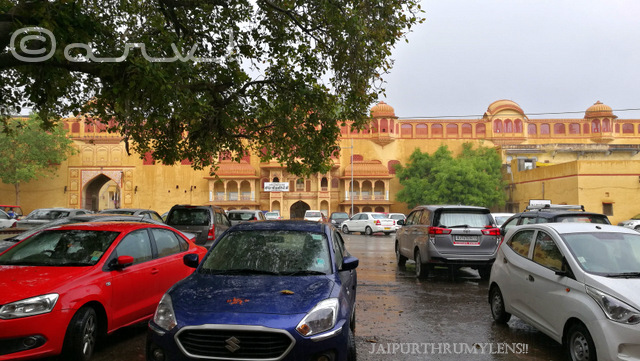 The temple is located near the royal kitchen and sandwiched between Mardani (male) and Janani (female) Deori. Janani Deori housed the royal women. This part of City Palace is closed to the public. It is a looming lawsuit between the City Palace/Jaipur royal family and the state government over the property dispute.
The temple is accessible through a large number of galleries and corridors. I visited this temple on the occasion of Maha Shivatri. People living in the walled city maintain the tradition of visiting this temple on this day. The temple was teeming with devotees.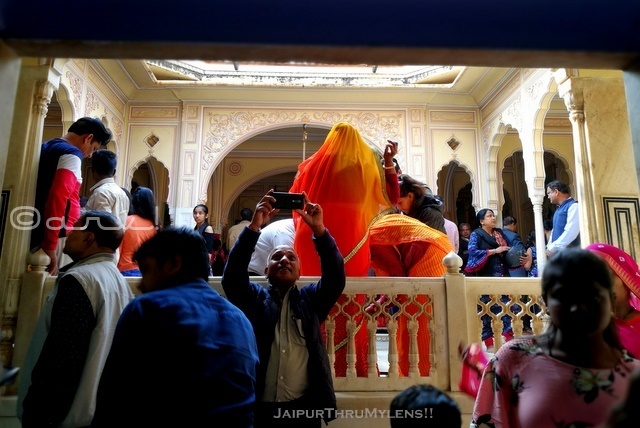 Luckily this is a lesser known Shiva temple in Jaipur so the crowd wasn't bad. Other Lord Shiva Temples in Jaipur – Tarkeshwar Temple and Ekling Temple in Moti Dungari Fort witness a huge stampede.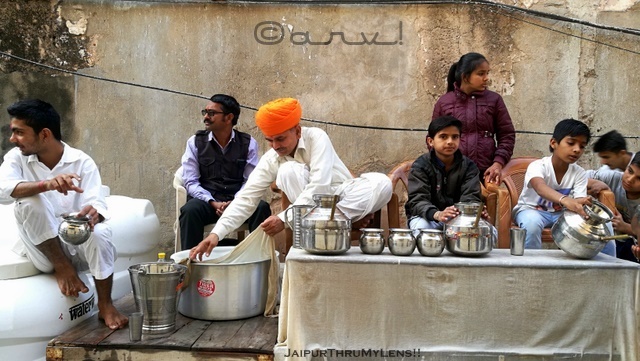 A group of volunteers was set up to provide water as people offer water to the Shivling in temples dedicated to Lord Shiva. While many devotees collect water from their dwellings, some chose to use the services of the volunteers to fill water into Ramjhara pots. Ram Jhara is unique to certain regions of India; it is a pot made of copper/brass/steel with an opening at the top and a long pipe on one side to pour water into.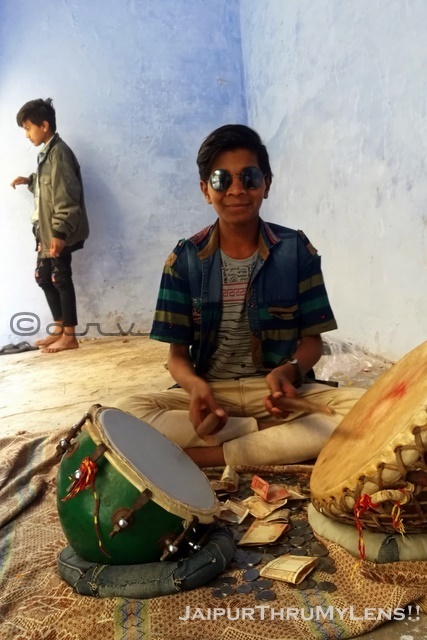 Ahead a young boy was playing the drums… Dhol. The mood was cheerful. I assume the children here were residents of Janani Deori.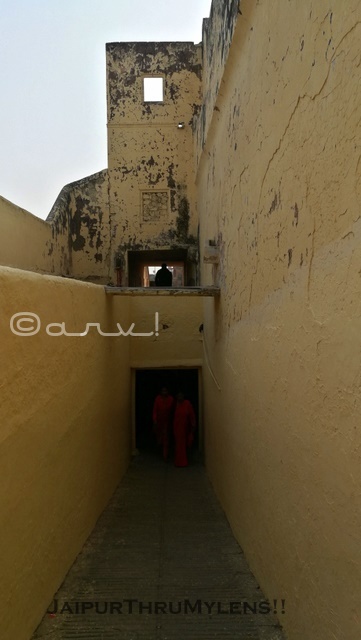 Crossing a long dark corridor similar to the one in Hawa Mahal, I reached an open roof. A few sentries guarded the grounds. One of the guards instructed people to take off the leather lap belts along with footwear before entering the temple.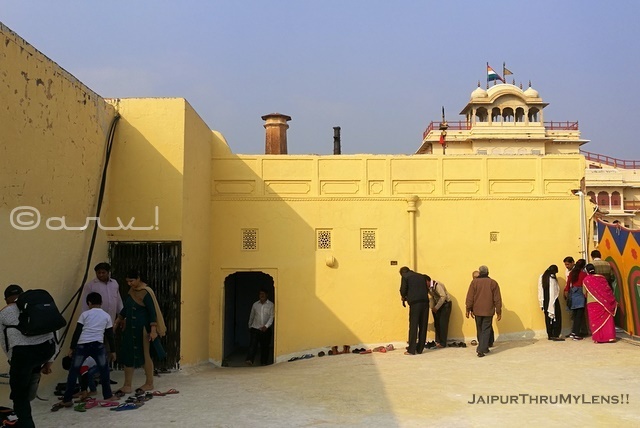 You have to enter a dark alley from this place before reaching the shrine. On the other side of the alley was another gate. I assume that this may have allowed Maharaja Sawai Ram Singh II direct access from the City Palace. The temple door has intricate carving with flowers and peacocks. Usually temple doors are covered with copper foil, but since this was a royal temple, it was covered with silver foil.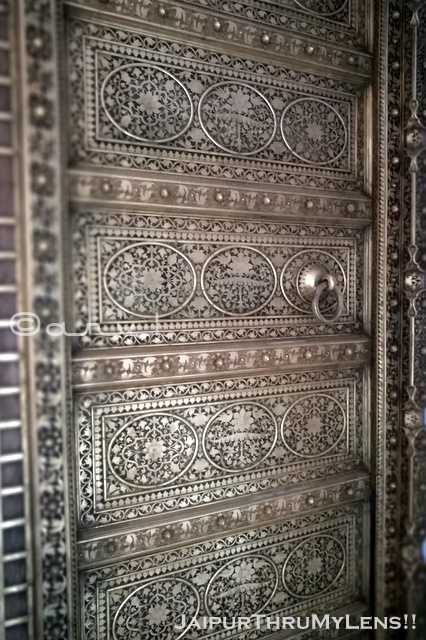 The entrance faces a small courtyard open to the sky.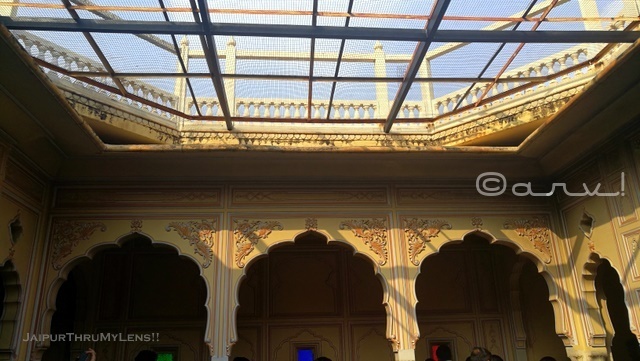 The temple has a simple but beautiful interior. Mughal-style niches and flowers decorate the wall and arches.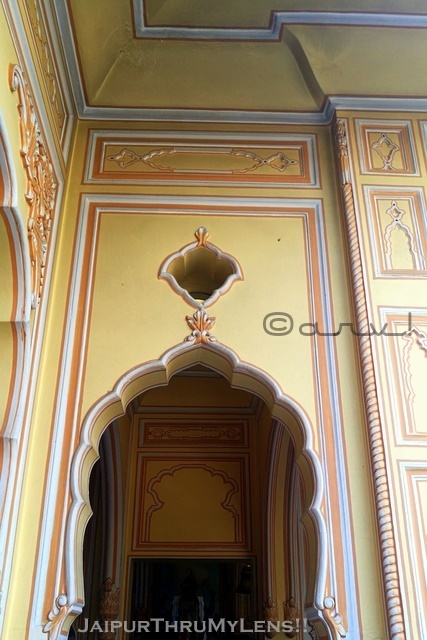 The only stone used in the temple is white marble. Here is a painting by Maharaja Sawai Ram Singh II of one of the walls in the temple.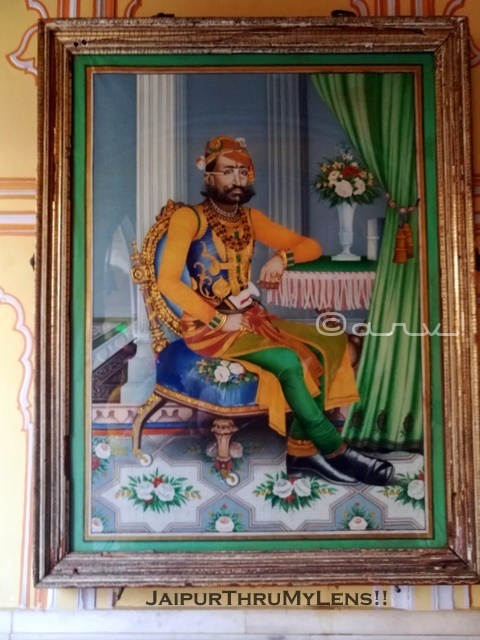 Red, green and blue glass windows provided a view of City Palace's Chandra Mahal.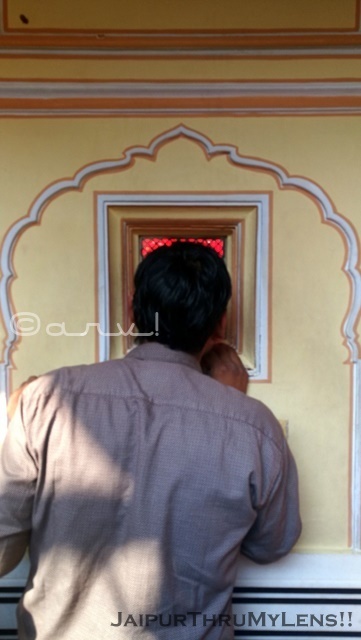 In general, Shiva temples are devoid of grandeur and simple. This temple deviates from this norm. The idol of Lord Shiva and Parvati are decorated with precious stones and gold. And they probably don't allow shrine photography for this reason.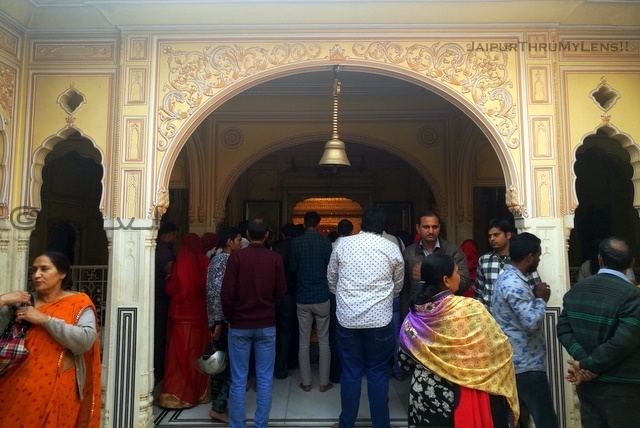 You might wonder why the temple is called Raj Rajeshwar? There are two different assumptions. The first is that the temple is also associated with tantric practice and Raj Rajeshwari is synonymous with the occult and Tatntic power. You can read my post about Sri Raj Rajeshwari Temple in Jaipur and its association with Maharaja Sawai Pratap Singh of Jaipur. The second suggests that this is a temple of the king – Maharaja Sawai Ram Singh II, it was called Raj Rajeshwar. We probably won't know for sure which one is true. The most famous Raj Rajeshwar Temple in India is located in Maheshwar. After spending a few minutes in the temple, it was time to return. Just as I reached the exit gate, I met this interesting gentleman with a beret in a merry mood. His name was Sanjay of Galta Gate and he offered to apply Gulal on the forehead. I asked his approval for a photo and clicked it on my smartphone.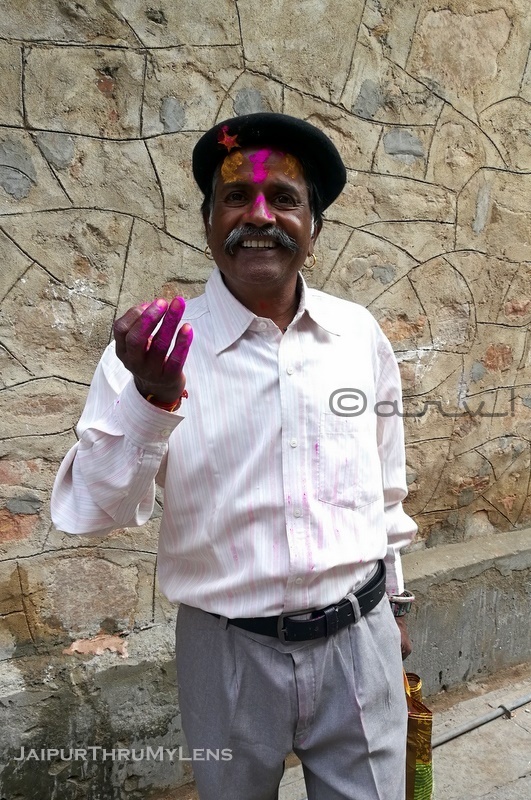 Raj Rajeshwar is one of the few temples that can be accessed from the Chandni Chowk area of ​​Jaipur City Palace. Other temples include Brij Nidhi Temple, Pratapeshwar Temple and Anand Bihari Ji Temple. Chandni Chowk is located behind the Tripolia Gate.
Significance of Raj Rajeshwar Mandir in Jaipur History
It is said that Maharaja Sawai Ram Singh II used to worship in this temple every day. The Tarkeshwar Temple is considerably older and he had this temple renovated. It was not possible for the king to visit every day for practical reasons. It is probably this must-have that prompted him to establish one in the palace building.
Maharaja Sawai Ram Singh II convened a religious conference called "Mod Mandir". Initially it was initiated by Maharaja Sawai Jai Singh in Amer and eminent and learned Brahmin chiefs would participate in it. The decisions of this committee were accepted throughout India. The meetings of Mod Mandir are said to take place in this temple.
Often the personal guests of the Maharaja Sawai Ram Singh II also visited the Raj Rajeshwar Temple. This temple differs from other Lord Shiva temples because of an element of "Tantra-Mantra" or occult power.
Two of the most famous aspects of Maharaja Sawai Ram Singh II are photography and being a Shiva devotee. Spending 2-3 hours in this temple was part of his daily life. Foreign visitors have reported in their travelogues that they had to wait for hours as the king was busy with his religious routine. He spent most of his time in a neighborhood close to this temple. Many considered him a Sadhu by nature rather than a king due to his preference for simplicity.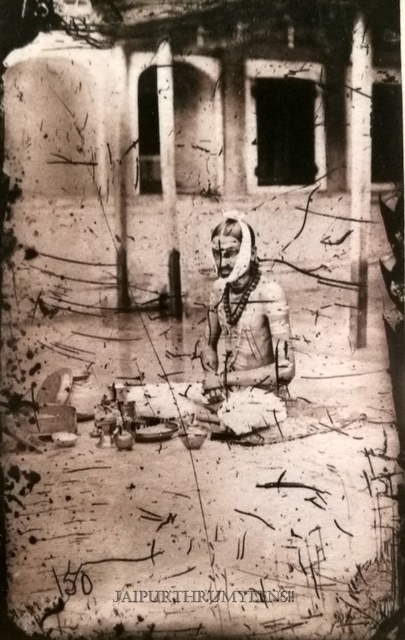 How to visit?
The opportunity to visit Raj Rajeshwar Temple is limited. The temple is only open to the public once and twice. One is Maha Shivratri and another during Diwali. I am glad I was able to visit the temple. For travelers who visit Jaipur and want to visit this temple, they should time this date well.
If you enjoyed reading this post, don't forget to share it on your social media.
follow me up Facebook Twitter Instagram