Always wanted to visit a place with a beautiful fusion of architecture and art? If yes, then you must visit Jaipur. Patrika Gate in Jaipur is one such place. It is the most Instagrammable place in Jaipur. This beautiful building is high on the list of Instagrammers, travelers and fashion bloggers. Hence, it is one of the most popular places for photo shoots in Jaipur. The building's perfect symmetry and an assortment of pastel-colored interiors are just right for a wonderful photographic occasion. There is no doubt that people will instantly fall in love with this building.
Guide Patrika Gate
Information about Patrika Gate is limited. What makes it even more difficult is that there is no information board on the site. The visitors have to guess. Here's everything you need to know about this highly sought-after spot among female travelers.
History of Patrika Gate
Who made the Patrika Gate? Patrika Gate takes its name from the newspaper and media company Rajasthan Patrika. It was built by Rajasthan Patrika in association with JDA-Jaipur Development Authority. The gate is built at Jawahar Circle near Sanganer International Airport, the southern end of JLN Marg, which connects Ramniwas Garden on the north side, and Jaipur International Airport on the south side.
In what year was Patrika Gate built?? Patrika Gate was completed and inaugurated in 2020. Here is a photo of the Patrika Gate as it was being built in 2016; it was not open to the public at the time. The project was supervised by Raghunath Singh of the Rajasthan Patrika team.
How old is the Patrika Gate? It is not very old as the construction of the gate started in 2015.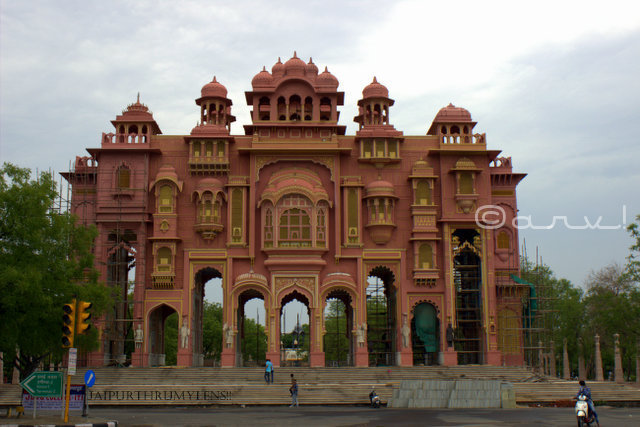 Patrika Gate was officially inaugurated virtually by Prime Minister of India Mr Narendra Modi on September 8, 2020, although it was opened to the public much earlier.
About Patrika Gate
The idea of ​​building this gate is connected with the old city gates of the walled city of Jaipur. When Maharaja Sawai Jai Singh II founded the Pink City in 1727 AD, he secured the perimeter with a wall and eight gates. The city was founded on the principles of: Vaastu and Ship Shastra. According to a distinctive feature of the layout, important buildings and temples were built on the same axis; namely Garh Ganesh Temple, Govind Dev Ji Temple, Jaipur City Palace, Triploia Gate, New Gate and Albert Hall Museum.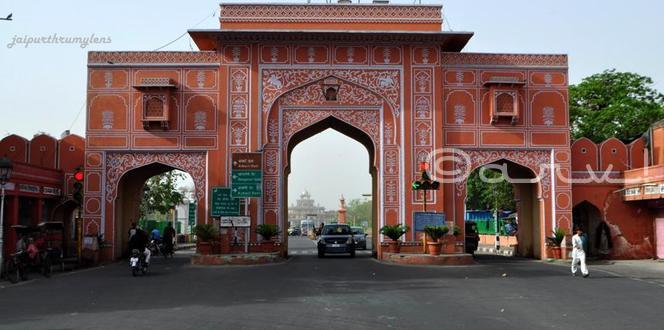 Both New Gate and Albert Hall were added much later, they were not part of the original plan. Jaipur City Palace was the core of the layout plan. This was the north-south axis while the east-west axis was defined by Chandpole Gate and Surajpol Gate with historic temples at both ends.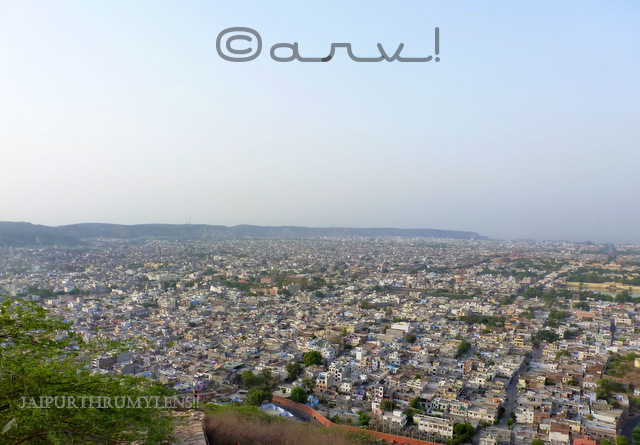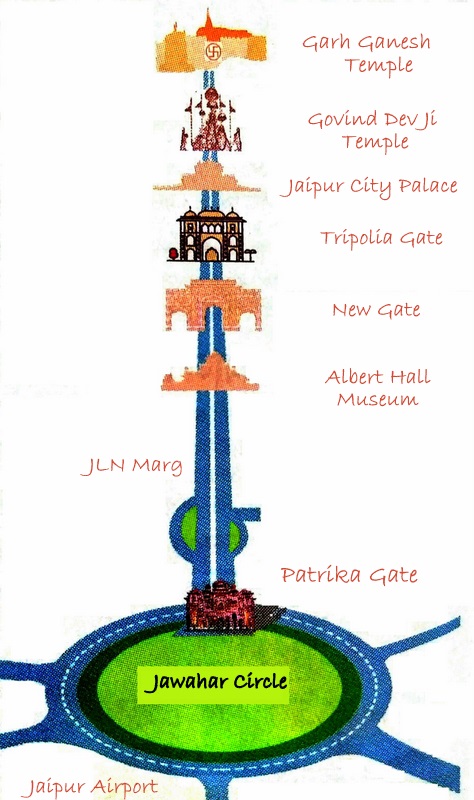 The role of Nine, a cardinal number
Said to be similar to the walled city, number nine plays a vital role in the making of the Patrika Gate. There are a total of nine pavilions. Each pavilion is 9 feet wide. The width of the gate is 81 feet and the height is 108 feet, which coincides with the width of the main markets in the walled city. Some experts claim it is 111 feet and not 108 feet. Patrika Gate is touted as the ninth gate of Jaipur.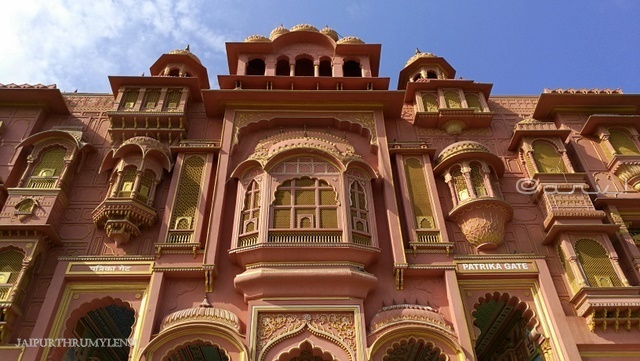 With this concept, Patrika Gate is inspired by the ancient architectural legacies. The facade is inspired by the traditional architecture and features Jharokhas, Pols, Pavilions and Chhatris. If you look closely, you can clearly remember some of Jaipur's prominent buildings such as Hawa Mahal, the Jaipur City Palace and a few temples.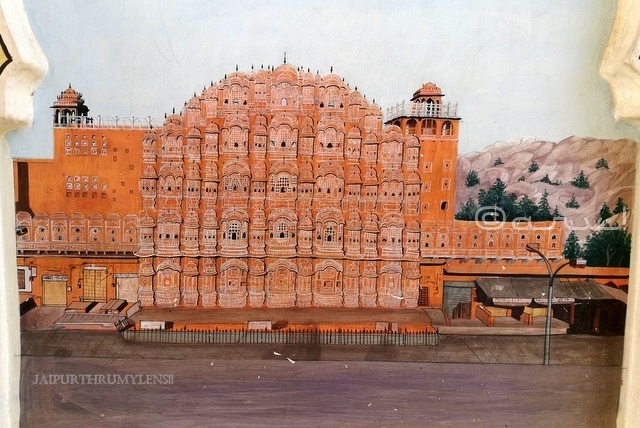 Architecture and interior
Every architectural element and design in the gate is unique and is not repeated. It is a remarkable place for architecture students and art lovers to find inspiration.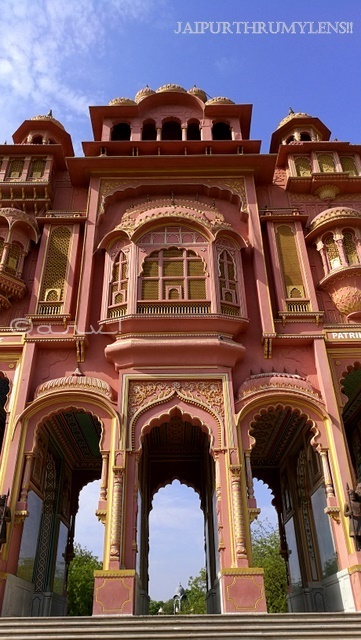 The facade of the building is pink in color, which is many shades lighter than the famous Jaipur pink-terracotta pink. The golden color is also used to accentuate some parts of the facade. The facade is flanked by figures of elephants, horses and soldiers. These are important elements associated with the bravery of the princely states of Rajasthan. Battles and wars are an integral part of the history of the princely Rajput states.
Looking at the architecture of the Patrika Gate, it is clear that the architect spent a lot of time creating the final design. It is difficult for a layman to understand the painstaking effort required to design this masterpiece.
Unraveling the design elements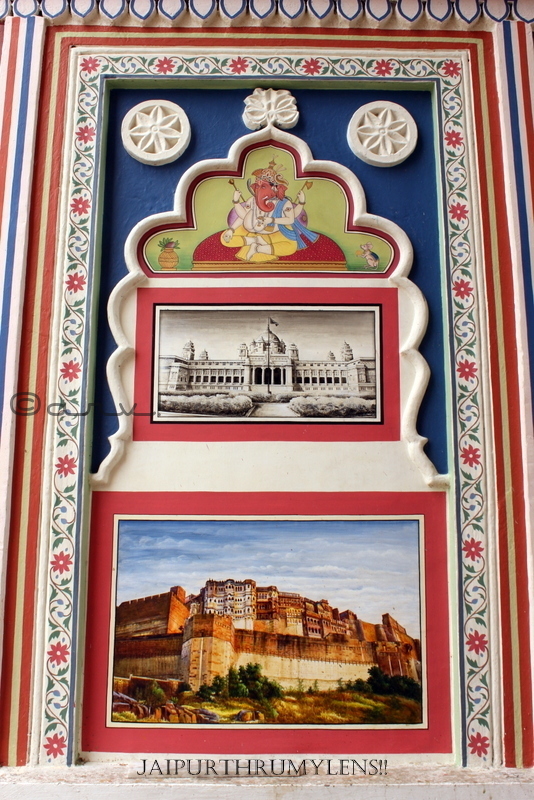 For example, in the image above, the design of each of the nine arched entrances or gates is unique and indicates the regions of Rajasthan. The following regions of Rajasthan have inspired the arched gate facade starting from east to west.
Gorwar region represents Pali, Jalore and Sirohi districts.
Ajaymeru Region Representing Ajmer, Pushkar, Kishangarh And Beawar Region
Marwar region is represented by Jodhpur, Jaiselmer and Nagaur
Shekhawati region consists of Sikar, Nawalgarh, Mandawa, Jhunjhunu, etc.
dhundhad region consisting of Jaipur, Tonk, Dausa and Sawai Madhopur
Braj region comprising Bharatpur and Karauli
mewar region covering Udaipur, Kumbhalgarh and Chittorgarh. represents
Vagad region with Dungarpur and Banswara
hadotic region is represented by Bundi, Jhalawar and Kota
Who designed the Patrika gate? Patrika Gate was designed by Jaipur-based architect Anoop Barataria. He also designed the World Trade Park in Jaipur.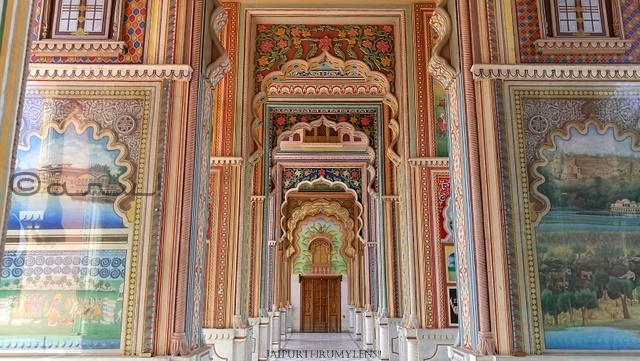 The images and elements of Rajasthan come alive in Patrika Gate through the hand-painted walls and ceilings. Each pillar and column depict the scenes from different regions of Rajasthan. One gets a glimpse of the rich architectural and cultural legacy of the state. The wall panels and ceilings are beautifully painted with intricate motifs and colors.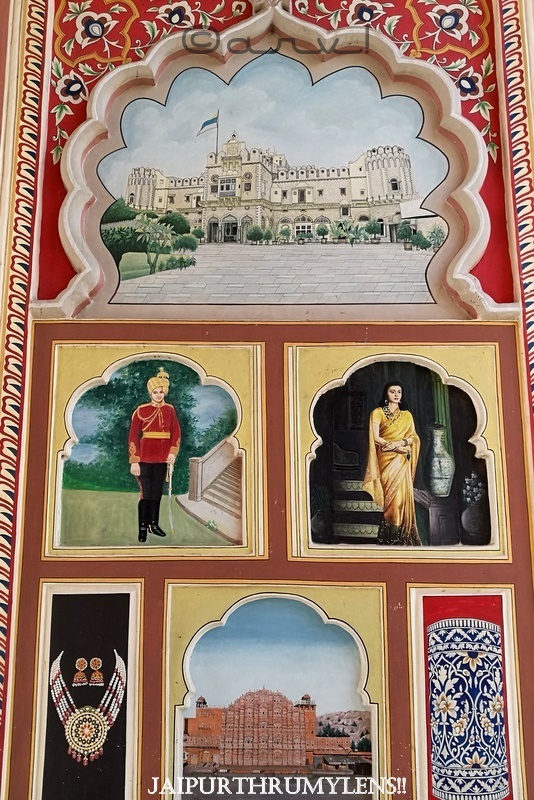 There are famous Bani Thani paintings, Jal Mahal, Mehrangarh Fort, Srinathji and legendary rulers just to name a few. It is impossible to list everything here.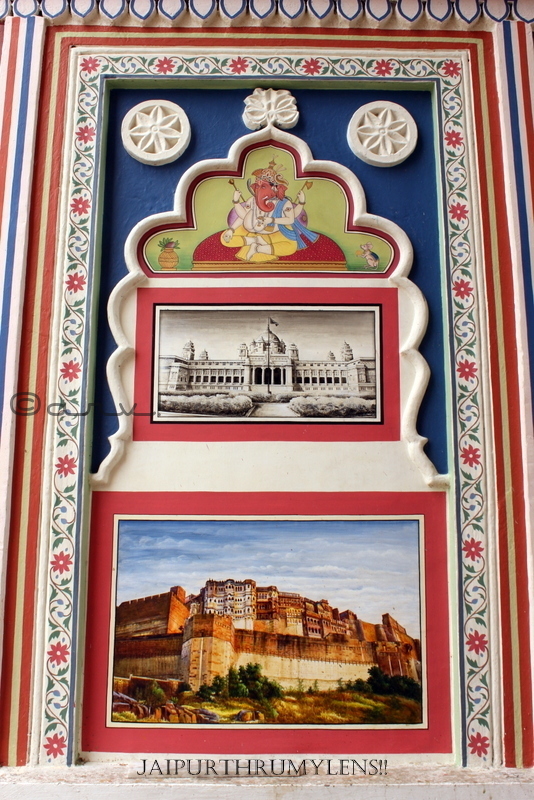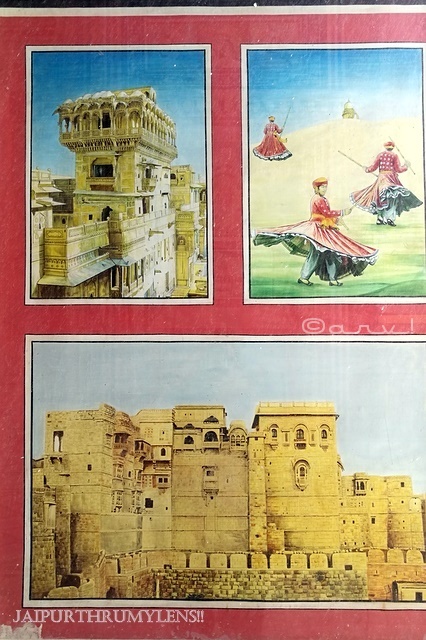 Apart from this, the artists also depicted scenes of everyday life that were popular subjects of ancient and medieval paintings. In short, it is an impressive visual experience for artistically inclined people. Do note panels are covered with transparent plastic sheets to preserve the artwork.
The Patrika gate leads to the Jawahar Circle garden. It is a popular morning spot in Jaipur among the walkers, joggers and children. The area around Jawahar Circle is beautifully landscaped as the road leads to Jaipur's Sanganer International Airport. Jaipur Development Authority has claimed that Jawahar Circle is the largest roundabout in Asia, I'm not sure if that's true anymore!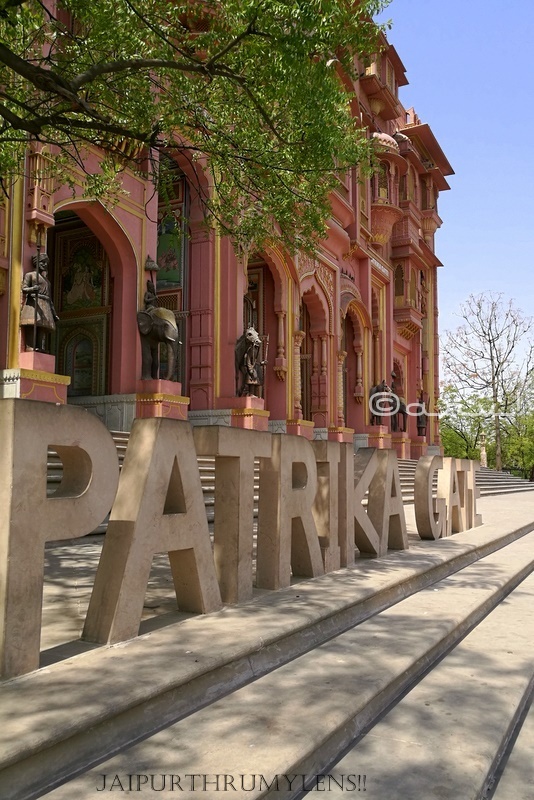 Since the Patrika Gate is not painted in terracotta pink, which is synonymous with Jaipur, every time I see this building, it pushes me to the Gajner Palace in Bikaner. The pink color of Gajner Palace and its facade is similar to this gate. Here is a photo of Gajner Palace, which is currently a heritage hotel.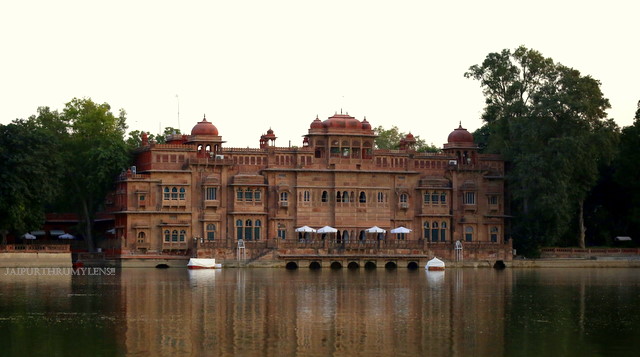 It was a hunting palace in the days of royalty. Maharaja Ganga Singh, one of the most famous rulers of Bikaner, was very fond of Gajner and would take any opportunity to visit here. If you've never been to Gajner, you should.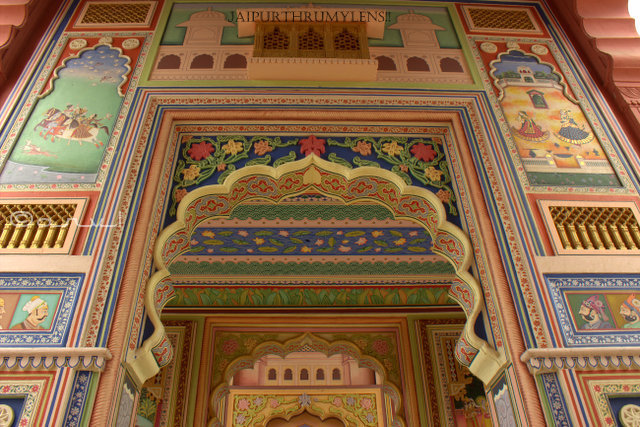 Although Patrika Gate is touted as the ninth gate of Jaipur as mentioned above, I find it a bit odd. I think it's just a marketing ploy. The last gate built by the royal family of Jaipur was the New Gate. The ancient city gates of Jaipur served a specific purpose: to restrict movement in and out of the city and to provide security.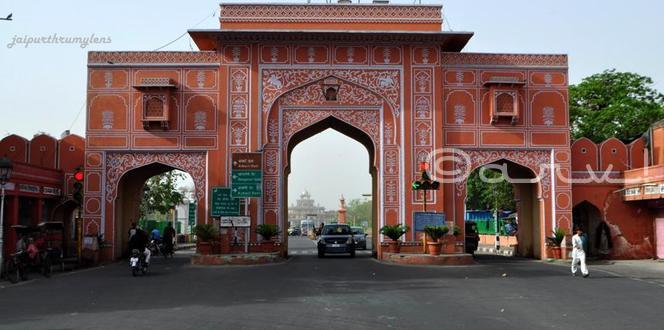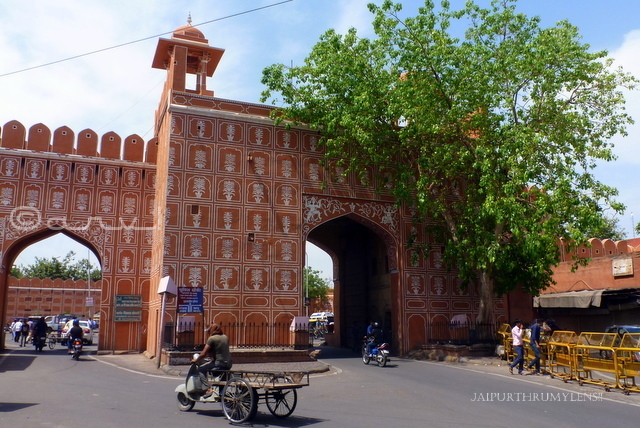 There is no functional purpose for the Patrika Gate. Hence it cannot be clubbed with old Jaipur Gates. To summarize, the importance of the Patrika Gate to Jaipur is comparable to the relevance of the Gateway of India to Mumbai and the India Gate to New Delhi. It's an iconic place; a beautiful amalgamation of the art and architecture of Rajasthan.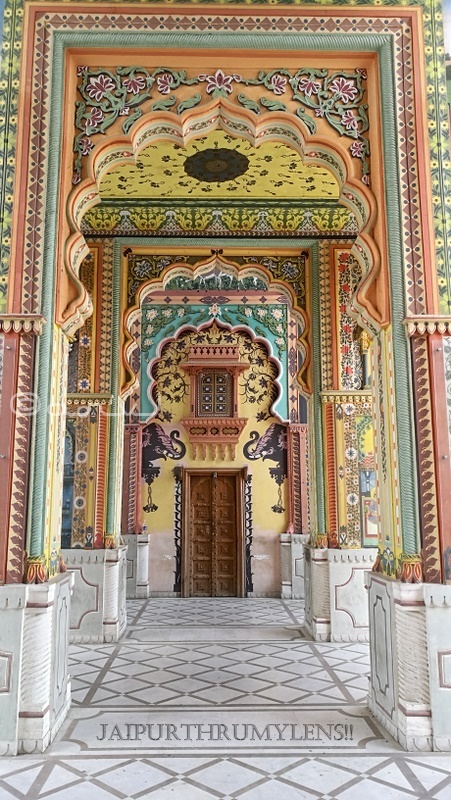 Is Patrika Gate worth a visit?
I find Patrika Gate an excellent place to witness the rich and vibrant architectural and cultural legacies of Rajasthan. It is not just a wonderful place for photographic opportunities. One should spend enough time to enjoy each of the painted panels. Patrika Gate reminds me of this quote: "Find a beautiful place and get lost". Here's another fitting quote: "Sometimes you need a break in a beautiful place."
photoshoot
Patrika Gate is one of the most desirable spots in Jaipur for photo shoots, especially for pre-wedding photo shoots. Quite a few travel bloggers and influencers hire a photographer for the photo shoot at Patrika Gate. It is not uncommon to see a large number of couples waiting their turn, especially during the morning hours.
Isn't it great that a traveler flying in and out of Jaipur can miss a few moments to visit Patrika Gate and get an architectural and cultural glimpse of Rajasthan? A snapshot of Rajasthan!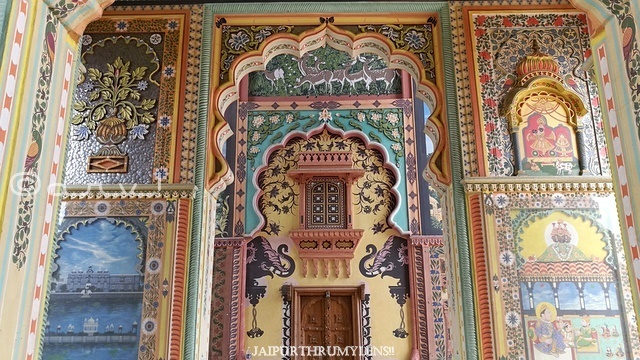 Here's a little trivia for you. Can you guess what this is and what it means?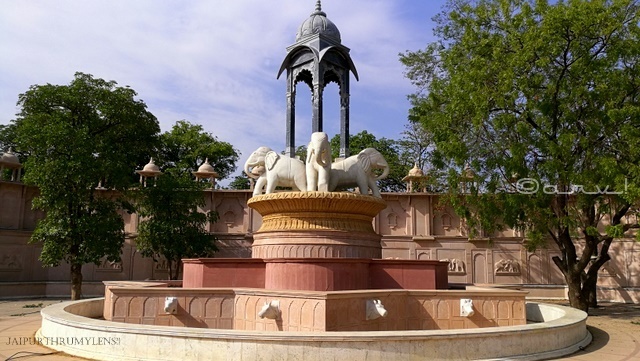 How to reach?
It is not difficult to reach Patrika Gate, but it is easy to celebrate your visit to Patrika Gate if you are flying in or out of Jaipur as it is only a kilometer from the airport. If you are using the Uber/Ola app, set your destination address with Jawahar Circle.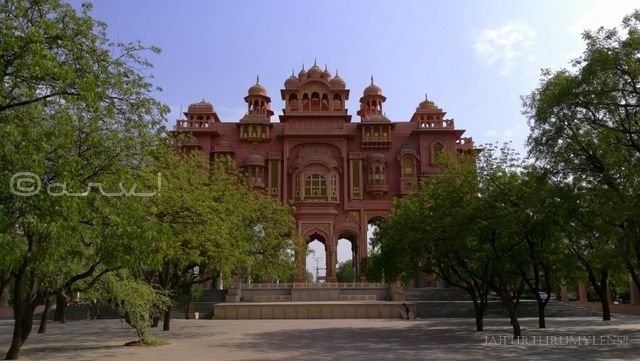 Is the Patrika Gate open? What are the times?
Patrika Gate is open 24 hours, but is best visited from morning to night with adequate sunlight. Visitors often report that the worst time to visit this place is during sunrise or sunset, when pre-wedding photographers and couples swarm this spot.
Entrance fee
There is no entrance fee to visit Patrika Gate. It is free for everyone, both Indians and foreigners. From now on, parking is also free.
Follow Jaipurthrumylens!! On facebook Twitter Instagram