Panna Meena Ka Kund is one of the best restored stairwells or Baori in Jaipur. Panna Meena Ka Kund is also called Panna Mian Kund, Panna Meena Baori, Panna Meena Bawri. Chand Baori, a stairwell on the Jaipur-Agra highway, gets all the attention because of its sheer size and history, but it is a 100 km drive from Jaipur. Panna Meena Kund, on the other hand, is accessible to everyone as it is located in the city of Amer near Jaipur.

Panna Meena Kund is located in the city of Amer. Amer Fort is what brings tourists to the Amer city. Most tourists end up only visiting Amer Fort and as a result miss out on many other places to explore in this historic city. It is close to Anokhi Museum near Kheri Gate in Amer city.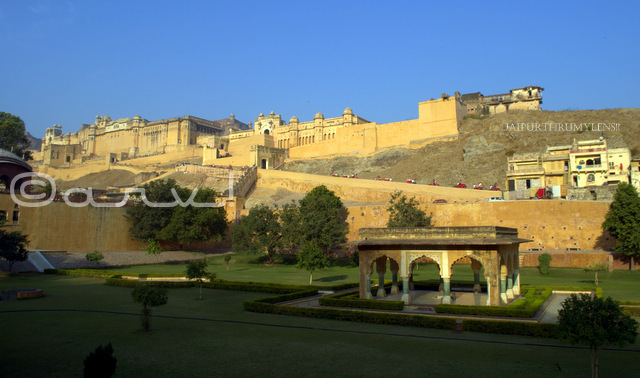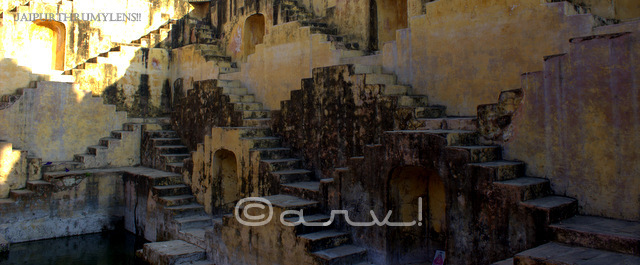 What is Stepwell or Baori?
Stepwell or Baori is a kind of old water storage tank where water can be reached by stairs.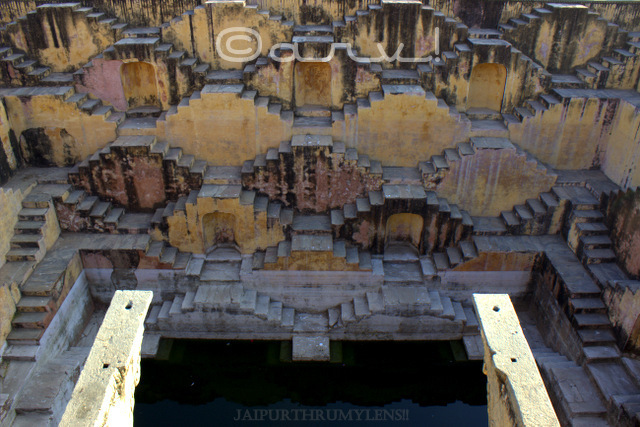 Why should you visit Panna Meena Kund?
Firstly, Panna Meena Kund is the only well restored and functional stairwell in Jaipur. It belongs to an era when tap water did not yet exist. Today it is not used for the purpose, it was originally built. It has served its purpose for many centuries. The Baori or bawric was part of the community and society around it. It served as an excellent source of drinking water, especially during the scant rainy season. It is an eight-storey step well and is designed in such a way that you can reach water via a staircase on every level. There are many other Stepwells in Rajasthan and Gujarat that are much larger and more ornate than this one. Even that, Panna Meena Kund is beautiful in its own way.
History of Panna Meena ka Kundo
There is no confirmed history or record of how this Baori was called Panna Meena or Panna Mian Kund. According to local legend, during the reign of Maharaja Jai ​​Singhcalled a eunuch Panna Miah served in the royal court of Amer Fort and some believe he played an important role in building this stairwell. It is believed to date back to the 16th century. There is another theory according to which it was built by the local Meenas people who were aboriginal inhabitants of Amer before Rajputs arrived in the 10-11th century. The locals believe that Panna Meena was a brave warrior and this staircase was built in his memory.
Some sources have mentioned that Rajputs in Panna Meena Kund killed the Meena leaders who ruled over Amer and thereby came to control this city. None of the popular history books mention this. What we do know is that it was Meenas who ruled Amer before the 11th century. It is unlikely that Panna Meena Kund predates the 11th century. If there are no records, people add their own versions and stories. The fact is, we know very little about its history.
One of the unique aspects of this Baori is its unobtrusive presence. The steps cover only three sides and there is ample space where one can sit, chat or enjoy the view all around. There are niches between the stair levels that contribute to the design. They may have been designed with a particular utility in mind. There are four octagonal pavilions or Chhatris on all four corners.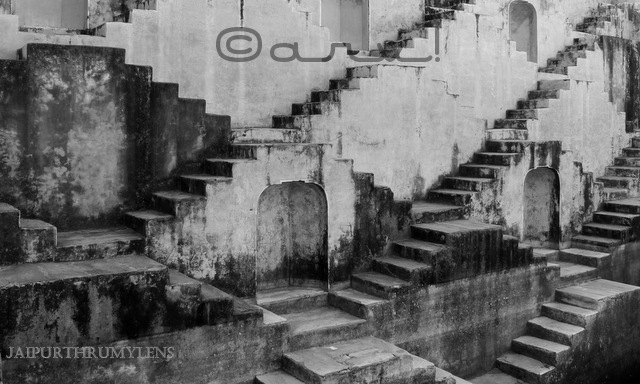 This Baori was more than just a source of water. It was a meeting place for the women; to chat and catch up on each other's lives. Therefore, it is an important part of our culture and history and not just a built heritage. By visiting this stairwell you can probably imagine what life must have been like centuries ago.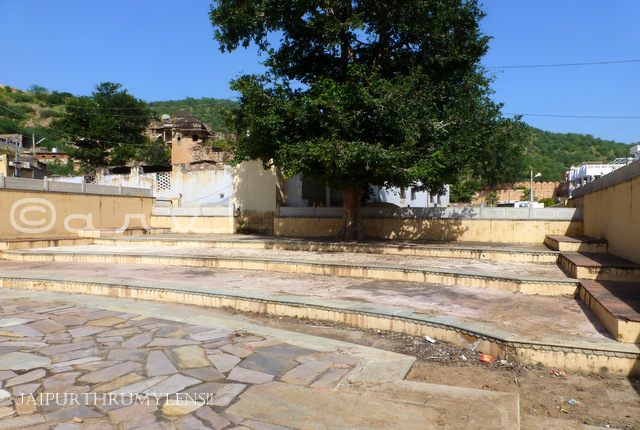 The common area at Panna Meena Kund. Not sure if this was years ago or if it was added recently during the restoration project.
Personally, I like the simplicity, symmetry and architecture of Panna Meena Kund. The number of ancient Stepwells in Jaipur is running in double digits. Most of these stairwells are in poor condition, except for this one and the one at the Nahargarh Fort. This is the most accessible and beautiful staircase in Jaipur.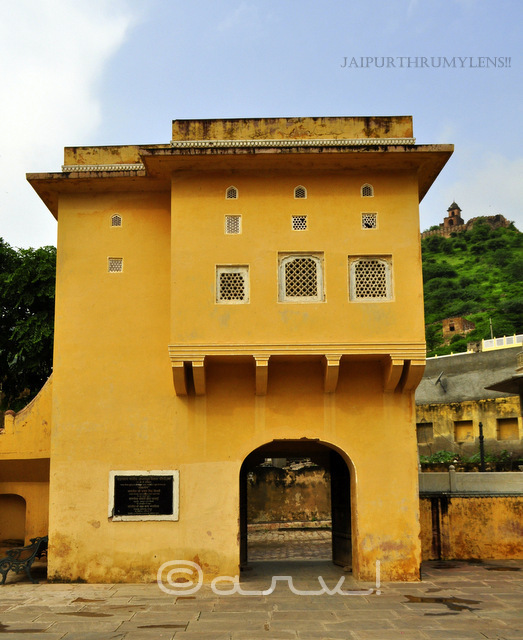 This Baori is no longer in use, as I mentioned above. However, it serves as a playground for the local boys; they come together and organize diving and swimming competitions.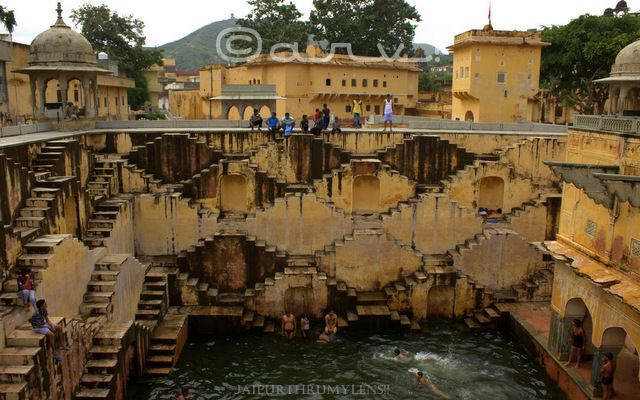 Some of these photos can be found in my previous post-Jaipur in Sawan/ Fun-WPC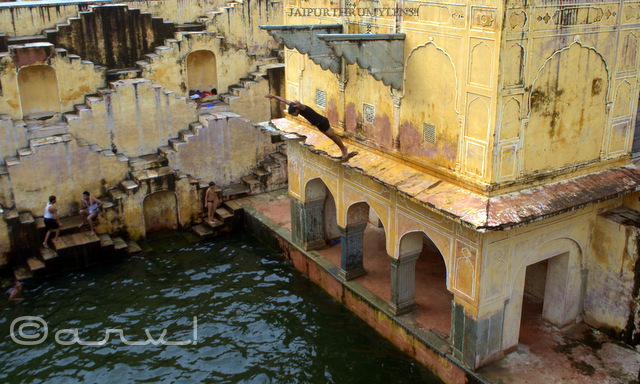 Although it is not on a normal tourist route, some guides and tour operators take tourists around this boarding point for a tour. Recently, some Bollywood movies have been filmed here which has made it famous.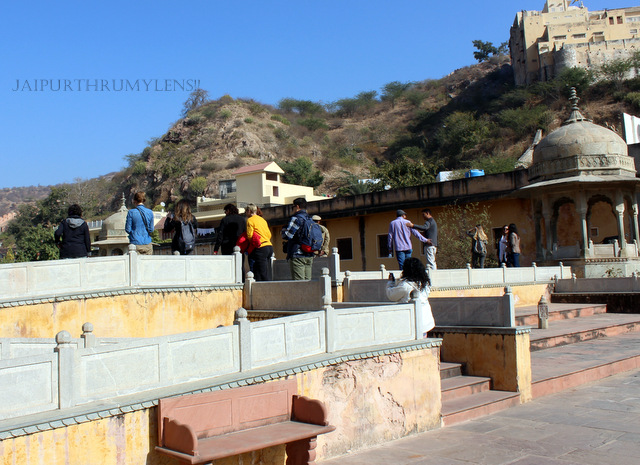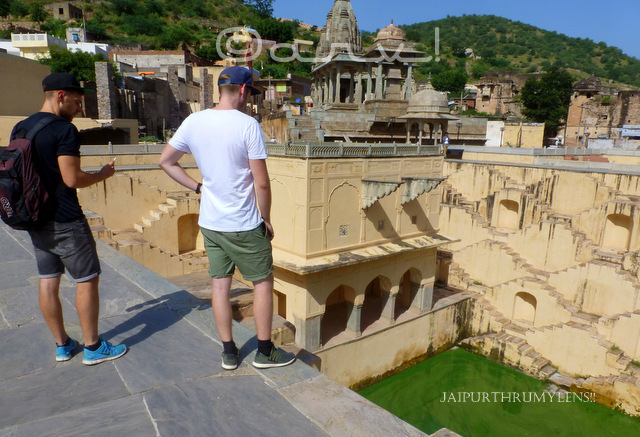 Panna Meena ka Kundo Place
Panna Meena Ka Kund is located in Amer city close to Ambikeshwar Mahadev Temple or Anokhi cafe. Ambikeshwar Mahadev Temple is well known in the city of Amer. You can easily find your way by asking the locals for directions.
Read Is Ambikeshwar Mahadev Temple a protagonist in Amer's history?
Panna Meena ka Kundo timing
Panna Meena Ka Kundo is open from sunrise to sunset. I have often visited Panna Meena Kund shortly after sunrise and found it open to the visitors. Recent suicides at this site have prompted local authorities to be more vigilant and may be closing it just before sunset.
Panna Meena Kund entrance fee
There is no entrance fee in Panna Meena Kund. Like most places in Amer except Amer Fort and Anokhi museum, you can visit Panna Meena Baori for free!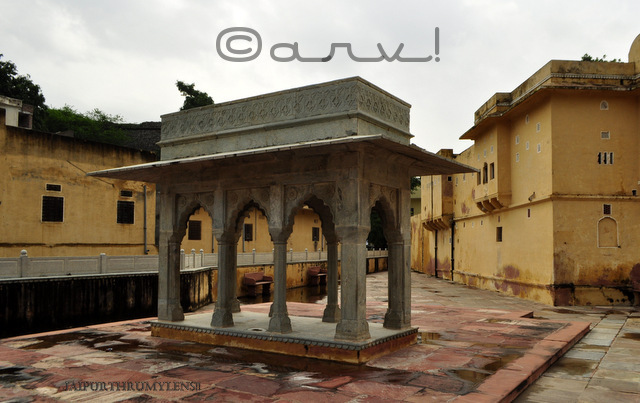 TIP! Unlike the famous Chand Baori at Abhaneri there are no restrictions to walk in and around the Baori. So worth a visit!
I've heard a story that you can't use the same stairs while going up and down. I'm not sure if this is true and I don't intend to check it because sometimes psychology starts playing with you. If you're a game…go ahead! I'd love to hear what you have to say! Panna Meena Kund is an excellent example of water management and water recovery techniques.
Places to visit around Panna Meena Kund in Amer
Around this famous Baori you can visit the following places.
1. Ambikeshwar Temple is barely a few meters away. According to local legend, the city of Amer takes its name from Ambikeshwar. This temple is dedicated to Lord Shiva. You can read all about it in this Ambikeshwar Temple, the protagonist in Amers history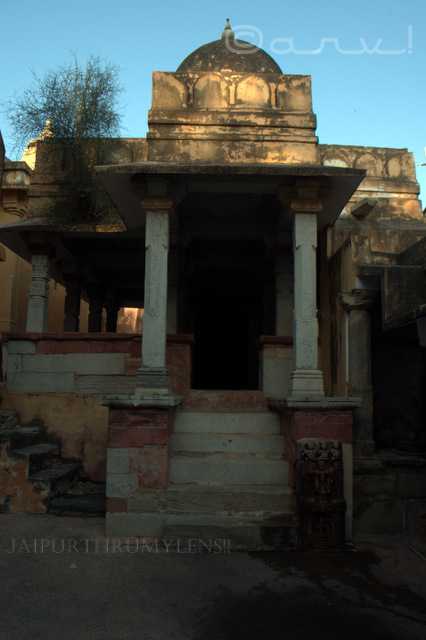 2. Jagat Shiromani Temple also is barely a few meters away. It is the most beautiful temple of Amer Town. The temple is also known as Meera Bai Temple. Read full description of Jagat Shiromani Temple
3. Amer Fort needs no introduction as it is the pink city's most popular tourist attraction. Read the full post on Amer Fort Guide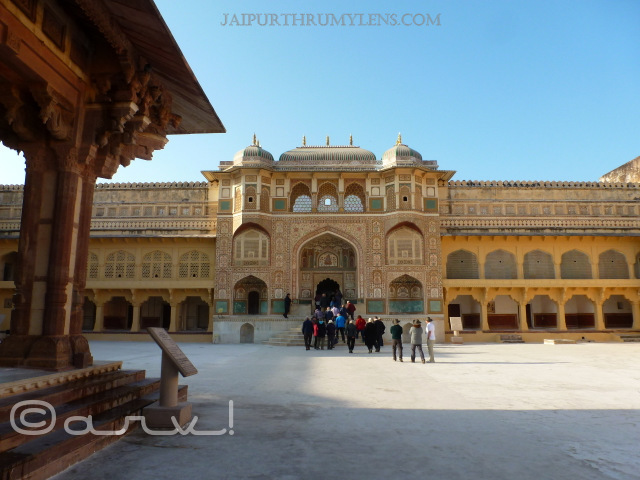 Apart from the above, Anokhi Textile Museum is also popular among those who like to discover the history of the famous hand block printed fabric of Jaipur (Sanganer). This museum is close to the Panna Meena Kund.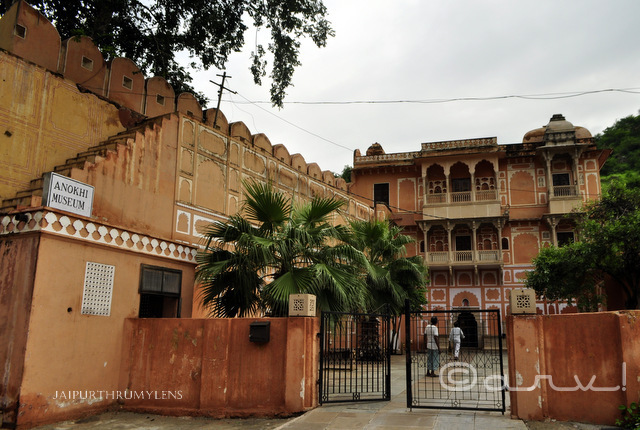 Check out other places to visit and explore in Jaipur.
follow me on Facebook Twitter Instagram