Jaipur is surrounded by hills and offers a couple of hiking & trekking places in Jaipur. I have been hiking in Jaipur for the last few years. With the rising influence of social media, people keen to hike in Jaipur is increasing every year. There is a sudden rise in the amateur hiking and trekking clubs in Jaipur. Personally, I don't appreciate joining such large groups because it takes away the essence of hiking. If you are keen to hike yourself, this blog intends to help you with the trekking & hiking places in Jaipur.
Most Popular Hiking & Trekking Places in Jaipur
The following are the most popular trekking & hiking spots in Jaipur. I have trekked to all these places many times over the years, therefore, I'm also mentioning the precautions and safety issues pertaining to each of these places.
1. Water Valley Trek Near Nahargarh Fort | Hathni Kund Trek
Water Valley trek is also called Hathni Kund Trek or Aathuni Kund Trek. Please bear in mind this place possesses no connection with elephants – Hathni. The trek starts from Charan Mandir near Nahargarh Fort. The trail from Charan mandir to Hathni Kund is interesting and descent followed by a flat walk until the Aathunia waterfall.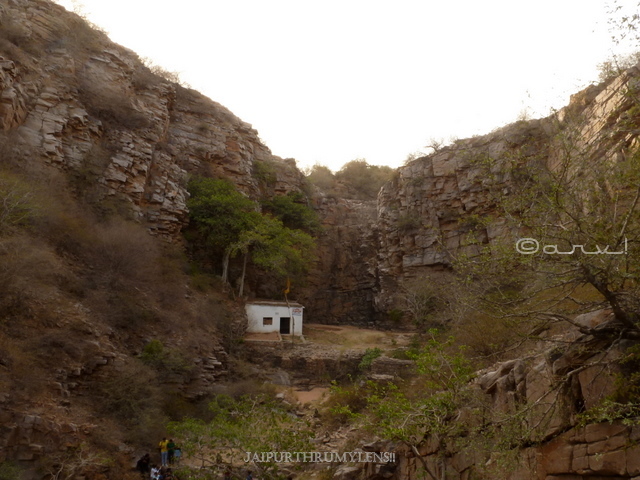 Water Valley trek has become extremely popular. My visit on this trail has reduced owing to this place becoming a favorite site of alcoholics and a "noise-loving" crowd creating a raucous atmosphere. It is not uncommon to find empty liquor bottles and plastic litter all around.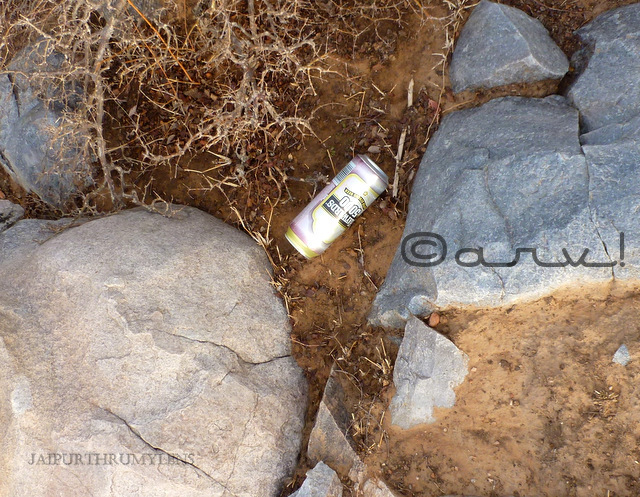 To put it concisely, this has become a popular picnic spot. In the past, I rated Hathuni Kund as the best-hidden spot in Jaipur. Read more about this trek in this pos – Hathni Kund Jaipur – The most popular trek in Jaipur?
Location of Hatni Kund Water Valley trek
Water Valley trek is near Charan Mandir on way to Nahargarh Fort, Jaipur
Starting Point of the Water Valley Trek in Jaipur is Charan Mandir
Trail Gradient – Easy and good for beginners. Do note the initial part of the trail is lined with loose gravel which can pose a problem during the rainy season. It is a short trek. Don't miss the flowers of the beautiful sickle bush tree on this trail during the monsoon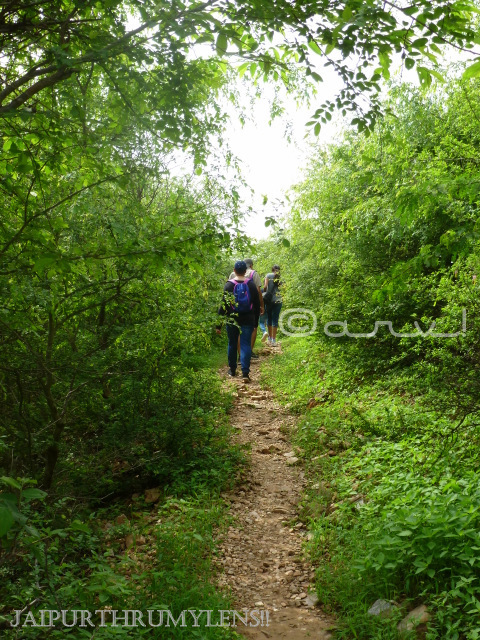 Here is a picture of the waterfall at Hathni Kund in Jaipur during the monsoon season. Hathni Kund is the most popular trek in Jaipur during the monsoon.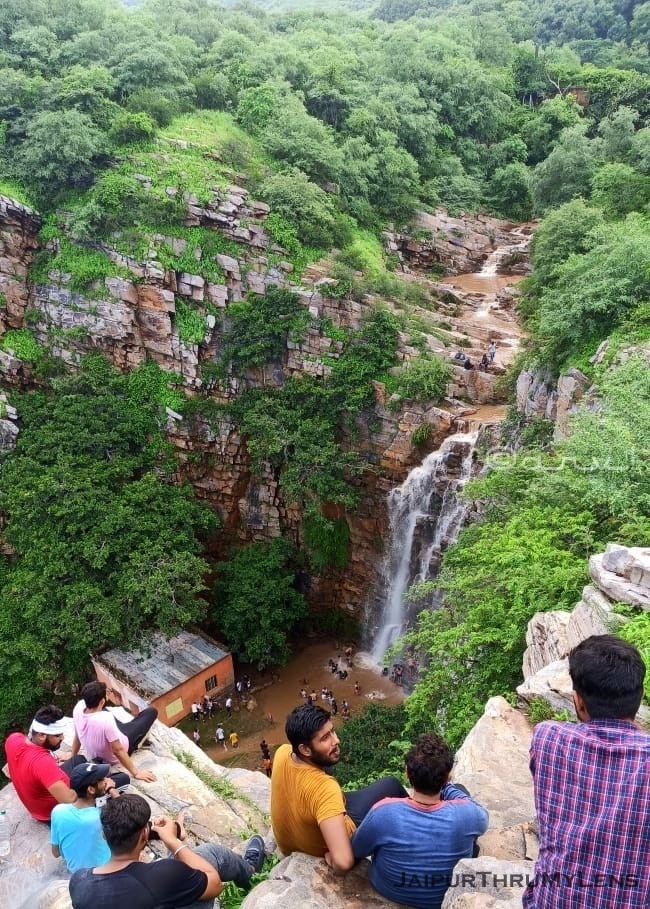 2. Bhuteshwar Nath Mahadev Trek
I initially heard about this trail from an elderly person who narrated his childhood experiences of trekking to this old temple. It was his weekend ritual to visit Bhuteshwar with the entire family. In those days, the hills were brimming with ferocious beasts. As a measure of precaution, they never trekked to Bhuteshwar Nath during dawn or dusk.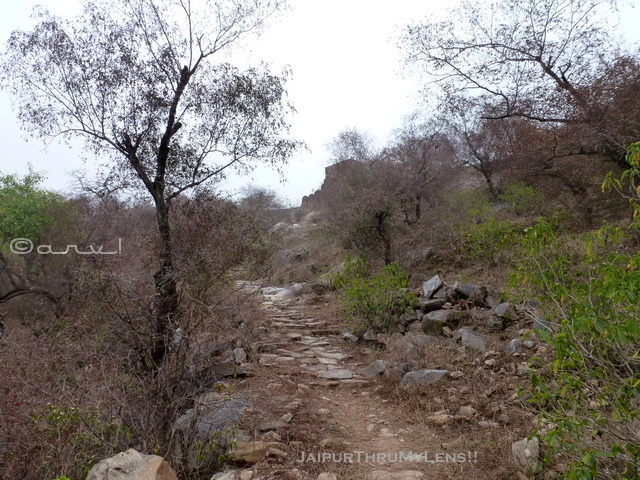 Bhuteshwar Nath trek entails trekking in Nahargarh wildlife sanctuary in Jaipur. This trek can be completed with a couple of options. The most preferred route starts from Nahargarh Biological Park as it is a flat route and doesn't involve much of ascending or descending. The temple can be reached from VKI Area, too. Sagar lake route is popular among those seeking a little more adventure.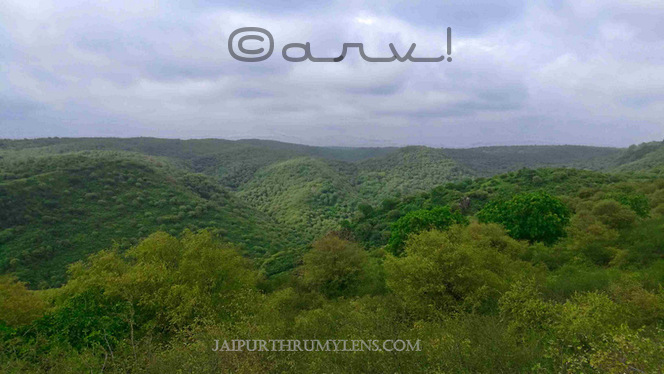 Location of Bhuteshwar Nath Mahadev trek
The Bhuteshwar Nath Mahadev trek is near Nahargarh Biological Park in Nahargarh Forest Jaipur
There are multiple Starting Points for the Bhuteshwar Nath Mahadev trek. The most popular is the one that originates near the Nahargarh Biological Park entrance.
Trail Gradient – Easy to moderate for people who have never hiked before. It is a slightly longer trek in comparison to Hathni Kund. Here is a picture of the Bhuteshwar Nath trek in Jaipur.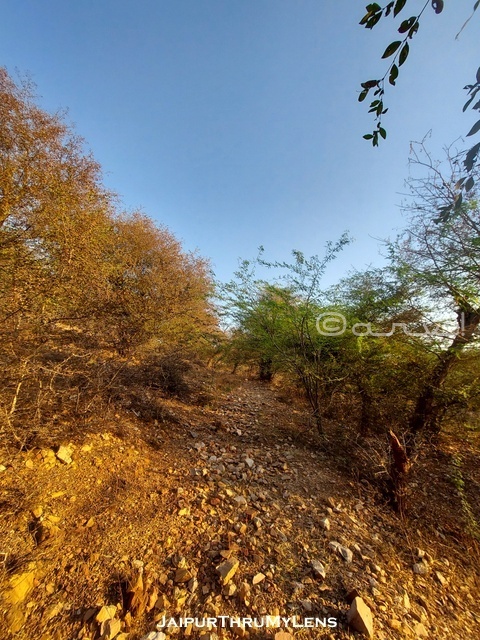 3. Chour Ghati Trek
This trekking place in Jaipur is situated near the Galtaji temple. It is a desolate place that shot into prominence after a few commercially minded guides started offering this trek on an adventure portal. In reality, this place has nothing to do with Chour or thieves. This entire area was a sacred place since the 15th century.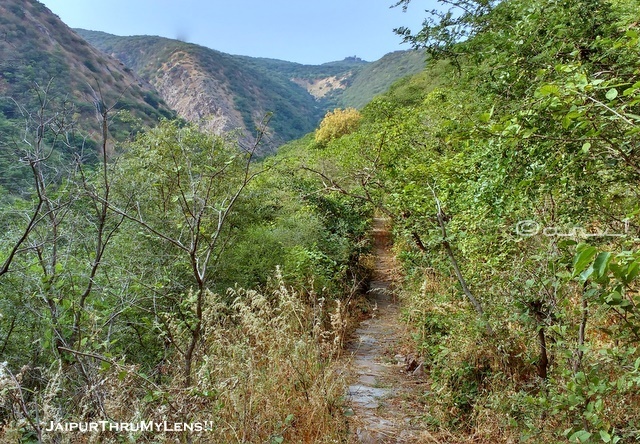 I avoid visiting Chor Ghati after having noted the presence of leopards in the vicinity. It is not merely about our safety, but we should allow animals free movement in their own territory. Also, note that the Jhalana area has been extended close to Galtaji now. Read The Captivating Monkey Temple at Galtaji 
Location of Chor Ghati Trek
Chor Ghati trek is located near Galtaji also called Jaipur Monkey Temple
Starting Point of Chor Ghat Trek is Galta Gate Jaipur
Trail Gradient – Easy to moderate for beginners. The trail is lined with loose gravel before the final ascend. It is shorter than Bhuteshwar Nath Mahadev trek.
Read Galta Gate Then And Now
4. Nahargarh Fort Trek
Nahargarh is definitely one of the most popular treks in Jaipur. The trail with a cobbled path starts from Purani Basti. It ends near an old stepwell in Nahargarh Fort, a Baori where Rang De Basanti Bollywood movie was filmed.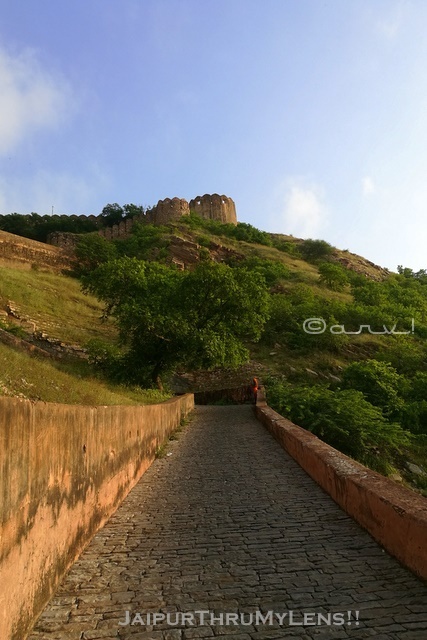 The significant advantage of hiking to Nahargarh Fort is it can be attempted during the dawn. In recent times, a considerable number of tourists have also hiked on this route. It requires 15 minutes for a fit person to complete the trail since the Nahargarh Fort height is 200 meters.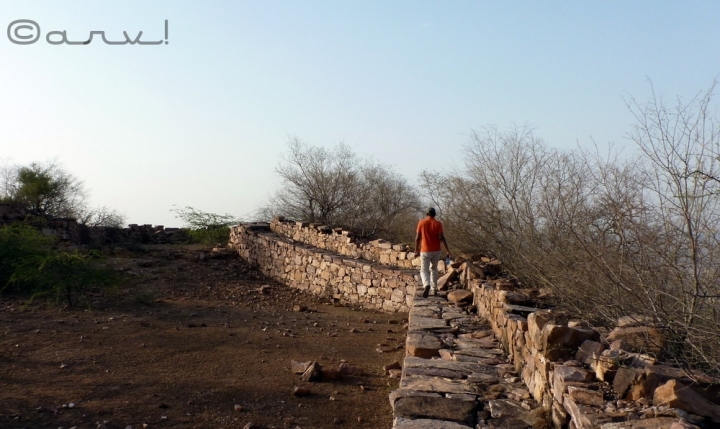 There are a couple of more places to trek in Nahargarh Fort but are on unmarked routes. Read Why sunrise at Nahargarh Fort is a bad idea?
Location of Nahargarh Fort Trek
Nahargarh Fort trek is at the base of Nahargarh Fort walking ramp in the Purani Basti area of Jaipur.
Starting Point of Nahargarh Fort Trek is Purani Basti, Nahargarh Road
Trail Gradient – It is a steep ascend through a cobbled stone path. Many people like to use this for fitness activities. It is a short trail.
5. Chulgiri Trek
Chulgiri hills offer a more rustic trekking experience. Chulgiri remains a prominent place it being one of the most popular Digamber Jain temples in Jaipur. These hills are also home to many leopards since Chulgiri is on the border with Jhalana Forest. One of the most popular routes of Jhalana Leopard Safari called zone 1 ends near the base Chulgiri hills.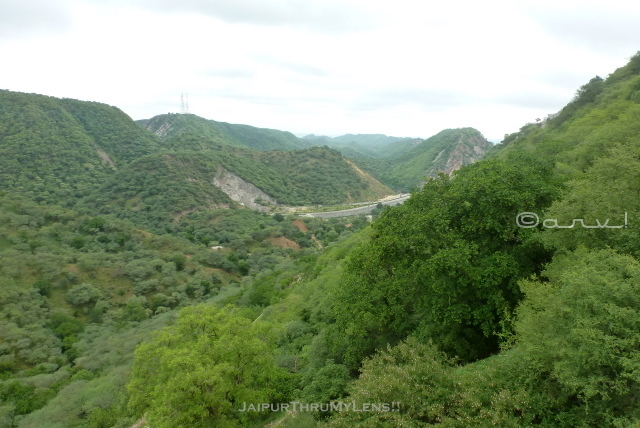 I wouldn't suggest a trek into the jungle surrounding Chulgiri. However, one can opt to ascend the stairs which lead to the temple. The stairs offer panoramic views along with a cardio workout. Many runners love to run on the ramp which leads to the temple starting from the valley.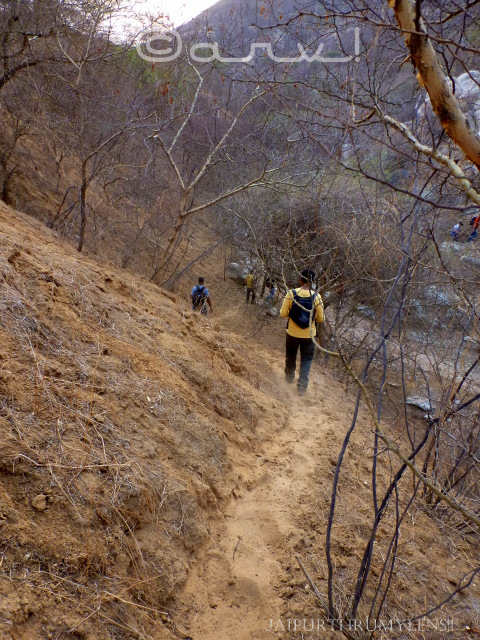 Location of Chulgiri Trek
Chulgiri Trek is near Ghat Ki Guni, Agra Road, Jaipur.
The starting point of Chulgiri Trek is Agra Road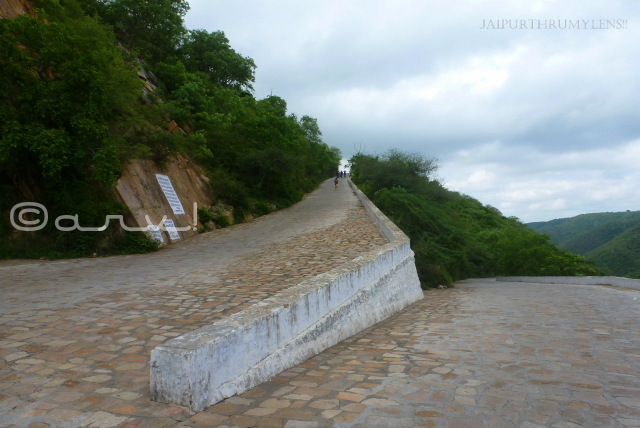 Trail Gradient – This trail is through the paved path and is not very steep. It is good for beginners who want to build endurance. You will find plenty of Thor Danda in this terrain.
6. Garh Ganesh Temple Trek
Garh Ganesh Temple is presumably the oldest temple in Jaipur. Garh Ganesh trek is one of the best treks in Jaipur for beginners. A few trekking groups refer to this trek as Chabutara Trek of Jaipur. This name definitely sounds funny.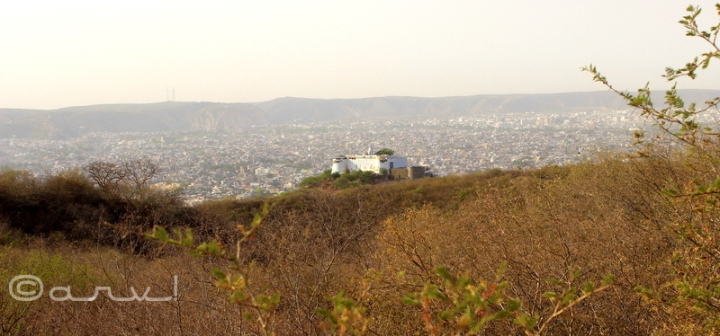 The original Garh Ganesh temple stairs are steep making it an ideal workout for a fitness freak. You can choose a simpler trail that originates from the left side. This route is popular among female hikers in Jaipur. Many hikers take the exit of the temple premise and hike towards the hill behind Garh Ganesh. After walking a couple of steps, one will come across a new temple dedicated to Shiva. It is a good point to sit and enjoy the views and weather. Read The Garh Ganesh Temple Guide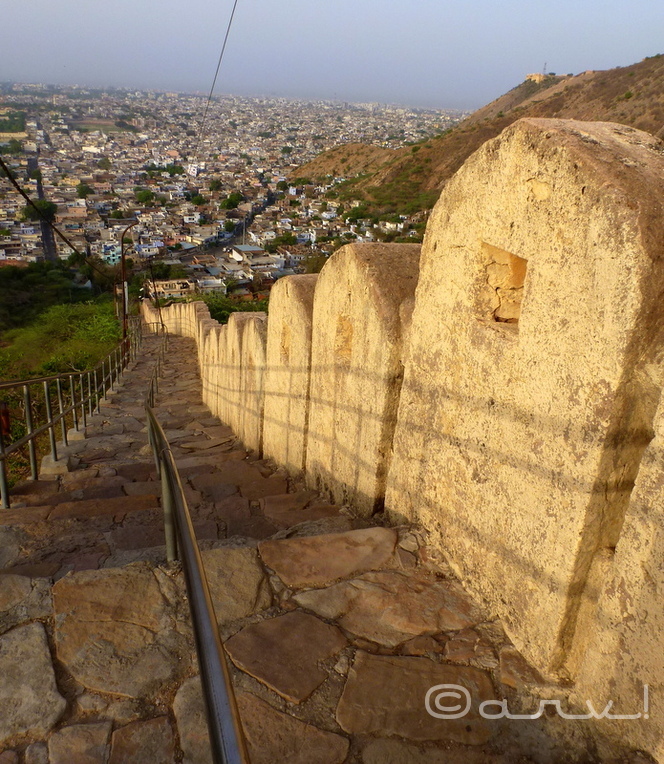 Location of Garh Ganesh Trek
Garh Ganesh Trek is in Brahampuri Jaipur and extends to Nahargarh Fort
The starting point of Garh Ganesh Trek is the parking area of Royal Gaitore
Trail Gradient – If you are using old stairs to Garh Ganesh Temple, it is short but challenging. The new path is gentle and good for beginners.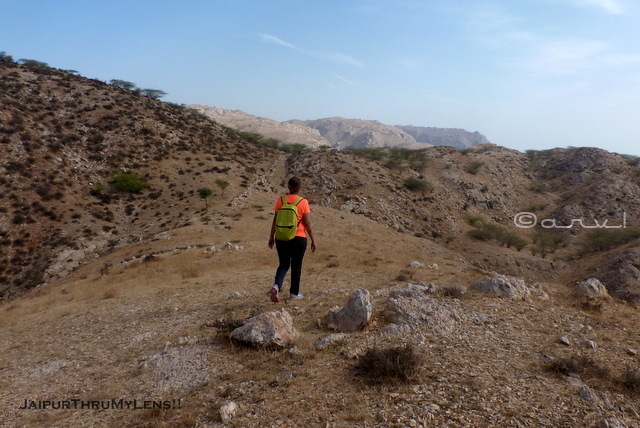 Read Dhok Trail Hike
7. Jhalana Treks
I would like to mention trekking in the Jhalana area in Jaipur. It was a good place to trek until this area was closed for visitors due to the Jhalana Leopard Safari. Dhok tree dominates the hills of Jhalana, its natural habitat.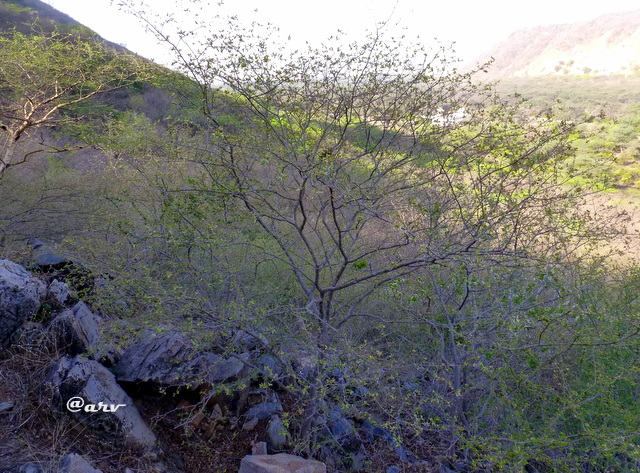 Here is a picture of Shikaar Odhi, a hunting lodge in Jhalana forest which I clicked many years ago.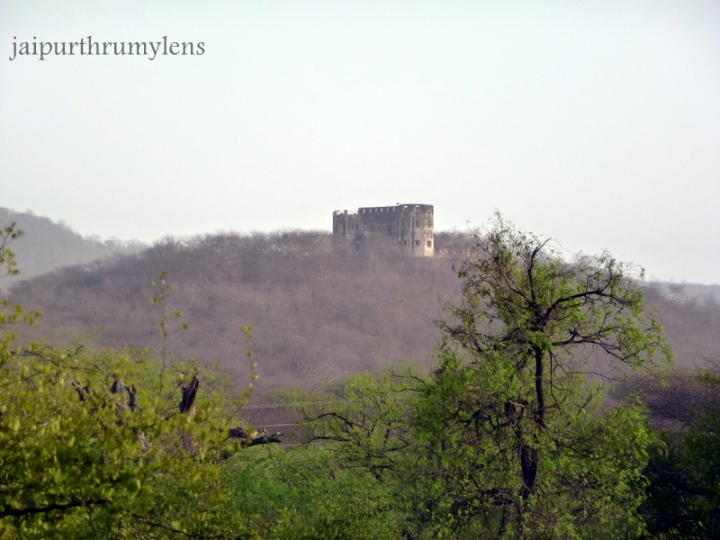 One needs a permit from the forest department for Jhalana Trek. I haven't been to Jhalana ever since Jhalana Leopard Safari came into being. There are other areas in the vicinity that one can explore as a soft trekking option. A good recommendation in this direction would be Mountaineering & Adventure Institute in Jhalana. One can find this near World Forestry Arboretum owned by the forest department. Here is a picture of the Mountaineering & Adventure Institute in Jhalana.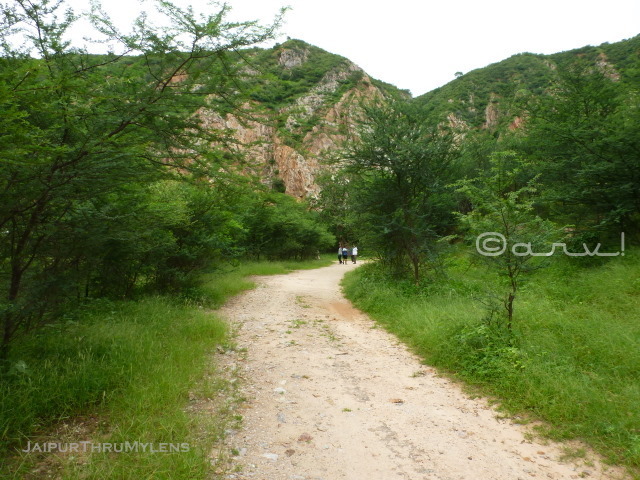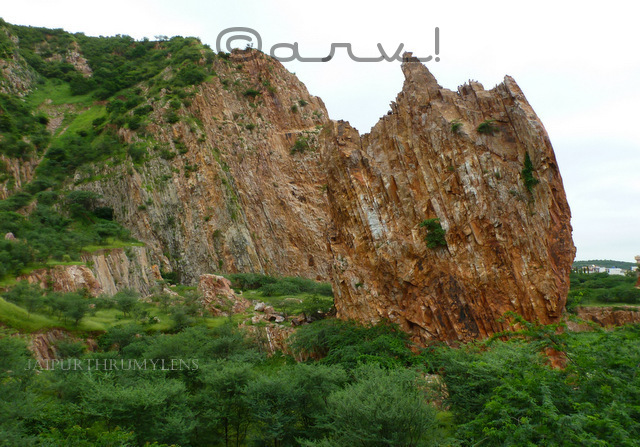 Read Golden Hours | Why hitting the snooze button is not a good idea
8. Watch Towers Of Amer Fort Wall Climb
Amer Fort Wall Rampart or the Great Wall Of Amer was one of the first places I started exploring 7-8 years ago. These ramparts offer stunning views of Amer Fort. Over the last few years, like Hathuni Kund, the watch towers of Amer Fort have become exceedingly popular. It is not uncommon to encounter a substantial number of people on weekends at Amer Fort watch towers. This spot has also become hugely popular among Instagrammers and travel bloggers.
Read  The Great Wall of Amer Fort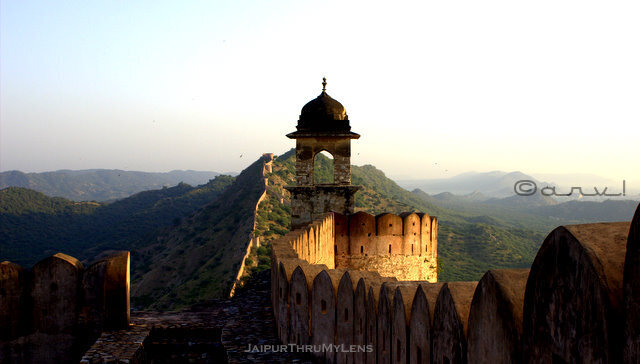 Do not that the last few steps have a steep gradient and people intimidated of height might have issues while returning back. Also, during the monsoon, one needs to be extra careful because often algae pose a problem. Some travel bloggers call these Amer Ramparts as Jaipur Wall but this is not true.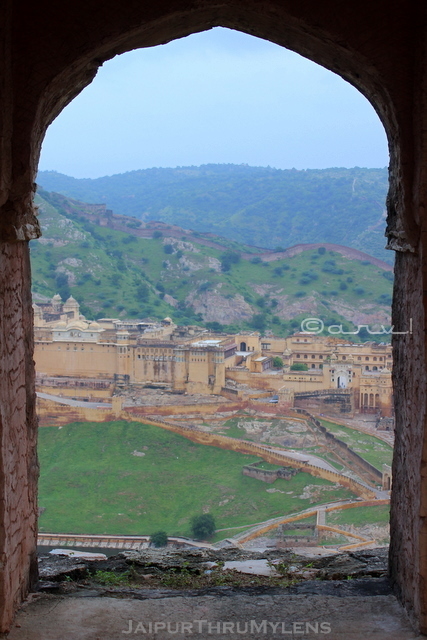 Location of Amer Fort Ramparts
Maota lake near Amer Fort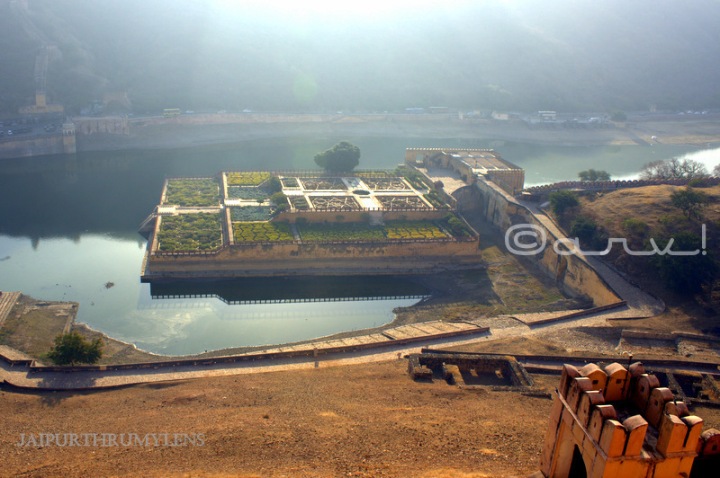 Starting Point of the Amer Fort Rampart climb is the staircase opposite Amer Fort/ Maota lake.
Trail Gradient – It is a steady climb but with a steep gradient. The return through the staircase is challenging for many people.
Safety & precaution while trekking in Jaipur
If you are planning to trek in Jaipur, ensure that you carry adequate gear and sufficient water. Always respect nature and avoid creating a nuisance by playing loud music or disposing of trash, plastic, and other waste items in the forest.
Apart from the above, do not venture to Hathni Kund during rains as it is a water channel and in case of a heavy downpour, it will be extremely difficult to get back to Nahargarh road. The sheer amount of water is immense as it is a valley; this is a reason for a waterfall.
With the rising number of leopards in Jhalana, the surrounding areas are not safe.
Amer Fort watch towers in monsoon and rains is risky. Often, algae forms on the stairs resulting in slippery surfaces. There have been instances of people being killed by lightning at Amer Fort watch towers. Check out this news – Shock, panic, and grief: How a trip led to the death of 11 youths at Amer
Chour Ghati trek too is not safe because of leopards being frequently spotted at this location.
People looking for adventurous places near Jaipur will find this list of hiking spots in Jaipur of great help. I have posted one of my favorite hikes near Jaipur – What makes a hike along the Dhok tree trail alluring?
Have you ever been to a hiking place in Jaipur or in your hometown? What do you enjoy the most when it comes to hiking?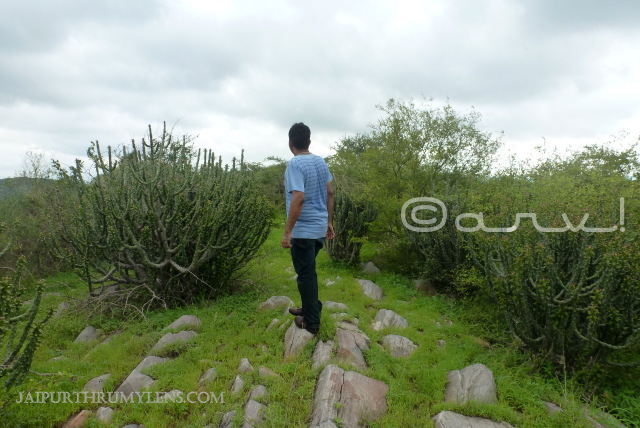 Stay updated with Jaipurthrumylens!! on Facebook Twitter  Instagram