I recently came to know that many people are very eager to experience the magic of sunrise in Jaipur. People are on the hunt for the best sunrise points in Jaipur and including travelers visiting Jaipur as well as nature-loving residents of Jaipur.
Best sunrise spots in Jaipur
I thought of composing this post for everyone's benefit of the best places to watch a sunrise in Jaipur. These are my top recommendations.
Nahargarh Fort
Jal Mahal
Nahargarh Road near Charan Mandir
Some of the best places to see a sunrise in Jaipur are not easily accessible to everyone as it involves an element of adventure, dirt trails, thorn bushes and the risk of wildlife among other things. While some people are fit and ready to undertake such an adventure, others may not be in the position to do so. For security reasons, I refrain from listing such places.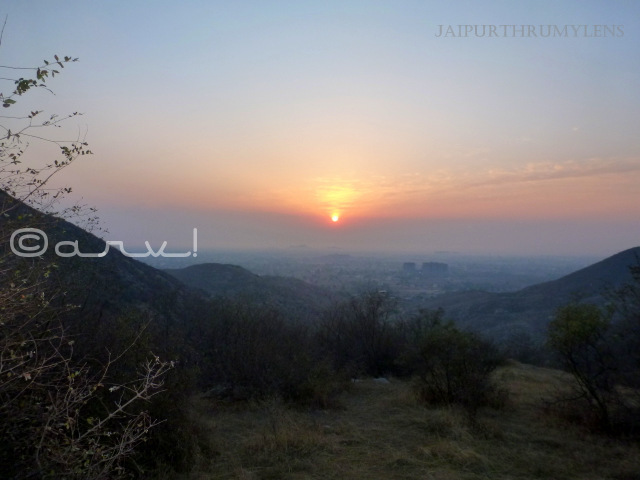 The following are the most popular places to witness the magic of sunrise in Jaipur.
1. Nahargarh Fort.
Nahargarh Fort is the most popular place in Jaipur to see a sunrise. It's not surprising why it is. Apart from sunrise, you can enjoy the beautiful view of Jaipur from the top as it is located on a hill overlooking the city.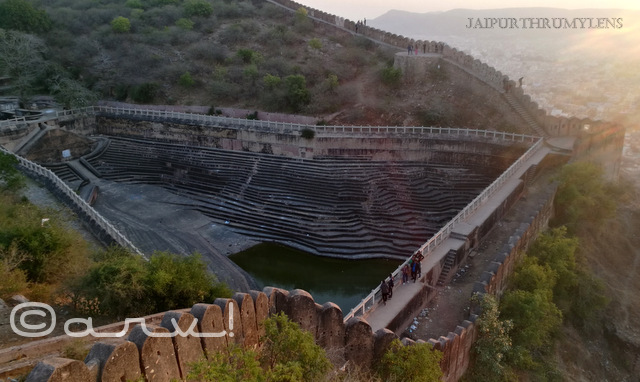 The sunrise point in Nahargarh Fort is on the east side near the Baori. It is close to the Baori where the famous song Masti ki Pathshala from the Bollywood movie Rang De Basanti was recorded. It is known as the Rang De Basanti shooting point or location.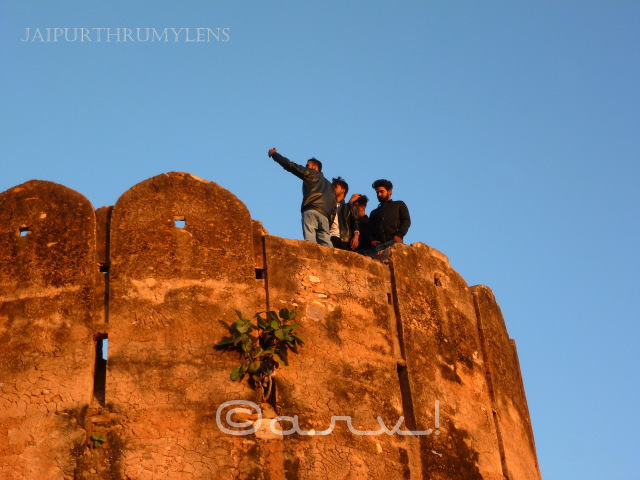 The Department of Archeology that manages the Nahargarh Fort has marked another spot for watching a sunrise. This is near the fork of the road leading to the Baori. Here is a photo of the designated sunrise point.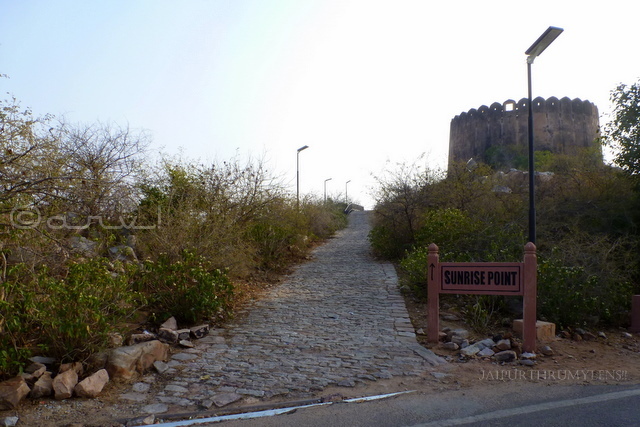 How to reach Nahargarh Fort?
A considerable distance and time is involved in reaching Nahargarh Fort from the city. If you are a tourist, pick up for your return journey may be a problem as there is no transportation facility at Nahargarh Fort. Make sure you book your taxi/tuk-tuk for the return trip as well, or you can wait for redundancy. In general, drivers charge on a two-way basis, even for a one-way trip. Read How To Find Nahargarh Fort. can explore
There are two ways to Nahargarh Fort. reach. The most popular route is via the hill road that branches off from Amer Road just after Kanak Ghati. It is a beautiful road with a beautiful view of the Jal Mahal or the Water Palace.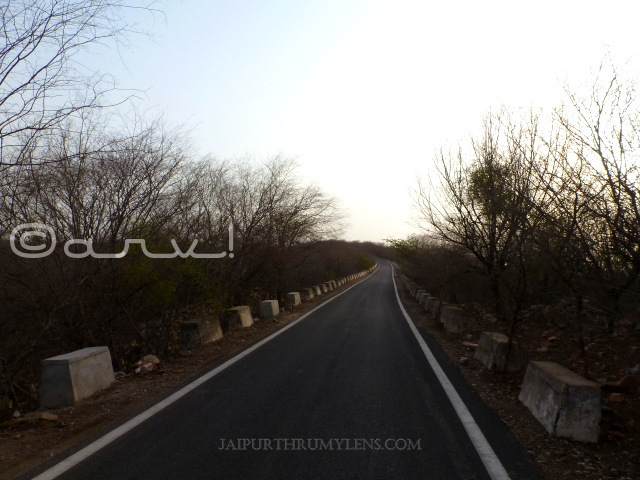 The second option is through the Nahargarh Hiking Trail which starts in the Purani Basti area at Nahargarh Road. It takes about 15-20 minutes for a fit person to go through this slope. Be aware that you will encounter dirt, pigs, goats and roosters at the starting point of this walking trail to Nahargarh Fort. Most people prefer the former. Choose.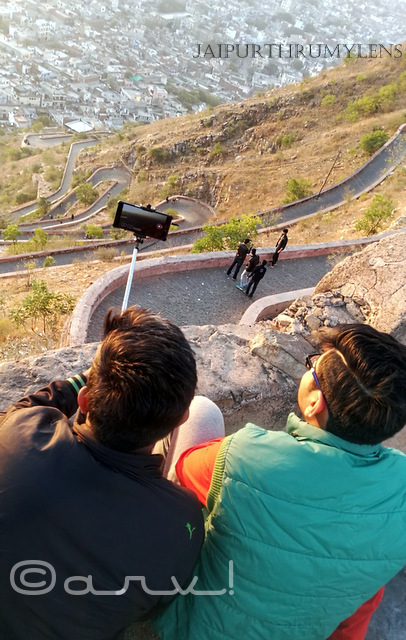 Watch out– Nahargarh Fort is one of the most popular meeting places for the city youth. As a popular place for young people, don't expect peace. Loud music, people running around the ramparts and making noise is all an essential part of the "Nahargarh Sunrise Experience". Don't be surprised if you find a huge crowd at the Nahargarh Sunrise point even before sunrise.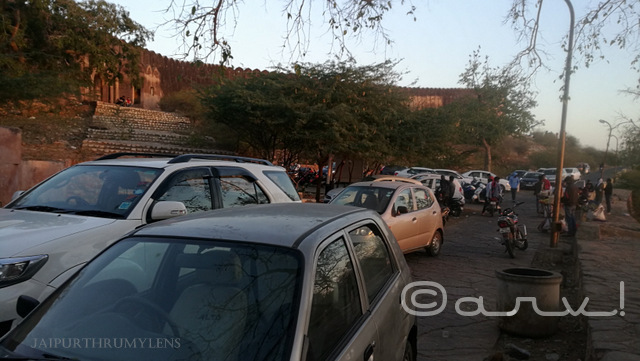 Driving at lightning speed, tripping on a two-wheeler and speeding are all part of this package!
Nahargarh Fort and the road leading from Kanak Ghati has a reputation for being the biggest open air bar in jaipur. It is confirmed by the empty beer cans, broken liquor bottles, plastic wrappers of "chakhnanstrewn with the entire stretch of berm, along.
Read the related post: World Environment Day/ Things that matter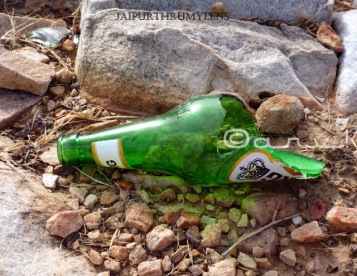 Empty beer bottles littered Nahargarh Fort Road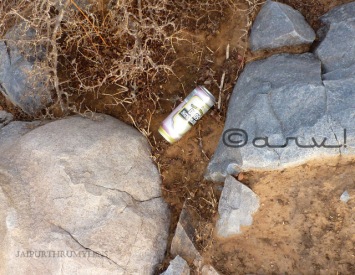 There are beer cans all around. Nahargarh Fort
With little police or law enforcement presence, people consume beer and spirits in the morning. Accidents on this road are common as it is a winding road with many blind spots. There is a saying that speed excites and kills! Almost every week there are news reports of vehicles falling into the valley due to drivers' lack of driving skills on a hill road, rash driving, drinking and driving. Here is a photo of an accident reported by a newspaper – Patrika. (photo courtesy – epatrika)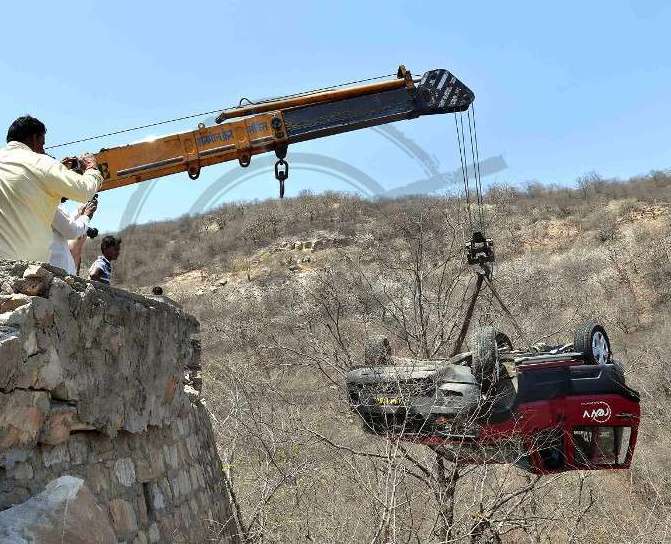 Watching the sunrise with loud music being played or being run over by a speeding vehicle is not really my idea and this usually keeps me away from the Nahargarh Fort Sunrise.
2. Jal Mahal or Water Palace at Mansagar Lake
Jal Mahal or Water Palace is another popular sunrise point in Jaipur. What makes it so popular? The proximity to the main town is certainly a reason. Also, the sunrise can be clearly seen from Jal Mahal as this is where the eastern ridge ends. One gets an uninterrupted view of the rising sun. The whole area is beautiful. No extra effort is required in terms of riding, time or hill riding. For the tourists, services from the app-based service provider such as Uber and Ola are also available.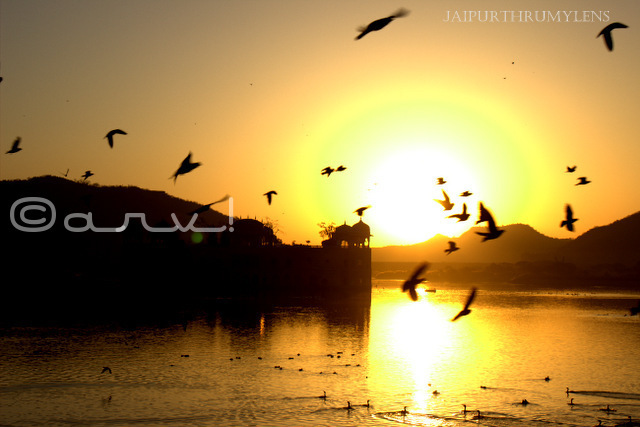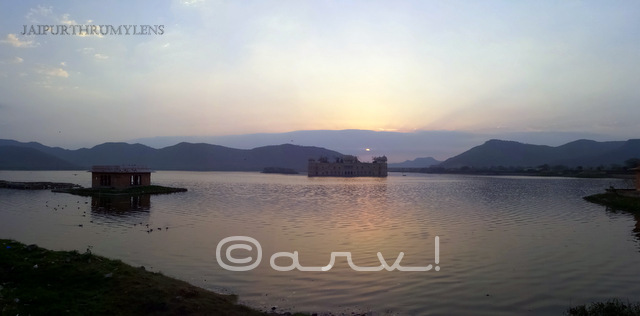 How to reach Jal Mahal
Jal Mahal is located on Amer Road just before Kanak Vrindavan. From Johri Bazar it is about 4-4.5 km and easy to see. For tourists and visitors, the best option is to use Uber or Ola taxi. Finding a Tuk-Tuk/Auto Rickshaw can be difficult in the early morning, your hotel may be able to help you find one. It is not difficult to find an e-rickshaw or tuk-tuk on the way back. Jal Mahal is also connected by a local bus service that connects Badi Chaupar at Hawa Mahal/Johari Bazar with Amer.
Watch out – It is never crowded in Jal Mahal during this hour, but you may encounter a group of guys who live nearby and use language that is far from desirable. However, the likelihood of such experiences occurring during the morning hours is less likely. Sometimes the stench of the water can be a turn off. Many people dump bread, biscuits and wheat dough into the lake to feed fish. Though they may be doing this to make a good money Karma, it eventually pollutes the lake.
Want to see what the Jal Mahal looks like inside? Read Inside Jal Mahal Jaipur
3. Nahargarh road at Charan Mandir
Recently, a new spot has become more popular for watching a sunrise in Jaipur, Charan Mandir. The views are breathtaking as you can also catch the sunrise with Jal Mahal in the foreground. This sunrise point is just across the road leading from Charan Mandir to Nahargarh Fort. Here is a photo of the sunrise spot in Jaipur on Nahargarh Road near Charan Mandir.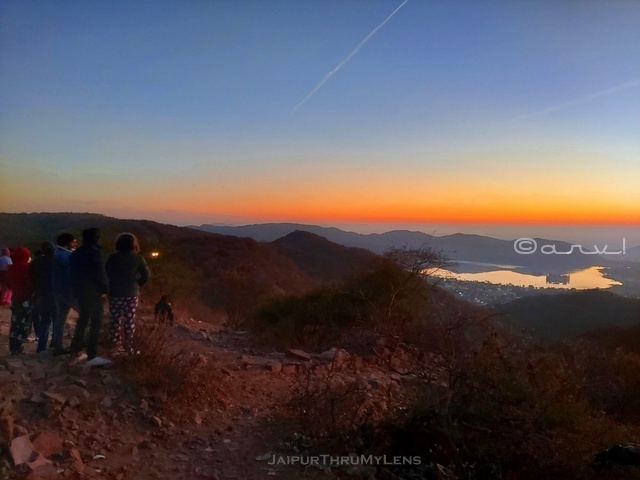 Here is another photo of the sunrise spot on Nahargarh Road near Charan Mandir.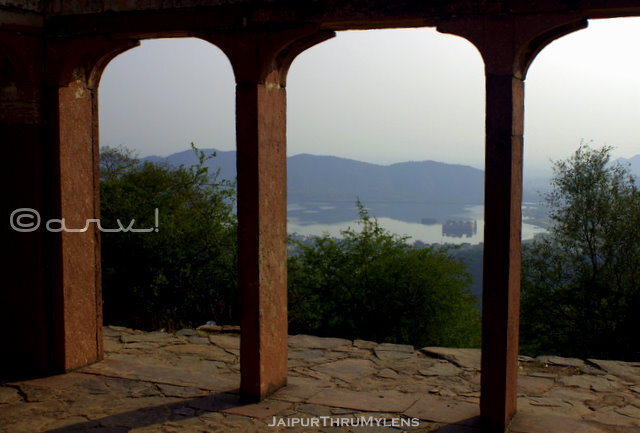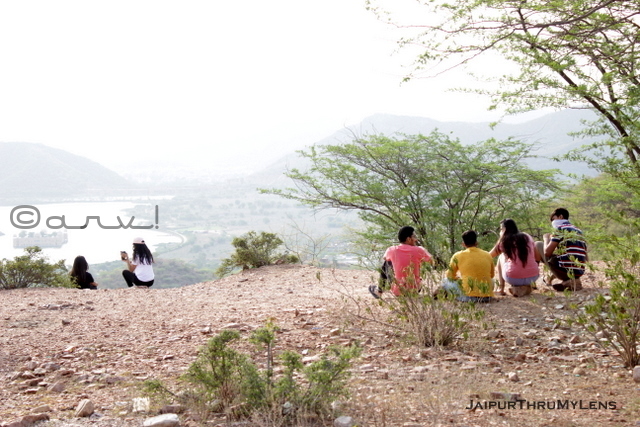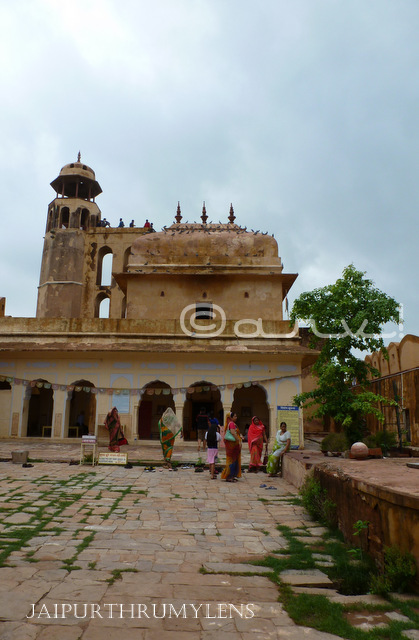 Read related posts :
All About Nahargarh Fort Sunrise Experience
Sunrise at Nahargarh Fort
Sunrise point in Jaipur at Garh Ganesh Temple
Is Nahargarh Fort the best sunset point in Jaipur?
I hope this post will help nature lovers to experience the glory of sunrise in Jaipur. I will continue to share sunrise photos for Jaipur Sky.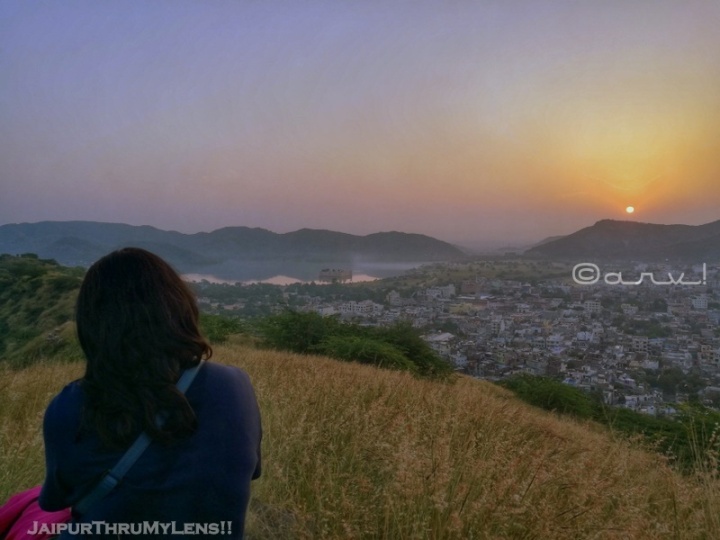 Follow Jaipurthrumylens via Facebook, Twitter, Instagram