Kishan Bagh in Jaipur? Most people have never heard about this place. I initially heard about Kishan Bagh with the story of Prince Jagat Singh Of Amer and Mariam Mahal. Jagat Singh was the son of Mirza Man Singh of Amer. He married Mariam, a foreigner. She resided in a palace built amidst scenic surroundings called Kishan Bagh.
Here is a picture of ruins of Mariam Mahal in Jaipur.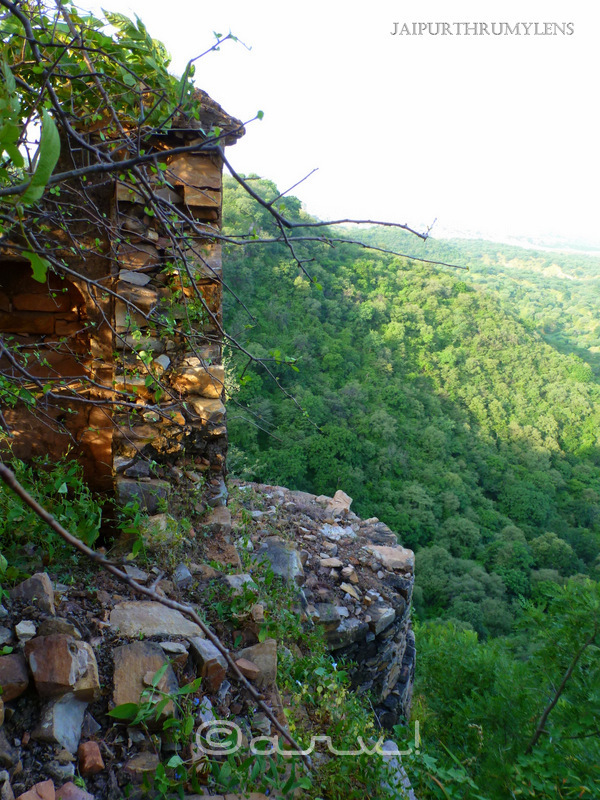 Kishan Bagh is at the foothills of the Nahargarh Fort hill. I have traversed through Kishan Bagh dunes while hiking a few times. Here is a picture from one such hike.
A couple of years later, I heard of the Kishan Bagh being developed by Pradip Krishen and JDA. Pradip Krishen remains a familiar name in India when it comes to trees and the local ecology. He was instrumental in the building of Rao Jodha Desert Rock Park in Jodhpur, and he is the author of the acclaimed book, Trees of Delhi.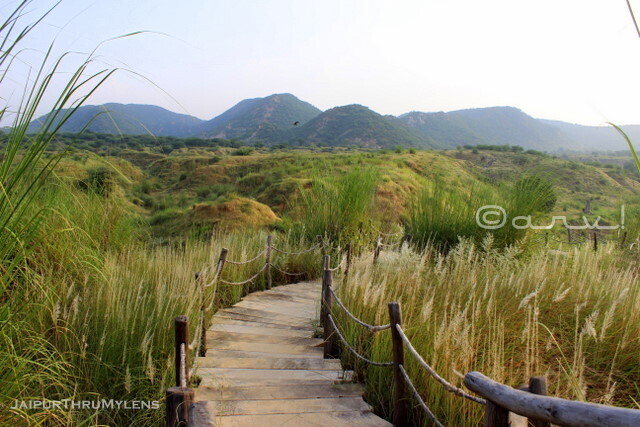 The Story so far-History
In January 2016 Jaipur Development Authority(JDA) showed Pradip Krishen a vast barren land at the base of Nahargarh Hills. They sought his opinion on reshaping it into a public park. JDA had already worked on this landscape, and their park project was a disaster. They had created a cactus garden in Kishan Bagh a few years before but it did not survive. Having worked on Rao Jodha Rock Park in Jodhpur, Pradip Krishen thought of restoring Kishan Bagh dunes into a natural desert landscape.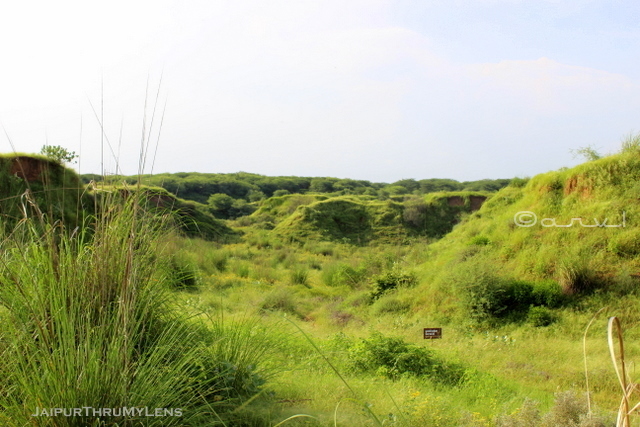 The inspiration for this idea came from his explorations into the desert landscape of western Rajasthan which is called Roee by the locals. Roee landscape is dominated by small shrubs like Seenio (सींणीओ ), Bui (बुई), and Kheemp (खीम्प).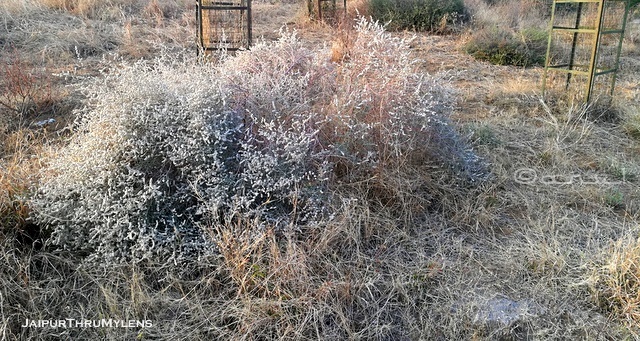 Seenio is a preferred food of Chinkara deer. This becomes dry during the dry months and when the moisture returns in the air, it becomes green again. This is very similar to monsoon forests of Aravali hills. Kheemp grows in and around the sand dunes and grows 7-10 feet. Bui, on the other hand, has white cotton-like growth and is from the Amaranthus family. One can find all this information on boards installed on either sides of the walkway.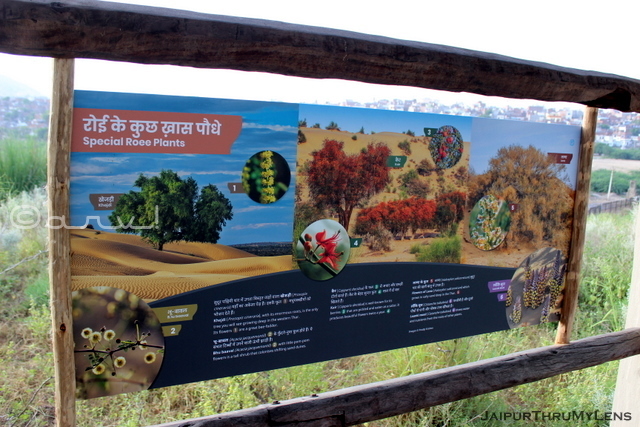 Amidst all this, one can't ignore the Munj grass found in the semi-arid landscape. Since my ancestors hail from Western Rajasthan, I have seen locals using dried shrubs in villages for lighting a fire stove – Seenio/सींणीओ. There is more to the flora of western Rajasthan than the ones listed above. There are trees like Khejri, Rohida, Kumatiyo, Akada, Dhatura to name a few. Some of these have made it here; each contributes in their own ways to life in the desert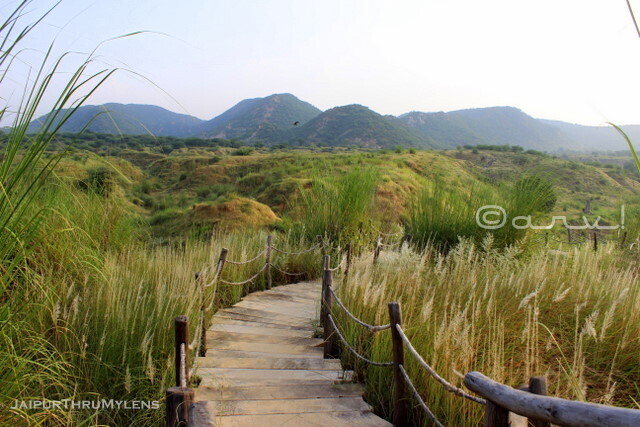 What makes Kishan Bagh Sand Dunes Unique?
From the outset, Kishan Bagh is impressive. It is fascinating to note how unutilized barren sand dunes can be transformed into such a magnificent place. The park has used natural materials & resources found here in Rajasthan.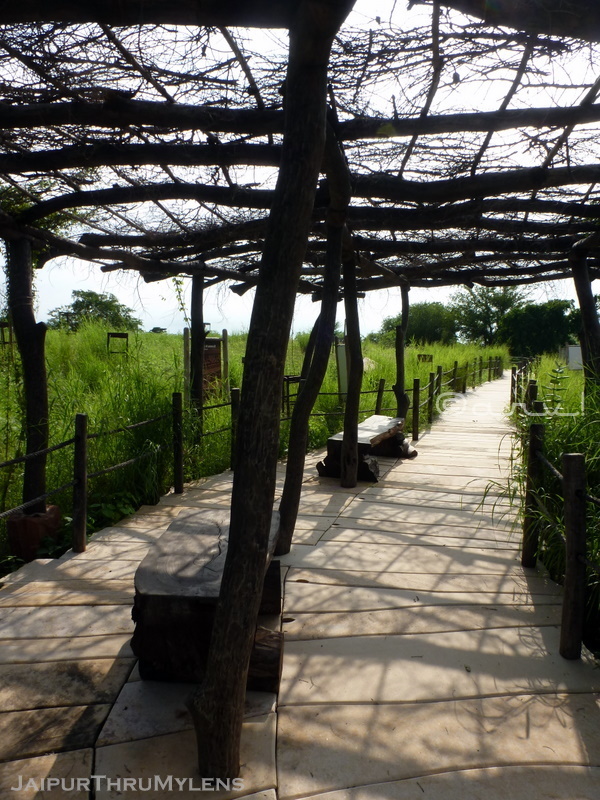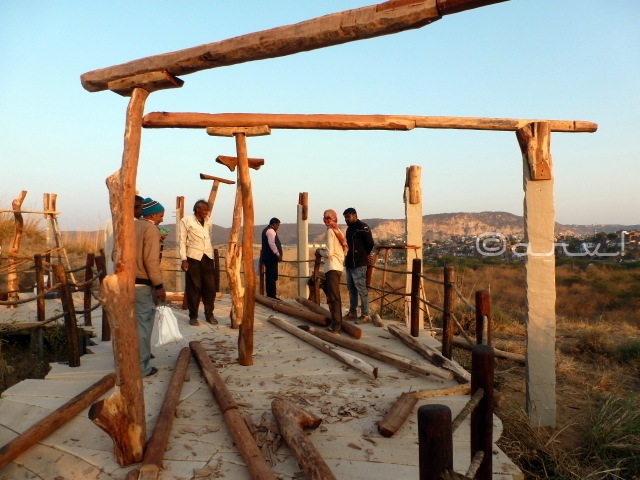 We have many parks in our cities like Central Park with decorative trees and plants devoid of indigenous ones. Pradip Krishen has invariably been an advocator of local trees and plants. Indigenous trees support local fauna. They are much more hardy as they are best suited for local climatic conditions. Each and every part of indigenous trees finds use in one or another way.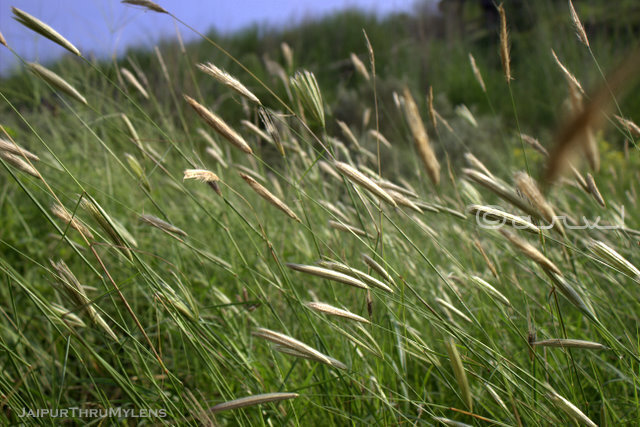 The experience has proved that imported tree variants have caused havoc to the local ecology. We have an example of Vilayati Babool which provides no perceivable benefits and remains an invasive species. Prosopis Juliflora, its scientic name is also called Vilayati Keekar in Hindi. It is hard to uproot this tree because it regenerates from the slightest trace of roots. Initially from South America, it has caused immense problems because there is no natural way to check its growth. It was introduced in India by the Britishers during the late 19th century under colonial rule. Then between the 1920s and 40s it was planted in huge numbers in many areas especially in Rajasthan. Here is a picture Vilayati Keekar planted by the forest department in Aravali hills in Jaipur.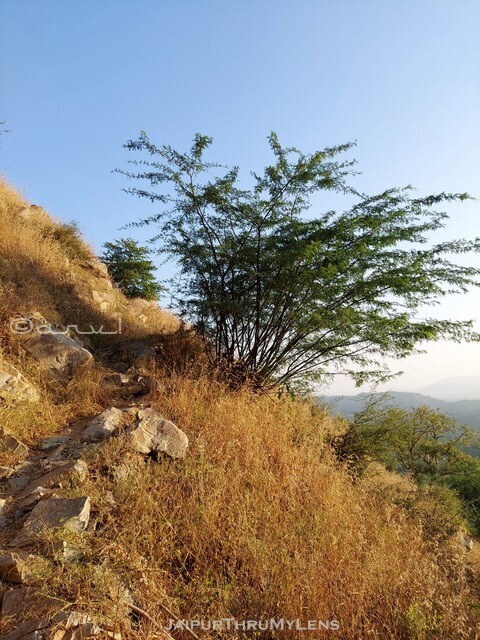 Similarly, the Eucalyptus plantation promoted by the Forest department in the 1970s & 80s was a disaster. Originally, from Australia, its ill-effects were visible within a few years. The farmers & environmentalists protested for this tree made soil infertile and required an enormous quantity of water. Kishan Bagh is a step in the right direction. It celebrates the gift of nature -the local ecology.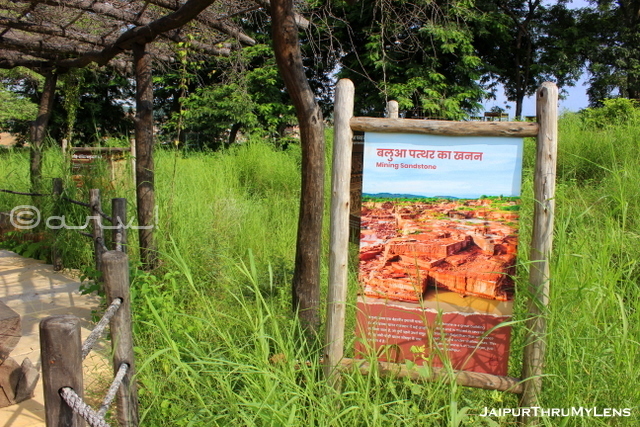 Kishan Bagh provides a breath of fresh air because it still preserves its native form, unlike most parks that change the topography entirely with landscaping. Instead of Gulmohars, one will only see Dhok trees and Sarkanda or Munj grass in its natural glory.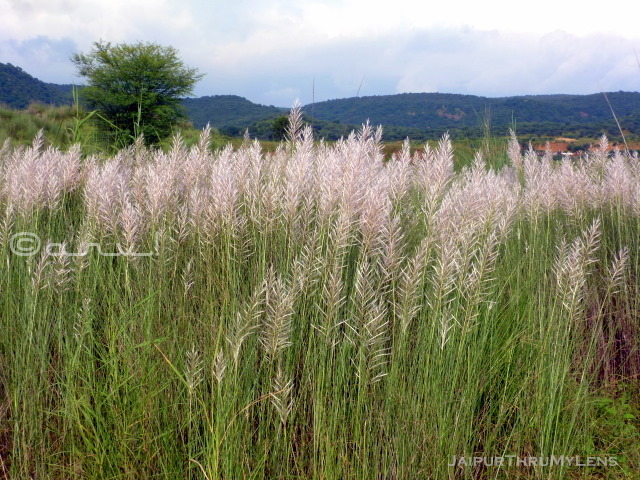 Jaipur is technically not a desert, and it is considered a semi-arid region. In the past, it was effortless to spot sandy areas near the city. Owing to the growing urbanization, all that has changed. Many travel accounts from the mid-1800s to early 1900s of travelers mention huge sandy areas at the foothills of Galta hills and Nahargarh Fort Hills. One can still see a bit of the latter but not the former. Here is a picture of the sand dunes at the base of Nahargarh Fort.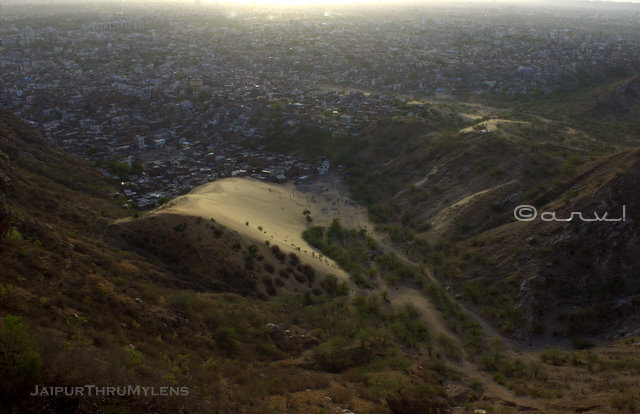 Kishan Bagh sand dunes from one of my previous hikes in this area at the base of Nahargarh Hills.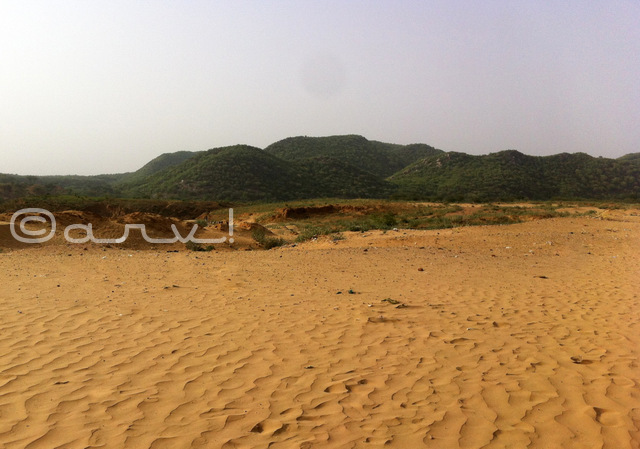 The Kishan Bagh sand dunes slowly turned into ravine-like structures resembling the ones found in the Chambal river. Chambal region in the Dholpur & Morena has a similar ravine landscape. The wind and water created channels & ravines. The current project aims at preserving ravines and avoid any further damage.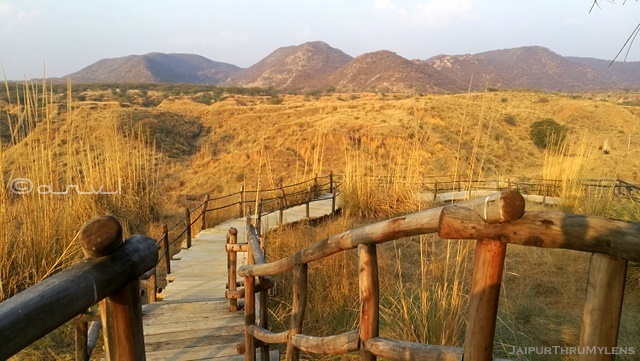 The Layout of Kishan Bagh Sand Dunes Jaipur
Kishan Bagh has recreated micro-habitats of desert land. Among the numerous things, one can spot fossil rocks, sandstones, quartz rock, Munj grass, and Kheemp thatched roof. Recreating this space is a laborious process & taken a few years.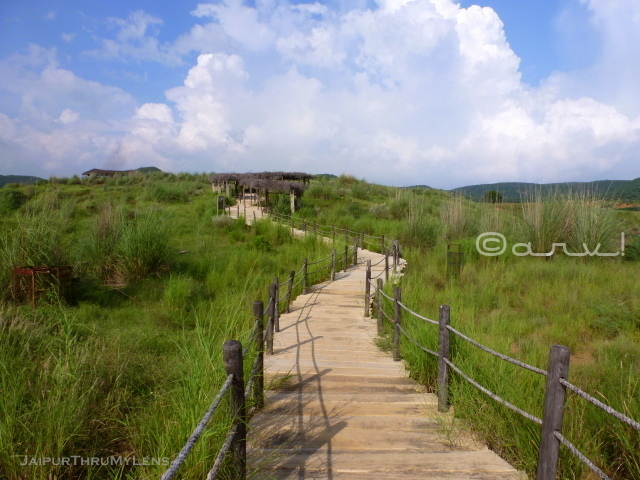 During my first visit during its making, Pradip Krishen explained there has been a long learning curve behind the current landscape. At times, the solutions were improvised to suit the requirements.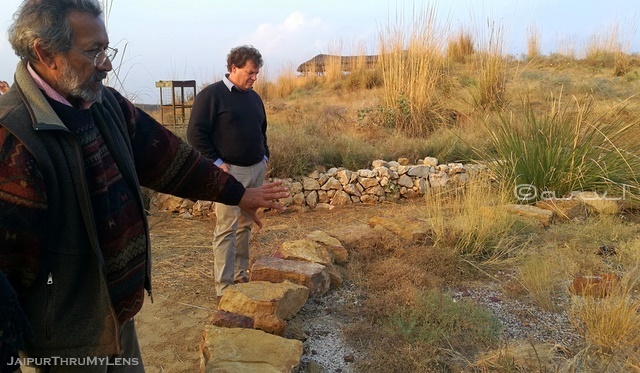 Some island zones which explain the habitats of desert topography. Here are some of those:
1.Granite Habitat
The granite landscape is part of the Aravali hills. Granite is a rock formed due to the cooling of magma from a volcanic eruption. In that respect, this rock is millions of years old. Aravali Hill range is much older than the Himalayas and runs South to North from Gujarat to Delhi.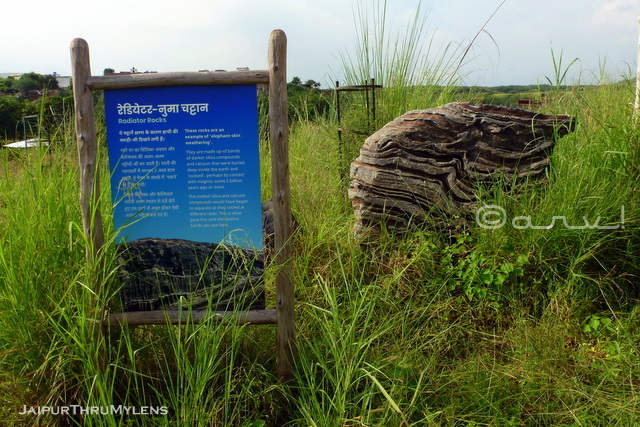 Many plants like Chasmophytes grow in crevices of these rocks. These are strong plants that have learned to grow with little resources – tight space and very little soil. Here is a picture of one such Chasmophytes from my hikes in Nahargarh Hills.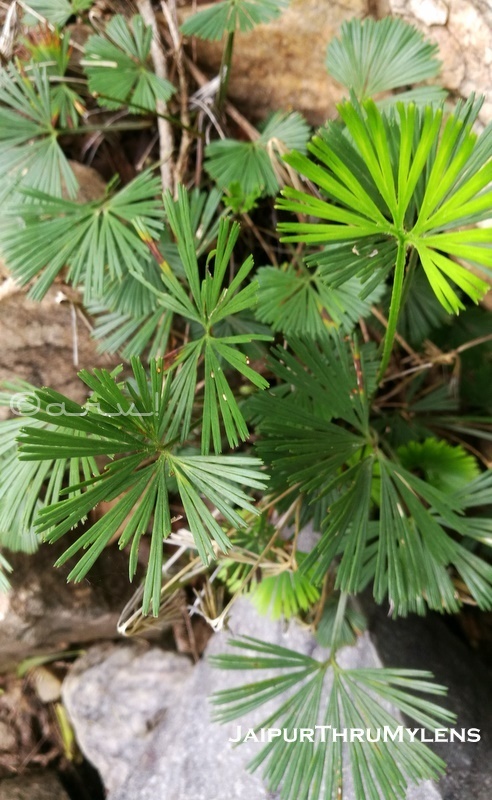 2. Dhok Habitat
Dhok trees also known as Anogeissus Pendula Tree is resident tree of the Aravali Hill around Jaipur. These hardy trees are one of the few that survive in the harsh conditions of the Aravali Hills. They can adapt well to the steep slopes and lack of water. Dhok is part of the monsoon forest. Dhok trees are usually interconnected through underground roots.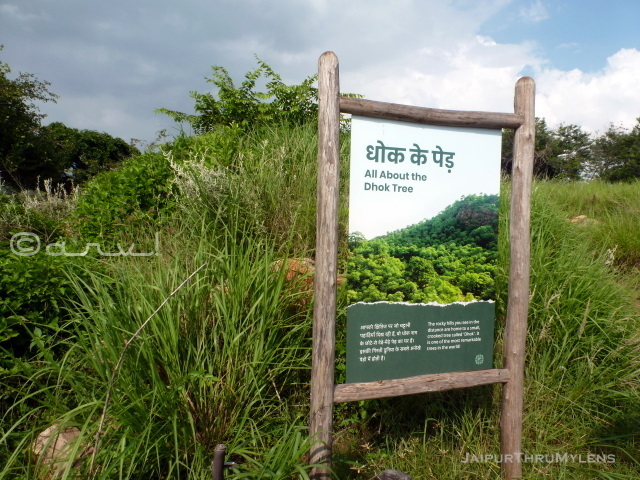 Here is a picture of Dhok tree that one finds in abundance on the hills of Nahargarh Fort.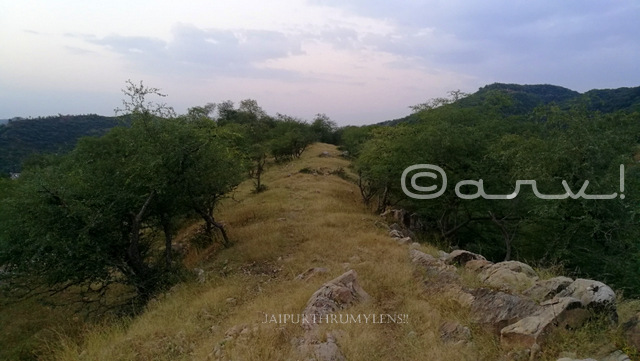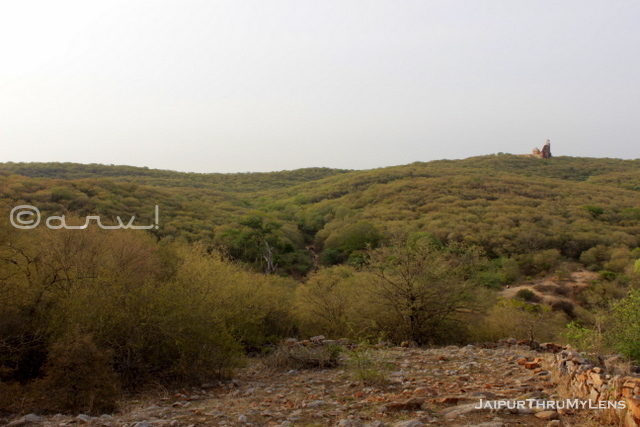 I'm happy to see Dhok tree in Kishan Bagh because this is the most common tree I see in the hills near Jaipur. It is like an instant connection. 
If you haven't read this in-depth post on Dhok tree, check it out – Anogeissus Pendula tree The resident tree of Aravali Hills
3. Desert Rocks
This habitat is spread around the start of the boardwalk that takes visitors to the farthest end of the Kishan Bagh eco-park. It contains a variety of rocks from the Aravali hills. Out of these sandstones are one of the most prominent stones.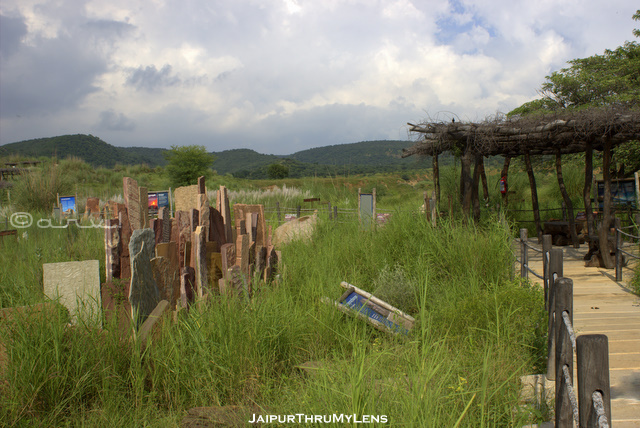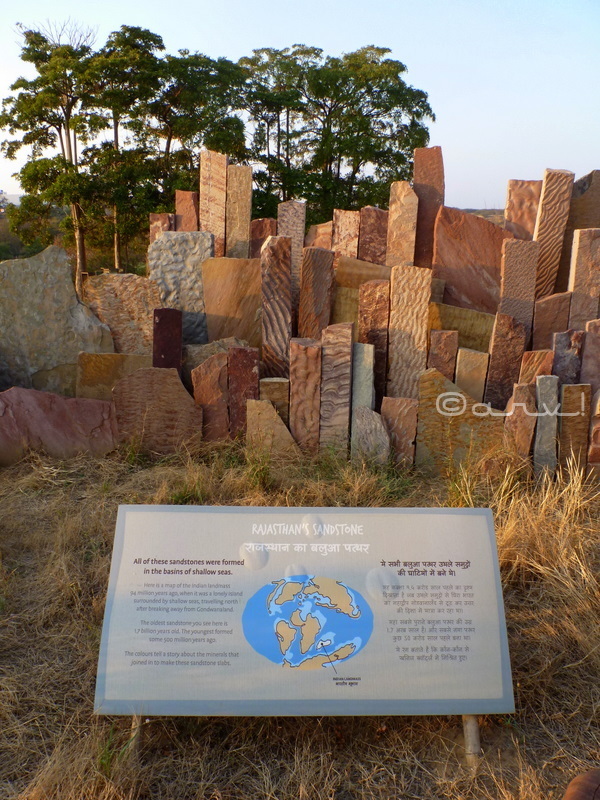 Sandstones from Rajasthan are popular all across the world. Most popular sandstones of Rajasthan can be found in Dholpur and Karauli. One of the most sought after sandstone is the newly founded Bidaser. An installation replicating the high rise buildings celebrates the sandstones of Rajasthan. Other notable stones are Quartzite and Rhyolite. The Aravali hills near Jaipur have rocks containing quartz.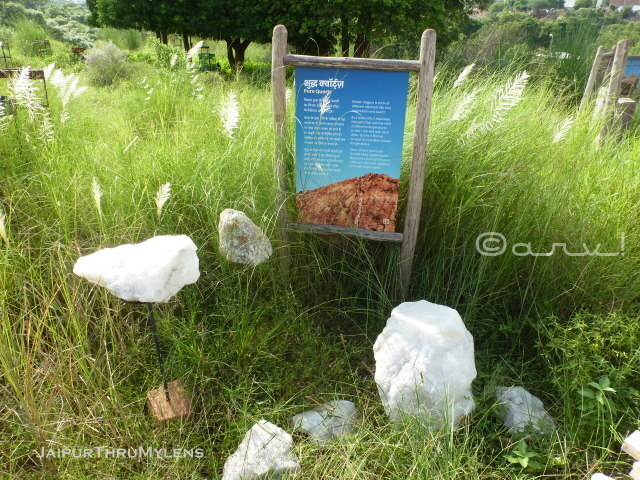 One of the least known stones from Rajasthan is Stromatolites from Udaipur and is a fossil-bearing rock.  Here is a picture of a fossibl-bearing rock sample from Kishan Bagh.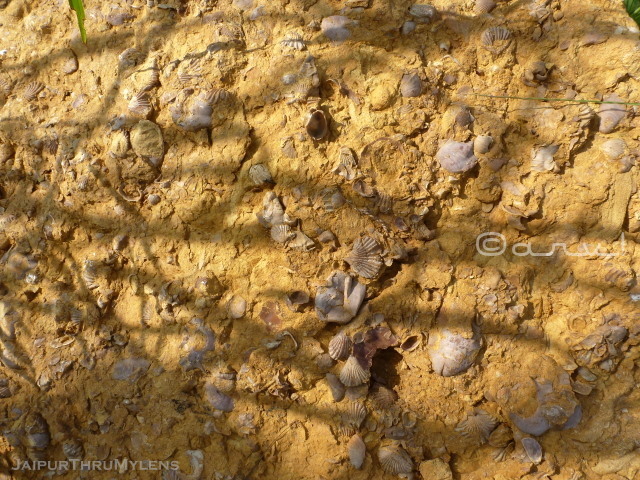 4. Roee & other micro-Habitats
This habitat recreates the ideal conditions for various shrubs and plants to grow. One of the most important of which is the soil. To recreate this zone, the top layer soil from western Rajasthan was sourced.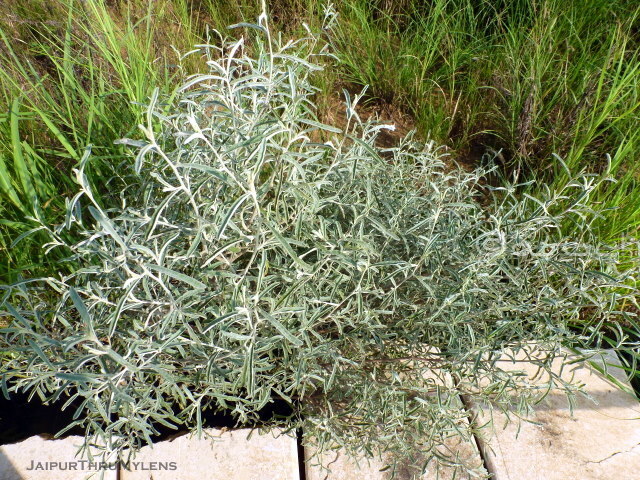 Kishan Bagh also has some special habitats found in desert landscape. Here are a few pictures of the same.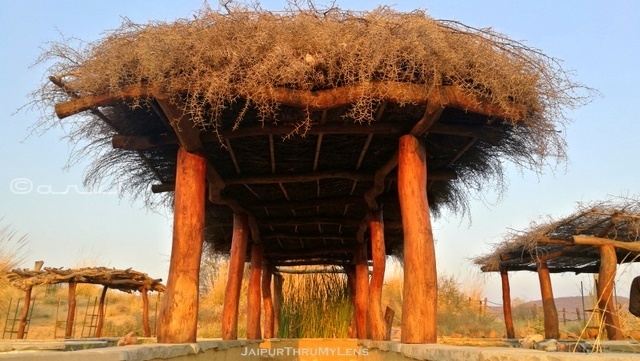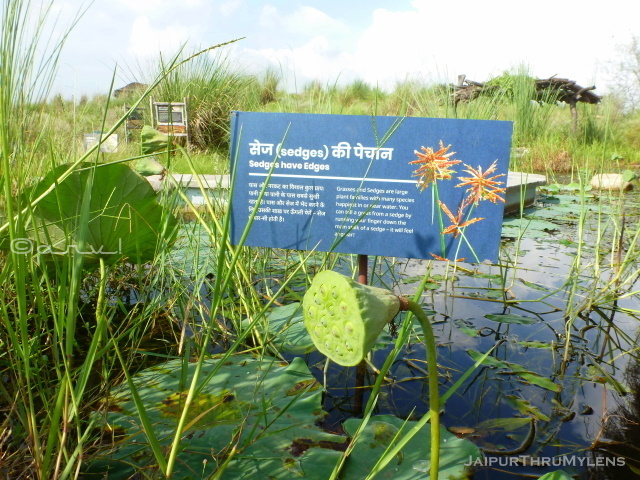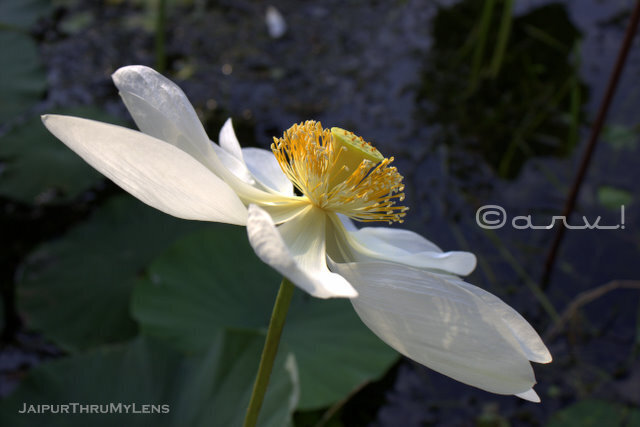 5. Viewing Deck
The boardwalk made from Jaisalmer stone snakes through the park and leads one to the viewing deck – The Longhouse or Machaan. There is another viewpoint called Maidan Lookout. Here is a picture of the path that leads to Maidan Lookout.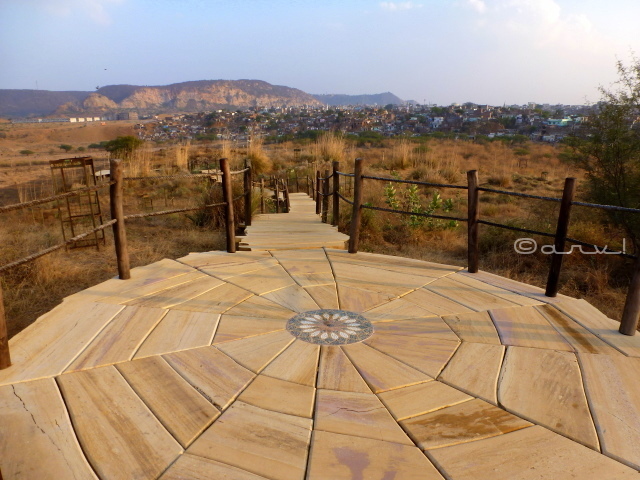 The viewing deck of this ecological park is where every nature lover would love to be. It gives a panoramic view of the entire area including the western slopes of Nahargarh Hills. Here are a few pictures of the Machaan.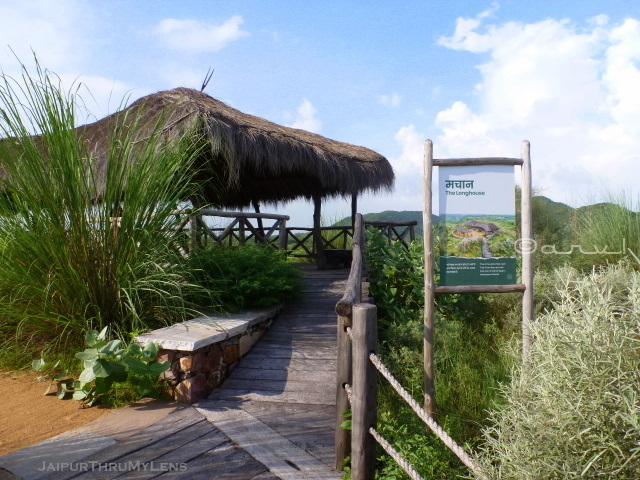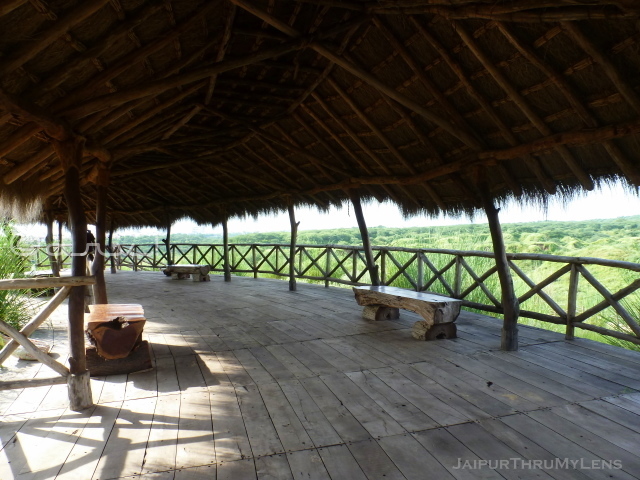 It reminds me of the African Safari resorts and this deck seems to be a fusion with the rural huts of Rajasthan. An elongated structure like this is hard to find in Rajasthan as most huts using Kheemp are tiny. One can then choose to descend to a small pond and get lost in the wilderness around.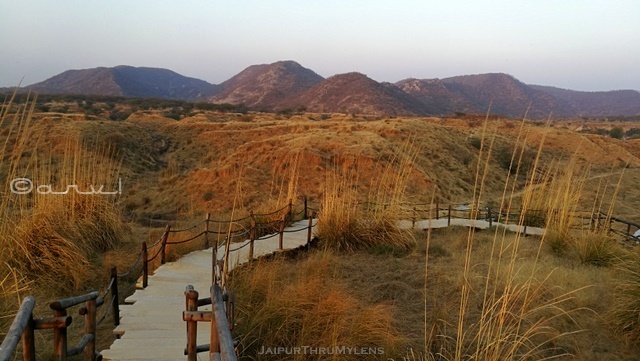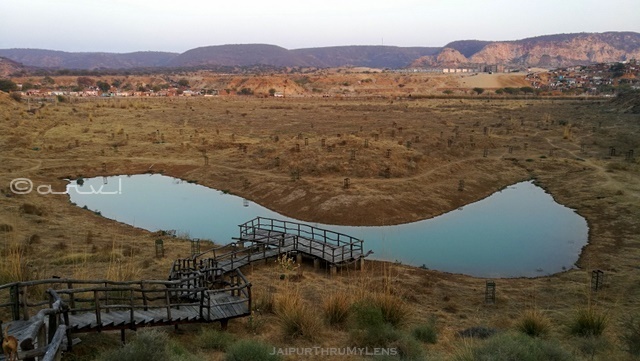 It was a naturally occurring water body but has been reshaped during the making of the park. It is an oasis for nature lovers.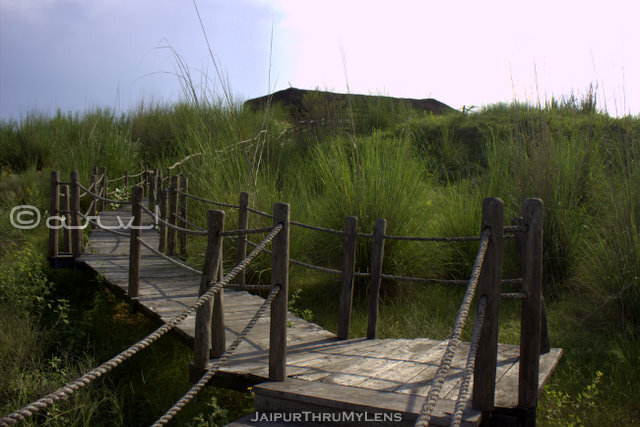 Kishan Bagh's ecology supports many birds, insects, and animals. Some of which are Grey Frankolin (Teetar), Indian Roller, Myna, Indian Robin, Bee Eater, Peacock, Desert Fox, Neelgai to name a few. Here are a few pictures.
Visiting Kishan Bagh is like reconnecting with nature and taking time off to unwind. Not many places in Jaipur are so peaceful. I definitely recommend a visit to Kishan Bagh in Jaipur, at least once.
Entry Charges & Timing
Kishan Bagh entry charges are Rs 50 per person
The entry charge for a student in Kishan Bagh is free. However, a valid student id card is necessary to avail of free entry.
The timing of Kishan bagh are as below:
winter timings: 8 AM to 5.30 PM
summer timings: 6 AM to 6.30 AM
Pre-wedding photo-shoot in Kishan Bagh & Charges
Rs 5000 is charged for a pre-wedding photoshoot in Kishan Bagh. It is no surprise why so many young couples prefer to get photoshoots in Kishan Bagh.