Radha Madhav Temple is the largest temple of Kanak Vrindavan Garden complex in Kanak Ghati, Jaipur. Earlier I wrote a message Natwar Ji Temple, the second temple in Kanak Vrindavan Garden. I have detailed the history of the Kanak Vrindavan Temples in the article. Radha Madhav Temple is dedicated to Lord Krishna and his consort Radha Ji.
Read Kanak Vrindavan Temple and Garden – Part 1 / Natwar ji Temple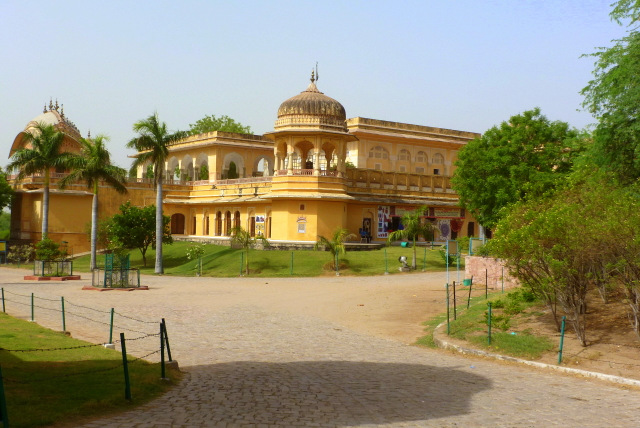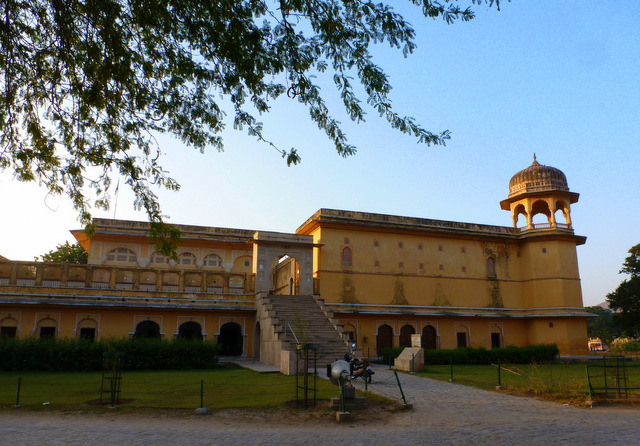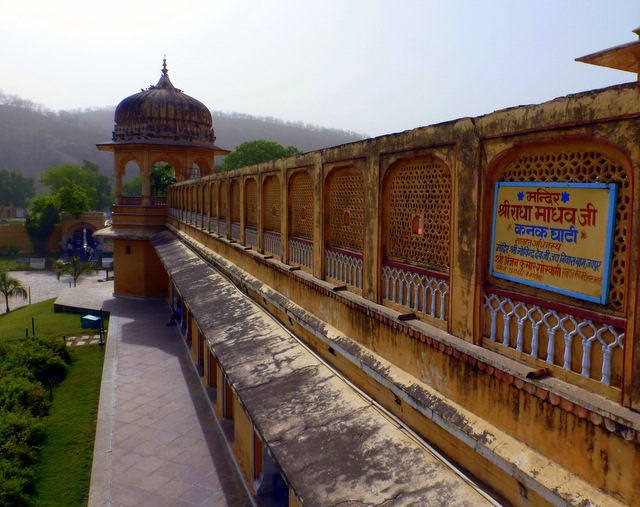 According to the popular opinion, it is an assumption that the idol of Lord Govind Dev Ji had settled in the Radha Madhav Temple in 1714 AD before being moved to the existing one. Govind Devji Temple. However, there are no official documents to prove this; this is just an assumption based on the reconstruction of events. For this reason, Radha Madhav Temple in Kanak Vrindavan is also called the old Govind Devji Temple in Jaipur.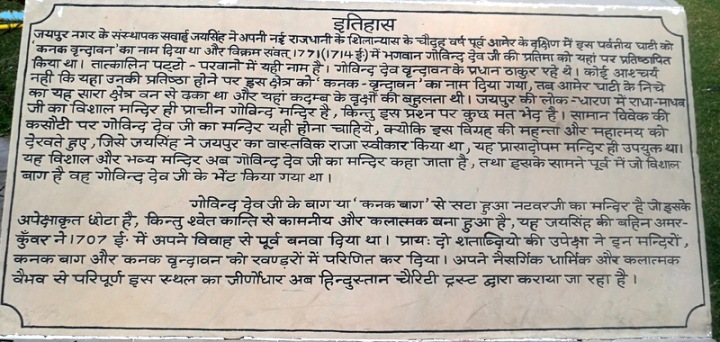 The temple follows an architectural style similar to: Natwar Ji Temple.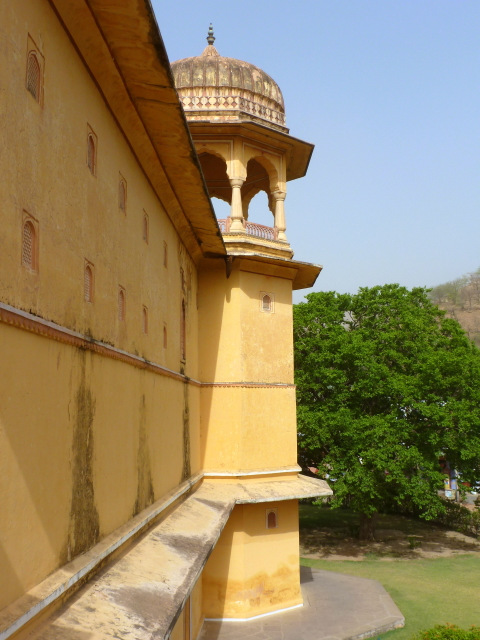 The Radha Madhav Temple is bigger than the Natwar Ji Temple. The sanctuary is on the first floor, while the ground floor has several rooms. The temple faces east; however, the stairs in front of the entrance are from the north.
The original entrance gate comes from the east and is now closed to the public. The current staircase appears to be a later addition.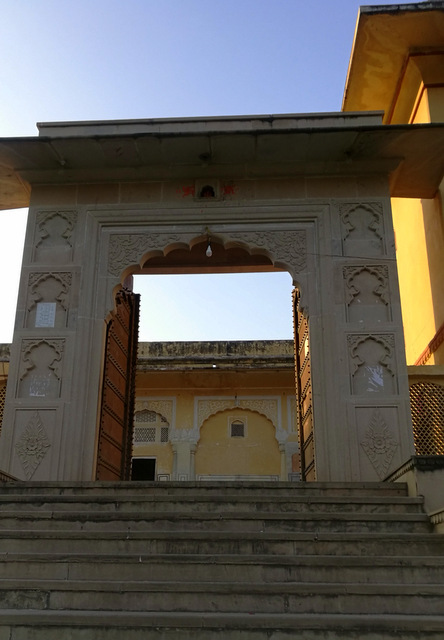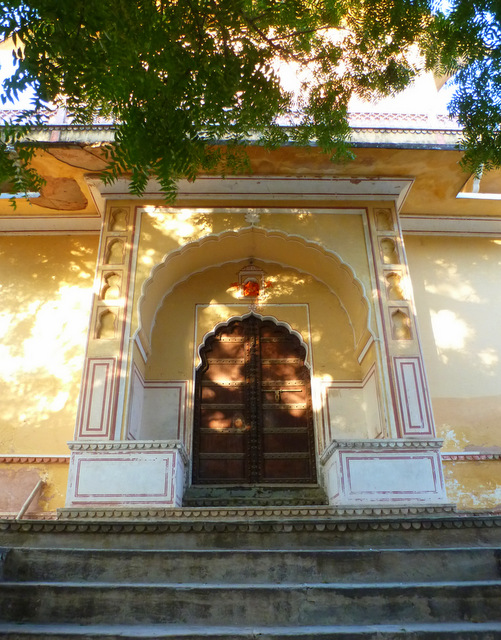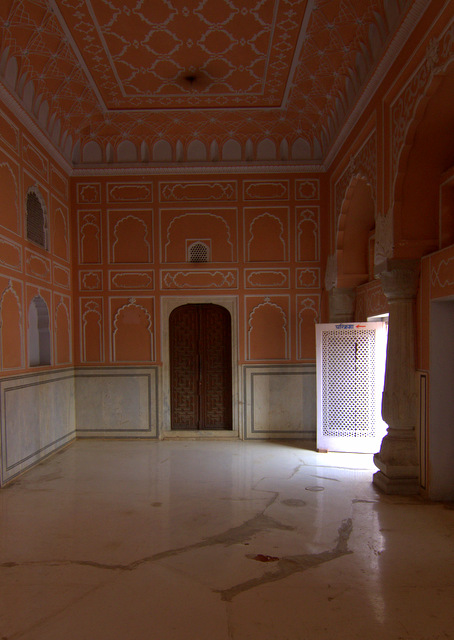 Although the temple follows the non-ostentatious Rajput Haveli architecture, it is beautiful. There is no spire, a feature found in Indian temples. The floor is made of an old plaster technique called araish simulating the mirror finish of white marble.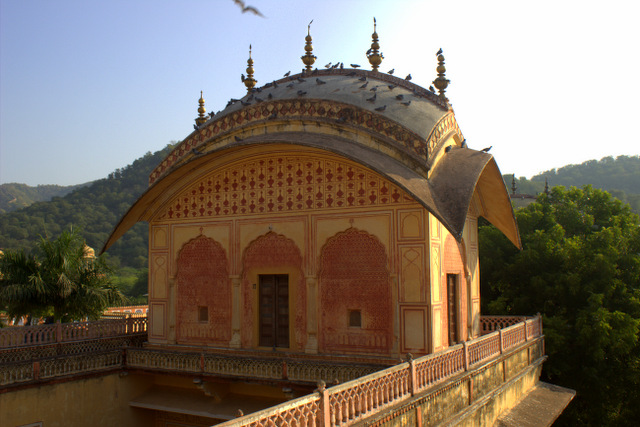 The temple largely follows Rajput architectural style, Mughal influence is evident in this beautiful Bangledar Chhatri.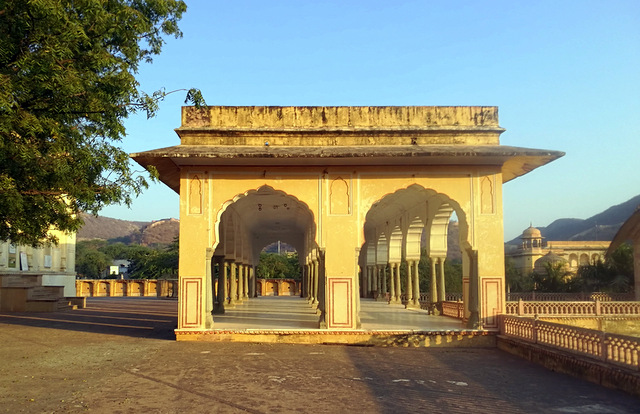 The idols and shrine look beautiful.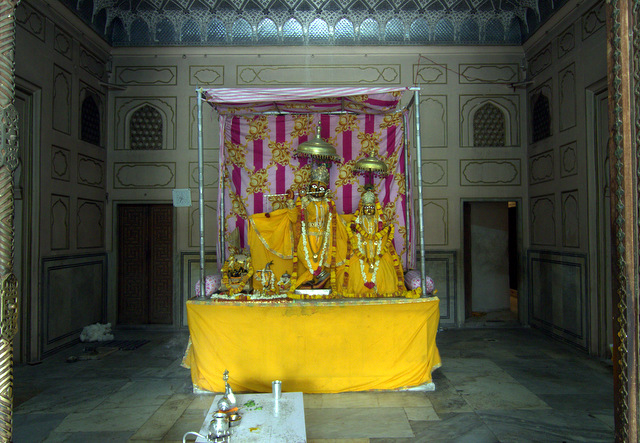 The surrounding area which is a valley is called Kanak Ghati.
The Kanak Vrindavan Temple was renovated a few years ago by the Hindustan Charitable Trust. Govind Devji Temple Trust maintains and manages both temples in the Kanak Vrindavan Garden complex – Natwarji Temple and Radha Madhav Temple. I recommend a visit to the? Kanak Vrindavan Garden complex to enjoy the serene and blissful environment.
Read Kanak Vrindavan Temple and Garden – Natwar Ji Temple
Timing of Kanak Vrindavan Temple in Kanak Ghati
Since Govind Devji Temple Trust manages both Radha Madhav Ji and Natwar Ji Temple, these temples follow the timetable of Govind Dev Ji Temple for Darshan/Jhanki and Aarti. Check Govind Devji Temple Darshan timing online. The temple is open all day. You can have Darshan during any of the 7 prescribed time slots in a day.
Stay tuned with Jaipurthrumylens!! through: