Over the last few years, Stepwells have been drawing a large number of tourists to Rajasthan. Chand Baori in Abhaneri is one of the most popular tourist attractions; on the other hand, Panna Meena Kund in Jaipur is one of the top Instagrammable places in Jaipur. These step-wells are an important part of the heritage of Jaipur.
Baoris exist in dichotomy. Some are extremely popular, and others are living an obscure life. The world has moved on and forgotten these water structures in entirety unless they serve as a tourist attraction. On the other hand, the tourist is unaware of the importance these stepwells played in the lives of people in the old days. These were not merely a source of water, rather stepwells represented a culture.
Importance Of Water
We already know water is important for the existence of human life. Historians concur that all ancient civilizations developed & prospered near water- rivers, and lakes. This holds true for the Chinese, Indus, Egyptian, and Mesopotamia civilizations. The importance of water did not end here. All dominant cities & kingdoms developed near the sea or river for example Lisbon, Amsterdam, Copenhagen, and London, to name a few. Back in India, some of the important port cities were Muziris, Bharuch, Kaveripattinam, Nagapattinam, and Arikamedu. Water was needed not just for daily necessities; it also fueled travel, trade, & transportation by way of ships and boats. The role of water is well-known in the case of the industrial revolution. The fate of battles and wars was often decided by the water availability. Every so often, the siege of a fort lasted for months in anticipation of water sources drying up among the enemy camp. It is definitely hard to imagine the importance of water in the days of modern piped water; think of our lives if there was no water.
Jaipur & water
In a semi-arid landscape, the importance of stored water was immense. Jaipur still has two old water bodies to date, namely Jal Mahal and Talkatora. Both of these were not used for drinking purposes.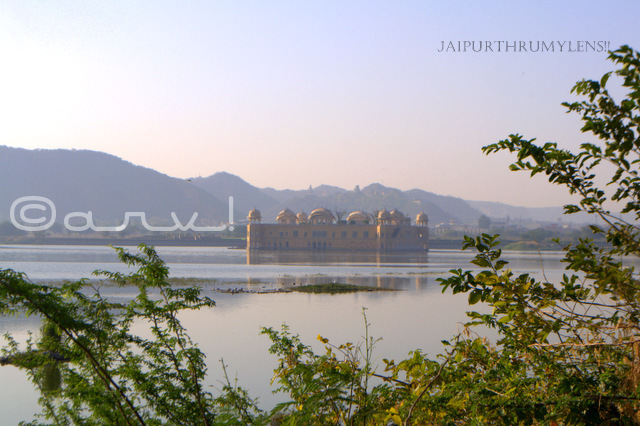 Rajamal Ka Talab,a considerably older one, doesn't exist anymore. This was a natural lake to the north of City Palace and Govind Dev Ji Temple and south of Garh Ganesh Temple. All that exists presently in its place are dwelling units and Flower Bazaar. The water source for Rajamal Ka Talab was the overrun of rainwater from Nahargarh Fort hills.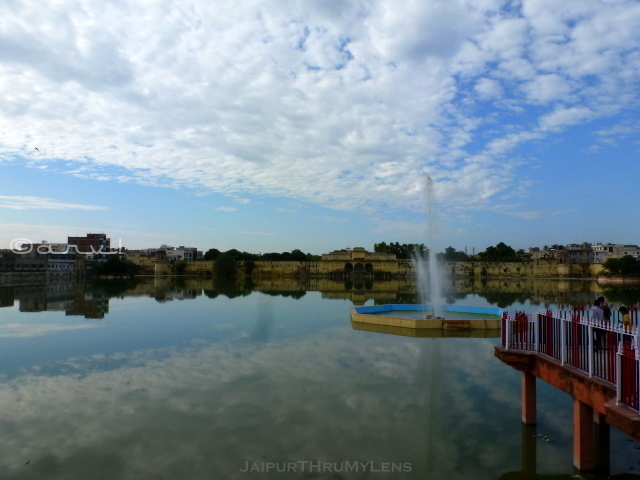 The water shortages were mitigated by building stepwells and wells. There have been instances of famine and low rainfall for consecutive years; stepwells have aided to tide over such a situation. A few historians claim the existence of over 600 wells in the walled city area or "Char Diwari" during the days of the princely state. It is not difficult to find wells even now. Since most have been put out of use, these have either been covered, filled up, or locked.
Stepwells in Jaipur
Jaipur had many Stepwells or Baoris in and around the city. A few survived while others were filled in to make space for a dwelling unit or a commercial space. Even residents of Jaipur are not aware of the existence of most of these Baoris except the Nahargarh Baori and Panna Meena Kund. Here are the pictures of a few stepwells in and around Jaipur.
Jaipur was part of the Dhundhar region, characterized by a semi-arid landscape. The summers are hot with scorching sun and the primary source of water is rainfall. It was critical to saving the rainwater so that it could be utilized for the entire year. Jaipur did not have a perennial source of water like a river. Although some historians talk about the presence of the Dravyawati river, a lot is still to be known. People of this region had to rely on stepwells and wells for water. Piped water supply in Jaipur was made possible in 1868 AD during the reign of Maharaja Sawai Ram Singh II. Previously, one could fetch water from one of three Chaupars, wells & stepwells in the city.
One can still witness one or two step-wells in Brahampuri or Purani Basti areas, but a significant number of Stepwells have been filled in and dwelling units built over them. Thanks to the rapid urbanization over the last five decades. Both these areas are densely populated, and the land is expensive.
Locals share stories of having grown up with Baoris as an integral part of their life; sadly, those structures don't exist anymore. Simultaneously, the ones that exist are not easy to detect because buildings have come up at a remarkably rapid pace in and around these step-wells. Illegal construction and encroachments are common occurrences.
Some communities regard Stepwells as sacred and the locals clean them regularly; very often the Baori was part of a temple complex. However, it is not the case with all communities. Integration and involvement with local communities are important for the survival of these ancient water structures.
These Baoris were not merely bodies that provided water, rather they were part of routine life. Baoris were the social places where women would catch up and chat.
Some Baoris were built outside the city limits and functioned as Dharamashalas or guest houses. The gates of the city would close at a designated time. Anyone reaching beyond this stipulated time could spend the night in Baori. This is evident in Sarai Baori, a stepwell in Jaipur. The word Sarai means guest houses. This was well known to the travelers in this region. A temple was also part of this Baori. As per information available, it was built during the rule of the Mughal emperor, Akbar.
Many Baoris have undergone renovation under the SURAJ project of Nagar Nigam Jaipur, State Urban Agenda For Rajasthan as recently as 2017. While it is definitely a way forward, we also need to find some use for the same.
Why it is called Stepwell?
Stepwell is called so because it is essentially a well with steps. The water can be accessed at any level with the help of steps. Stepwells are known by many names like Baori, Baoli, Bawdi, Vav, to name a few. The simple premise of building stepwell was to allow people to access water at all levels. The water level inside the structure can fluctuate according to the underground water table. The steps allow one to access this water no matter what the level is.
Stepwell vs Well
Stepwell is spread over a more substantial area than a well. The structure of well typically consists of a deep pit in a circular shape. Very often, depending on the geographic location and time period, it can possess decorative elements & a pulley to help draw water. In stark contrast, stepwells can have many unique layouts and designs. Some of the stepwells are incredibly beautiful with ornate carvings. The best example is Chand Baori, near Jaipur. Stepwell could additionally serve as a resting place for travelers during ancient times. Wells, on the other hand, provided just water. In short, stepwell is an extension of a well.
stepwell architecture
Stepwell in India varied immensely in terms of layout and architecture. In Rajasthan, Chand Baori is one of the largest stepwells in India. On the other hand, the Baori in Modhera, Gujarat possess an element of art. Stepwells like Chand Baori and Panna Meena Kund are square in shape whereas most Baoris tend to be rectangular. Some believe Chand Baori is best to classify as Step pond. In many Baoris in Jaipur and Rajasthan, a well is a part of the Baori structure. The water can be fetched with a pulley for drinking purposes. Usually, this well is at the farthest end of the Baori.
Stepwells in Jaipur were largely utilitarian in design and were not ornate. As an exception, a few of the structures feature relief work or niches on the walls. Jaipur stepwell is similar to Agrasen Ki Baoli in Delhi, in terms of architecture.
Some of the stepwells have beautiful gates built-in vernacular architectural style. And some have design elements similar to the old entry gates in Jaipur.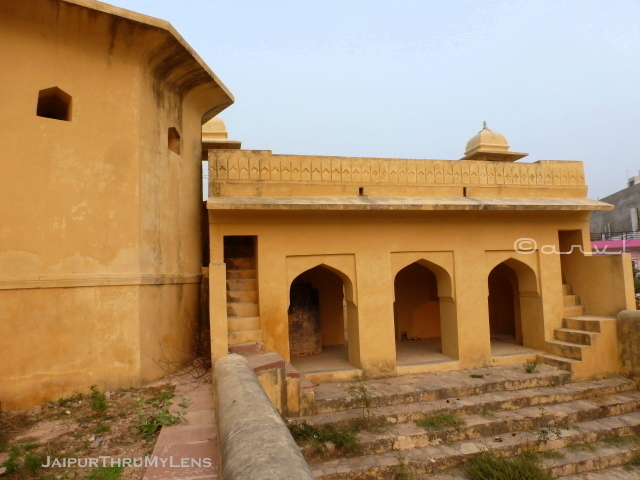 Innovative uses for Stepwell
Travel & Tourism-While the stepwells across Rajasthan and India have ceased to provide utility to the people for which they were constructed, there is a silver lining. Many Baoris have become immensely popular among travelers and tourists like Panna Meena Kund, Chand Baori, and Nahargarh Baori to name a few. Heritage water walks are being conducted in many places. Nahargarh Water Walk & Amer Water Walk allows one to understand the entire system of collection, distribution, storage & consumption of water in the old days. It is worth undertaking this heritage water walk. Ramgarh Heritage Water Walk is a new water walk.
Meeting spots & cultural events– In some places, Baoris serve as a venue for holding meets, traditional dances, Sufi dance, music, Qawalli, etc. Such performances attract many new people and allow them to explore forgotten places. Toor Ji Ka Jhalra in Jodhpur is a good example of the same.
Water Conservation campaigns-The Baoris remain excellent places to convene meetings on raising awareness of conserving water.
The water scarcity issue is already surfacing every now and then. Some of these water bodies can be utilized to help us tackle water scarcity. One of the key issues in fixing the water use & collection is illegal construction obstructing the water inflow systems.
Dinner Venue-When I visited Khandela, I was surprised to know that Baori is used as a dinner venue for travelers. The Baori is lit up with lanterns, and folk artists perform at the venue. This provides travelers with a unique experience. Here is one such Baori from Shekhawati near Jaipur. Many resorts are now using Baoris as candlelit dinner venues offering a novel experience.
History of Stepwell
As per historians, stepwells have been part of western India for the last 1200 years. These underground water structures are usually between three to eight or nine stories. A large number of stepwells were also part of temple complexes and also functioned as community spaces. Some experts are of opinion that step ponds were part of the temple structure but step wells were not. In my opinion, this is not always the case.
It is also a common belief among historians & researchers that step ponds were meant for bathing & rituals. One such step pond exists in Jaipur in the Galta Temple complex. Step pond is a smaller structure and never as deep as stepwell.
Many stepwells were built by the rulers and rich merchants as charitable & benevolent activity, especially in the Shekhawati region, which was part of Jaipur state. Stepwells in India can be found largely in Gujarat, Madhya Pradesh, Haryana, Delhi, Rajasthan, and Karnataka. With respect to the Jaipur region, settlement in Amer dates back to the 10th-11th century. We have stepwells in Amer, the most famous being Panna Meena Kund. Not much information is available as to when stepwells were first built in Amer. As per popular belief, these must have been built from the 15th-16th century, onwards.
The stepwells in Jaipur have lost their real relevance, however, it is important to preserve these water structures because these are an important part of our history and heritage. A lot has been done in this direction, but a lot more is needed. What do you think? Have you ever visited any Baori in Jaipur or elsewhere in Rajasthan or India? Do share your thoughts.