Jaipur is one of the most sought-after cities in India for shopping. Many friends and family from other cities visit Jaipur just for shopping. This is more so in the case of people with an upcoming wedding in the family. Bridal clothes, jewelry, and wedding gifts are high on the shopping list. Jaipur has so much to offer.
Is Jaipur good for shopping?
Jaipur is famous for its bustling bazaars and shopping. Pink city is one of the top five popular cities for shopping in India. Many international and national designers source their raw materials from Jaipur. It is not uncommon to find people visiting Jaipur again and again just for shopping. The city offers a huge range of products to shop for.
What are famous products in Jaipur for shopping?
Jaipur is well established when it comes to its art and crafts. Here is a list of famous products in Jaipur for shopping.
Block printed fabrics
handmade miniature paintings
Jaipur Razai – quilts
Blue pottery
Mojaris & Juttis
Carpets (rugs & Durries)
Marble statutes
Brass items
Sanganeri Bed Sheets & dress materials
Kundan Meena & Jadau jewelry
This is not an exhaustive & comprehensive list of things to shop in Jaipur. There is so much more the city offers.
Why should you buy from Jaipur?
Jaipur was founded as a mercantile city in 1727 AD By Maharaja Sawai Jai Singh II. Markets were at the core of the plan, and a huge attempt was made to ensure that artists & craftsmen specializing in their field were invited to settle in Jaipur from across the country. The result was that these artists & craftsmen were allotted specific areas in the walled city based on their craft. The craft and items they create are unique to the city and cannot be found anywhere else. The variety and prices in Jaipur for items manufactured here are the best one can get.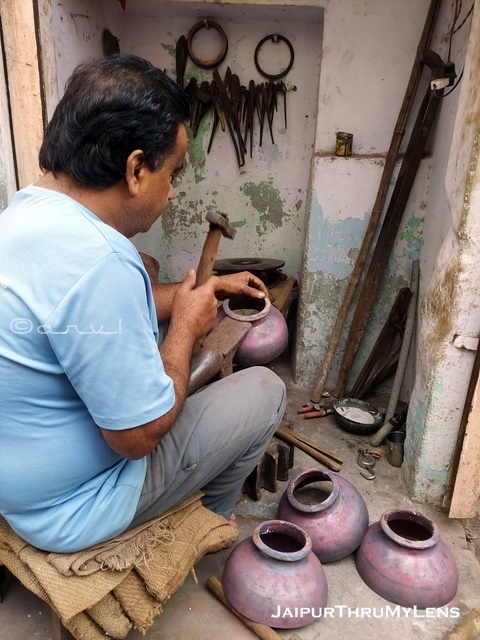 Why is Jaipur one of the most popular shopping destinations?
Even though a lot has changed in the span of over 290 years, some of these areas still possess these craftsmen. The art has been passed on from one generation to another. For example, one of the lanes of the walled city used to be the hub of Lac bangle makers. This lane is called Maniharon Ka Rasta, named so after the people who make Lac bangles – Manihaars. Therefore, each of these arts has reached its epitome due to royal patronage & clusters.
Johari Bazaar
Johari Bazaar refers to the market selling gemstones & jewelry. Many traditional shops selling jewelry are present here. Over the years, due to the paucity of space, many jewelers have moved beyond this market and opened stores in other parts of the city. The market still retains a stronghold in the manufacturing & processing of gemstones & jewelry.
Among the items that shoppers prefer to purchase in Johari Bazaar are color gemstone-based jewelry, Kundan Meena sets, and Jadau jewelry sets. Gopal Ji Ka Rasta is well known for the color gemstones, especially astrology-related stones. Other than jewelry this market also has many shops selling wedding & bridal clothes, especially Saris, Safa, & Sherwani. There are also shops selling silver jewelry, costume jewelry & garments. Haldiyon ka Rasta has for years specialized in silver ornaments; however, things have changed quite a bit over the last few years.
Purohit Ji Ka Katla Market
Purohit Ji Ka Katla Market is where one finds low-price wholesale shops which attract people from nearby areas. A part of this market near Badi Chaupar is also known as "Khanda. "It has a wide variety of shops which includes cosmetics, gift items, plastic wares, clothes, and whatnot. One of the entry gates is near Badi Chaupar while another one is in Tripolia Bazaar.
Another section of this bazaar has shops selling wedding dresses, especially Lehengas and heavy Sarees. It is a popular place for wedding-related shopping among bargain hunters.
Kishanpol Bazaar
Kishanpol Bazaar is largely a market having many cycle shops, Ayurvedic medicines, and assorted construction-related goods. There isn't much for most shoppers except those seeking wholesale Sari and traditional women's attire. There are a few commercial plazas in Kishanpol Bazaar and its by-lanes specializing in the wholesale business. Some of these do entertain retail customers. A few good lanes to explore are Natanion Ka Rasta and Lal Ji Sand Ka Rasta. There are many shops in Kishanpol Bazaar selling naturopathy & Ayurvedic-related material like Moringa powder, Aloe Vera Gel, etc, and are reasonably priced when compared to the ones available online.
Chaura Rasta
Chaura Rasta is dominated by shops selling books and prescription eyeglasses. A few good shops to check out are the ones selling Jaipuri Razai like Shyam Sunder Lashkari.
This market is where most locals buy Jaipuri blankets. And unlike the ones in touristy places, the quality is good & worth its penny. Jaipur Rajai or blankets are known to be soft, light & very warm.
One of the two popular Gajak makers is present in Chaura Rasta – Ishwar Ji Gajak. 
Tripolia Bazaar
Tripolia Bazaar has shops catering to hardware, paint, and construction items. Also, worth mentioning are the shops selling utensils & metal crafts made out of steel, brass & copper. There are even shops that specialize in paper-related items. For those who love to explore, one can buy the books used for account keeping in the old days in this bazaar – Bahi. For art lovers, Maniharon Ka Rasta is worth visiting for Lac bangles. Manihaars are the people who make Lac bangles. This lane is opposite the Issarlat, a historic victory tower in Tripolia Bazaar.
Chandpol Bazaar
Chandpol Bazaar is lined with shops selling Masalas, dry fruits, etc. But one of the lanes is a gold mine for those seeking idols, statutes, and souvenirs made of marble. Khazane Walo Ka Rasta has many stores selling these items. However, the prices tend to be very high and bargaining skills are mandatory.
Another lane to check out is Nahargarh Raod where one can buy cosmetics and beauty products at lower prices compared to the list prices. This is a wholesale market with many shops. Do note this lane might not offer something unique for travelers since these products are available everywhere.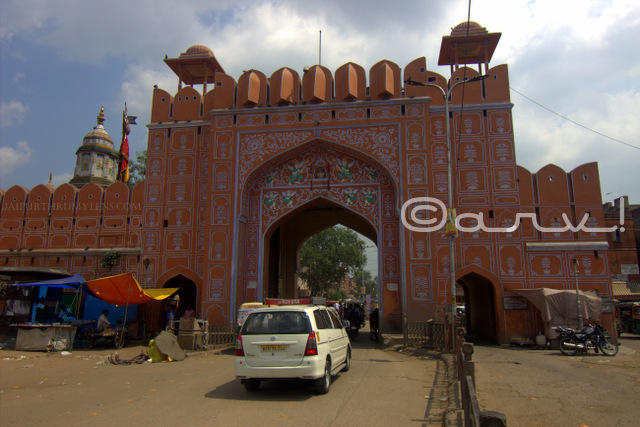 Sirehdyodi Bazaar
Sirehdyodi Bazaar is marked by the presence of the Hawa Mahal. Being a touristy place, the prices tend to be quite high, and quality in comparison is low. One can find all sorts of shops selling items of interest to a tourist – block printed bed sheets, garments, Jutis, wooden blocks used for block printing, brass chandeliers, Jaipuri Rajaai, wall hangings & fabric paintings, leather items, etc. In my opinion, this market is best suited for those traveling with a conducted tour operator since they are short on time.
One of the shops worth visiting is Gulab Chand prints near Hawa Mahal. It has a huge following due to its quality and reasonable prices; they have showrooms at multiple locations in Jaipur. The one near Hawa Mahal is very small but worth checking out if you are in the vicinity.
Bapu Bazaar
Bapu Bazaar will attract women shoppers, because, it has everything they love shopping – Sanganer printed clothes & dress materials, cosmetics, handicrafts, decorative items, Mojadi, block printed bed sheets & home linen, etc. Since this is a market which caters to both locals & tourists, bargaining is the order of the day except for some shops which operate on a fixed price basis. Bapu Bazaar is not far from Johari Bazaar.
Chameliwala Market
Chameliwala Market has attracted buyers from across the world for silver jewelry. Sellers from across the world have been sourcing silver jewelry from the Chameliwala market for many decades. This market is on MI Road.
Sanganer
Sanganer was a satellite town a century ago but with the city rapidly expanding, it is part of Jaipur now. This town is famous the world over for its block-printed textile and fabrics. There are hundreds of manufacturers and artisans making block-printed fabrics. Do note many of these have shifted to screen printing which is faster and allows the low cost of production. However, it is hand-block printing that made this town world-famous. Sanganer is also famous for handmade paper. There are a handful of handmade paper manufacturers. One can also find the wholesale market for the hand-block printed fabric in this bazaar.
World Trade Park
World Trade Park is a new-age shopping market in Jaipur, unlike the one listed above. WTP is one of the best shopping malls in Jaipur. It has become the preferred choice of youth for fun and entertainment as it also has a food court and movie theatre apart from shopping. World Trade Park has international brands like Zara, Marks & Spencer, Guess, Aldo, French Connection, and Charles & Keith.
There are also Indian brands like Louis Phillipe, W, Shopper's Stop, and Satya Paul to name a few. WTP is a popular choice among people seeking international brands & during their visit to Jaipur.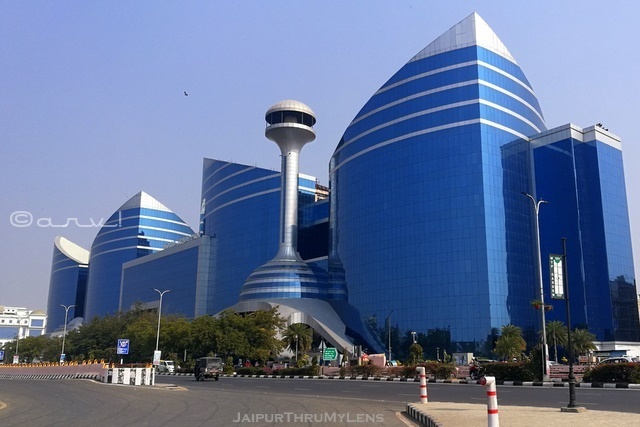 Amer Road
Amer road has one of the most remarkable landmarks of the city- Jal Mahal. Amer Road has many emporiums and tourist showrooms since it is a route for Amer Fort, Nahargarh Fort, and Jaigarh Fort.
Across the world, such emporiums thrive because of their proximity to tourist places, and the support of travel lobby – drivers, tour guides, and travel companies. Over the last few years, many overseas travelers have stopped buying from such outlets because many tourist scams have been reported on travel forums like Tripadvisor. While these are convenient, many travelers avoid these places for shopping because of the low value offered – quality is not at par with the price paid.
What & Where To Shop in Jaipur
Here are a few shops worth checking out in Jaipur
Traditional handmade jewelry
Bhuramal Rajmal Surana is one of the oldest jewelers in Jaipur. Originally based in Johari Bazaar, they now operate out of their store on JLN Marg. They were jewelers of the royal family. They are well known for their handmade jewelry pieces like Kundan Meena and Jadau jewelry. There are many more jewelry stores in Jaipur. Most of the prominent jewelers are located in MI Road and C-Scheme. Apart from stores, there are many jewelry boutiques as well in Jaipur. Most of these specialize in a specific type of jewelry.
Sanganeri Block printed fabric and garments
 Gulabchand Prints, Cottons, and Soma are some of the most popular places in Jaipur. A very popular outlet for Jaipur block printed garments is Anokhi in C-Scheme. The owner of Anokhi is considered to be one of the saviors of age-old block printing techniques. Anokhi also runs a museum in Amer near Amer Fort called Anokhi Museum. Do note Anokhi collection tends to cater to international clients while outlets like Gulabchand Prints and Cottons cater to the domestic market.
Kripal Singh and Neerja International are the two most prominent names for Jaipur blue pottery. There are a couple of outlets on Amer Road as well, but these cater largely to walk-in tourists whereas the other two are well-known the world over.
There are a large number of stores selling marble statues in Khajane Walon ka Rasta. I'm not listing names since many of these stores specialize in particular styles of idols.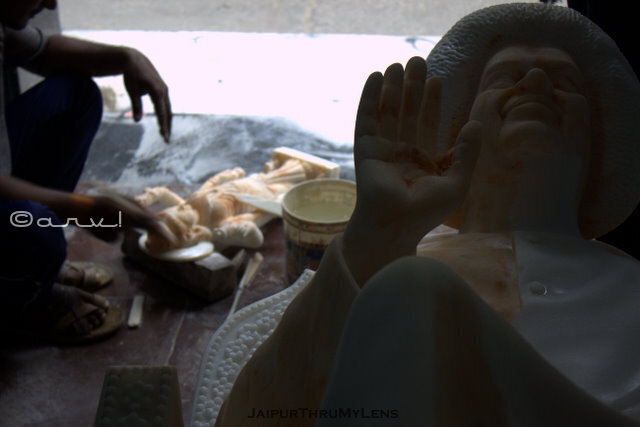 The reason why these are must-buy in Jaipur is that they are incredibly light, soft, and warm. One can find shops and stores selling Jaipuri Razai across the city, however, the shops in Chaura Rasta offer the best value for money. A couple of shops opposite Sirehdeori Gate near City Palace were some of the oldest and most authentic ones. Do avoid shops near tourist places as the prices tend to be high and quality low. Shyam Sunder Lashkari in Chaura Rasta is a reliable place. Other places to buy Jaipuri Razai are Gulabchand Print and Ratan Textiles.
The most popular shops for Mojadi and Jaipuri Jutis in Jaipur are near Hawa Mahal and Bapu Bazaar. Both these are popular places to shop among tourists. A few authentic shops can be found in Ramganj Bazaar but they are not easy to reach for most travelers and the variety they offer is limited.
Sarees and dress material
Jaipur is a popular place for wedding-related shopping, there are many options. A few renowned names are Rana's, Pratap Sons, Vasansi, Rana's Legacy, and Zari. This is not an exhaustive list, there are many more.
Gazak is a popular travel souvenir among travelers wanting to take back gifts for near and dear. It is available in the winter season only. The best shops to buy Gajak in Jaipur are Narayan Ji Gajak and Ishwar Ji Gajak.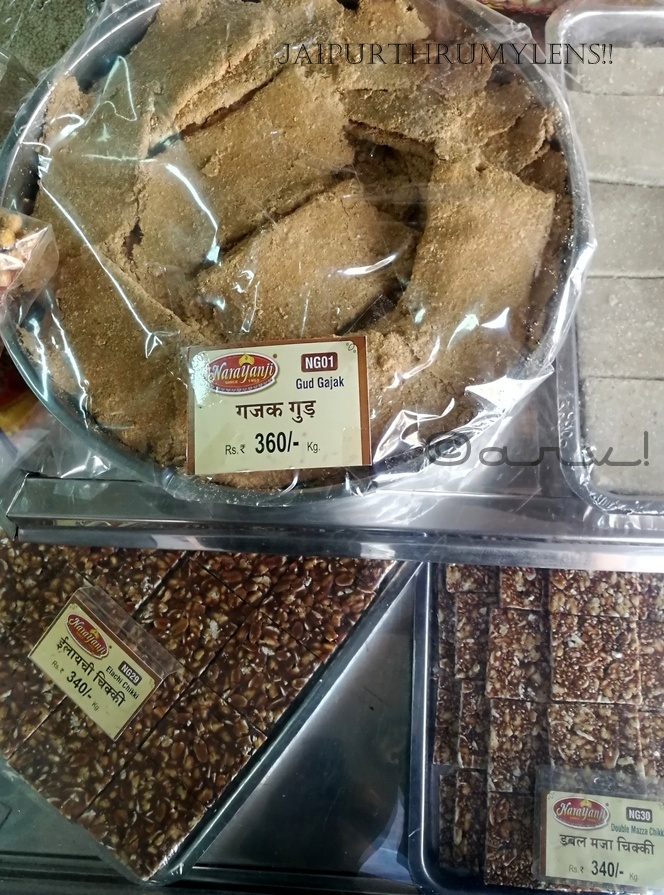 Ghevar is another popular travel souvenir to buy in Jaipur. I have an extensive guide on Ghevar and places to buy the best Ghevar in Jaipur – The Ghevar Trail
Lac Bangle market in Tripolia Bazaar, Maniharon Ka Rasta is extremely popular. However, there are bangle chops in Bapu Bazaar and MI Road, as well. Both these are easily accessible than Maniharon Ka Rasta.
One can find more shops selling Lac bangles in Bapu Bazaar and Johari Bazaar.
Jaipur is well-known for handmade paper. This craft has been perfected over the last few centuries in Sanganer. Salim Kagzi is one of the most trusted places to buy handmade paper in Jaipur. Apart from Sanganer, Dharti Dhan near Narain Niwas Hotel is easily accessible for people who don't want to travel to Sanganer. Tripolia Bazaar is also a good place to buy handmade paper in Jaipur. Modern paper in Tripolia Bazaar also sells handmade paper. Handmade paper sheets can be bought from Rs 5 to Rs 100/sheet in Sanganer. The outlets not only sell paper sheet
Although there are many gift items & souvenir shops spread all across Jaipur, one of the most authentic places is Kuber. They are primarily into wholesale but also cater to retail customers. The outlet is located on park street. If you are looking at affordable gift items, the worthiest place is Johari Bazaar. There are many streetside vendors selling such items at affordable prices. The quality is not top-notch but if bought at the right price offers good value for money. You can find all such vendors on the LMB side walkway in Johari Bazaar.
P M Allah Bux & Sons or Allahbaksh as some call it is one of the most well-known and old shops for brass items in Jaipur. However, for most of your needs, you can find many shops in Tripolia Bazaar selling brass items. There are a couple of shops opposite Golcha Cinema in Chaura Rasta selling brass and copper-made items. Usually, they do custom work and job work.
Jawahar Kala Kendra Exhibitions
Jawahar Kala Kendra is an art and performance hub of Jaipur. You can read a comprehensive guide Jawahar Kala Kendra The Artist's Station.
Previously, Shilpgram in Jawahar Kala Kendra was a dedicated space for artists, artisans, and craftsmen to display and sell their products. Over the last few years, Shilpgram is inaccessible for exhibitions.
However, an open space in the South-East corner is where most exhibitions take place. It is not uncommon to find exhibitions for the most part of the year (barring the COVID pandemic period). One can discover outstanding products at affordable prices, especially for gifting.
Jaipur Shopping For Wedding
Jaipur is one of the excellent places for wedding shopping in India. It is uncommon to hear about Indians residing abroad visiting Jaipur for complete wedding shopping. One can find everything needed for a wedding like jewelry, wedding gifts, items needed for wedding ceremonies, and wedding dresses like Lehanga, Sherwani, etc. Jaipur is also one of the top wedding destinations in India.
Here are the best places to explore & visit for wedding shopping in Jaipur:
Wedding jewelry– Rambhajo Jewelers, Birdhichand Ghanshyamdas Jewellers, Rajmal Bhuramal Surana. For designer jewelry, Sunita Shekhawat and Jewel Saga by Sonal Sawansukha are worth a visit.
Wedding Costumes– Rana's, Zari, Rana's Legacy, Rohit Kamra, Swati Oberoi. There are many outlets in the walled city area as well offering outfits across all price ranges. Johari Bazaar and Lal Ji Sand Ka Rasta in Chaura Rasta are where you will find these.
Wedding Gifts-Kuber for handicrafts & curio, Pawan's Gift shop, East Handicrafts (for Jaipur handmade paper-based packaging)
Wedding Ceremony related items can be bought in the walled city area. Johari Bazaar, Badi Chaupar, Purohit Ji Ka Katla, and Tripolia Bazaar.
Which bazaar is famous in Jaipur?
Among all the bazaars, Johri Bazaar is the most famous bazaar in Jaipur along with Bapu Bazaar.
Which Bazaar is best in Jaipur?
There isn't any single bazaar that can be termed the best bazaar; it varies from product to product.
Which place is good for shopping in Jaipur?
Each market and area offers something unique and therefore check with the market guide above for the best market for shopping.
On which day Jaipur Bazaars are closed?
Most bazaars are closed on Sundays but some shops in markets are open seven days. Check with the shop you want to visit.
This is not an exhaustive guide on shopping markets in Jaipur. However, this blog on shopping in Jaipur does provide insight into the markets and places to visit.