Ambikeshwar Mahadev Temple or Ambikeshwar Mandir in amer city is more of a main character.
Main role?
According to local legend, Amer or Amber, as some people prefer to write, is named after the Ambikeshwar Mahadev Temple in Amer Town. The word Amer is synonymous with Amer Fort and Rajput kings like Raja Man Singh I, Bharmal, Jai Singh II for their courage and courage. Amer has a history of Rajput rule of 600-700 years. Their brave stories and close collaboration with the Mughal rulers are well documented in history.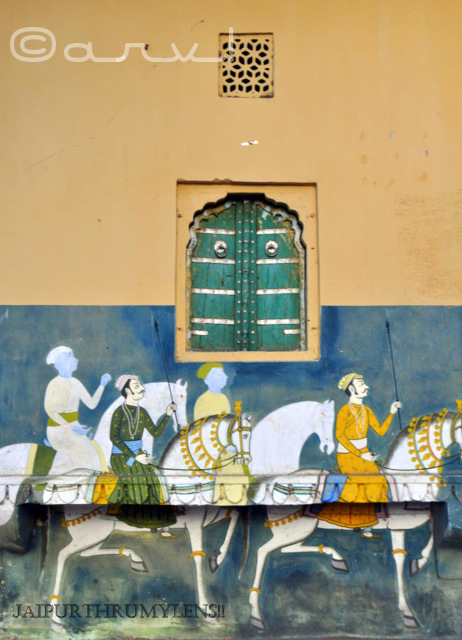 Read related post: 5 reasons why I love Amer Fort – the most popular tourist attraction in Jaipur?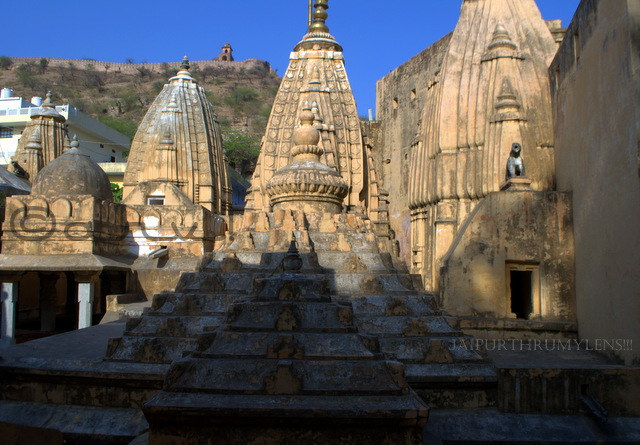 History of Ambikeshwar Mahadev Temple
Initially, Amer was an area of ​​Meena chieftains. According to the historians Kachhawa Rajput, the clan that ruled Amer and Jaipur, Amer snatched from the Meenas with trickery and violence. According to the legend, Kakil Deo, a Kachhawa Rajput ruler, heard a strange incident through his informant. One of the cows only gave milk in one spot. The curious species ordered his men to excavate the site. While digging, a Shivling was found. After that, the king had a temple built in this place which is now known as Ambikeshwar Temple.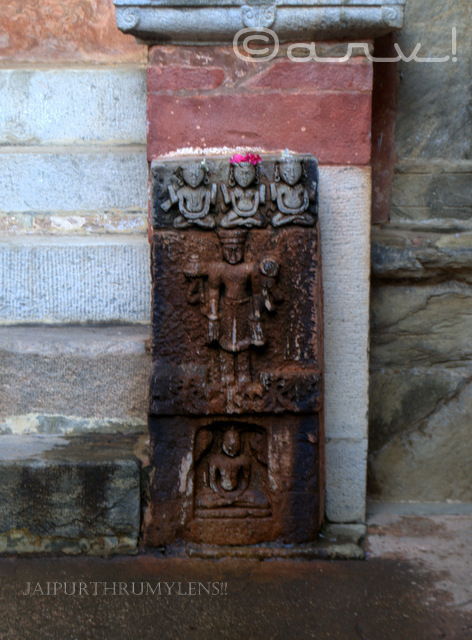 Many people claim that this temple is 5000 years old. In reality it is a laughable claim. History of Rajput rule over the city of Amer itself dates back to 1070 AD. From my personal experience, such false claims and stories are created by the priesthood for understandable reasons. Their livelihood depends on devotees. With such tricks, they want to make sure that devotees keep coming back. Claims that a temple is 2000 or 5000 years old are nonsense and cannot be proven with facts. If you ever come across such claims, confirm it with logic and facts. According to historians, Ambikeshwar Temple dates back to the 10th century. It is also known as Unda Mahadevi.
Ambikeshwar Mahadev Temple occupies an important place in the city of Amer. It is a famous place in this small settlement. Ambikeshwar Chowk is a large open space for this temple.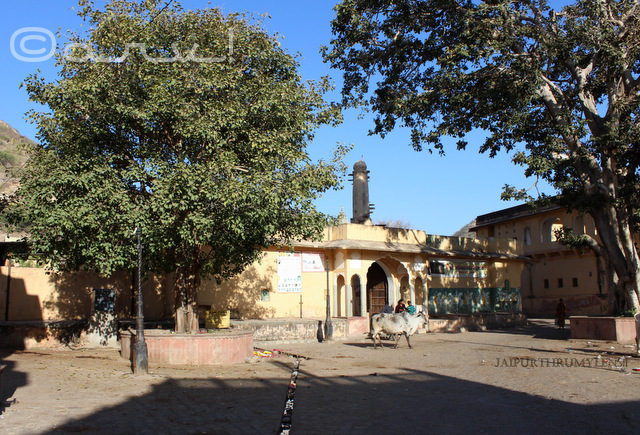 In a city characterized by small streets, the wide open space indicates that facilities had been made here for the large municipality. Perhaps a victory or religious parade was passed through this temple. Rajput rulers took part in a large number of battles that fought for the Mughal ruler and many won. It is quite likely that blessing was sought after or before such battles. However, there is no data to prove this theory. It is also likely that Ambikeshwar Mahadev Temple was the main temple hence a large gathering of the public justified such a space. chowk in Jaipur and elsewhere in Rajasthan is a public space where people can sit, meet and socialize. These are also intended for community celebrations such as jagran, Holi celebration and so on. There is no registered information about Ambikeshwar Chowk. My suspicion is that it indicates the importance of the Ambikeshwar Mahadev Temple to the city of Amer.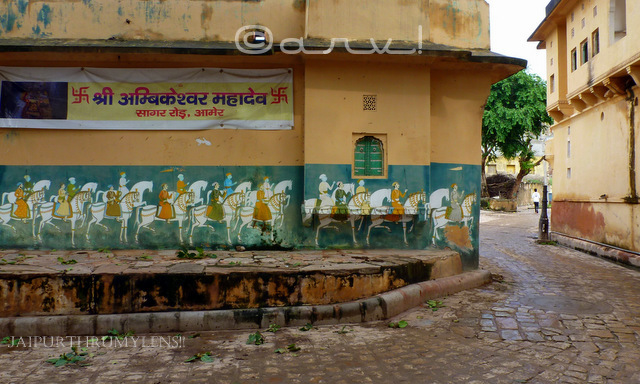 Entering the temple one finds a small courtyard with a residential area of ​​the priest family.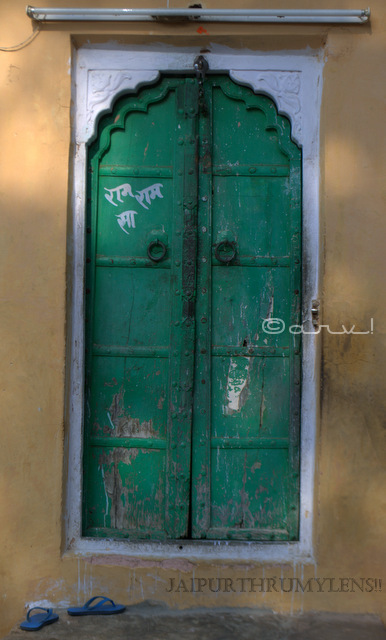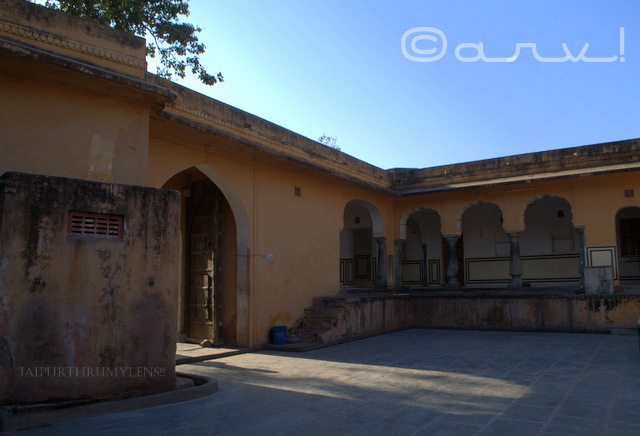 Beyond this living area is the temple area. The floor of the temple area is at least 6 feet below road level. The temple is decorated with a prominent Shichar.
The temple was built in Nagara architecture stylecommon among the temples in the city of Amer and is dedicated to Lord Shiva.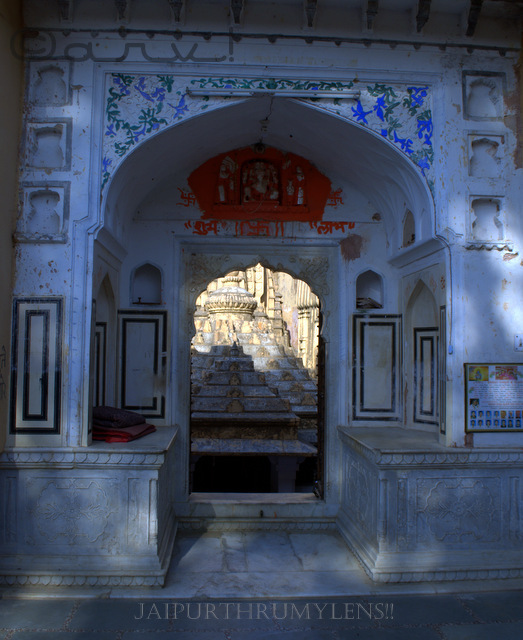 The Shiva Temple is located at the entrance with the Shivling which is below the floor level; unusual for the Shivling. According to local legends, this entire area is submerged in water during the monsoon season. Although I have not personally seen this, I have come across a photo in a book.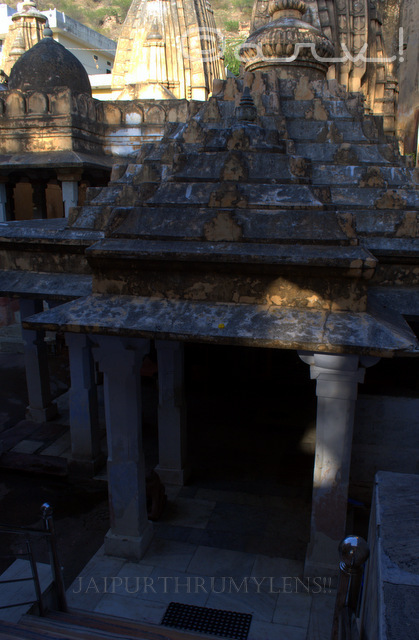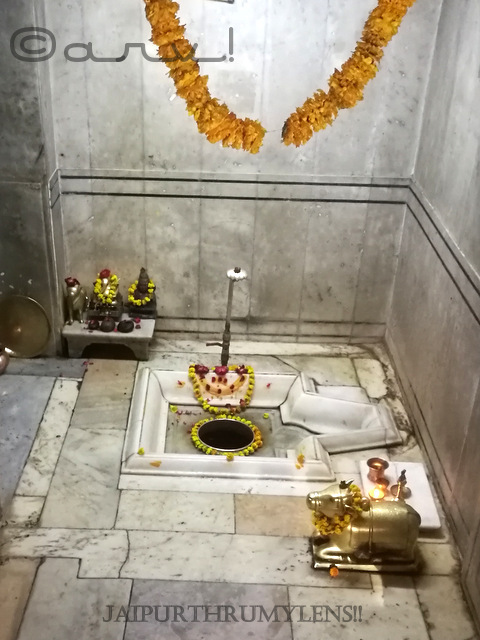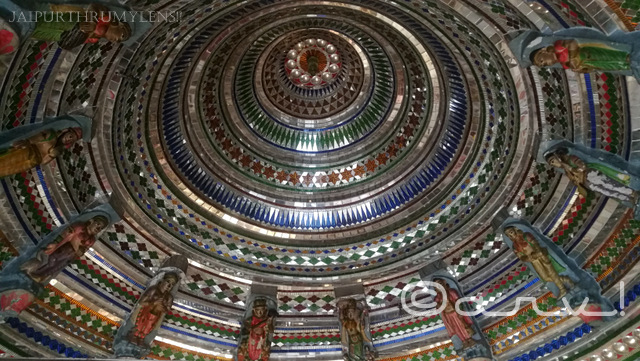 There are more temples in this complex. It is strange that none of these temples have idols and they are not active i.e. the Puja ritual is not performed. Something I also encountered in Bhangarh, which is known as the most haunted place in India. The architecture and construction indicate that these temples are ancient and may date from 10-12 of the centuries. There are some idols placed randomly in the temple complex. These are old and currently not worshipped! I could not find any reliable information about these temples and idols.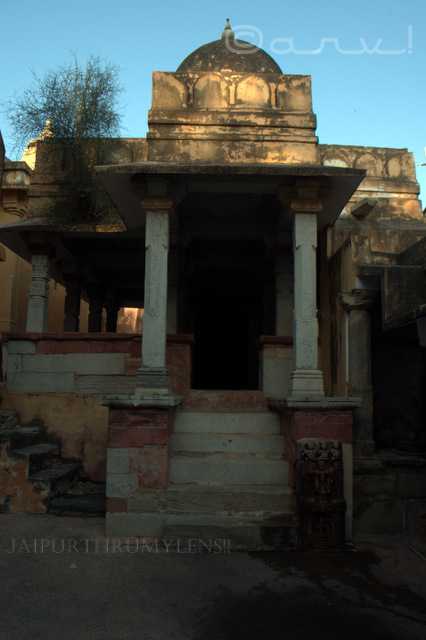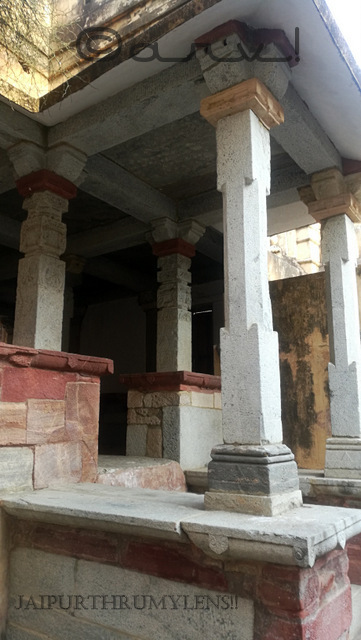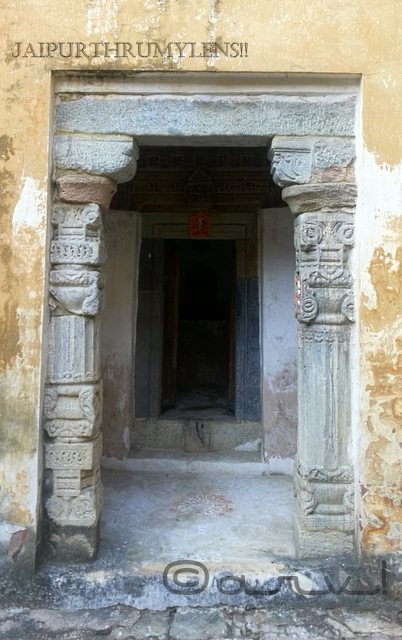 This region largely followed Vaishnavism. Few temples have been built by the royal family dedicated to Shiva. In stark contrast, there are many temples commissioned by the royal family dedicated to Lord Krishna that show devotion to Vaishnav. Amer city has temples dedicated to a variety of gods.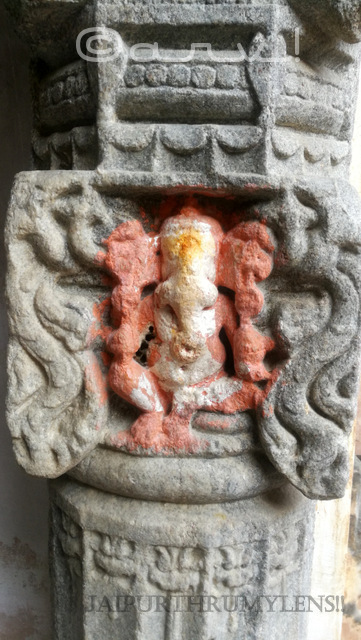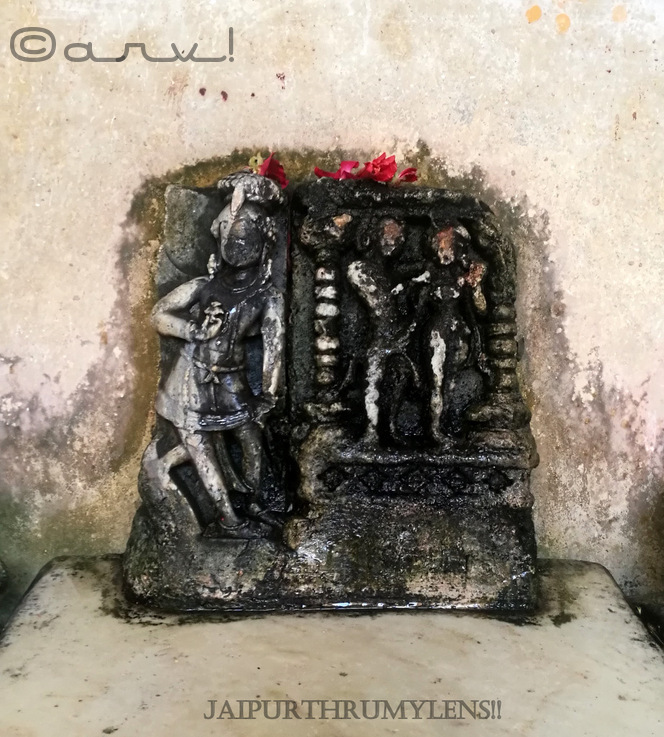 However, as Ambikeshwar Temple is a prominent temple, it appears that before moving their capital to Jaipur, the Kacchawa rulers were not ardent followers of Vaishnavism. This is just a personal deduction. The Dwaja Stambh (flagpole) is also an important pointer that does not exist in any other temple nearby.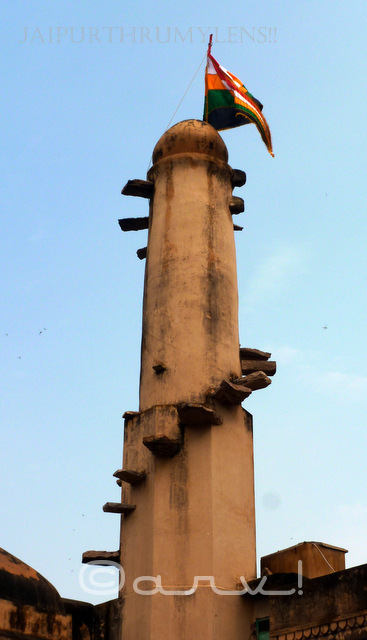 Read another related post about the most beautiful heritage temple in the city of Amer: Jagat Shiromani Temple
I don't recommend anyone to visit Ambikeshwar Temple as it is not grand or opulent. It's not pretty either. It will not interest a tourist. But well worth a visit for the traveller, history buff, heritage enthusiast and those who love to explore.
What about the story of Maharaja? Kakil Deo that I mentioned above? Honestly I'm not sure if that was the case Kakil Deo or a Meena chieftain because the place is known only as Amer in the history books. If the city was called during the Rajput rule, what was it called before? Still to be answered!! But the temple has a special meaning for kachwaha Rajputs probably as a bridge between the history of their community and this region.
Finally, let me share a photo of the beautiful wall of Ambikeshwar Mahadev Temple with a procession of Maharaja's army.
Follow Jaipurthrumylens on Facebook Twitter Instagram