Leafless milk hedge or leafless Euphorbia also called Thor Danda is not a name you will like right away. Sounds a bit strange? Thor plant in English is called Euphorbia Caducifolia. I have come across this plant many times during a trek in Jaipur.
Most people think of it as a cactus. When I started looking for more information about this plant, I discovered that it is a succulent from a family of plants called Euphorbia.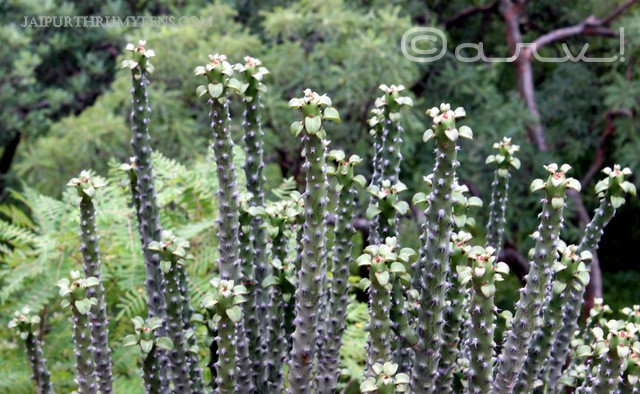 Euphorbia is a genus of flowering plants in the Euphorbiaceae family with about 2,000 species. It is said to be one of the most diverse groups of flowering plants on Earth. Euphorbia is also called Euphorbia and produces a white latex-like substance when cut. They are found in temperate regions around the world that often resemble the cactus family. Cacti or Cacti do not produce a white milky substance.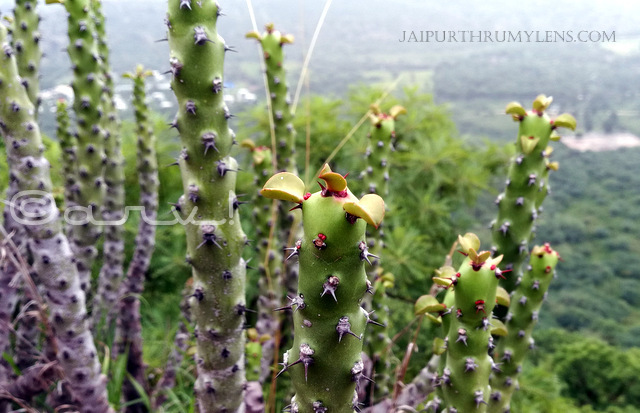 Euphorbia Caducifolia is known by many local names such as Thor/ Thhor/ Danda-Thor. It is also known as leafless milk hedge like Leafless Euphorbia.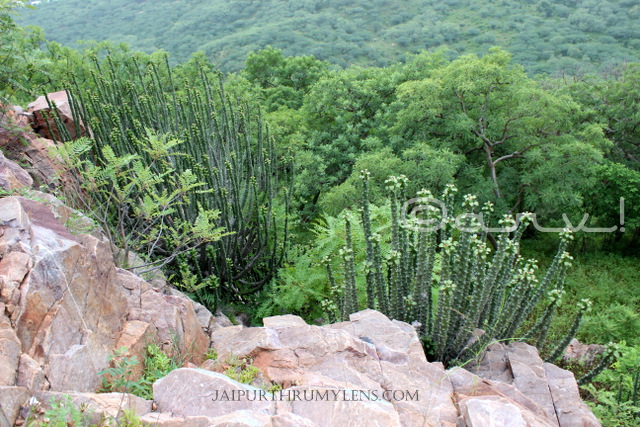 what is special about Euphorbia Caducifolia?
It is a tall multi-stemmed plant found both in the Thar Desert and in hilly areas over the Aravali Hills. This plant covers an entire mound that often grows to a gigantic size.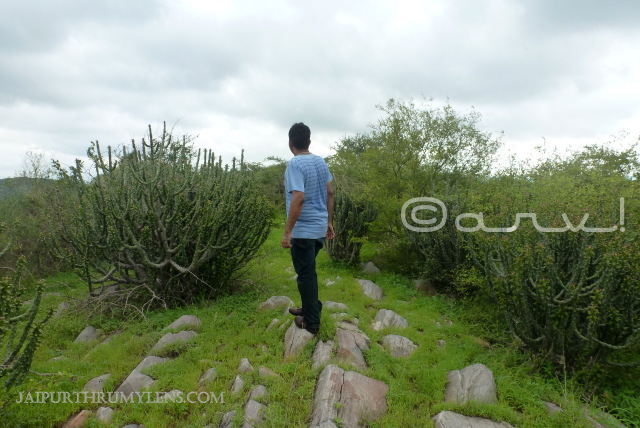 They appear in areas that experience a dry season followed by monsoon rains. It produces a small red-pink flower. It looks beautiful with these flowers in full bloom.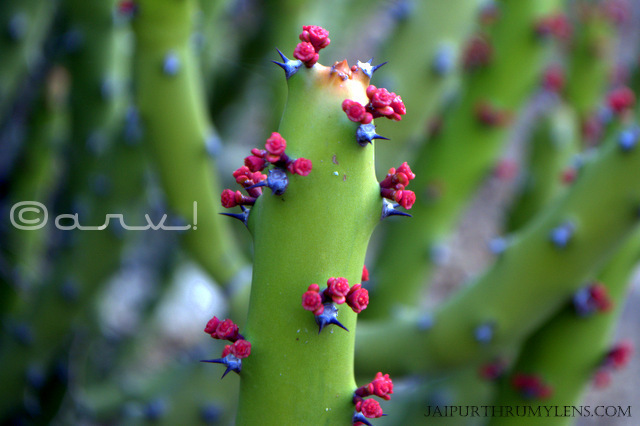 Advantages of Danda Thor
leafless Milk Hedge is an important part of the local ecology and often provides shelter for the small reptiles. Here is a picture of Thor Danda from Ranthambore National Park in Rajasthan.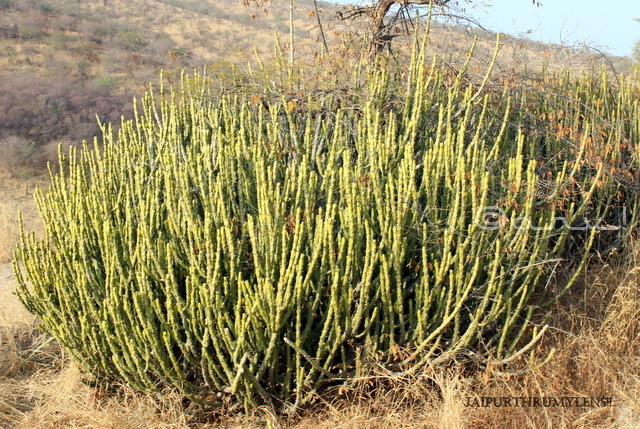 The plant is also said to have medicinal uses. Recent claims suggest its use in biofuel generation and as a cure for leukemia.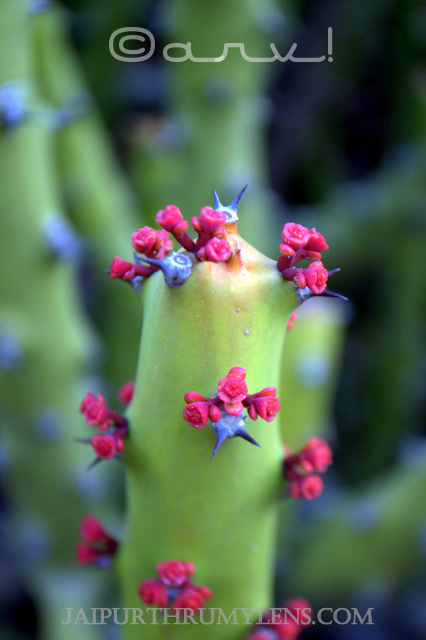 The plant has the ability to adapt to local conditions and is therefore quite hardy and resistant. Avoid contact with the white milky substance as it can be irritating to the skin and eyes. If you do come into contact with the latex-like white substance, wash it immediately.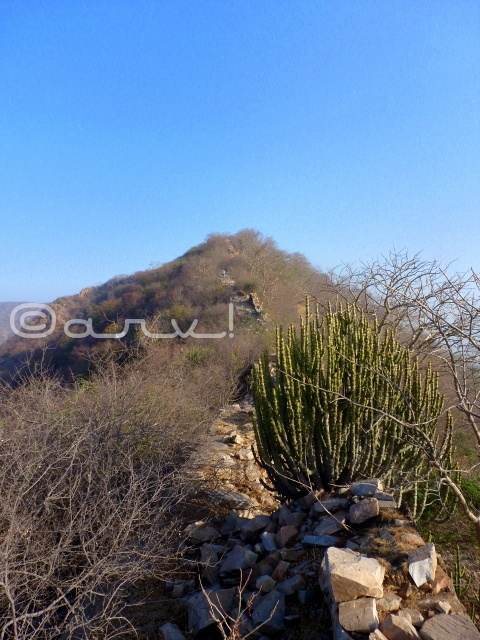 Thor of leafless milk hedge is increasingly used for ornamental or beautification purposes – landscaping in urban areas. But in my opinion, they are most suitable in their natural habitat – Aravali hills or Thar desert.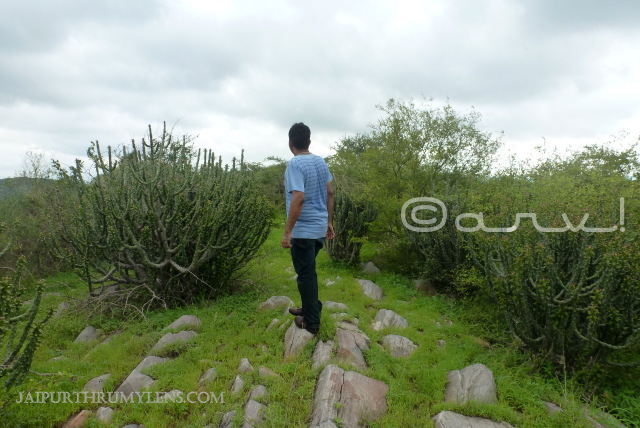 Nature is beautiful and has so many unique creations. All species have a clearly defined purpose. Although I've seen it many times over the years, I only recently came up with the name leafless milk hedge. Like others, I also took this as one of the cactus varieties. Similar to Anogeissus Pendula or dhok tree, this is a perennial of Aravali Hills. I wrote about Anogeissus Pendula almost two years ago, I'm sure most readers missed this post. Have you ever seen Euphorbia caducifolia.?
View other stories in the trees of Jaipur.
Follow facebook, Twitter, Instagram