We are all being forced to adapt to the new reality. I'm sure many of you can remember my previous post about hiking in Jaipur after the lockdown. If you haven't already, here's the post – A Walking Tour with a Club. I shared my experience hiking with a Trekking Club in Jaipur and my plans for hiking in the coming months. People who frequent parks like Central Park in Jaipur are looking for a change in fitness routine; trekking is a new buzzword among fitness enthusiasts. The Hathni Kund or Aathuni Kund is one of the most popular treks in Jaipur, especially during the monsoon season.
Guide to Hathni Kund in Jaipur
When I started hiking in Jaipur a few years ago, the Aathuni Kund or Hathni Kund and Bhuteshwar Nath Mahadev trek were the first two treks. My hiking adventure started with a friend, a surgeon from Australia during the monsoon season. The Hathni Kund was the first we undertook. It was a fantastic place; serene and beautiful. You can sit here for hours, enjoy the view and relax in the refreshing breeze. Until the end of 2014, this was one of the favorite places for weekend hikes. In the last six years I have only been to the Hathni Kund Trek once! Here's a photo of Hathni Kund from my last trip, a few years ago.
Curiosity led me to revisit Hathni Kund. Curiosity? I wanted to know if the place has changed over the years. There were reasons why I decided to leave it in favor of other options. For this time I chose an alternative trail route; shorter but with a steeper rise. Halfway through Charan Mandir I switched to the regular route.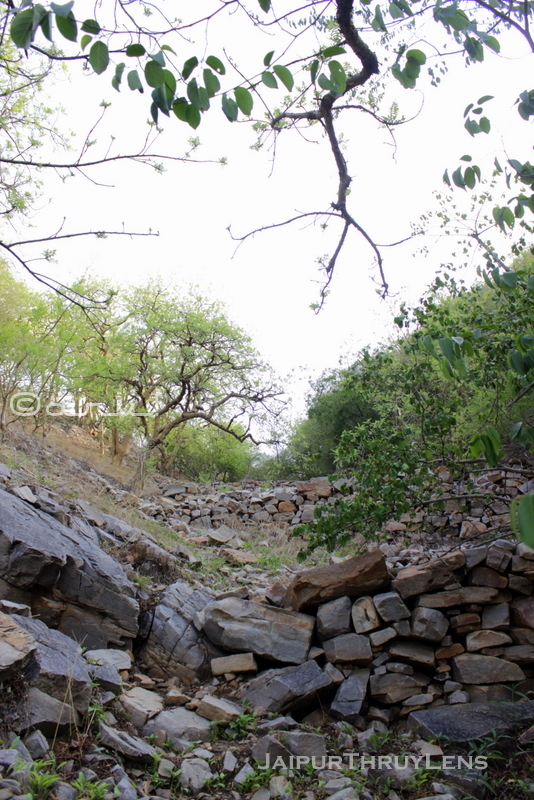 Hathni Kund – Location
Charan Mandir remains a prominent landmark on the way to Nahargarh Fort. On the weekends it is very busy; a favorite sunrise point in Jaipur among the locals. Charan Mandir is a historical temple that is supposedly 400-500 years old. Read more about it here – Charan Mandir. The Hathni Kund or Aathuni Kund is close to Charan Mandir. The trail starts from Charan Mandir.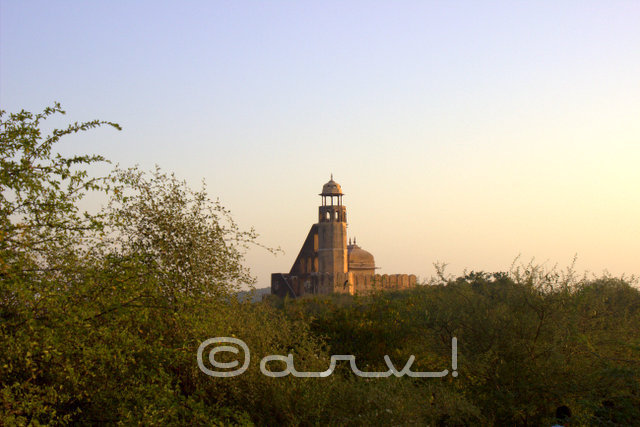 How To Reach Hathni Kundo
Hathni or Aathuni Kund can be reached via the hill trek from Nahargarh Fort.
Charan Mandir to Hathni Kundo
The Hathni Kund trail was buzzing with activity from the parking lot of Charan Mandir. When I started to descend the path from Charan Mandir to Aathuni Kund, I found that many groups went there. It is surprising to see people without masks walking together. They are probably immune to the Coronavirus! The path is lined with Anogeissus Pendula Tree on both sides. The tree is locally known as Dhok. It finds its home in the Aravali hill range. Apart from Jaipur, it can be found in the rest of Eastern Rajasthan, Haryana and Delhi.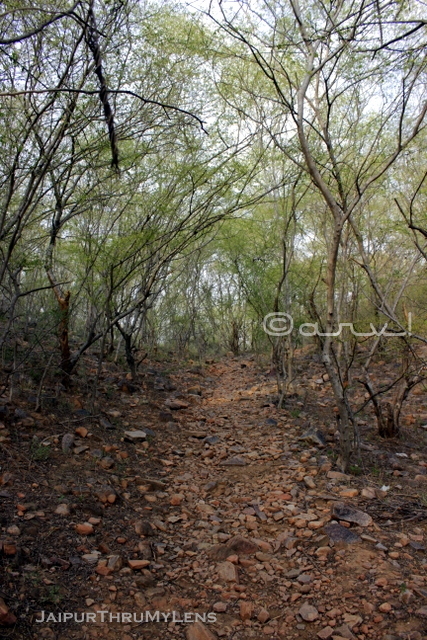 Halfway through, a well reminded me of the familiar face from back then. During my early years of hiking, this was a favorite watering hole for sweepers. But many visits later I found it invariably devoid of water. It looks like an old well.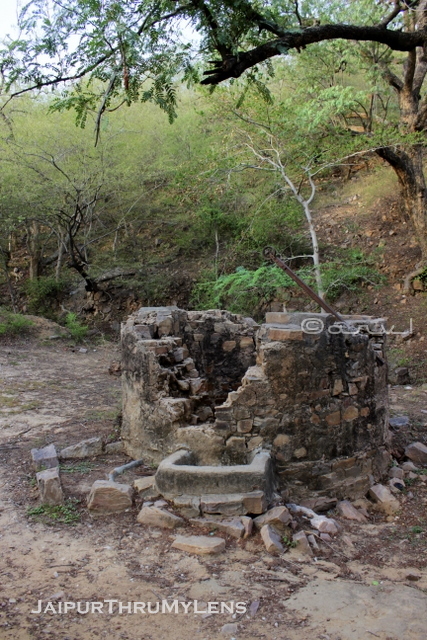 I met a group of friends who played Indian classical music on a portable speaker. This was surprising as young guys don't like this genre of music. I asked if they like Bollywood or pop? One of them smiled and said they are more in line with the Indian classics.
When I reached the waterfall of Hathni Kund, the human noise in the jungle was omnipresent; a sign of the presence of many groups. The reason I decided not to visit this trail was its popularity.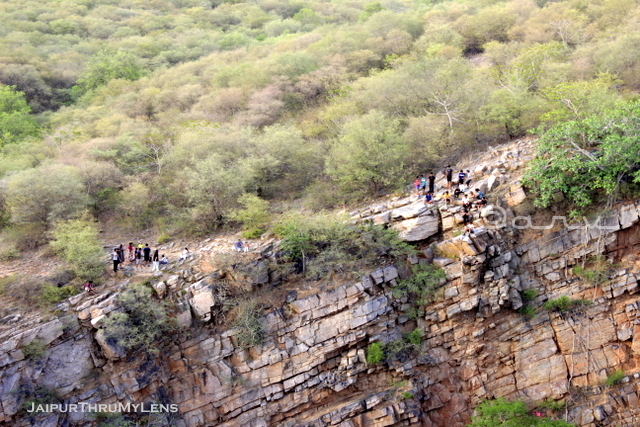 Ever since hikers started posting photos of Hathni Kund on social media, finding peace has become a challenge. The exact reason that drew me here. Repeatedly I found empty beer bottles, whiskey and disposable plastic glasses scattered around. I have already discussed this issue of waste dumping on Nahargarh Fort road in my previous article on environmental issues in Jaipur.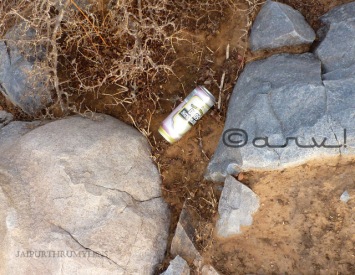 There are beer cans all around. Nahargarh Fort
Empty beer bottles littered Nahargarh Fort Road
Did I forget to mention countless plastic wrappers of "Chakna" (snacks with liquor)? It was not uncommon to come across loud Bollywood music played on a portable speaker. I decided it was a good idea to visit Hathni Kund.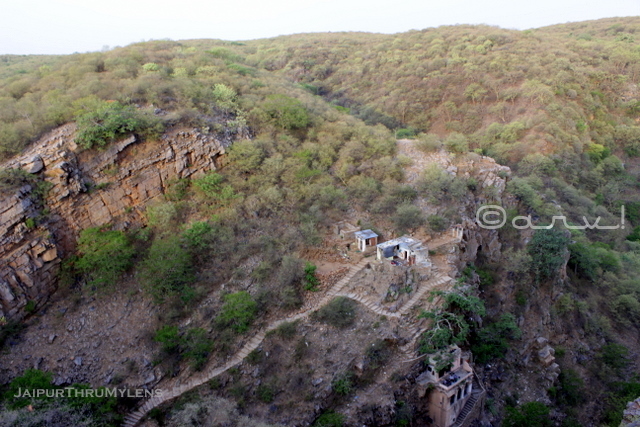 Knowing that things haven't changed at all, I decided to get some time away from the waterfall area and enjoy nature from a different vantage point. Here is a view of the serene place.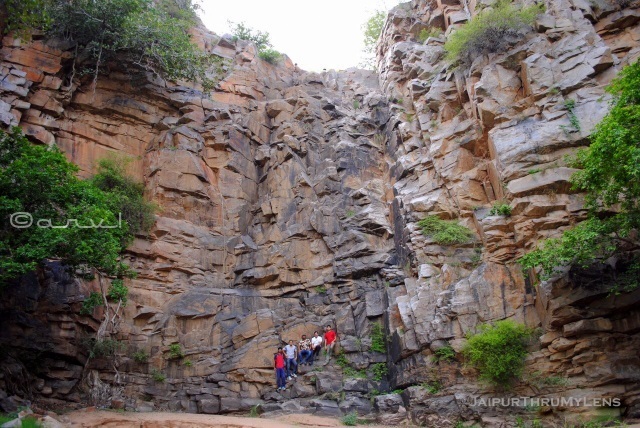 What to see in Hathni Kundo
In my opinion this is the best place to enjoy the tranquility – if it's available! Still, I'll detail it here for you to decide. The word Kund means water storage in Rajasthan. Usually it refers to a well. But in some regions of Rajasthan, Kund also refers to Baori (stairwell).
The Hathni Kund Waterfall
A rigid cliff is the landmark of this site, a waterfall area.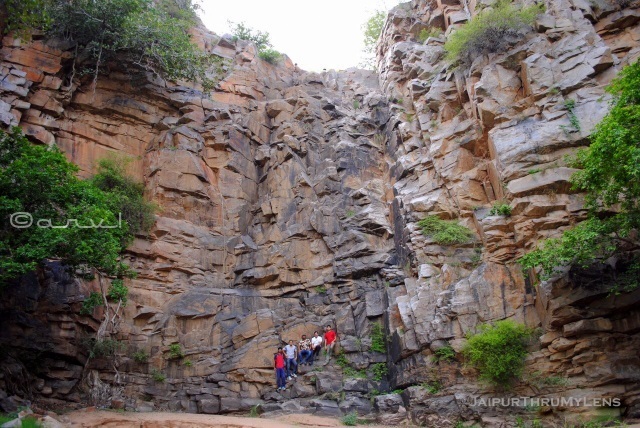 Here is a photo Hathni Kund waterfall during the rainy season in Jaipur.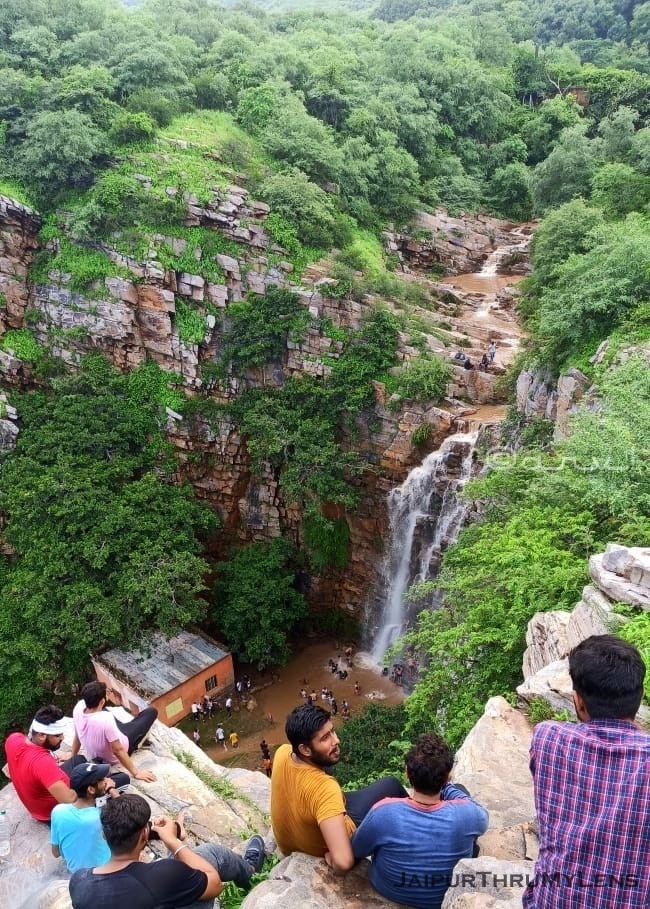 Temples at Hathni Kund – Shiv Temple and Hanuman Temples
Beyond this waterfall is a valley with two temples one of which is near the cliff and is new construction. Here is a photo of the Shiva Temple in Hathni Kund near the waterfall zone.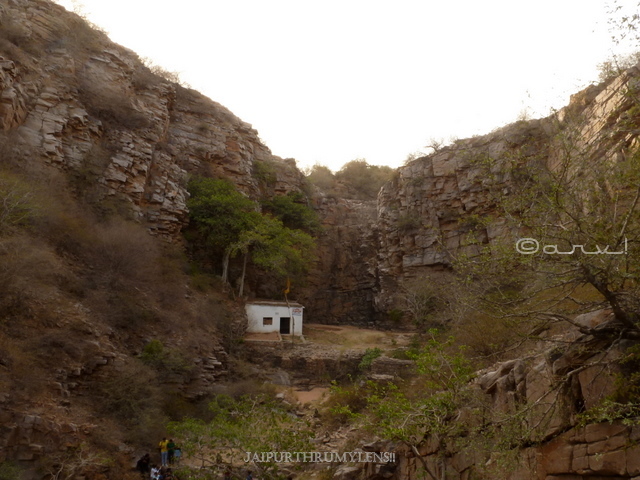 The modest residential unit is a landmark. Close to this makeshift shelter is another temple. It seems to be an old construction. I have a little idea about its history or when it was built.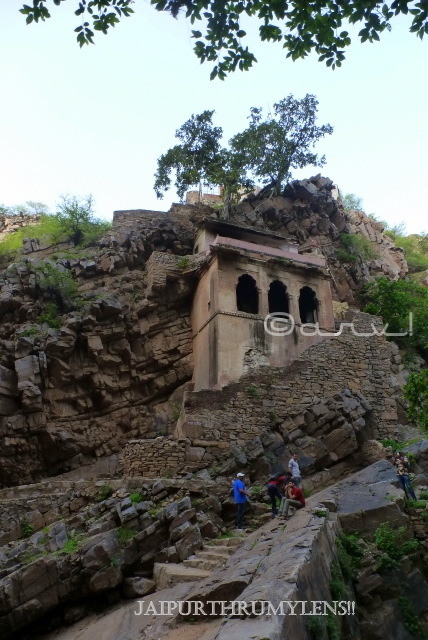 Right next to this temple in the valley is a small pond. It is a water accumulation area on a rocky basin. This water is certainly not only present in the monsoon, but even in the months that follow.
Let me share my interaction with the administrator of this temple from the previous post, Sheoram, where I had a conversation about Hathni Kund about its safety, wildlife and why he lived there.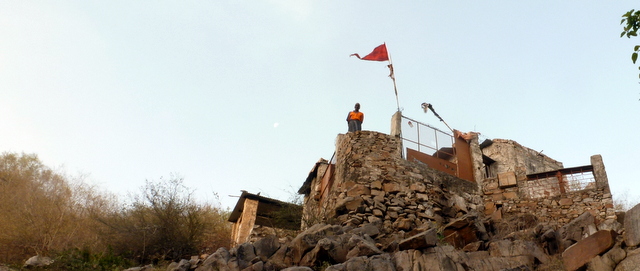 History Aathuni Kund – Origin of the Dravyawati River and the Floods in Jaipur in 1981
Although it is called Hathni or Hathni Kund, it is actually Aathuni Kund. Many historians agree that the origin of the Dravyawati River in Jaipur is Hathni Kund. Just before the waterfall is an old embankment of a dam. This dam was breached during the Jaipur floods of 1981.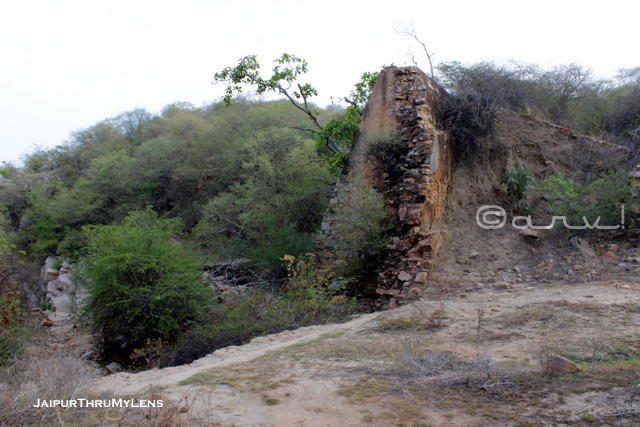 The flooding was caused by incessant 326mm of rain on July 19, 1981. From July 17, 1981 to July 19, 1981, the cumulative rainfall recorded in Jaipur was 840mm! I am not sure of the authenticity of this claim, but the popular opinion is that Maharaja Sawai Madho Singh II built this dam.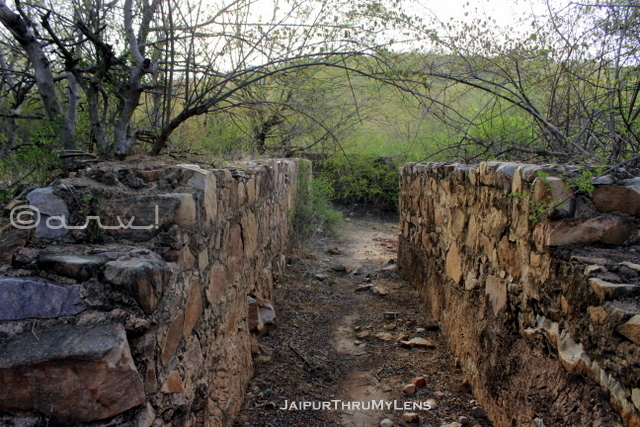 After enjoying the cool breeze for a few minutes, it was time to head back. While it felt nice to be back here again, I realized I had to steer clear of such popular trails. Cacophony and hordes are not what I'm looking for in the middle of nature. In the post-COVID world, this is least desirable. While the options for solo hikes in Jaipur are limited, I might be able to find another partner in the coming months to expand my options.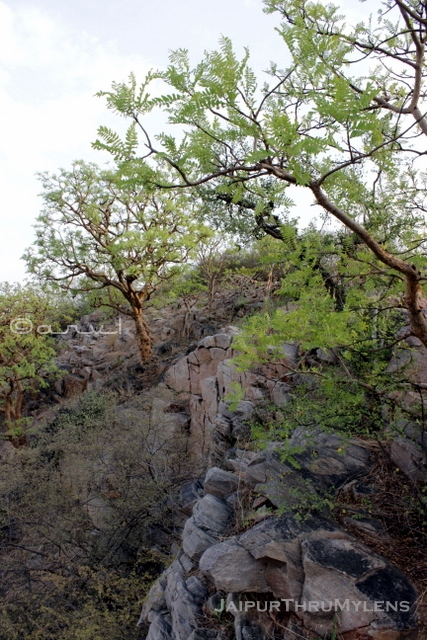 The return
As I walked the well-known trail, I saw many more groups heading for Jaipur's most popular trek. When I reached Charan Mandir it was a familiar sight of the usual weekend pandemonium. Lately, Charan Mandir has become a popular sunrise point in Jaipur as Nahargarh Fort was closed for a long time due to the COVID lockdown in Jaipur. Indeed, the sunrise from this place is epic. I share such a beautiful sunrise in Jaipur from a place close to Charan Mandir.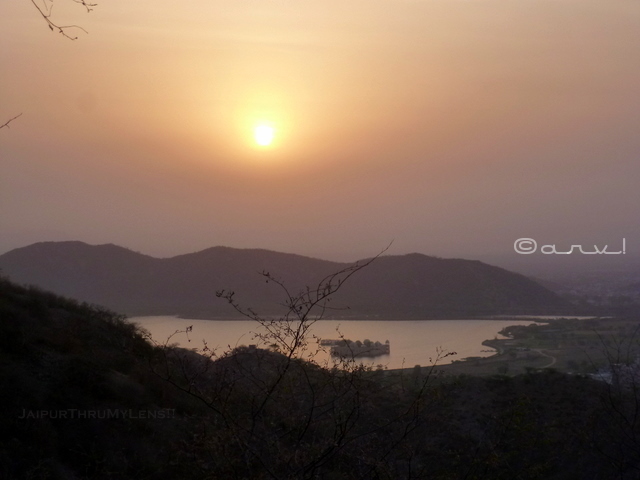 The scene reminded me of pre-COVID time. Masks and social distancing were hard to find. I think people have had enough of the last three months. Allow me to share the photo of the visual I came across.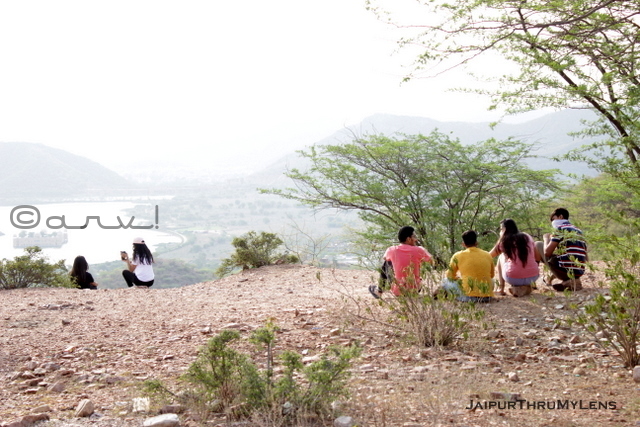 When I reached the starting point of the trail, I noticed that it took me exactly 2 hours to complete this trail via the alternate route. The path lined with Dhok trees is a good break from the huddled life we ​​all lead in a busy city. Apart from Dhok, one gets to see a variety of flora on this trail. Here are a few that I witnessed.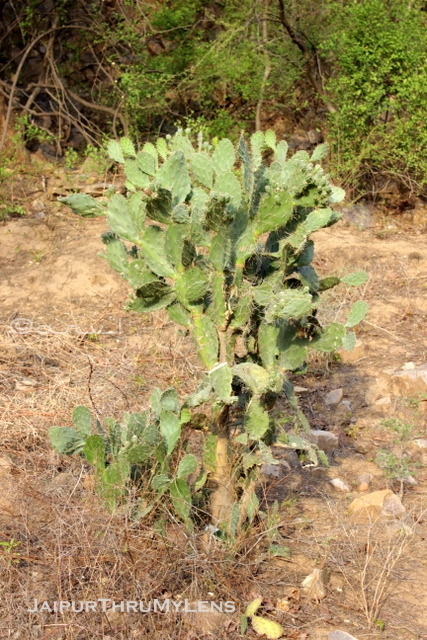 A peahen and a banyan tree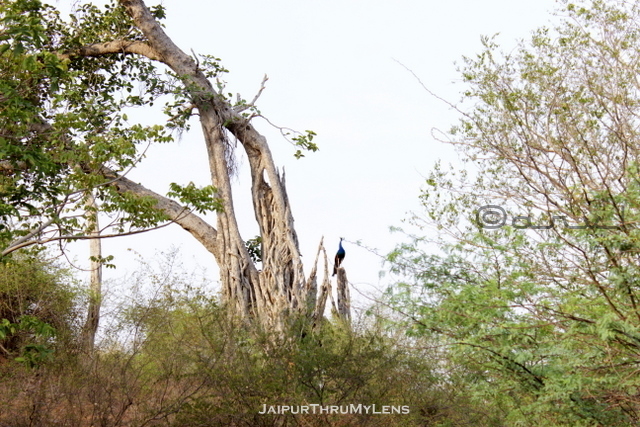 The Kadamb tree flower.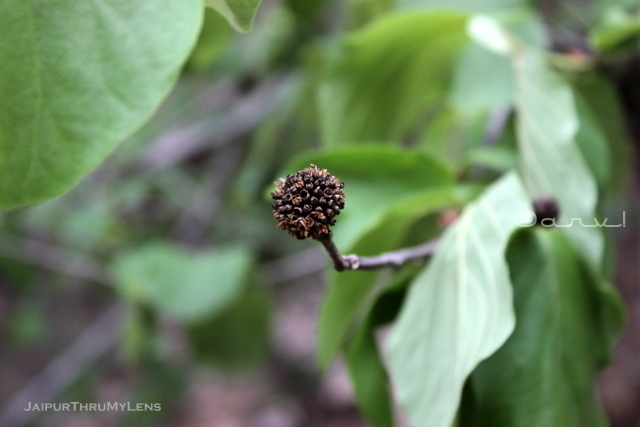 This tree reminded me of the Himalayan birch tree, also called Betula Utilis, found at an elevation of 10,000 feet. I have a lot of them during the Himalayan treks. Their bark was used as paper in ancient times.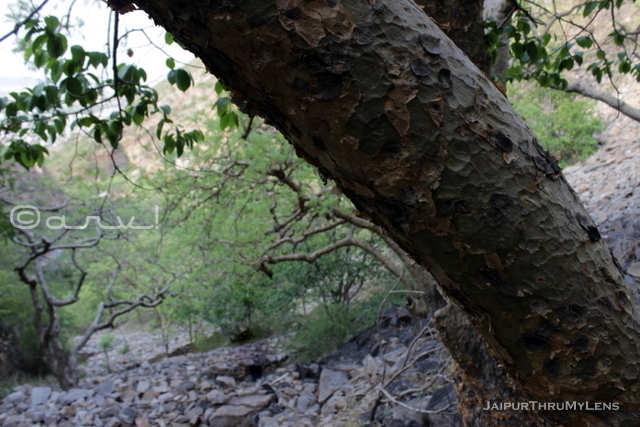 Once the monsoon has fully set in, you can see a lot of Sickle Bush Tree on this trail which is a pretty sight.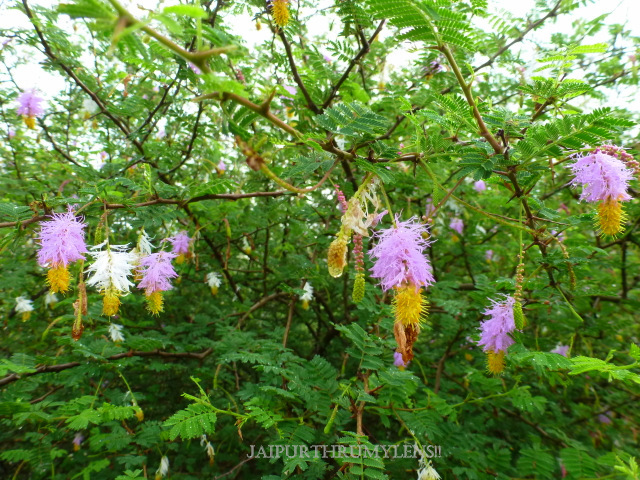 I missed the sunrise, something I looked forward to on the usual trail. But I enjoyed this beautiful alternative route. Not sure if I will be returning to this hiking trail in Jaipur anytime soon. Given its popularity, I am sure I will continue to hike other trails near Jaipur.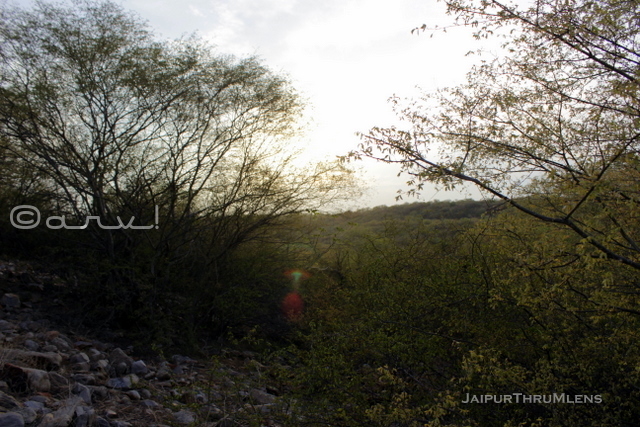 Hathni Kund Distance
The Hathni Kund distance from Charan mandir is about 1-1.25 km, one way. In total one will cover a distance of about 3 km in both directions.
Stay tuned with Jaipurthrumylens!! through: Facebook, Twitter, Instagram