Ghat ki Gunme or me Ghat Ki Ghunic is a narrow alley between the eastern ridge of Aravalis in Jaipur. It provides access to the areas on the eastern side of Jaipur and beyond. Ghat ki Gunic is also a starting point of the road leading to Agra -the city Taj Mahalhence the name Agra Road.
Reginald HerberBishop & Traveler who reached Jaipur on January 28, 1825 described: Ghat ki Gunic in his Memoirs – Narrative of a Journey through the Upper Provinces of India from Calcutta to Bombay 1824-1825.
"….The pass narrowed, the trail steeper and rougher as we went on and the stream we ascended instead of dividing the grass and stones jumped and leaped from rock to rock like a Welsh stream. Yet all was wild and gloomy when at a bend of the road we found ourselves before a wall of high towers and battlements, pierced by a row of arched window and showing us beyond that the dark green hues of a great oriental garden…… "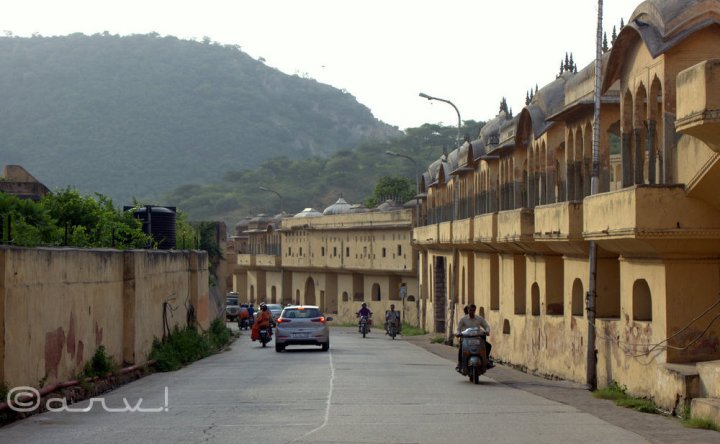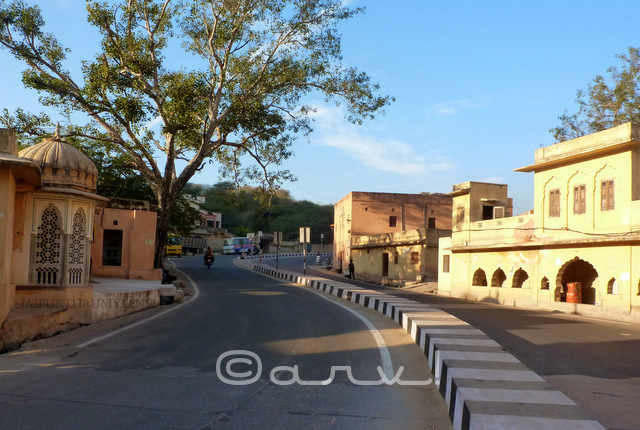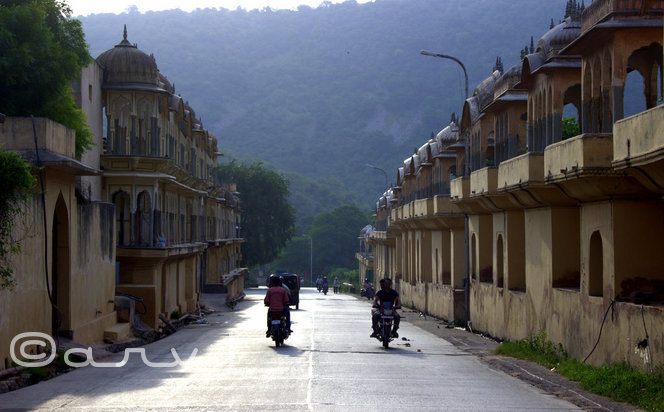 For a newbie, visit Jaipur for the first time and enter the city from Ghat Ki Gunic, the architecture will certainly fascinate him. It has a beautiful facade on both sides of the road, decorated with the jharokhas and chhatris, a characteristic of Jaipur Architecture.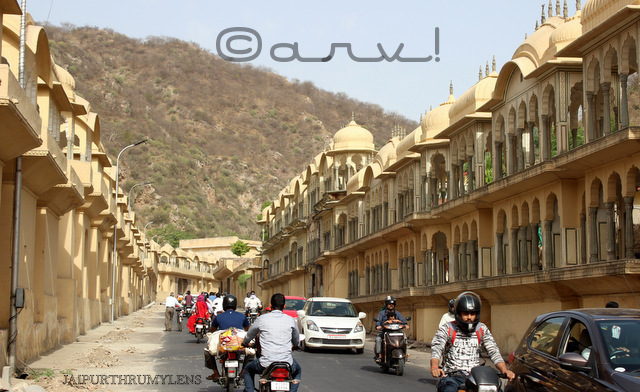 Ghat ki Gunic was founded by Maharaja Sawai Jai Singh II, the founder of the city of Jaipur in 1739. The plan of the layout of the Ghat ki Guni area envisioned Mughal style terraced gardens such as Sisodia Rani Garden, Vidhyadhar Garden and Raj Niwas Garden. These gardens are styled and inspired by the famous Mughal gardens of Delhi, Kashmir and elsewhere. Apart from these gardens there are residential units, Havelis and many temples on either side of the road. Over time, many people moved out of these buildings and now they are abandoned.
Read Related Post: Sisodia Rani Garden / Heritage Photo-Walk In Jaipur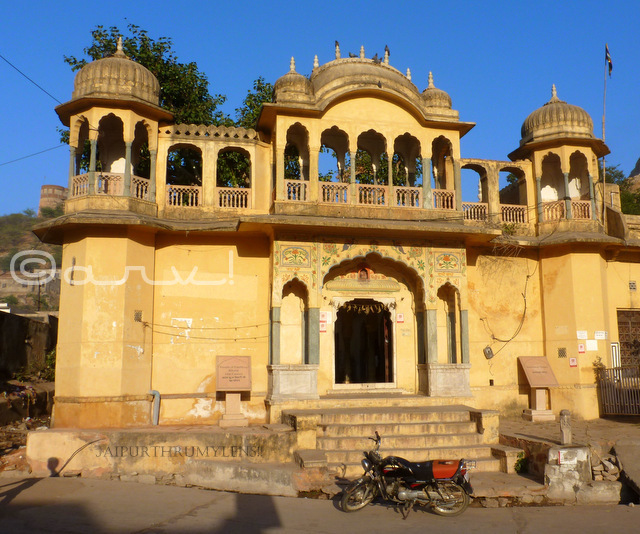 Jaipur was considered an important trading city by Maharaja Sawai Jai Singh II (the founder of Jaipur) because of its convenient location. The layout of Jaipur had incorporated this element. Delhi Road and Agra Road were the main entry points to the city. Access to the city from Delhi Road was from the northern direction while access from Agra was from the eastern direction. Both Agra and Delhi were hugely important during Mughal rule as they were the center of Mughal power, which ruled vast swaths of northern India from Afghanistan to Bangladesh.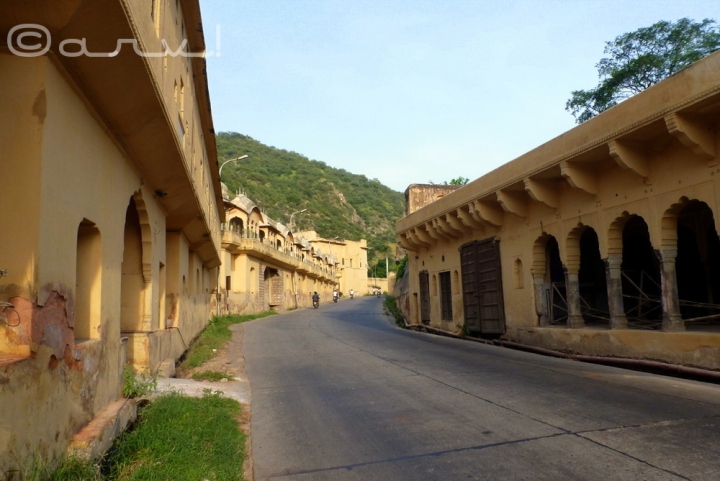 The whole area has now been renovated by Amer Development Authority (ADA) recently after years of neglect. Before the renovation, all these heritage structures were in a dilapidated state.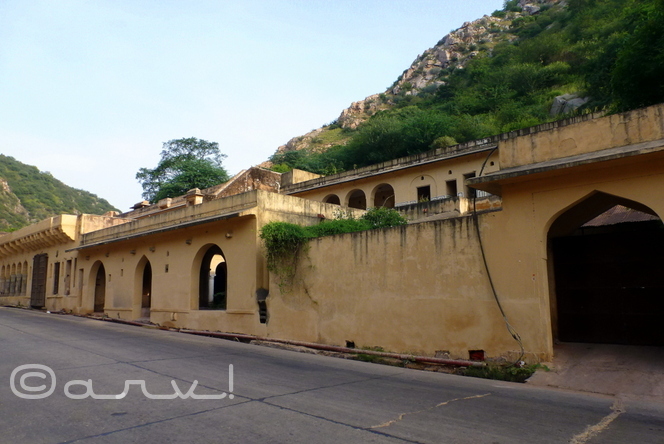 Different shapes of entrance gates are striking!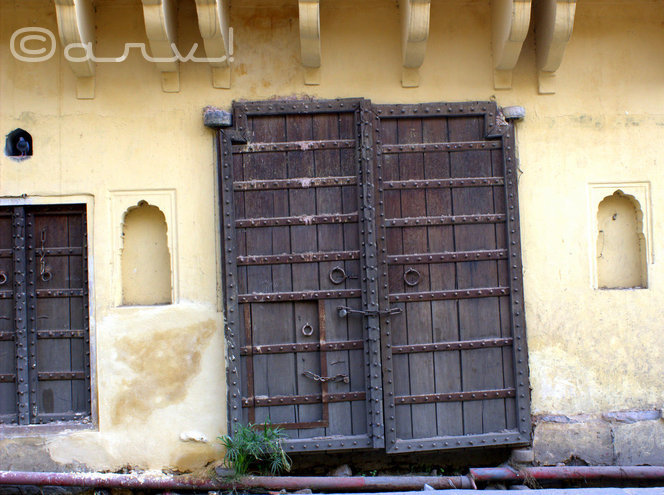 These doors are reminiscent of days gone by!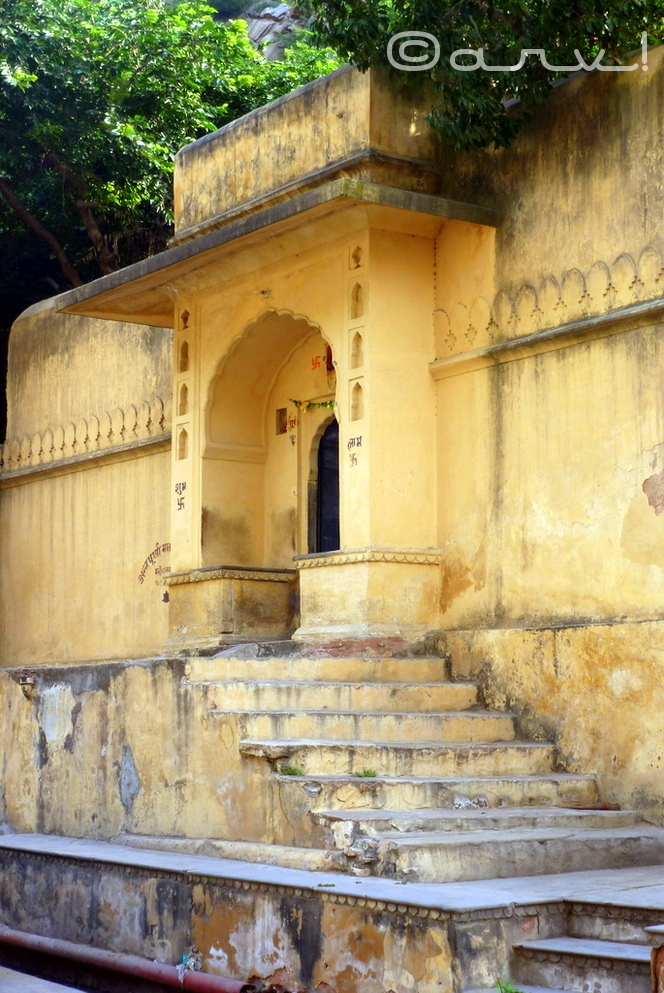 Watching the beauty of Ghat Ki Guni, we can probably guess the political importance of Agra during the reign of Mughal Emperor Akbar; it was the capital of the Mughal rich for over a century!!
Ghat ki Guni served as a recreation area for the Jaipur Royalty. It is located 4 km from the walled city area of ​​Jaipur and served as a glimpse of the beautiful city that lay ahead. This is apparent from the description of Reginald Herber as described above.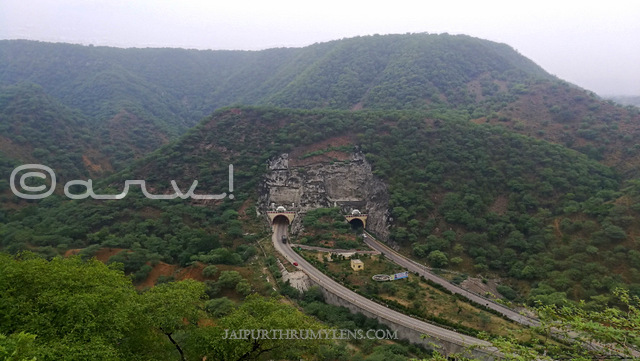 Ghat ki Gunic served as an access point for all traffic heading to Agra and beyond for many years, causing further damage to these structures. An alternative route, Ghat Ki Guni Tunnel has now been thrown open and all heavy and commercial vehicle traffic has been routed through it. The image below shows the wide view of the area around: Ghat Ki Guni Tunnel.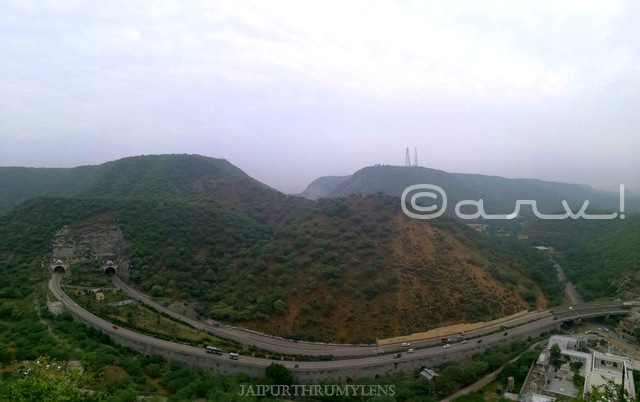 Stay tuned with Jaipurthrumylens!! through facebook, Twitter, Instagram
This article is now available in the GPSmyCity app via the iOS App Store, click here to download the article with GPS support
Read Related Post: Sisodia Rani Garden / Heritage Photo-Walk In Jaipur
Ghat ki Guni has many heritage structures that will continue to captivate tourists and travelers! There are many interesting places to explore in this area and I have already written about a few – Monkey Temple-Galtaji, Ghat Ke Balaji Temple and Sisodia Rani Garden. Check them out.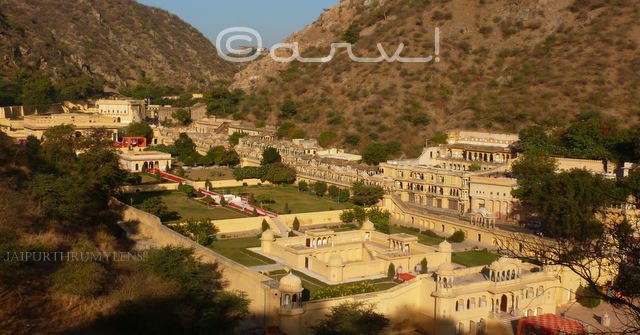 Wide view of Ghat ki Gunic area with Roop Niwas garden on the front