I have written a post about the ancient city gates of Jaipur about nine ancient gates of Jaipur. Galta Gate is not part of these gates as it was outside the walled city area. This gate has historical relevance as it leads to Galta Ji Temple, an ancient temple complex and a popular local Hindu pilgrim in Jaipur. Galta Gate is the shortest way to reach the Galta Temples, also known as Jaipur Monkey Temple.
Before talking about Galta Gate, let me share an interesting history of Galtaji Temple first. The name Galta is derived from Rishi Galav who, according to local legend, worshiped for 100 years. Delighted by his austerity and devotion, the Almighty blessed this place with an eternal fountain of holy water. There is a sacred bathtub where Hindu pilgrims take a holy dip. During the reign of Maharaja Sawai Jai Singh II who founded Jaipur, many temples were built in this area. Surya Mandir is one of the prominent temples. Galtaji is located off the eastern ridge of Aravalis and can be reached via Galta Gate or Ghat Ki Guni, although the former is popular for its proximity to the city.
Inspiration for the series "Jaipur Then & Now" is 290 years founding of the city of Jaipur. Jaipur was founded on November 18, 1727 AD as the first planned city of India by Maharaja Sawai Jai Singh II. Jaipur Then & Now focuses on heritage preservation.

Read also:
Why does our attitude to heritage need a major change?
5 Things You Need To Know About Mesmerizing Galta Temples
THEN
Here is a photo of the path pilgrims use to reach Galtaji, captured from Galta Gate. This photo was taken by Gobindram Oodeyram, a leading 19th century photo studio.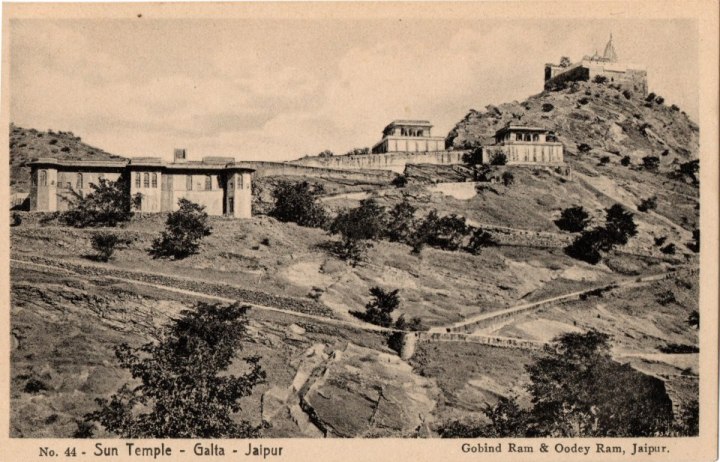 I reproduce a small excerpt from "Handbook of the Punjab, western Rajputana, Kashmir, and Upper Sindh" by John Murray (Firm) Edward Backhouse, which describes the author's travels to Jaipur in 1880 AD and describes Galta.
"Galta"– Another day can be spent visiting the shrine of the "Sun God", which is located on the top of a series of hills, about 1 1/2 m. to the E. of Jaypur. The traveler can ride an elephant or, if he prefers, walk. The road for one m. in length is paved with rough stones. It zigzags up the Ghat, and at 200 ft. higher are some neat bracelets, built for people to witness the procession from the Temple of the Sun, which is about 100 ft. above the plain, and built on a projecting rocky platform. It is a simple building, with an octagonal vestibule supported by pillars. The view over the city is perhaps the best you can get. In particular, one should note the sandy desert, which invades from the SW. The sand has left a large suburb derelict and the houses and garden will fall into disrepair. The sand has even been driven up a ravine N. of the Temple of the Sun. This evil must be dealt with at all costs. Just past the bracelet and half way up the temple is a small alcove, with an explanation in Hindi of the costs incurred in making the road, and half way before reaching the bracelet is a Hindi inscription on the rock, to the right , and said the road was built by Shim Lai, of the Kayath caste, and his brother, who were governors of Jaypur about 60 years ago."
NOW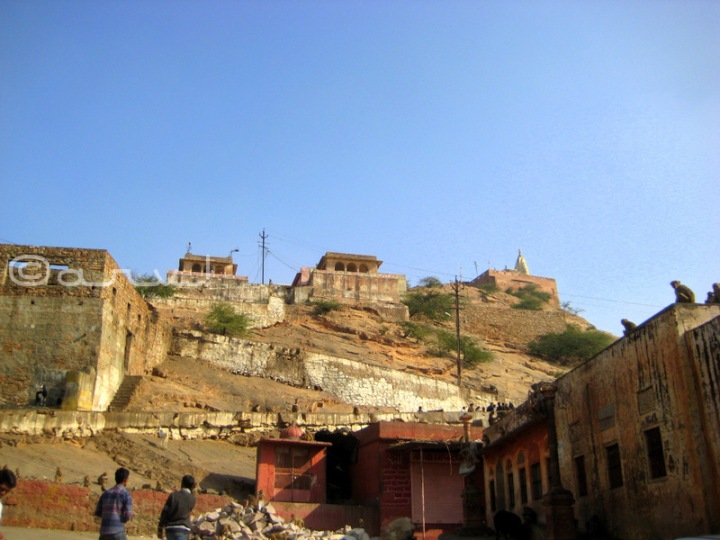 THEN
This photo of Galta Gate was taken 150 years after Jaipur was founded in 1727 AD. I'm not one hundred percent sure, but it's likely that the photographer of this photo is Lala Deen Dayal, one of the early photographers in India. Lala Deen Dayal captured life on Indian streets, famous monuments and portraits of royalty in the second half of the 19th century.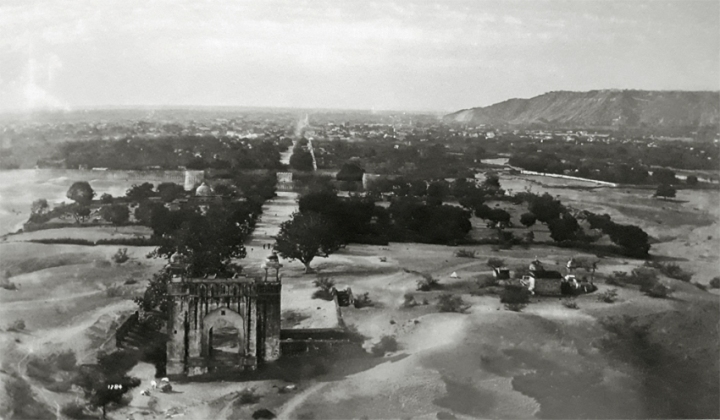 This photo shows Galta Gate as the only standing structure in the area, along with some Chhatris (domed pavilions) on the right and along with sand dunes. Then Galtaji was on the edge of the city limits of Jaipur, a little further from the Surajpole gate, which was one of the 9 entry points to the city. Just beyond this gate was a wall that ran like a fortress along the entire perimeter of Jaipur. This wall can be seen in the photo above.
NOW
Let me show you another photo I took earlier this year where I tried to capture the same spot.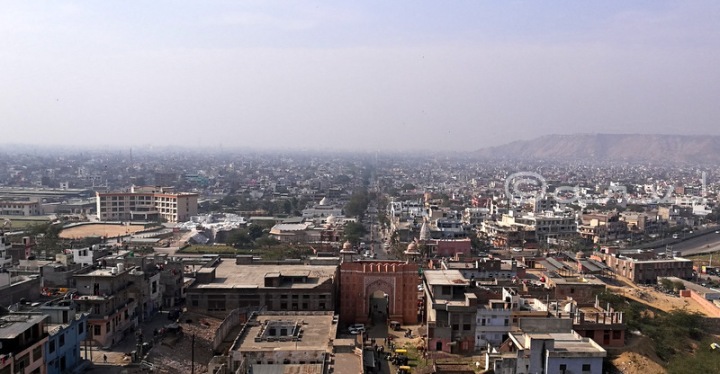 The gate still stands where it was, but there is a huge amount of construction and buildings around. Chhatris a Hindu cremation site can still be seen on the right. Beyond this gate is a highway that leads to Delhi.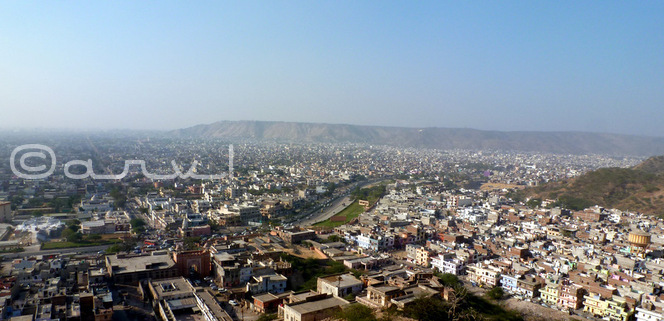 The development over 150 years is understandable, but the haphazard and unauthorized construction seen nearby is an eyesore. Because of the populist policies and vote bank, authorities never bothered to check it. There is a lot of dirt around this old gate as it is part of a Hindu pilgrimage site. People feed cows, monkeys and other animals with sacrifices to earn good karma. You often come across banana peels, grains, food strewn everywhere and animals loitering everywhere.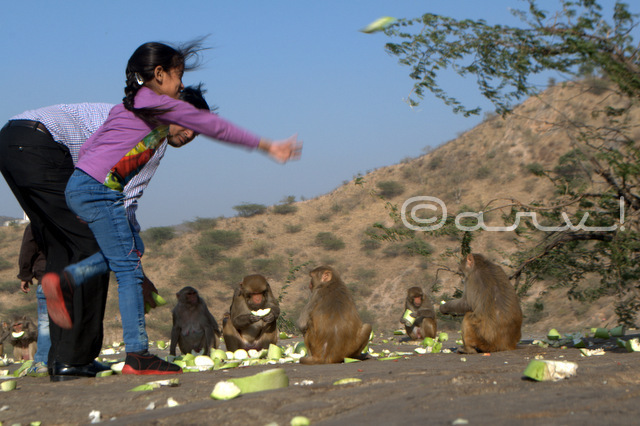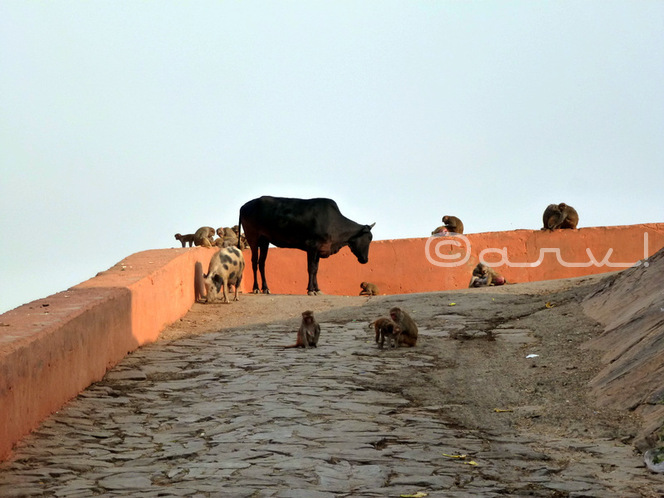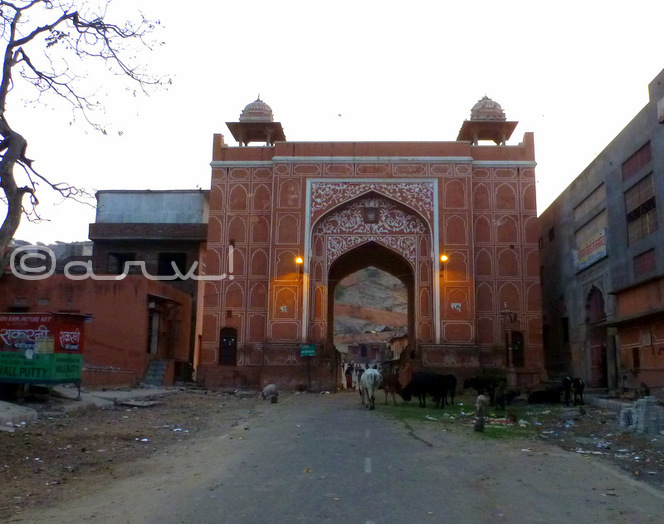 It's not that cleaning isn't done, the area is cleaned regularly, but it's just not enough.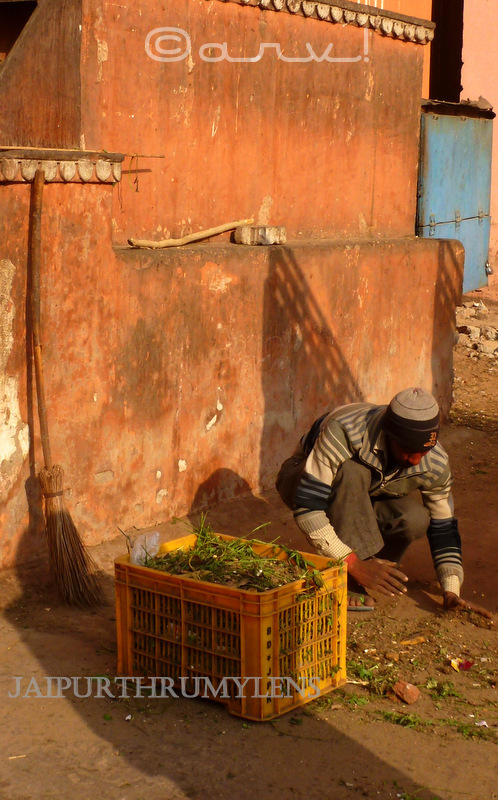 Frankly, I prefer not to come to this area for these reasons. I mentioned this in one of my previous posts – Surya Mandir/Sun Temple, Jaipur…Amazing views!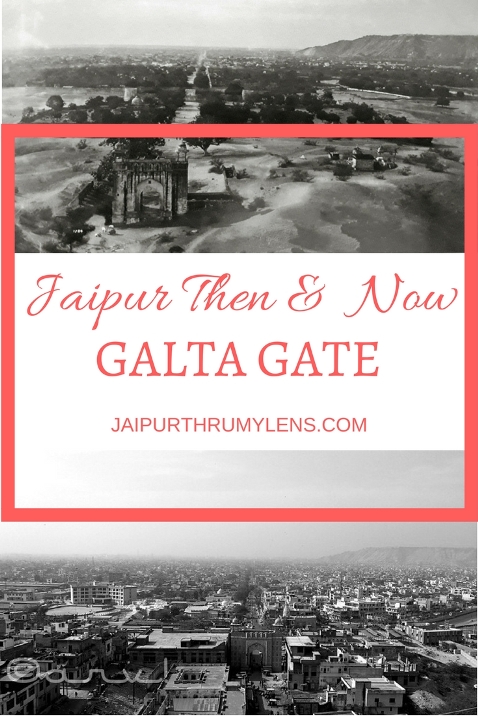 Litter, animals, unauthorized trespassing, damaged footpath are hard to bear. While the government spends a huge sum of money on private temple foundations in the area, this area has been ignored. The authorities should understand that many foreign tourists visit Galtaji Temple because it is a tourist attraction. Galtaji Temple is famous among foreign tourists as Monkey Temple because of a large number of resident monkeys.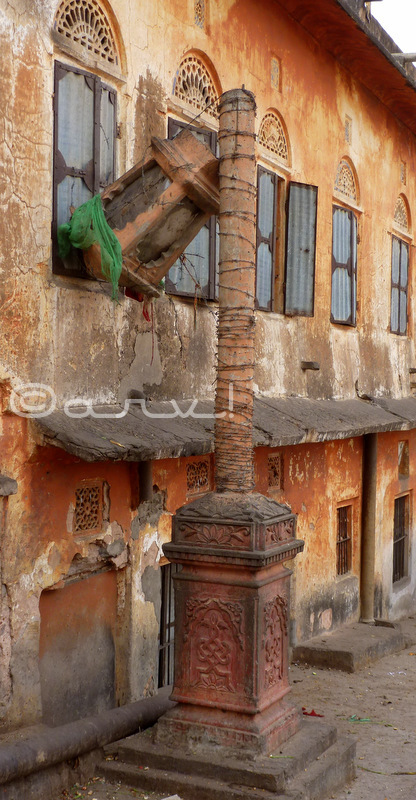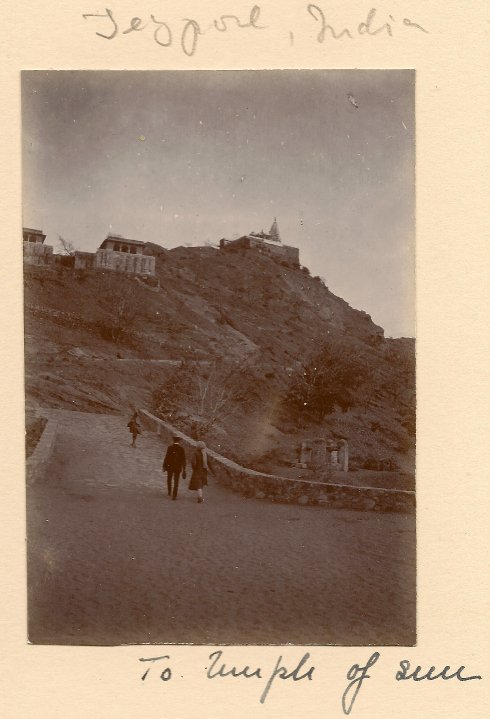 Here is another traveler's report of the visit to Galtaji Temple. This time from a Banarasi Brahmin – Vyas Ramashankar Sharma who visited Jaipur in 1903 AD and accompanied a wealthy widow Dhanadevi Mahodaya as her personal secretary.
"January 23. A Kos and a half (3 miles) from here is famous Galta, with numerous temples worth seeing. To reach it, one has to climb a hill, so a palanquin with eight porters was arranged for Shri Sarkar Sahiba. We got up in half an hour. The hills are high and with binoculars one can see the beautiful city and fortresses. Galta has a beautiful mountain landscape. A waterfall feeds two large tanks. There is a small Shri Ram temple and many other small buildings…………."
Here is a link to read the whole series Jaipur Then and Now
Stay tuned with Jaipurthrumylens!! through:facebook , Twitter, Instagram, Google+
Read follow-up post: 5 things to know about captivating Galta Temples
It's really a shame to see this whole route from Galta Gate to Galtaji Temple in such a state. It used to be a scenic route and residents often hiked up the Galta Hills for great views. This is still a popular route among the residents to reach Galtaji Temple. I hope the authorities will take action and restore the former glory. At the same time, residents must do their part by not creating litter.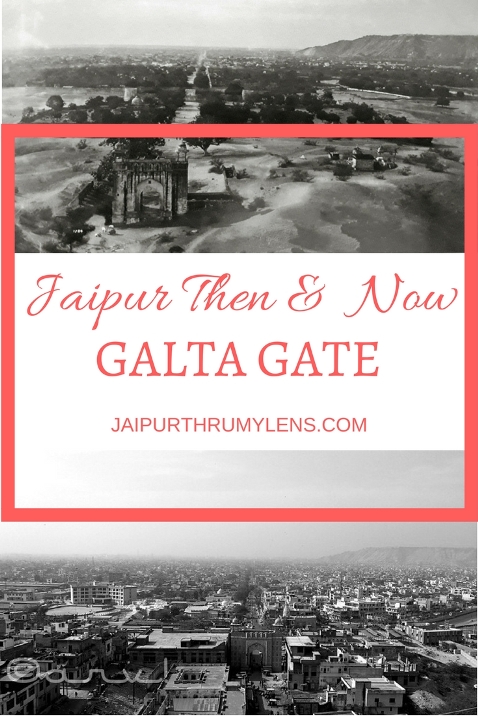 All old photos are from the internet. If anyone has any problems with this message, please let me know.