Maharaja Sawai Jai Singh II, who founded Jaipur, ensured the presence of large public squares at the intersection of main roads in the layout of the city. Squares in the local language are called chowk or chaupari. There are three public squares or chowk in the old city of Jaipur namely Badi Chaupar/ Manak Chowk, Choti Chaupar/ Amer Chowk and Ramganj Chaupar. Of these three, Badi Chaupar & Choti Chaupar were the most prominent. In my previous post, Jaipur Then & Now- Hawa Mahal I had posted pictures of Badi Chaupar. Here are photos taken from Chhoti Chaupar overlooking Gangori Bazaar. This photo was taken 90 years ago by a Swiss photographer Martin Hürlimann.
Martin Hurlimann traveled through Southeast Asia and took many photos during his travels. He is fondly remembered for his photographs of European cities. A book tilted INDIA – Martin Hurlimann with 352 photos from India, shot by Martin Hürlimann, was published in 1967.
Jaipur was founded according to ancient times ship &Vastu Shashtratherefore Chhoti Chaupar like Badi Chaupar has temples in all four corners. The above image shows a temple staircase leading to a gate with two stone elephants on either side. That is the Roop Chaturbhuj Temple.
Here is a current photo of Chhoti Chaupari overlooking the road that leads to Brahampuri via Gangori Bazar.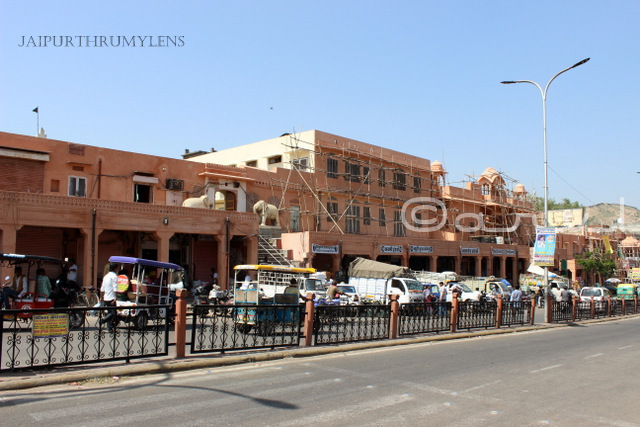 In stark contrast, vans, e-rickshaws and other vehicles now line the storefront. It is a thriving market full of, among other things, grain and dry fruit wholesalers. In the previous photo, one can see the Nahargarh Fort sitting on the edge of the hill overlooking the city of Jaipur. But in the recent photo it is hidden behind new and unauthorized construction. Jaipur was famous for its uniform and beautiful market facade but that is now changing with illegal and unauthorized construction, and breaches everywhere. At least people care about heritage and symmetry, which is clear from the second photo.
If you haven't read my previous post about Roop Chaturbhuj Temple, now is a great time to do so as it is an incredibly beautiful temple. I wrote this post two and a half years ago. Read Roop Chaturbhuj Temple, Jaipur! … Beautiful frescoes!
Here are pictures of this temple.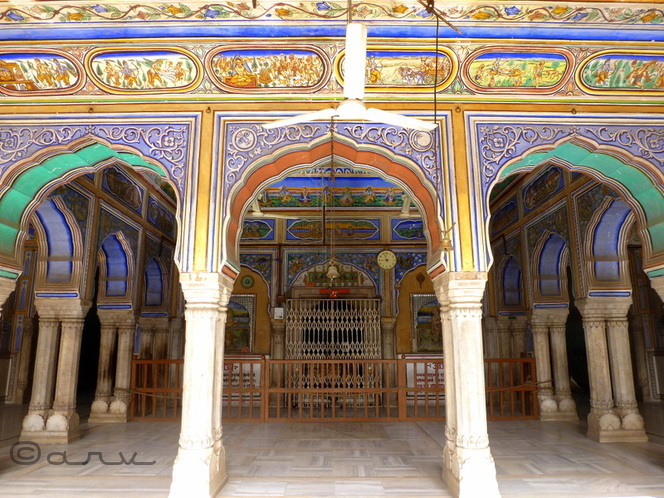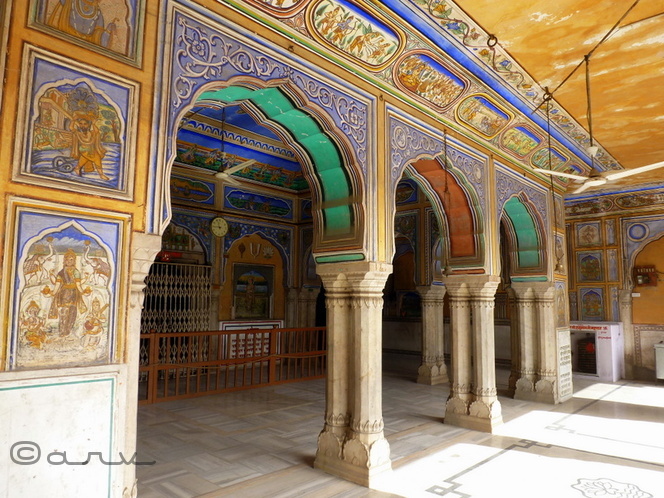 Inspiration for the series "Jaipur Then & Now" is 290 years after the founding of the city of Jaipur. The foundation of Jaipur was laid on November 18, 1727 AD as India's first planned city by Maharaja Sawai Jai Singh II. Jaipur Then & Now focuses on heritage preservation. Click on Jaipur Then and Now to read all posts of this series

Also read: Why our attitude towards heritage needs a big change?
Stay tuned with Jaipurthrumylens!! through: Facebook, Twitter, Instagram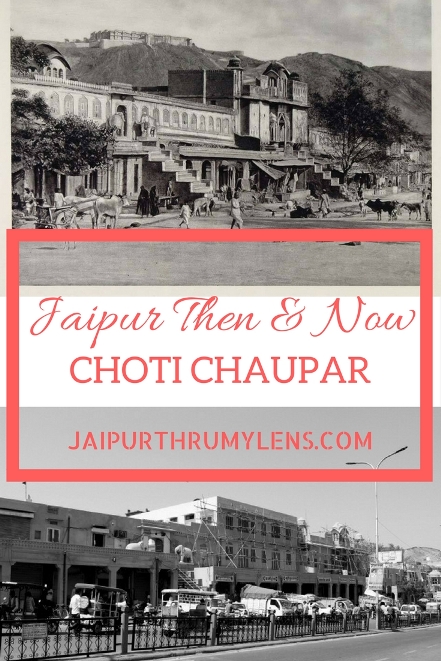 Image source from Martin Hurlimann photo- www. columbia.edu