About Chokhi Dhani in Jaipur
Chokhi Dhani means 'a special village'. This is a fake Rajasthani village which is 20 km south of Jaipur. This is a great place for entertainment for both kids and adults. Chokhi Dhani is about 28 km away from the center of Jaipur where you get authentic Rajasthani food. And all visitors should at least sample a meal at Chokhi Dhani.
This place serves authentic food with fresh ingredients and in an authentic way. There are so many dishes to try in Chokhi Dhani are daal Bati Churma, ghee based sweets and many others. While in the village you get countless eateries, from first-class luxury places to simple shacks.
Chokhi Dhani in Jaipur Admission Fee
There are two types of Chokhi Dhani Jaipur ticket fees which are listed below:-
Adult Entrance Fee in Chokhi Dhani – 700 INR
Children's entrance fee Chokhi Dhani – 400 INR
Chokhi Dhani in Jaipur times
| | |
| --- | --- |
| Monday | 5:00 PM – 11:00 PM |
| Tuesday | 5:00 PM – 11:00 PM |
| Wednesday | 5:00 PM – 11:00 PM |
| Thursday | 5:00 PM – 11:00 PM |
| Friday | 5:00 PM – 11:00 PM |
| Saturday | 5:00 PM – 11:00 PM |
| Sunday | 5:00 PM – 11:00 PM |
Chokhi Dhani in Jaipur address
Sukhdeopura Nohara Jaipur, Rajasthan.
Best time to visit Chokhi Dhani in Jaipur
You can visit Chokhi Dhani from October to March.
For the multi-cuisine dinner buffet
Thali Fee for Adults – INR 1,100
Thali Fee for Kids – INR 700
In this you will get different kinds of things like dance performances, snake charmers, vegetarian dinner, welcome drink, snacks, cultural events, costume photography, magic show, puppet show, mehandi art, music performances and many more
Know about some amazing dishes of Chokha Dhani in Jaipur
(1) Dal Baati Churma
This is one of the most famous dishes of Rajasthan. In this state there is so much about folklore and songs about the Dal Baati Churma. A Rajasthani meal can never be complete without Dal Baati Churma. When it comes to this dish, it consists of the round Baati's and is served with Panchkuti Dal along with a hearty dose of Churma.
(2) Rajasthani Mawa Kachori
Rajasthani Mawa Kachori is something that can make you melt as it is filled with the sweet goodness of mawa. This is available at any local candy store. You can try it with a generous portion of sugar syrup.
There are some spicy snacks that should be warm and eaten with a sense of adventure. Large green chillies dipped in the mildly spiced dough of besan and deep fried to crunchy goodness.
Different types of food hall in Chokhi Dhani . village
Sangri is known for its mouthwatering and authentic Rajasthani dishes. You will be served on a leaf platter in the tradition of Manuhaar. You get the warmth of service that will remain in your heart forever.
Chaupad is another ethnic dining hall best known for its shape – Chaupad Jeeman Ghar. This place has four straight rows that meet in the middle and each row has a capacity of 20 people where you will find the best Rajasthani dishes.
Gorbandh is and opens Air Dining which consists of semicircular ground. Here you get the food cooked in desi ghee. This is known for its delectable aroma. You also get the tastiest curries based on the use of legumes or gram flour. We all know that dry fruits, herbs and yogurt are used in many confections.
Royal Fine Dining is known for the ideal royal experience. It has royal sitting amid a rich ambiance. The food is served in cutlery.
The 5 best hotels near Chokhi Dhani in Jaipur
Tourists look for hotels near Chokhi Dhani Jaipur just because Chokhi Dhani is one of the major necessary attractions of the city. The Chokhi Dhani Village in Jaipur offers you a piece of the culture and traditions of Rajasthan, right here in the Pinkcity of Jaipur. Much loved by tourists, Chokhi Dhani may be a must visit while in Jaipur. first of all it is the sum of rajasthan all packed in this lovely place.
Here you can taste Rajasthani food, watch people dance, hear folk songs and take an extended Rajasthani ride. therefore, if you want to know Rajasthan, you must return to Chokhi Dhani. Here we have delivered hotels that are about to reach this incredible place.
The whole list of top hotels in Chokhi Dhani Jaipur:-
(1). The Theme Hotel:- About twenty minutes far from Chokhi Dhani, the themed hotel could be an excellent place to book your stay in Jaipur. The hotel has a number of furnished rooms that offer you a comfortable stay. There are 3 types of rooms: the suite room, executive rooms and deluxe rooms. An unforgettable stay is often expected here at The Theme hotel. The hotel has an all-day dinner and a rooftop bar.
(2). Amrapali Hotel:- A good hotel with spacious rooms, Amrapali is about 10 minutes from Chokhi Dhani and can be your place to stay during your vacation in Jaipur. The hotel also has a restaurant and bar, where you can sit back and relax in the evenings. Therefore, you may be on the brink of Chokhi Dhani, your goal to remain in close proximity.
(3). Himalayan Tower Hotel:- Almost about 2 minutes far from Chokhi Dhani Jaipur, the Himalayan Tower hotel is a perfect place for tourists. The rooms are all equipped with air conditioning, television, geyser, banquet hall and more. You may also have a 24-hour facility table here, in combination with first aid facilities and security. After all, rooms come with a free Wi-Fi facility.
(4). Hotel Marigold:- Yet another hotel which is about 10 minutes away from Chokhi Dhani Jaipur, the hotel can be a smart choice for tourists. Positioned as a four-star hotel, they are Deluxe rooms and suites to decide on. it is a restaurant, bar and rooftop restaurant. not to mention that it also includes an upward pool. those who like to work out can do so in the hotel's own gym. All this comes at a decent price and serves your purpose by going over Chokhi Dhani.
(5). Crowne Plaza Jaipur Tonk Road:- Only about 5 minutes far from Chokhi Dhani, Crowne Plaza Jaipur Tonk Road can be a good choice for your vacation in Jaipur. The hotel is actually for families as they give special stress to kids and have kid friendly facilities. With nice rooms and nice dining options available, this one is hard to miss. To elevate everything, your Chokhi Dhani expertise is barely 5 minutes away.
Must Read: More Hotels in Jaipur
Nearby attractions Chokhi Dhani in Jaipur :
Kalagram Chokhi Dhani (0.1 km)
Gyan Museum (2.4 km)
Jawahar Circle Garden (7.0 km).
Chokhi Dhani in Jaipur Pictures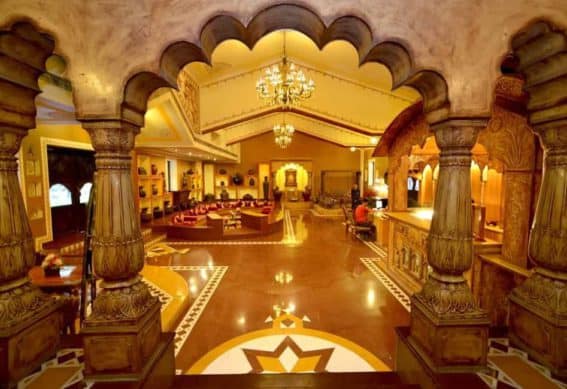 Frequently Asked Questions about Chokhi Dhani in Jaipur
Question 1. What are the popular attractions near Chokhi Dhani Resort?
ans. The attractions near Chokhidhani include the Kalagram Chokhi Dhani (0.1 miles), the Gyan Museum (2.4 miles), and the Jawahar Circle Garden (7.0 miles).
Question2. What are the food & drink options available at Chokhi Dhani Resort?
ans. Guests can enjoy free breakfast during their stay.
Question3. Is parking available or not at Chokhi Dhani in Jaipur?
ans. Yes, there is free parking for guests.
Question4. Is there a gym to exercise at Chokhi Dhani in Jaipur?
ans. Yes, guests have access to a pool and fitness center while staying at Chokhidhani Resort.
Question5. Does Chokhi Dhani Resort provide any business services to its guests?
ans. Yes, it is conveniently located with a business center, meeting rooms and banquet hall.
Question6. Is it allowed to go to Chokhi Dhani Jaipur with luggage?
ans. Yes, luggage is allowed in Chokh Dhani Jaipur.
Question7. Is there luggage space available in Chokhi Dhani village, Jaipur?
ans. Yes, luggage room is available at Chokhidhani in Jaipur.
If you like this article about Chokhi dhani in Jaipur, please share it with your friends and relatives.
Map of Chokhi Dhani in Jaipur
Address:- Chokhi Dhani, Sukhdeopura Nohara, Jaipur, Rajasthan