In one of my previous blogs about Jaipur, I mentioned that tea was the most popular drink among the residents. Over the years, drinking coffee has become the new cool, thanks to the rise of cafes in the city. Cafes that serve coffee run in three figures, and only a handful of them do their job well. After exploring cafes, here are the best coffee cafes in Jaipur. Four of them have their own roasting machines and are picky about the choice of coffee beans.
Learn what makes tea house popular in Jaipur
The best cafes for coffee in Jaipur
Here are the cafes that serve the best coffee in Jaipur.
Curious Life coffee roasters
Curious Life is one of the first cafes in Jaipur to offer single-origin coffee, which also roasts its own coffee beans, giving its customers many brewing options. One of the reasons Curious Life serves the most excellent coffee is because the owner, Neeraj Sheoran, is an avid coffee lover and a perfectionist. Could it be because he served in the military in Africa for years? You have to discover it for yourself!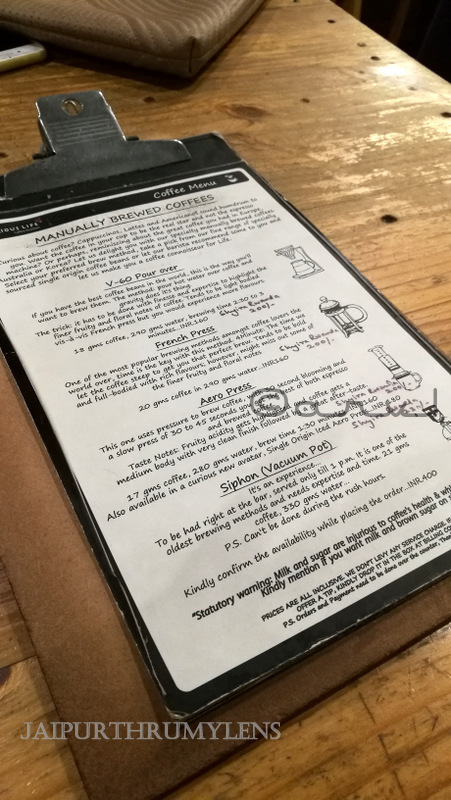 I wrote about Curious Life in 2015, you can read that here Curious Life Coffee Roasters | Best place for coffee in Jaipur? They have opened a significantly larger outlet in C-Scheme which is full of coffee lovers. If you visit Curious Life on the weekend, expect a long wait. In my opinion their Vietnamese Cold Brew is one of the best.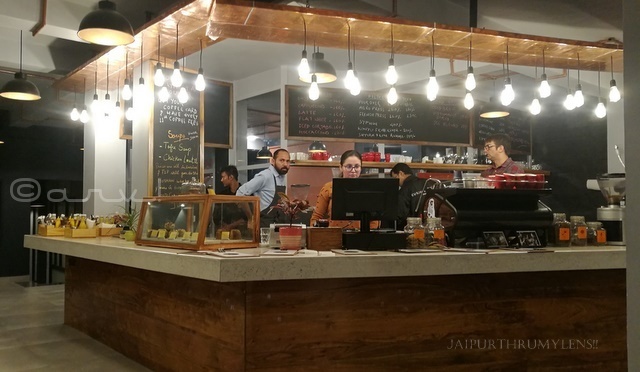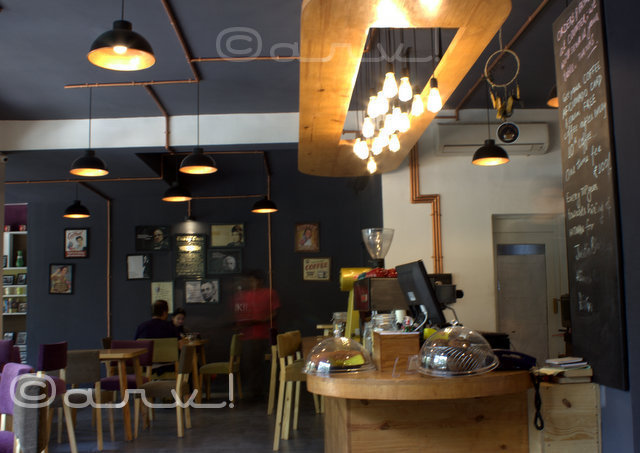 Half-Light Coffee Roasters Jaipur
Half-Light Coffee Roasters is a recent entrant specializing in single-origin coffee. The owners have been active in the wholesale coffee business for quite some time and opening an outlet is a logical step.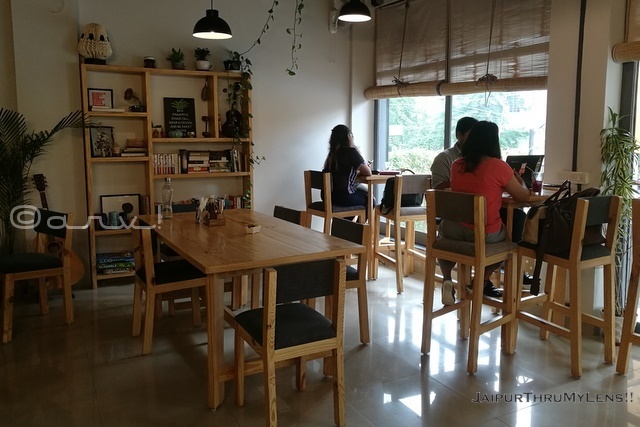 Having been to Half-Light Coffee Roasters a few times, I've enjoyed a consistent experience. The cafe uses quality ingredients and it shows in its popularity. The cafe is almost always buzzing. On the other hand, on some days it is difficult to find a parking space nearby. I think this cafe should adapt its decor to the trend and increase the seating space.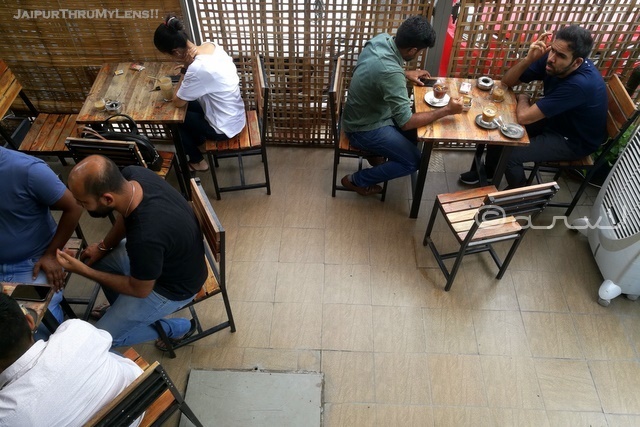 I have already written a full post about Rustic by OTH. Read What Makes Rustic By OTH The Most Promising New Cafe In Jaipur?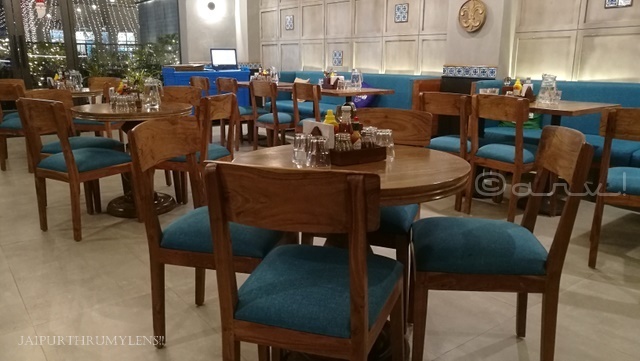 Rustic By OTH cannot be compared to Curious Life Coffee Roasters as it offers much more. It is a full service cafe and not just a coffee shop. However, the ground floor placement suggests more than a cafe experience.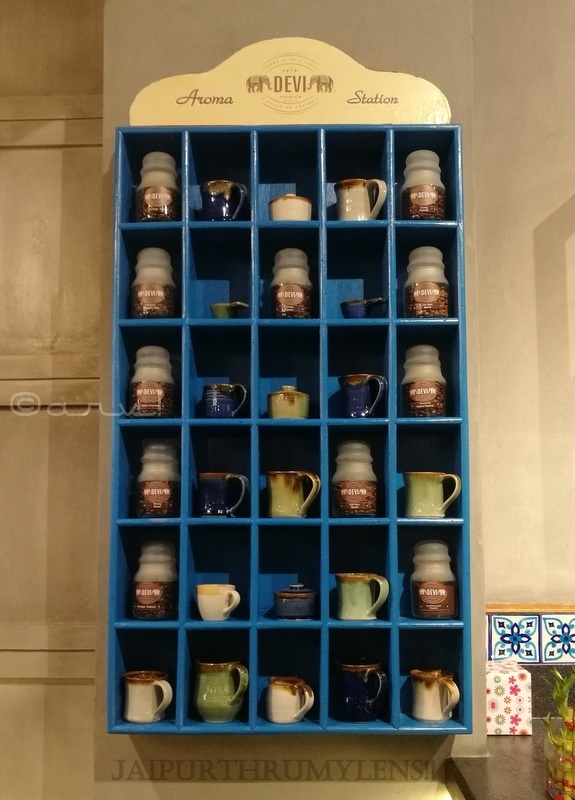 Rustic by OTH offers specialty coffee brand DEVI, their USP. However, I am disappointed with their Turkish coffee. South Indian filter coffee was just an average experience. The rest of things have been good though.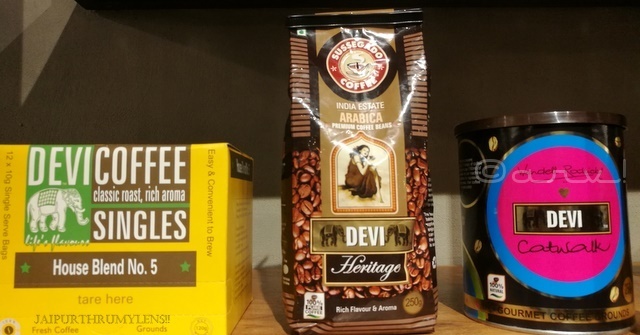 What I mostly liked is the fact that they offer more value through quantity. Another plus is a huge range of food one can order, what else? Cafe's not bidding. I never had any problem finding a table. Rustic is one of the best cafes in Malviya Nagar, Jaipur.
Sutra is one of the most recent additions to the list of the best coffee cafe in Jaipur. Sutra is a venture of Dushyant Singh, the owner of OTH and Rustic by OTH. This is one reason why one gets coffee with Sutra brand mugs in OTH. The concept of specialty coffees started in 2015 with Curious Life Coffee Roasters. In the past six years, many contemporary players have emerged. Curious Coffee and Half-Light coffee still have a loyal following. Sutra tries to break this duopoly. And they work pretty hard. The best Cortado in Jaipur can be tasted at Sutra Coffee. There are not many cafes in Jaipur that offer Cortado.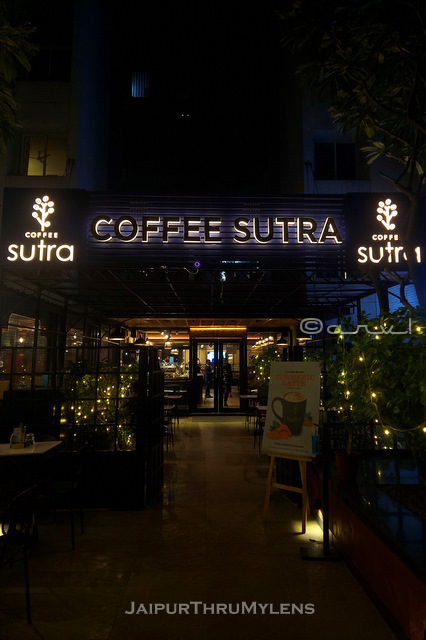 Sutra mentions this on their website. "Sutra means 'thread'. The thread that connects stories and storytellers. We equate 'Sutra' with 'togetherness' because you cherish eternal memories over a cup of coffee with your loved ones."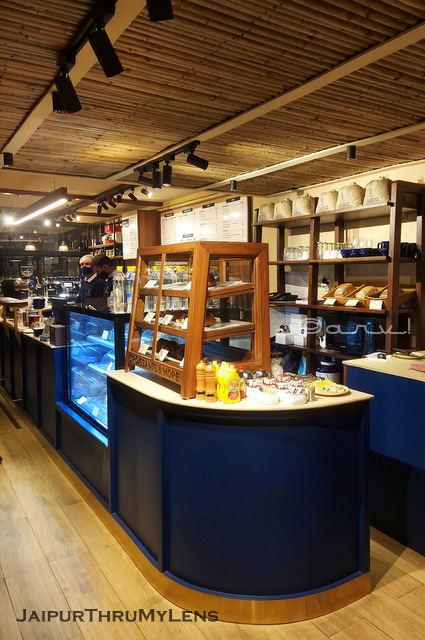 If you are serious about your coffee, Sutra Coffee Addition offers coffee courses including a Barista course in Jaipur apart from a home brewing course. I can definitely recommend Sutra Coffee as the best coffee cafe in C-Scheme in Jaipur.
The small coffee shop is one of the hidden gems of Jaipur. Very few locals have heard of this cafe. It's an unusual little cafe with limited seating.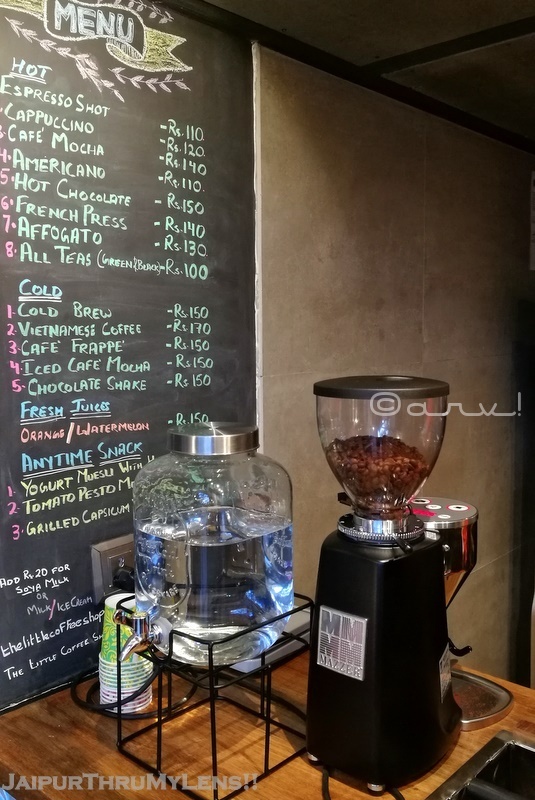 It is tucked away in a narrow street called Chameliwala Market on MI Road. In the 80s and 90s, this market was a haven for backpackers. There were many cheap accommodation options for foreign travelers. With an abundance of hostels now scattered all over Jaipur, all that has changed. It is a famous place for manufacturers, wholesalers and exporters of silver jewelry. The small Coffee Shop is one such exporter's business.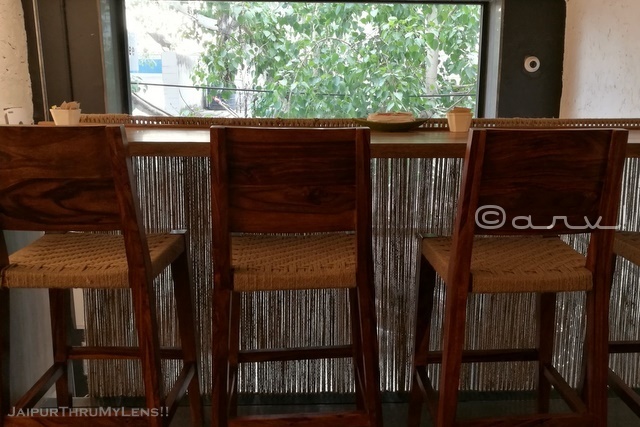 Even though it is a small coffee shop, they do their job very well. I wish they lowered the price a bit more as they are not a full service cafe with meager seating space.
Roastery Coffee chain from Hyderabad is last on this list to launch its outlet in Jaipur. Located in C-Scheme, it is always lively and full. Besides Jaipur, they are also present in Kolkata and Lucknow. I know many people who associate Roastery with good coffee. I really feel they need to tweak their menu a bit to offer alternatives to coffee served by the most popular cafes in town like Cortado. One of the most unique and popular offerings of Roastery Coffee in Jaipur is Cranberry coffee; it is especially popular with women.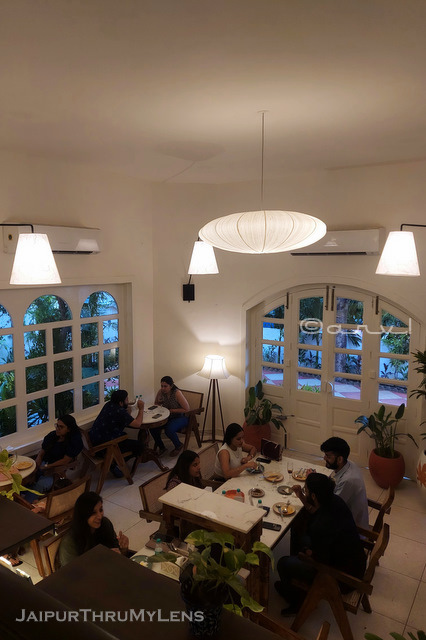 The most unique elements of this cafe are that it is located in an old mansion and it has a stairwell.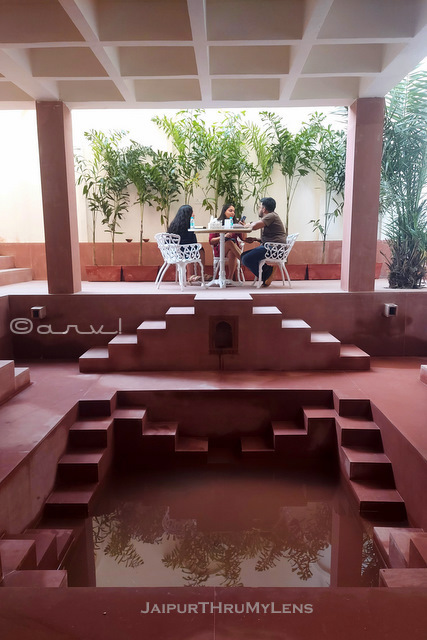 So what's my choice?
My favorite cafe for coffee is Curious Life Coffee Roasters. I like the vibe and vibe of the place. The interior is warm and inviting. What helps is that the management has arranged a second parking space in the parking lot of the school.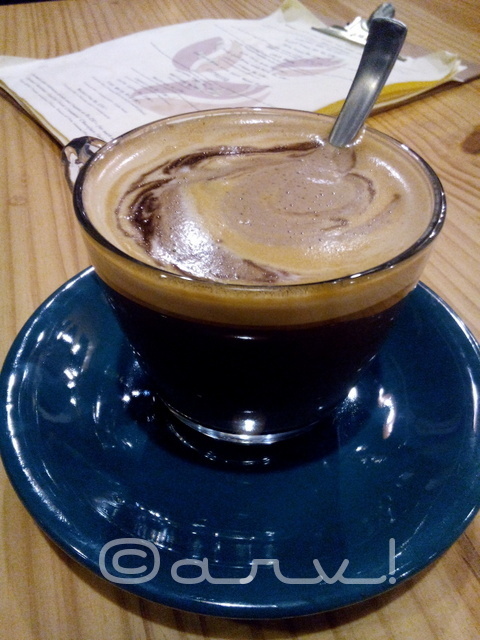 I also like to visit Rustic By OTH as well as his first venture – OTH Cafe in C-Scheme. Apart from the above four, this is the only cafe that offers specialty coffee in the Malviya Nagar area. I quite like the interior of this place.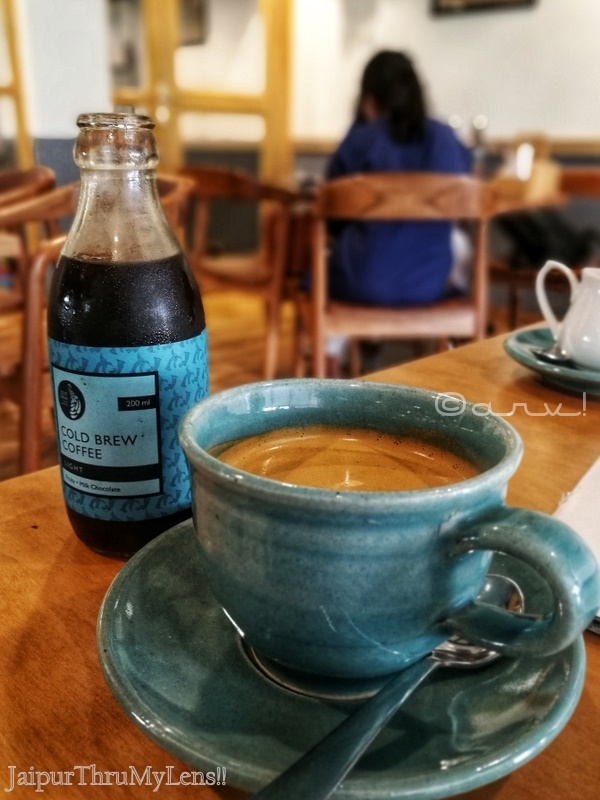 The coffee offer at OTH Cafe & Bistro in C-Scheme is different. One of my favorites from their menu is Cafe Bombon which consists of 60ml espresso with 30ml condensed milk. I have not come across anything better when it comes to coffee with milk. The food at OTH is consistent, making it one of the popular choices among Jaipur foodies.
This is what I love, and unfortunately it is rare to find good South Indian filter coffee in Jaipur. But here is a place where you can have one, check it out in the best restaurants and cafes in Jaipur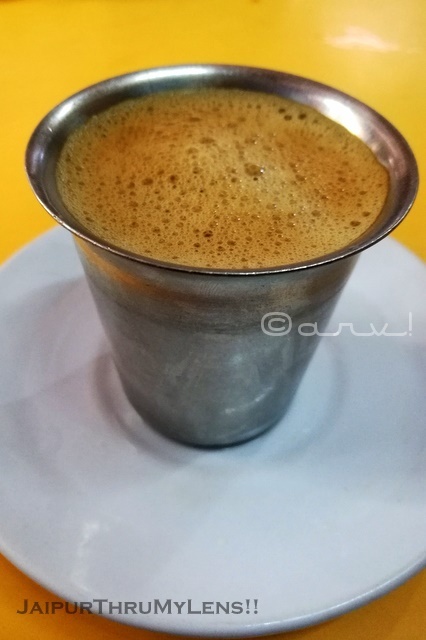 Finally, here's a super post from Half-Light Coffee Roasters!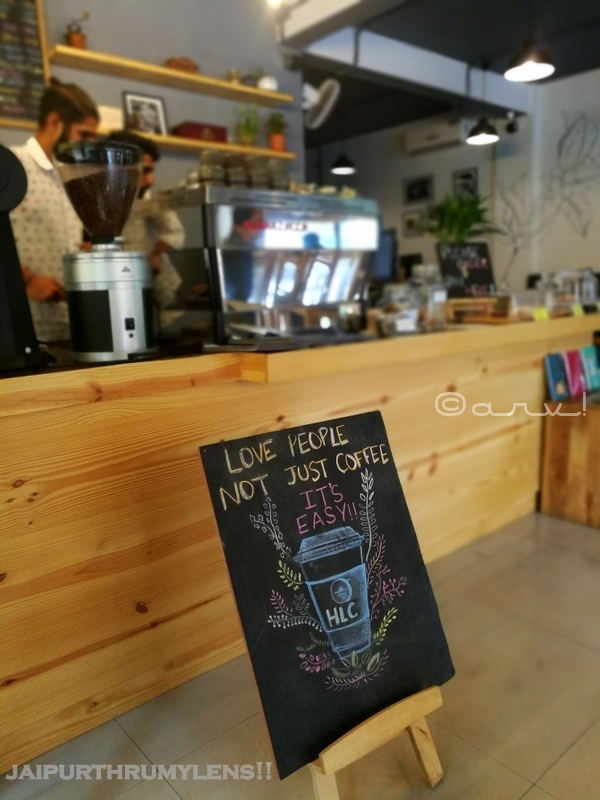 Check out other posts in Jaipur Food Guide
Stay tuned with Jaipurthrumylens!! through: Facebook, Twitter, Instagram