About Camel Riding in Jaipur in Jalmahal:
Jaipur is one of the best places for visitors, just like camel safaris, one of the best activities in Jaipur to participate in the golden sand dunes of Rajasthan. This is one of the best ways to explore Jaipur. If you take a camel ride in Jaipur, you can enjoy the surroundings of Jal Mahal on the LakeFront. Camel riding in Jaipur is very famous all over the world.
A camel ride in Jaipur is fun and charming for all travelers from all walks of life. You will get an amazing experience of Rajasthan life. All camels are well trained and vendors take all safety precautions to ensure a great experience. Tourists can also enjoy camel ride in Pushkar and desert safari in Jaisalmer.
In terms of duration, a camel safari usually lasts half an hour. If you go for a typical camel safari tour, you can visit Madhogarh village, Kalwara village, Tunga battlefield and city mango quarries. Tourists get a wonderful opportunity to meet and interact with the villagers.
Cost of Camel Ride in Jaipur:
The cost of a camel ride in Jaipur is between INR 400 and INR 700 per person as it totally depends on your negotiation skills. You have to be a good negotiator with the caretakers of the camels. Vendors offer tourists in every corner of Jaipur a delightful experience. Although there is no specific time set to join a camel ride in Jaipur, you can enjoy this delightful activity at any time of the day.
Jaipur to Desert Safari Distance:
The distance between Jaipur and desert safari Jaisalmer is 556.6 km. If you are planning to visit Jaipur, you will be pleased to know that you can enjoy a captivating desert safari in Jaipur. The desert safari is known for its unique and colorful villages, communities and hospitable people. It will surely hypnotize you with its timeless charm. You will get all Jaipur Desert safari information as dausa desert safari is one of the best desert safari in Rajasthan.
Camel Ride in Jaipur Price:
Rs 400 – Rs 700 for all
Camel Ride in Jaipur Timing:
There is no set timing for a camel ride in Jaipur. But below is the conventional timing of a camel ride.
Tips for Camel Riding in Jaipur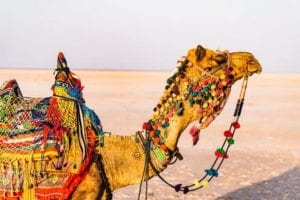 People who suffer from back pain should be careful as camel riding can be tedious.
Bring a water bottle
Be neutral when negotiating the livelihood of camel sellers in Jaipur
Must read: Festivals in Jaipur
Frequently Asked Questions about Camel Safari/ Camel Ride Jaipur
Q1. How to do camel riding in Jaipur?
If you want to ride a camel then you have to hold the camel saddle and slowly lean forward and try it on the front leg then make sure it moves its hind leg after that. You can enjoy the camel ride.
Q2. How much does camel riding cost in Jaipur?
If you want to ride a camel, you may have to pay about 400 to 700 rupees for it.
Q3. How many camels in Rajasthan?
Between 2013 and 2020, 35 percent of camels can be found here.
Q4. Is there a weight limit for camel riding in Jaipur?
There is no weight limit for the camel ride, but people should worry about the camel here and carry the camel with less weight.
V5. Are camels smelling?
Camel doesn't smell here, but their urine and potty odors.
Location of camel ride at Jal Mahal
Amer Rd, Jal Mahal, Amer, Jaipur, Rajasthan 302002
If you like this article about camel rides in Jaipur, please give a review to help your friends.